Getting chilled drinks every time you drink becomes a bit difficult in summer. Your regular refrigerator simply doesn't have this much space that you can store a large volume of drinks and use them throughout the day. This is where a beverage refrigerator comes into play. They can store lots of cans and bottles together effectively and help you enjoy chilled drinks every time.
So, get this new addition to your kitchen today itself and add luxury to your everyday living. You don't need to go through the research part. We have already done that for you. Just check out our list of top 10 best beverage refrigerators in 2023.
List of the 10 Best Beverage Refrigerators in 2023
You may also check: Top 10 Best Portable Mini Fridges for car in 2023
Product Reviews
10- HOmeLabs Beverage Refrigerator And Cooler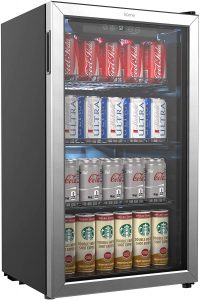 Let's start off the list with hOmeLabs beverage refrigerator that can efficiently hold 120 standard size beer cans. The refrigerator is designed with 3 adjustable and detachable chrome shelves.  Furthermore, it is inbuilt with a powerful motor of 240W, which doesn't only chill down the drinks quickly but also ensures noise-free operation. To help you conserve electricity, it is designed with energy-efficient advanced technology.  Moreover, it features a temperature controller that allows you the freedom to adjust the temperature according to your needs.
9- NewAir Beverage Cooler And Refrigerator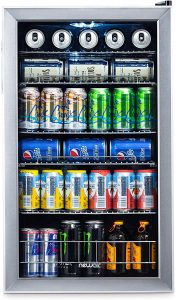 NewAir beverage refrigerator is designed to help you keep the drink in an organized manner with its 126 cans holding capacity and 5 removable racks. You can insert the rack to your desired height so that bottles can be fitted perfectly. With a frequency rate of 60Hz, a noise level of 35dB, and a power voltage of 110 volts, it chills down the drink to 34º Fahrenheit. You can further change the temperature in 7 different settings. Speaking of construction, it is made of sturdy steel.
8- Vremi Beverage Refrigerator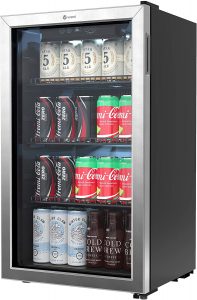 Vremi is a feature-packed and stylish beverage refrigerator. With 3 adjustable and removable chrome shelves, it can hold 120 cans together. Furthermore, it also features a temperature controller, which lets you easily control the temperature from 34ºF to 50ºF. Its freestanding design with a reversible hinge door, double pane glass, and sturdy steel frame makes it an alluring as well as a durable beverage refrigerator. Unlike other beverage refrigerators, it is inbuilt with advanced Vremi Vortex cooling technology, which evenly distributes the cold air on the drinks and makes them super chilled.
7- Kalamera 15" Beverage Cooler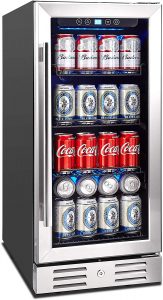 Kalamera beverage cooler is a compact-sized beverage refrigerator that can be stored even in low-space areas. It is 33.9" in height and offers you ample storage to store at least 96 cans. All thanks to its 4 removable wire racks that can be inserted to your required height making the bottles fit in perfectly. With its temperature controller, you can control the temperature between 38-50ºF and keep the drink chilled according to your needs. You cal also freeze your mug to serve your beers as well. The good thing is that it ensures a super quiet operation as it features a whisper-quiet compressor.
6- NewAir AB-850 Beverage Cooler And Refrigerator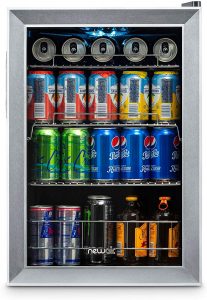 If your kitchen is congested and you want a small-sized beverage refrigerator, NewAir AB-850 beverage refrigerator is made for you. Being over 2 feet in height, it doesn't require much space in your kitchen. Though it is small, its freestanding design provides you ample storage to store at least 90 cans. Its remarkable cooling system chills down the drinks to 34ºF quickly. In addition to that, it also features 5 removable chrome racks that can be adjusted to your needs. You don't need to worry about its durability either as it is made of sturdy steel.
5- Frigidaire Retro Mini Compact Beverage Cooler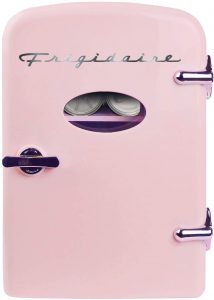 As the name suggests, Frigidaire Retro compact beverage cooler is a mini beverage refrigerator that is almost 10.5 inches in height. Owing to its small size, you can keep it even in your living room. It won't take much space. The refrigerator features 2 racks, one is small while the other one is large. You can store the drinks accordingly. To make the accessibility easier for you, it is designed with an easy-grip handle. On top of all, it offers a noise-free operation.
Also check: Top Best Large Refrigerators for Home and Restaurant in 2023
4- Danby 120 Can Beverage Centre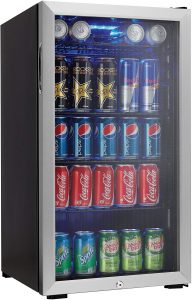 Danby beverage centre has garnered a huge love from its users. All thanks to its alluring design and remarkable features that have impressed the people. With its 3 wire racks, it can conveniently hold up to 120 cans. In addition to that, it features a mechanical thermostat controller with a temperature range of 43ºF to 57ºF. You can adjust the temperature according to your needs. The refrigerator also features a blue LED light that keeps illuminating when the refrigerator is in function.
3- Danby DAR026A1BDD Compact Refrigerator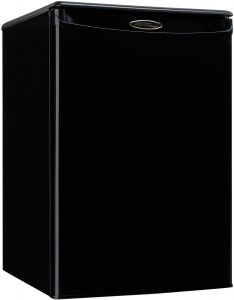 DAR026A1BDD is a mini beverage refrigerator by Danby. With a height of over 2 feet, it features 4 wire-made and different-sized racks where you can store different sizes of cans accordingly. Even after that, if you're falling short of space, worry not. Just look at its door shelves that offer you further ample storage. Furthermore, it is designed with a mechanical thermostat, which allows you the flexibility to adjust the temperature. Speaking of construction, it is made of sturdy materials and has a scratch-resistant top.
2- Whynter BR-130SB Beverage Refrigerator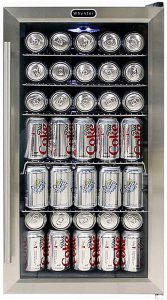 If you're looking for a sturdy beverage refrigerator with large storage capacity, Whynter BR-130SB beverage refrigerator is the best fit for you. Being 33 inches high, it features 6 big shelves and has a holding capacity of 120 cans. Every rack has different storage capacity and each of them can hold 15 cans at minimum and 25 cans at maximum. With this beverage refrigerator, you can set the temperature between 30ºF to 60ºF. To ensure a better user experience, it is designed with a reversible door and has a freestanding setup.
1- Avallon ABR 241SGRH Beverage Cooler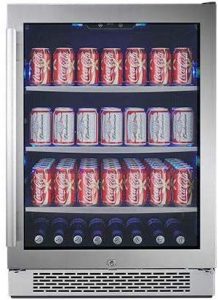 Avallon beverage cooler has gone a step further than its competitors. Unlike other beverage refrigerators, it is inbuilt with true-key lock, which adds security to your beverage refrigerator and prevents the other people from accessing your favorite drink. The refrigerator has 4 shelves, which can store up to 140 standard size cans. Furthermore, it is designed with powerful circulation fans that distribute the cool air evenly over the drinks and make them cool quickly. If it is not enough for you, you can further customize the temperature setting from 30ºF to 50ºF.
Key factors to consider before buying a beverage refrigerator
When buying a kitchen appliance, you should be a bit careful with your purchase because they are meant to be used daily, even many times in a day. The beverage refrigerators are no exception. From size to functionality, they need deep consideration on certain factors. And, those are:
Size
Needless to say, this is the first thing you should see when buying a refrigerator. In the market, you'll get various sizes of beverage refrigerators. But, go for the one that is the best suitable for your needs as well as your kitchen space. If your kitchen doesn't have much space, a bulgy one even with the top quality might not be a good fit for you. Given the fact, first, determine the size of your refrigerator and then check out further features.
Storage capacity
Once you're decided with the size of your beverage refrigerator, look into the storage capacity of that. No matter how stylish and quality-packed a  refrigerator is, if it doesn't meet your storage needs, just let it go. First, be clear with your needs whether it is for family use or single person use, then make the purchase accordingly. Ideally, a good one features 3-4 adjustable, removable, and large shelves. However, the number of shelves has nothing to do with the quality of a refrigerator.
Construction materials
The construction material of a refrigerator is another considerable factor that you can't afford to miss while buying the one. In the market, you'll get different types of beverage refrigerators of plastic and metal. Among all, a steel one is considered the best. The reason being, it is durable and can hold up the drinks effectively. Moreover, it also ensures hassle-free cleaning. Given the fact, go for a steel one even if it costs a bit above your budget.
Temperature setting
Temperature is the game-changer of a beverage refrigerator. This is why pay close attention to the temperature setting of your prospective refrigerator. Generally, these types of all refrigerators are designed with a temperature control dialer. Some of them allow customization, while some are inbuilt with a constant temperature. Go for the one that allows temperature customization. Also, look into the temperature range of that refrigerator. In general, a top-quality beverage chiller allows temperature customization between 30ºF to 50ºF.
User-friendliness
You have to use your beverage refrigerator daily. This is why don't forget to check out the user-friendliness of your beverage cooler. With user-friendliness, we mean, the level of convenience, style of door, in-built LED light and other such features that make the overall usability easy for you.
Conclusion
Get one of these sought-after beverage chiller and add convenience to your life as well as decoration to your kitchen. Whether there is a house party or your guests are visiting you, these beverage refrigerators won't let the supply of chilled drinks fall short in any case.
Last update on 2023-10-04 / Affiliate links / Images from Amazon Product Advertising API