Dog grooming is challenging, be it on a professional level in a pet salon or on a personal level at home. If you don't have the correct equipment, it can go wrong as your lovely dog pet is an active animal. Furthermore, you have to take into account your pet's comfort. Making him or her anxious during the process will only cause problems. To solve these problems, the use of a dog grooming table becomes essential. You can place your dog on the table and make the best of your grooming process. Your lovely dog or puppy will be relaxed, and the outcome will be worth all the effort. Therefore, given below, is a list of the best dog grooming tables for your dog's refreshing session.
List of the 10 Best Dog Grooming Tables in 2023
Dog Grooming Table Reviews
1. Safest Among All: JY QAQA PET Dog Grooming Table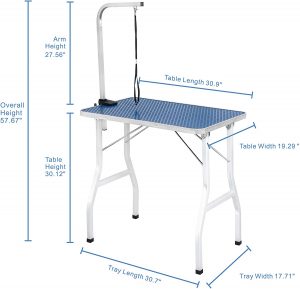 Brand: JY QAQA PET
Size: 32″
Colour: Blue and White
To complete a successful grooming session, it is imperative to have your pet stationary in one place. If your dog keeps fidgeting, the trimming could go wrong. Keeping this in mind, JY QAQA PET's grooming table has a non-slip pure rubber surface. This serves a dual purpose. Firstly, it keeps your pet stable so that the grooming goes on smoothly. Secondly, it prevents your doggo from slipping off the table while it is wet, ensuring its safety.
Besides, the sturdy table can hold up to a weight of 220 lbs. Moreover, its foldable design makes it portable and easy to carry along with you while traveling.
Key Features
Adjustable Grooming Arm
Non-slip Pure Rubber Surface
Super Easy to Clean
Sturdy design
Foldable and Portable
30-day refund
2. Most Convenient: Go Pet Club Pet Dog Grooming Table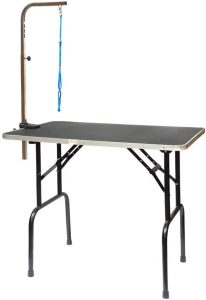 Brand: Go Pet Club
Size: 30."
Colour: Black and Silver
While working, the level at which the table is influenced by your efficiency while working. Go Pet Club's grooming table comes with the feature to adjust its height. With an initial height of 30", it can be extended up to 40". This way, you can work perfectly without facing discomfort or worrying about a backache. The grooming arm is also adjustable. Its surface is made of static-free material to increase the convenience for you.
The table is made of rust-proof materials that ensure its durability. Moreover, its legs are easily foldable and are designed with a special goal-post design for added stability. You can carry it around with you wherever you go and keep your pet groomed and hygienic always.
Key Features
Adjustable height
Adjustable grooming arm
Special goal-post style legs
Rust-proof material
Static-free surface
Pocket-friendly
3. Best Under $100: Yaheetech Pet Dog Cat Grooming Table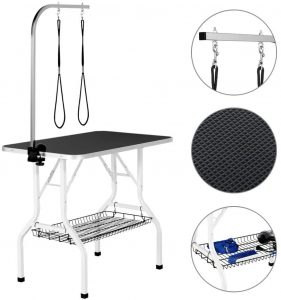 Brand: Yaheetech
Size: 36″
Colour: Black
Large tables are needed for grooming larger dogs, but they occupy space. If you have a smaller breed of dog as a pet, purchasing a large table is pointless. Yaheetech's pet grooming table is designed especially for unproblematically grooming smaller breeds of dogs. The material that this is made of is the best quality one. The surface is made of MDF board that is waterproof and has an anti-skid texture to support your pet with utmost comfort. Other materials used include electroplated arm, plastic and metal clamps, powder-coated iron frame, and steel shelf.
Furthermore, it comes with double grooming loops that help you keep the pet in place while you groom or bathe it. Impressively, it comes with a metal storage shelf to keep all your grooming tools. Overall, this grooming table is just perfect for smaller dogs and cats.
Key Features
Double grooming loops
User-friendly
Best-quality material used
Non-slip and waterproof surface
Foldable design improves portability
Extra storage space
4. Best for Large Dogs: Yaheetech Pet Grooming Table for Large Dogs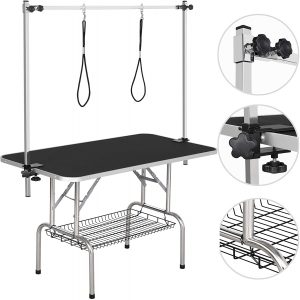 Brand: Yaheetech
Size: 45"
Colour: Black
Yahhetech has done some intelligent work by customizing its grooming tables. It has specially built tables for large and small pets. This one is an ideal table for large dogs. With stainless steel and durable wood boards, it is capable of holding weight up to 264 lbs. In case you own a large dog, this is a blessing for you. It will make your pet grooming sessions easy and fun. It is designed using four pieces of metal bracings for connecting the top to the legs firmly.
It comes with a large metal mesh storage for storing your grooming tools and avoiding the mess. The tray can be taken down when not in use. The table is foldable into a small structure and hence, can be easily carried around. Your pet can enjoy a grooming session in the garden instead of the bathroom, with this. Overall, a perfect pick for grooming large dogs.
Key Features
Large metal mesh storage tray
Stainless steel and durable wood boards
Maximum durability with the usage of strong metal clamps and knobs
Foldable design
Capacity to hold a large weight
5. Safest Among All: Yaheetech Portable Pet Dog Grooming Table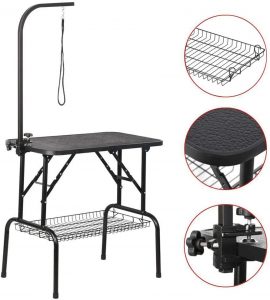 Brand: Yaaheetech
Size: 32″
Colour: Black
Pets, especially dogs, are adorable, and you tend to develop an affection for them like none other. Even while grooming them, their safety matters the most. Yaheetech understands that, and therefore, this table by them has been designed prioritizing the safety of pets above all. It comes with an adjustable grooming arm to set it according to your pet's needs. The clamp can be used to hold your pet in place. The surface is made of special anti-skid waterproof material to prevent your dog from slipping and falling over. Furthermore, the rounded edges of the table surface make sure that the pet us not hurt by any change. The capped feet of the table to ensure great safety.
Moreover, the table can be easily folded and carried along when traveling. Overall, this table will never compromise on the safety of your pet, and neither should you.
Key Features
Adjustable grooming arm
Safest grooming table with sturdy structure
Non-slippery and waterproof surface
Rounded edges and capped feet
Convenient and user-friendly
6. Cheapest Among All: Lazy Buddy Dog Grooming Table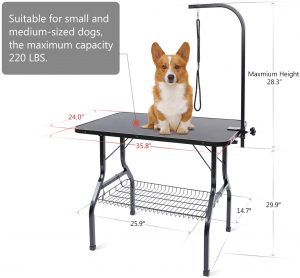 Brand: Lazy Buddy
Size: 35″
Colour: Black
Pet care can be expensive. Whether you decide to go to a professional for the service or invest in the equipment to do it at home, you will have to spend good money. Therefore, deciding on affordable tools is essential. LAZY BUDDY pet care offers an affordable pet grooming table with all standard features. It comes with an adjustable height, a foldable and sturdy design, a non-slippery and waterproof surface, and a metal mesh tray for storage.
Moreover, it can hold a weight of up to 220 lbs, making it suitable for both large and small pets. With this table, you can avoid going to the professional pet groomers' time and again and groom your pooch regularly at home itself. Doing so will ensure both your pet's safety and your satisfaction with the result.
Key Features
Adjustable height for easy washing and cleaning
Foldable design for easy storage and portability
Affordable price
Easy to clean
Waterproof and non-slip surface
7. Best Runner-Up: Nova Microdermabrasion Pet Dog Grooming Table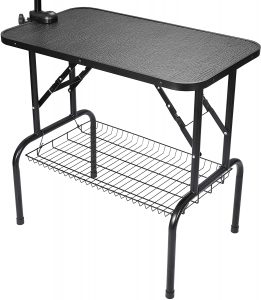 Brand: Nova Microdermabrasion
Size: 32."
Colour: Black
Are you planning to change from professionally done grooming to domestic grooming, but are nervous about the usage of the equipment? Don't worry, Nova Microdermabrasion's table is here to save you. It is an easy and safe platform for dry and trims your pet's hair. Along with all its features, including good, waterproof material, adjustable grooming arm and height, and an anti-slip rubber surface, it also comes with a detailed user manual. The manual contains detailed and comprehensive instructions regarding the steps that have to be followed for grooming your furry friend.
Besides, it ensures the safety and security of the pet and protects it from all unprecedented injuries. This table great for convenient usage for your pet's bathing, grooming, trimming, dressing, and drying.
Key Features
Easy and convenient usage
Non-slip and waterproof surface
Adjustable arm and height
Comprehensive and detailed user manual
Safe and secure
8. Best Among All: Bonnlo Upgraded Pet Grooming Table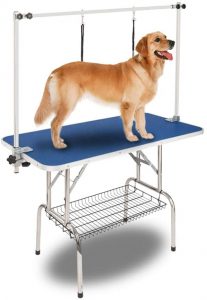 Brand: Bonnlo
Size: 45″
Colour: Blue and White
Bonnlo's upgraded pet grooming table is specially designed for professional pet grooming. All its features and technicalities are professional level perfect. Its heavy-duty stainless steel frame is constructed with the premium wood platform and stainless steel folding legs. This enhances durability and stability. The stainless steel legs will not rust or corrode, and the premium wood will keep the table steady and stable. Therefore, dogs with large weights can be easily groomed with the aid of this table and while ensuring stability during the grooming process.
Even with so many technical details and niches, the table is extremely easy to install and use. There is no need for any tools or extra force for its installation.
With this, you can give your furry friend professional level grooming at home itself. Its features and convenient usage is sure to impress you and your dog.
Key Features
Heavy-duty stainless steel frame
Upgraded aluminum clamp and rounded table edges
Adjustable and foldable design
Easy and convenient installation
Extra metal tray for convenient storage
9. Most Portable: SUNCOO Foldable Pet Grooming Table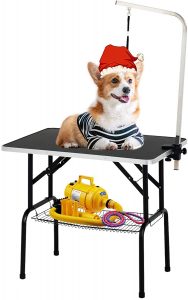 Brand: SONCOO
Size: 48″
Colour: Black
When you own a pet, traveling is a matter of concern. There are numerous limitations. You cannot take your pet along every time. When you can, there are other problems that you have to look into before planning the trip. With this table, you can check one problem off that list because it makes grooming your pet a matter of some minutes. The table is undoubtedly large and can handle a weight of up to 330 lbs. But, at the same time, the table is foldable and can be carried around easily. Once folded, the size becomes compact, and due to its lightweight, carrying it becomes very convenient.
Other than this, the material that it is made of is high-quality and non-toxic CARB2 board with aluminum edges that is rust-resistant and sturdy. Overall, a great option for travelers with pets.
Key Features
Easy to clean and maintain
Portable, lightweight, and compact
Easy to collapse
Sturdy and durable
Adjustable arm
Large size and capacity
10. Best Value for Money: Flying Pig Mini Grooming Table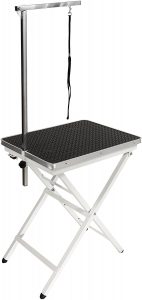 Brand: Flying Pig Grooming
Size: 24″
Colour: Black
Flying Pig has a range of grooming products for all pets. This one, however, is specifically designed for pets that are small in size. Its supports up to 50 lbs of weight, and its compact size makes it very easy to store or carry around. Moreover, its height can be easily adjusted according to your needs. The frame of the table is made of high-quality steel. Its surface is non-slip rubber for the best stability.
It is easy to clean and wash and, therefore, ensures the hygiene of your pet and its grooming tools. The grooming arm with a noose makes usage and maintenance easier and convenient. Overall, this compact and the lightweight table is a product that is worth your money.
Key Features
Mini size grooming table
Portable and durable
Made of good quality material
Easy to clean
Stability ensures
Bottom line
With the correct equipment, the challenging task of pet grooming can be made not only easy but also enjoyable. The above list mentions all the features of these products one by one so that you can look at them and choose a product that will suit you and your pet both. With a grooming table, the grooming process with become easier for you and more comfortable and enjoyable for your furry friend.
FAQs (Frequently Asked Questions)
Ques 1: What is the importance of anti-skid surfaces?
Ans: When you bathe your pet, water and soap make the surface slippery and soapy. This can lead to your pet slipping and falling over, causing injuries. The tables that come with anti-skid surfaces prevent the soap from making the surface soapy. Hence, these surfaces are an added security and safety feature for your pet.
Ques 2: How does a double noose improve the performance of a grooming table?
Ans: Just like the anti-skid surfaces, the double noose, too, is an added safety feature for your pet. It is especially useful is grooming tables for pets of large size. They increase the grip and stability of the pet and make the grooming process much easier and less messy.
Ques 3. Is grooming at home a good idea?
Ans: Pet grooming at home is definitely challenging, but it is not as difficult as it seems. Before beginning, you should have the basic knowledge that you can acquire from the user manuals that come with grooming products. Once you begin, with practice, you can perfect your grooming skills. This way, you will not have to spend money on professional salon grooming time and again.
Last update on 2023-10-04 / Affiliate links / Images from Amazon Product Advertising API