Automatic dog feeder is a pet food dispenser which is programmed to automatically feed your dog, cat and other pets when you are away from home. There are various types of automatic pet feeders either electronic one or the manual one which need the pet to serve themselves. With this great invention, you will no longer be worried about the starvation of your lovely dogs or cats because although there's no one inside the house to feed them, the feeder will dispense food automatically when the meal time comes.
If you want to buy an elevated dog bowl or a slow feeder dog bowl, click to learn more about PAWAii Magic Dog Bowl.
Precisely speaking, automatic dog feeder is the machine that can feed your pet regularly without needing humans to manually operate it. If you haven't owned one of these and is curious to have one, our team has spent quite amount of time looking into the products and compiled the best options for your pick below. You can also find our buying guide at the end of the article if you are not sure which one suits best to your lovely dog or cat. Let's get start.
Here are the 10 Best Automatic Dog Feeders in 2023
Automatic Dog Feeders Reviews
10. Honeyguaridan A36 Automatic Cat Feeder, Automatic Dog Feeder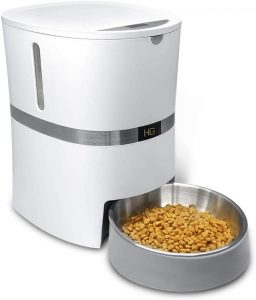 As the first product in the list, this number 10 best automatic dog feeder is from Honeyguaridan. What's special about this feeder is that you can easily customize meal size and time which is highly functional when you are away from your pets during the feeding time. It can store up to 13 cups which means you can go out the whole days and you still don't have to worry if you pet would starve. This machine is also featured with a removable food container which makes it very easy to clean.
Another special feature of this food dispenser is that it has the light that can notify you to refill more food as it's about to run out. It also has a voice recorder and speaker where you can record your voice to call your pet as well. It may be a time-saving for you to buy along with its Smart Automatic Water Dispenser and food all at once.
How to Set up HoneyGuardian Pet Feeder Machine
Video by Jujube The Bunny
9. PetSafe Automatic Pet Feeder, Smart Feed Automatic Dog and Cat Feeder
Another advanced technology automatic dog feeder in the market is from PetSafe. With the smart function that you can monitor the machine from your smartphone, you can easily feed your pet anytime using the app which you can easily download no matter if you are using android or iOS. Similarly, you can schedule the feeding time anytime in a day. It's actually quite amazing that you can set up to 12 meals for your pet.
Moreover, it also has the Slow Feed option that allows your pet to eat slowly over a certain amount of time. With the dish made from stainless steel, you are free to wash it in the dishwashing machine. You can also trust PetSafe as they have been one of the leading brands in the industry for the past 30 years and still counting. Anyway, are you also looking for a new bed for your dog? If so, you may check out one of these Chew Resistant Dog Beds for your lovely baby who like exercising their teeth often 🙂
8. WOPET Automatic Pet Feeder, 4 Meals Per Day Automatic Food Dispenser for Cats & Dogs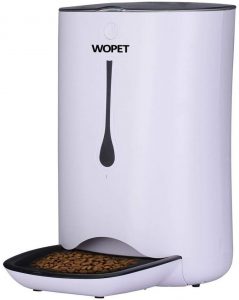 At number 8, we this top best automatic dog feeder from WOPET. What's great about this product is that it has all the functions that the leading brands surely have including the scheduling of feeding program up to 4 times per day and the control over how big is portion you want your dog to be fed. With this automatic dog feeding, you don't have to worry if your pet would get unhealthy as he/she would be eating too much food because the machine can be set to sustain your pet size and diet.
Moreover, you can store up to 20 cups of food in the machine, it's less concerning in your days that the food would run out. With WOPET, you can also record your voice and play as a call to your dog for the feeding time. Anyway, have you got a lovely house for your dog yet? You may consider one of these Dog Houses as a gift for your baby if you don't have one for him/her yet.
7. WOPET Automatic Pet Feeder 6 Meals Per Day, Automatic Dog Feeder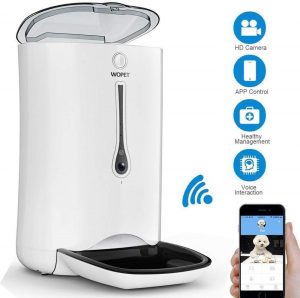 Here at the top 7th, we have another high quality automatic dog feeder from WOPET. As leading quality as the previous model from this brand, the only slight difference between the two is that this WOPET at the top 7th can be set to schedule up to 6 meals per day, so if you dog eat more than 4 times per day, this one is definitely for you. A lot of its loyal customers has claimed that this automatic dog feeding machine is like a pet sitter that looks after your pet very carefully in terms of their diet because it has the customizable amount and schedule for your dog to be served.
On top of this, what's even special lies on its built-in HD camera that have both voice and video recording which you can easily connect using an app, so you can talk, see and play with your pet anytime. This machine will be run by Wi-Fi, so you would need to make sure your home Wi-Fi works functionally.
6. BELOPEZZ Automatic Dog Feeder, 6Liters Smart Dog and Cat Food Dispenser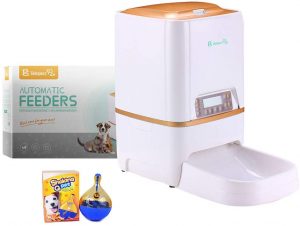 Coming to the top 6th, we have another great quality automatic dog feeder from BELOPEZZ. What makes BELOPEZZ so popular is since it was invented 10 years ago, it has always promise the customer with the quality of its product. BELOPEZZ is designed in a reasonably large size that allows to be able to accommodate up to 6.5 pound of dry food, so you can conveniently get your pet fed; whether they are big or small sizes. Interestingly, it has the automatic detection and feeding control technology that allows this machine to avoid feeding excessive food to your pet.
Similarly, this device is also featured with 10 second voice recording function which it can be played to call your pet for the meal time. Last but not least, it's also great for the environment as it emits no pollution to the air.
5. TDYNASTY DESIGN 6.5L Pet Feeder, Automatic Cat Feeder, Food Feeder for Kitten & Puppy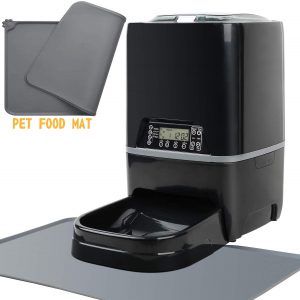 Moving onto the top 5th, this luxurious automatic dog feeder is from TDYNASTY DESIGN. First of all, in terms of size, this product is quite big as it can store up 6.5L in the dispenser, so if you have big dogs, especially, you will never have your dog stays starving. Moreover, it can be scheduled when it comes to feeding time and food portion to make sure your pets will remain in a healthy shape. It also comes with detection function that prevents your pets from pressing anything for more foods and to prevent spilling.
The product also comes with the LCD display where you can easily monitors and sets any mode, too. With the common similarity with other product in the list, you can also record your voice to play it anytime with this machine.
4. Athorbot Pet Feeder, Programmable Food Dispenser, Automatic Dog Feeder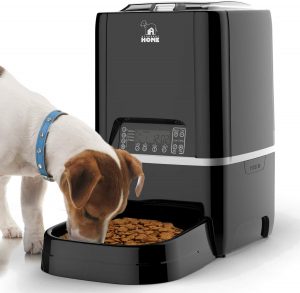 Here at the top 4th, another top automatic dog feeder is from Athorbot. Similar to the previous two products in the list, Athorbot also a big dispenser that's designed to accommodate up to 6.5L per time. Hence, for large dogs, you can actually feet up to 4 meals per day with this device. You can also easily set the portion and timer during the day when you want your dog to be fed, so it really saves you from concerning if your pet is properly fed.
Each feature in this device is very easy to use. Furthermore, it also comes with a proper instruction that you can refer to maximize all its functional. It's also pretty convenient to use if you have multiple small and medium size pets.
3. WOPET Pet Feeder Stainless Steel Bowl, Automatic Cat Feeder & Dog Feeder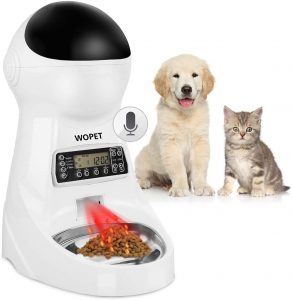 Here at the top 3rd, we have another leading product from WOPET. Obviously, at this very point, you should know clearly how high quality WOPET products are. For this one right here, it is ideal for any small or medium size pet. It has accurate meal portion that you can select for 15 to 39, so you can set any right amount that you don't have to worry if the device would feed more or less than what you set.
Besides, this machine comes with removable stainless steel bowl which you can easily clean after sometimes. More special, it also has the IR detector function that can prevent the good from clogging on the way. And as always, WOPET has voice and speaker recording function so you can always remind your pets to comes when it's meal time.
2. Balimo Automatic Smart Pet Feeder, Automatic Dog Feeder, Automatic Cat Feeder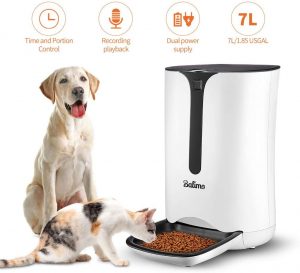 Here at the top 2nd, we have this super large automated feeding machine from Balimo. What we say super large, it refers to its capacity that this machine can store up to 7L of foods, so you don't need to refill the food to the machine quite often. Besides, it has the built-in LCD screen where you can use to set the programs for your pet's meal time. You can select flexible meal portion that ranges from 1 to 39 per meals; depends on how much you want your pet to consume.
As you may expect, Balimo also own voice recording function.  With the help of that, you can call your pet for meals and this function can be set to repeat automatically. Balimo is also easy to clean, so there's nothing you would have to worry about.
1. HICTOP Automatic Pet Feeder, Auto Pet Dog Timed Programmable Food Dispenser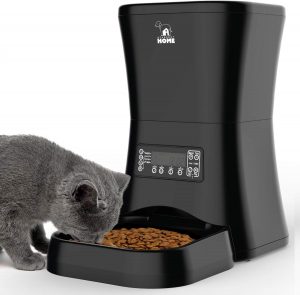 Finally, moving to the final and the number 1 best automatic dog feeder in the list, it's actually a product from HICTOP. Now, one of the special things about HICTOP is that it has an infrared sensor that is able to prevent the food from both jamming or overflowing, so you can have the correct amount of food you want your pet to eat each time. Besides, it can serve up to 4 days with the right amount of food and time
You can also use the voice message to call your pet to come over for food. HICTOP is perfect for any small and medium size pets; particularly cats and dogs. Also, with the capacity to hold up to 6.5L, you can rest comfortably knowing you don't have to worry if the food would easily run out.
Buying Guide
When buying automatic dog feeders, there are 3 important things you need to consider. First of all, it's about the capacity that the devices can hold. Usually, different products will have different capacities when it comes to the dispenser. It's always better if you can find any product that can hold more. The reason being,  it can save your energy from keep refilling the food. Also, you don't need to worry if the food would run out during your absence.
Secondly, it is also quite essential to see how many times can a device feed. While a common product can feed up to 4 times per days, some might be able to do more. It would depend on how many times does your pet usually eat, so you can choose the product carefully.
Lastly, when purchasing the product, it's worth to see if it would come with battery included in the package or it will come individually because they don't come together, you need to purchase the right type of battery to use it.
Conclusion
So, when you are looking for the best automatic dog feeders, this article will be the best guides you would always want to refer to.
Last update on 2023-11-30 / Affiliate links / Images from Amazon Product Advertising API