Dogs are canine creatures who like to be free. You don't like chaining them down, but you can't always have them roaming freely inside the house. Especially when guests are around, or if you need to clean the house. This is where a dog house comes into play. An insulated dog house is a fantastic addition to give your dog a sense of individualism and freedom while sheltering your furry friend from the adversities of weather.
All of the animal lovers can agree that dogs are indeed our best friends. These selfless creatures become our bundle of joy and shower us with love. As their owners, we also try out best to offer them a comfortable lifestyle, full of affection. In your efforts to do so, insulated dog houses may prove to be a valuable addition. However, as there are countless options available in the market, we are bringing you our list of top ten insulated dog houses. With careful evaluation, all of these have something fantastic to offer for your best buddy:
List of the 10 Best Insulated Dog Houses in 2023
Insulated Dog Houses Reviews
1. Asl Solutions Dog Palace For Med To Large Dogs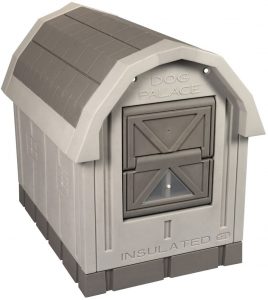 Brand: ASL Solutions
Size of product: Medium and large
Product Material: Plastic with ESP foam insulation
If you're looking for a plastic dog house that is sturdy and durable, this one fits your requirements. This ASL's dog house comprises expanded polystyrene (ESP), which insulates it to keep it warm. You can easily assemble the dog house by watching the YouTube tutorial which the company offers. It is capacious with adequate ventilation; therefore, a steady flow of air will be regulated. Along with the insulation, your dog will be shielded from all the weatherly tolls. The swinging door at the entrance offers aesthetical appeal and more shelter for your dog. Overall, it is a durable product that can support a dog as heavy as 100 pounds.
Key Features:
Adjustable plastic feet for increased inflow of air
Pre-drilled holes for ease of assembly
Raised floor area for added insulation
Easy to maintain
Ideal for medium to large-sized dogs
2. Best Overall: Petsfit Dog House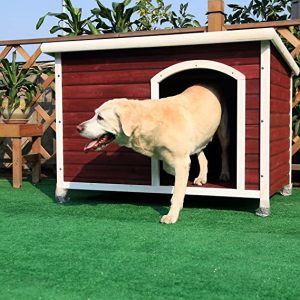 Brand: Petsfit
Size of product: Small, Medium and large
Product Material: Wood
Not a fan of plastic? Then the Petsfit Dog House is a product you should consider. Made with natural cedar painted wood with asphalt roofing, it is highly durable. Its resistance to the decaying elements also makes it long-lasting. This dog house offers protection against pests, and the use of non-toxic paint makes it completely safe for your dog. You'd love the simplistic design and weatherproof feature. It has lift-up roofing, which ensures you can clean the house without having to crawl inside. There is also a door to enable easy entry and exit for your dog. The adjustable plastic feed helps in moisture regulation. Great customer service is offered by the brand, and it has a replacement warranty extending up to one year.
Key Features:
Adjustable plastic feet for moisture protection
Optional insulation kit
Decay and pest resistant
Easy to clean and maintain
Seamless assembly
3. Pet Zone Tuff-N-Rugged Dog House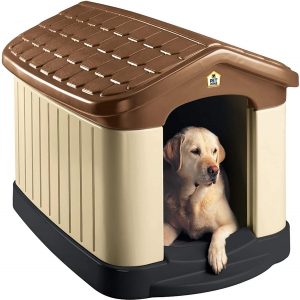 Brand: Pet Zone
Size of product: Large
Product Material: Plastic
The Pet Zone Tuff-N-Rugged Dog House is a portable and lightweight dog house. Assembly is smooth as it comes with pre-drilled holes, which you can easily connect without the need for a tool. Despite being a lightweight selection, it has double walls that offer warmth and comfort. Its detachable rooftop is one of the handiest features which makes cleaning and maintenance easy. Due to its double walls, it offers more insulation than its single walled counterparts. It also has UV protection; hence the color won't fade for a long period of time. Therefore, you get a vibrant dog house year around.
Key Features:
Double-walled design for extra insulation
Tool-less assembly
Fade-resistant UV protection
Weatherproof and waterproof
Spacious for large dogs
4. Best Value For Money: Petmate Indigo Dog House With Microban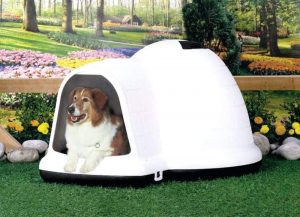 Brand: Petmate
Size of product: Large
Product Material: Plastic
The Petmate Indigo Dog House with Microban is an igloo-model dog house with a sturdy build and extraordinary quality. It provides your dog with astounding insulation and prevents leakage during rainfall. Thus, it remains dry and warm. You can take off the top half of the dog house for maintenance purposes. Additionally, it is easy to wash with a simple sponge and water method. There is a vent on top that allows air to circulate inside the house, making it a relaxing retreat. Not only does it offer all year protection against the various weather conditions, but it also offers antimicrobial protection against odor-causing bacteria and the growth of stains.
Key Features:
Coated with a micro ban for antimicrobial protection
Easy to wash
Creative design
Has vents for improved ventilation
Insulated against the extreme weather conditions
5. Rockever Wood Dog House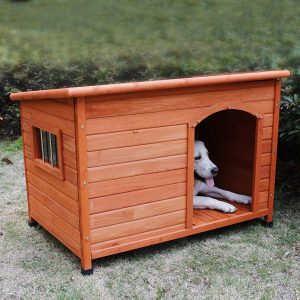 Brand: Rockever
Size of product: Large
Product Material: Wood
The Rockever Wood Dog House is a weather-resistant and highly insulated dog house with a simple design. It can be assembled as it comes with pre-drilled holes. By using a screwdriver or a cordless drill, you can easily fix the screws into the holes. The vinyl flaps come pre-installed. Its rooftop is asphalt mixed with sand, and it's slanted to prevent water from getting in. The adjustable feet help hold off moisture while providing access for more air. It is made from cedar wood, which is both rot and pest resistant as such, you won't have to constantly worry about the structural integrity of the dog house. Overall, it is a fantastic addition to aesthetical appeal.
Key Features:
Fantastic aesthetics and design
Elevated floors protect against moisture
Excellent customer service
Weather-resistant
Rot-resistant helps increase products durability
6. Internet's Best Outdoor Dog House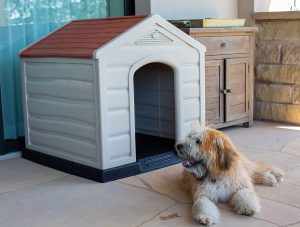 Brand: Internet's Best
Size of product: Small
Product Material: Plastic
If you're a constant traveler, then this dog house was made exclusively for you. The Internet's Best Outdoor Dog House is a very lightweight plastic dog house for small dogs. It is very easy to put together and offers protection against weatherly conditions. Its elevated base helps prevent water from entering. Thus, keeping your pet dry at all times. It is durable and easy to move around which makes washing convenient. As it is waterproof, you don't have to worry about soaking. More importantly, It has vents incorporated around it for proper air circulation.
Key Features:
A travel-friendly dog house
Capacious for small dogs
Easy Assembly and Maintenance
Waterproof and weather-resistant
Durable model
7. Petsfit Dog House Insulation Kit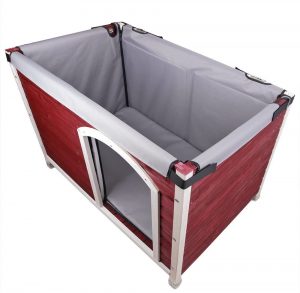 Brand: Petsfit
Size of product: Large
Product Material: EPE foam
Now here is a convenient addition to the list. This product from Petsfit is essentially an insulation kit that you can install in any pre-existing dog house. Therefore, you don't have to invest in an additional insulated dog house. It is highly cost-effective and durable. You will have a waterproof, weatherproof, and warm addition to your dog's house anytime you desire. Additionally, you also get a cedar wood body to build your own dog house, so that's two in one. This is one of the most convenient products available.
Key Features:
Portable and lightweight
Easy to install in any dog house
Washable canvas with EPE foam
Insulation provides added warmth
Comes with cedarwood body
8. Cheapest Amongst All: Suncast Dh250 Outdoor Dog House With Door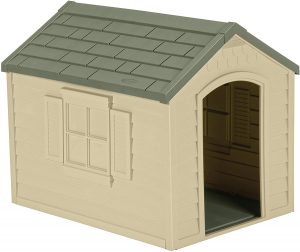 Brand: Suncast
Size of product: Small and Large (61 – 75 lbs)
Product Material: Plastic
The Suncast Outdoor Dog House with Door is a well-built and easy to assemble doghouse. It offers a tool-less assembly as its parts can be snapped together. Although it doesn't come with stakes, you can stake it to the ground for improved sturdiness. If you love good design, then you'd easily fall in love with this dog house. It is an attractive, simple dog house made with a strong plastic. Lightweight and easy to carry around, the dog house has a designer house appeal. The door provides extra protection from strong winds and serves as entry and exit points for your canine.
Key Features:
Suitable for small and large dogs
Snap-type assembly
Additional staking option for sturdiness
Ergonomic design
Effortless maintenance
9. Best Runner Up: Suncast Dh350 Outdoor Dog House With Door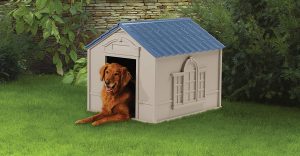 Brand: Suncast
Size of product: Large
Product Material: Plastic
This dog house is robust, able to hold any pet that weighs up to 70 pounds. The heavy-duty resin construct makes it durable, and the crowned floor makes it an elevated addition. Snap it together easily to assemble it and install it in your backyard, deck, or garden, as it is just perfect anywhere. More importantly, it comes with a contemporary design that complements your house's décor and architecture. So if you like a little stroke of the style of your dog house that goes well with your house's architecture, this is the one. For additional convenience, it comes with a vinyl door that you can install for further protection and weather resistance.
Key Features:
Can hold up 70 pounds
Removable Vinyl Door
Resign Construct with Crowned Floor
Resilient in extreme weather conditions
30 day warranty period
10. Best Under $100: Petmate Precision Extreme Outback Log Cabin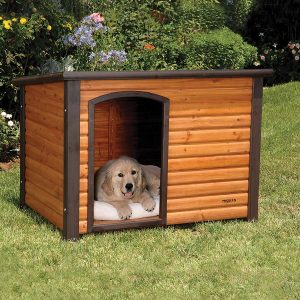 Brand: Petmate
Size of product: Small, medium, large and giant
Product Material: Blend
Here is the most conveniently assembled dog house. Within three steps, you will have a house that has a protective coating, raised floor, and asphalt roof that is slanted to offer impeccable protection against the weather. An offset door furthermore reinforces its integrity. It blends solid wood and stainless steel. Therefore, it is one of the most durable and long-lasting products on the list. However, it is not suitable for large dogs. Overall, you make an investment in one of the best selections possible.
Key Features:
Suitable for a small to medium-sized dog
Three-Step Assembly
Metal and wood blend
One year warranty period
Highly insulated and reinforced
FAQs (Frequently Asked Questions)
Ques 1: What Is A Dog House And Do I Need One?
Ans: A dog house is a structure made with one purpose in mind; to shield your dog from weatherly conditions.
An outdoor doghouse is built like a regular house – a single roof, four walls, a window or two, and a door for ease of entry and exit. Just like you need a house, your dog needs his personal space as well.
Having a dog house means your dog gets to spend more time outside, get more physical activity, and be more comfortable with the surroundings.
Ans: The question is not if they can share a dog house, but will they want to share? Dogs like humans have different personality types. The more dominant one may want subservience from the other dog, and if the other dog is domineering as well, then sharing a dog house will likely be a problem. Dogs of the same breed are more likely to stay together than those of different breeds. The best way to make your dogs share a house is by dividing the dog house into two halves.
Ques 3: There Has Been A Lot Of Hype Between Wooden And Plastic Dog Houses. Which Exactly Is The Better Option?
Ans: A wooden dog house is very sturdy, durable, and stable. It is very heavy and hence makes relocation difficult. It is also harder to assemble and clean. Wood requires regular maintenance because it is a natural substance. Plastic, on the other hand, offers more flexibility, it is easier to clean. It is weatherproof and waterproof. It is very easy to assemble and doesn't require tools. Downside is that it is crack-prone when exposed to extreme heat or cold for a long period of time.
Buying a dog house is entirely dependent on your needs. If you're a regular traveler, then a plastic dog house is a better option as it is lightweight and can also function as a crate to carry your dog into an airplane.
Verdict
Choosing a home for your canine is not an easy feat, as you have to ensure the safety and comfort of your dog. Hypothermia is a real risk when you live in a cold region. A dog house can be termed, "weatherproof" yet still lacking in insulation. The benefits of insulating your dog house far outweigh the risk. It is way cheaper to buy an already insulated dog house than to buy a dog house and then separately purchase its insulation kit. Insulation helps protect against extreme weather conditions brought about by climate change. The above list of doghouses provides adequate information to enable you to make a purchase suited to your needs.
Last update on 2023-10-04 / Affiliate links / Images from Amazon Product Advertising API