No doubt dogs are most loyal friends to humans. A dog would be there for you through your thick and thins. So, it becomes important for you too to take care of your dog. For that, first of all, get a dog bed.  Considering the fact that a dog may bite or scratch to damage the bed at any time, it is difficult to choose the proper bed for your dog. This is the reason why chew proof dog beds are there to solve the problem. After our detailed research into dog products, here we have put together the reviews for the top ten best chew proof dog beds. It will help you pick the right bed for your beloved dog.
List of the Best 6 Best Chew Proof Dog Beds for Your Pick in 2023
6. K9 Ballistics Rectangle Chew Proof Dog Bed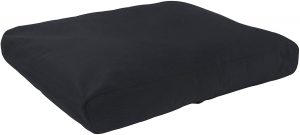 In the shape of a rectangle, this dog bed is uniquely designed for the use of dogs, who are known to be the famous chewers, scratchers and diggers. With the fact that dogs can damage the bed at any time, this bed is constructed with special materials to be resistant to water, chew, scratches and bite. Moreover, to guarantee the cleanliness of the living environment, the cover of the bed is removable and safe to be washed with washing machines.
It is made in the US and certified by CertiPUR-US that recognizes the safety standards of a product with low emission of harmful chemicals. There are also sewn-in chambers to maintain the balance of the weight distribution of the dog while it moves on the bed. It is guaranteed with 4 months of warranty to chew resistant, which means the new product will be compensated by the manufacturer if the dog has destroyed the bed within this period. It is available in 5 different sizes, to fit 5 different heights of the dogs, including small, medium, large, X-large and XX-large.
Watch the video to see how tough the K9 Ballistic is!
If you always leave your dog or cat alone at home when you are at work, it is going a good idea to get an Automatic Pet Feeder and Smart Water Dispenser to take care for the tasks for you. Having the set will make you worry free about your lovely dog and cat while you are working or away for a holiday. You can even get this Full HD livestream camera to monitor them on your phone. This camera allows you to check out your pet with a 160-degree Full HD wide-angle view day and night. This is the reason I love technology so much.
5. K9 Ballistics Crate Bed

In addition to the model mentioned above, it is more comfortable because the inner space of the bed is filled with recycled Polyfill that is certified from K9 Clean. The thickness is at the perfect size at 1.5", which is not only comfortable but also durable in daily use. Moreover, it does not have any Velcro or zippers. This product is designed to fit any size of standard size dog crates.
If the crate is smaller than the bed, it is still not a problem because you can fold it in order to fit the dimensions. Available in 8 different colors, the dog bed is chew resistant because it is resistant to all types of damage, including chews, scratches and water. If it is dirty after a long period of usage, the owner of the dog can simply put it into the washing machines to let it clean up. If you have a puppy, you might consider one of these Indoor and Outdoor Dog Houses as an option as well.
In the first 120 days after the purchase, if there is damage to the bed as a result of the destructive action of the dog, users can return it to the manufacturer with a new one for free because the bed is proved to be chew resistant.
4. K9 Ballistics Chew Proof Bed with Aluminum Frame (30 x 20 inches)

The bed size is measured at 30 x 20". Because dogs often do a lot of things to hurt its shelter, this bed is made of aluminum frame that is not only chew resistant but also known as indestructible bed for dogs. All the destructive habits of dogs, such as biting, scratching and chewing its bed will have no effects on this bed. The material used for the bed is ballistic fabric which is resistant to all the behaviors mentioned above.
To serve the consumers to the best, manufacturer has designed this bed to fit all the dog beds at the standard size. It will not leave any gaps in the corners to provide a safe sleeping environment for the dogs. Moreover, it is to prevent the dogs from damaging the crate beneath the bed. Last but not least, it allows the maximum air flow for the breathing of the dog.
It is worth mentioning that its materials are designed to be resistant not only to all the destructive actions but also water, dust, mist, hair and dirt that helps reduce the burden of the owner to the least amount without extra time and efforts on the cleaning.
3. K9 Ballistic Chew Proof Dog Bed (44 x 27 inches)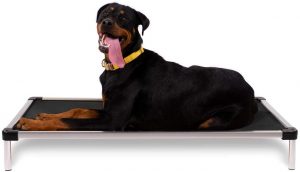 This model of chew proof bed is for the dogs at a larger size. Its dimensions measure at 44 x 27 inches, which provides a wide space for the bed to rest and sleep. Its quality is exactly the same as the product mentioned above, but a bit bigger in size. Similarly, it is designed to be chew resistant and waterproof to prevent any destructive habits from destroying the dog bed frequently. It has a longer warranty compared to its competitors because it is guaranteed within 6 months to compensate with a new one if the old one is destroyed by the dog. More importantly, it is fitted with the standard bed size according to its dimensions without any gaps left.
Last but not least, its materials are constructed to maximize the benefits for the dog's health. From air circulation to the health of dog's joints, it is all guaranteed with this product to ensure it is healthy and comfortable at any time.
2. Paws and Pals Chew Proof Dog Bed, Chew-Resistant Bed for Dog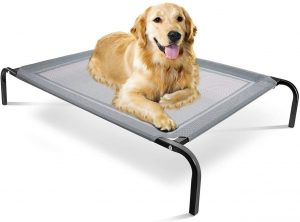 This is known to be in its medium size, but it is still available in two size choices: medium and large. The medium size measures its frame at 32 x 25 x 8" and its mesh at 25 x 25", which has a carrying capacity up to 40 pounds. On the other hand, the large size has its frame size at 44 x 30 x 8", whereas its mesh size is at 29 x 22". The large size can accommodate up to 88 pounds. This bed is very easy to clean, simply with soap or wiper.
Furthermore, its waterproof cover makes it suitable for both indoor and outdoor use. It is foldable and compact because it is the best option for traveling. Travelers can assemble the dog bed within minutes with simple steps only. The products includes 2 long rails, 2 short rails, 1 mesh cover and 4 hex keys.
With this bed, your dog can enjoy the most comfortable experience.
1. Slumber Pet Mats Heavy Duty Chew Resistant Crate Mats for Dogs Reinforced Megaruffs Dog Beds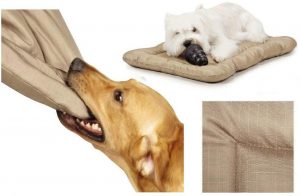 The Slumber Pet is the best crate mats for dogs among this top six list. It is available in 6 different sizes, but the xSmall size here has its dimensions at 17 ¾ x 11 ¾". This chew-resistant dog mat is made of polyester ripstop which provides a comfortable texture for the dog sleeping area. The bed is also designed perfectly for heavy chewers who aim to destroy its living place at any time without hesitation. Its fabric is made to prevent the chewing from damaging the cover as well as the inside.
The mat can be used either with a crate or independently. Being resistant to water and scratch, it is also washable with washing machines if it becomes dirty. After washing, users can simply lay it flat either with or without the help of wind blow to let it dry.
At an affordable price, this product can maintain its shape in great conditions for 2-3 years with the dogs chewing to its maximum efforts.
What is the Best Chew Proof Dog Bed?
While buyers are willing to spend any amount of money on providing the best things to their pets, they should consider the best quality with the best price to get the money spent worth. Therefore, if you are looking for a chew proof bed for your dog, you should carefully consider the following features that determine the best chew proof bed.
Materials
Dogs sometimes do a lot of harmful things to its shelter. Therefore, owners should choose a bed that is resistant not only to water, dust, and air, but also to chews, scratches and bites.
Flexibility
It should be easily folded and fit into any standard sizes of bed. For the purpose of long distance, it should be foldable and compact for easy storage.
Capacity
Yet another significant factor that you must consider while buying a chew-proof bed for your  dog. Ideally, the minimum capacity of the bed should be at around 30 pounds so that it can hold the dog in balance.
Washing
To save time and efforts of the owner to do the cleaning, a good dog bed should have easy cleaning process, either washable with machines or easily wiped with cleanser.
Conclusion
After reading this article, you must have gained a deeper understanding of the chew proof bed for your dog. Now, you have the names of the top six best chew proof dog beds to consider, evaluate, and purchase the most suitable one for your beloved pets. With the right chew proof bed, you no longer need to worry about the breakage of the bed everyday as a result of the destructive behavior of your dog.
Last update on 2023-10-03 / Affiliate links / Images from Amazon Product Advertising API