Do you have a deck? If no, then you need a deck storage box! A deck storage box is the best place to store all of your outdoor belongings, while you can also sit on it at the same time. You can use it to store patio furniture, gardening supplies, grilling tools, and any other outdoor items you might have. Smaller designed than the outdoor storage shed, the deck storage boxes come in a variety of shapes and sizes to fit perfectly into your the space of your backyard. Plus, most deck storage boxes are made from weatherproof materials, so they will keep your belongings safe and dry all year long.
List of the 10 Best Deck Storage Boxes in 2023
1. The Overall Best: Keter Westwood 150 Gallon Resin Large Deck Box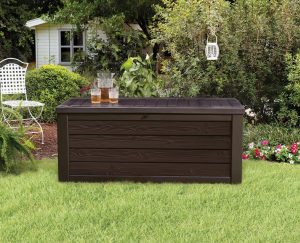 Brand: Keter
Weight: 44 Pounds
Capacity: 150 Gallons
This multi-purpose deck storage box can be used as a sitting bench and has a storage capacity of 150 gallons. Thanks to its weight, you can move it around easily without hurting your back. The box is made up of weather-proof resin, so there's no chance of rust or decay.
It also ensures there's no leakage. Hide all the pool toys, yard tools, and garden supplies in it without ruining the aesthetics of your space. The wood-like panels are not only beautiful but also durable for all weather. It's also leakproof, allowing you to even store cushions, pillows and the blankets inside it.
Key Features
Storage capacity of 150 gallons
Weather-proof resin
Easy to set-up, comes with a manual
Wood-like panels fuse in with your space
Leak-proof so it can even endure rainstorms
2. Best Runner Up: Suncast 22-Gallon Small Deck Box, Lightweight Resin Indoor/Outdoor Storage Container and Seat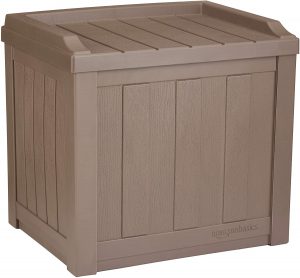 Brand: Suncast
Weight: 9 Pounds
Capacity: 22 Gallons
This is best for when you have lots of stuff lying around but don't have a lot of space to get a bigger deck storage box. The neat little box is easy to put together if you follow the installation instructions. Once set-up, you can put in your garden supplies, seed bags, and small tools you have lying around. It has a contemporary design and a year warranty on it. If you find anything missing after receiving the product, then you can contact them for a replacement. It is easy to clean as well, just wipe it with a clean towel. Due to the lightweight, you can move it around yourself.
Key Features
22-gallon storage capacity
Small enough to fit in anywhere
Low maintenance and lightweight
Dimensions are 17 x 22 x 20.5 inches
Perfect for patio furniture
3. Best under $200: Keter Novel Plastic Deck Storage Container Box Outdoor Patio Furniture 90 Gal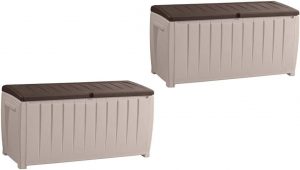 Brand: Keter
Weight: 22.7 Pounds
Capacity: 90 Gallons
It has dual tones of brown and beige. The material is UV-protected and weather-proof. Skylights are provided for ventilation, and the roof can take up to 485lbs of weight, which means it's a perfect sitting space for two. You can attach a cushioned pad at the top, and you will have a nice patio bench.
One thing that makes it so good is that it requires zero-maintenance; polypropylene plastic provides its maximum durability. The storage capacity is 90 gallons, but it has five other variations in this range. Its lid is lockable, and you can attach a lock to it for security. This deck storage weighs only 22.7 pounds and is easy to assemble.
Key Features
Zero-maintenance and weather-proof
Can store up to 90 gallons of tools
Dual-color tones
Lockable lid for security
UV-protected polypropylene resin
4. Best Value For Money: Keter Java XXL 230 Gallon Resin Rattan Look Large Outdoor Storage Deck Box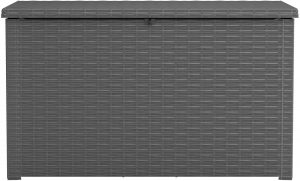 Brand: Keter
Weight: 62 Pounds
Capacity: 230 Pounds
With its rattan wicker style and hydraulic arms for the opening, this model is fairly popular and worth your money. The hydraulic arms open and close at the slightest touch and last for a long period. You can store large, bulky tools and supply bags inside it easily. With a storage capacity of 230 gallons, it can support your rough lawn tools comfortably.
The weather-proof resin makes sure the box doesn't peel, rust, or decay so you can be sure your materials inside it will be safe in all conditions. It makes a fairly versatile addition to your deck storage box, and the plus point is you can set it up with the help of a screwdriver easily.
Key Features
Resin won't peel or decay
UV-protected and weather-proof
Easy to install on your own
Hydraulic arms for hassle-free handling
Wicker style to fit in anywhere
5. Cheapest Amongst All: Suncast 22-Gallon Small Deck Box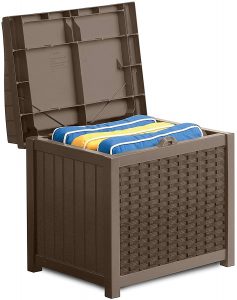 Brand: Suncast
Weight: 14 Pounds
Capacity: 22 Gallons
If you don't have much space at all and want something small, then this deck storage box is perfect. This little box is weather-proof and water-resistant. Whatever you store in it, they will be perfectly safe in all weather. You can put it outdoors or use it as a supply storage box in your house.
It has a flip lid for easy opening. If you ever spill water on it by mistake, it will just slide off of it. When you have lots of toys lying around and keep tripping over little cars, this will be a valid option. It can also be used as a bench as the lid can take up to 150lbs. The wicker design also makes it look great!
Key Features
Storage capacity of 22 gallons
Versatile; can be used as a supply box and bench
Flip lid provides easy access
Waterproof; can endure snow and rain
The roof can take up to 150lbs
6. Most Stylish Amongst All: Keter Circa 37 Gallon Round Deck Box, Patio Table for Outdoor Cushion Storage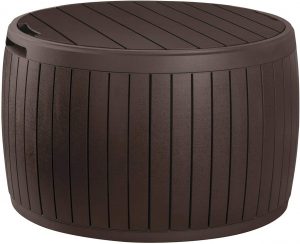 Brand: Keter
Weight: 15.5 Pounds
Capacity: 37 Gallons
This one is rather popular because of its unique shape. With a storage capacity of 37 gallons, it can be kept anywhere. The roof can support up to 308lbs. Its resin body is known to endure heavy snow and rainfalls. If you have a tight space but have a lot of stuff lying around, then this is a great option for you.
Even though it is medium in size, the weight is only 15 pounds. The versatility allows it to be used as a small coffee table in the garden or lawn. You can even store hot-tub chemicals inside it without worrying about destroying them.
Key Features
The unique shape makes it attractive
Can support 308lbs on top
Hot beverages won't affect its lid; can be used as a coffee table
Designed to endure heavy snow and rain
Low maintenance and weather-proof
7. For Small Spaces: Lifetime 60059 Black Bottom & Desert Sides and Lid Outdoor Storage Box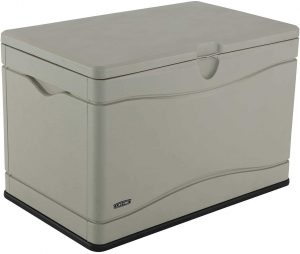 Brand: Lifetime
Weight: 40 Pounds
Capacity: 80 Gallons
With a length of 3ft x 3 inches, a width of 2feet, and a height of 2ft and 2inches, this deck storage box is fairly compact. If you need more storage, then it has higher variations as well. The spring lid goes all the way down, more than 90 degrees for easy access. It has a lockable clasp, but you need to use your own lock.
The walls are multi-layered and made of polyethylene for durability. It has a water-resistant seal, so you don't have to fret over it. The weather-proof material is built to endure snow, sun, and rain. It is UV-protected, so you can put it in your deck or backyard.
Key Features
Lightweight and portable
Can be used as a bench
Small enough for tight places
The material won't crack or peel
UV-protected and Weather-proof
8. The Versatile One: Suncast 99 Gallon Resin Wicker Patio Outdoor Storage Container for Toys & Furniture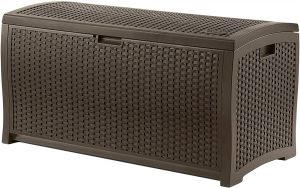 Brand: Suncast
Weight: 32 Pounds
Capacity: 99 Gallons
If you are looking for inexpensive deck storage box to store all supplies, then Suncast Resin Wicker is perfect. All your grill supplies, garden equipment, toys, and bags can easily fit inside it. This deck has a storage capacity of 99 gallons and has flip lids for hassle-free handling. The dimensions for this are 50 x 25.5 x 25.5 inches, perfect for any space.
You can store it indoors or out in your garden and deck, and it's weather-proof. It comes with five years of warranty and is easy to clean. If you are from a place where it rains frequently, then this box will be helpful as it's waterproof. The exterior is extremely durable and low maintenance.
Key Features
Perfect for places where it rains frequently
Inexpensive and low-maintenance
Easy to install
Weather-proof and UV-protected
Has a storage capacity of 99 gallons
9. Perfect For Outdoors: Keter Glenwood Plastic Deck Storage Container Box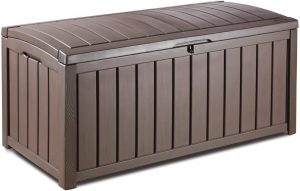 Brand: Keter
Weight: 30 Pounds
Capacity: 101 Gallons
The perfect style and 101 gallons of storage capacity make Glenwood a great option for outdoor storage. You can set it up in your patio or deck without worrying about how it'll look. Even though it has large internal storage, it's only 30 pounds!
The high-quality resin provides it enough strength that it can be used as a bench for two people. It has built-in handles so you can just pick it up to place it wherever you want. No matter what, there's no chance of stain or mold, on or inside it. The lockable lid and hydraulic arms ensure low-maintenance.
Key Features
101 gallons of storage capacity
Low-maintenance and weather-proof
The lid can support weight up to 530 pounds
Hydraulic arms for the lid
Perfect for patio furniture
10. The Portable One: Keter Glenwood Plastic Deck Storage Container Box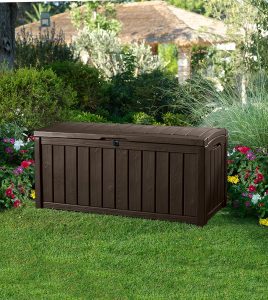 Brand: Giantex
Weight: 13.5 Pounds
Capacity: 80 Gallons
High-quality polypropylene exterior of this deck storage box can't be bent easily, and it won't shrink either. This storage box is ideal if you intend to move it around a lot. The instructions manual has clear steps, and it's very easy to set-up. In-built handles provided for easy carrying.
When it's time to clean it, just use a towel to wipe off any dirt. You don't have to worry about maintenance, rust, or decay. Its lid goes up more than 90 degrees, so you don't have to fumble to take out bottom content. If you are looking for something light and doesn't have to use it for heavy-duty purpose, then you should definitely check this.
Key Features
Non-toxic and durable
High-quality polypropylene resin
Will not rust or decay
Weather-proof and easy to clean
Waterproof and portable
FAQs (Frequently Asked Questions)
Ques.1 Is A Deck Storage Box Water-Proof?
Ans- Most deck storage boxes are usually weather-proof as they are meant to be kept outside, but not all are waterproof. If you want a waterproof storage box, then read the descriptions properly. They always state whether it's waterproof or not. Just know that weather-proof is not the same as being waterproof.
Ques.2 Can I Use My Deck Storage Box As A Bench Or Table Top?
Ans- Boxes that have large internal storage can be used as a bench or even a tabletop. But they have weight limits. Always check that before you sit on it. As for small ones, they usually can't be used as benches or tabletops because the surface area isn't much. However, check the given instructions before you put anything on top.
Ques.3 What Is A Deck Box?
Ans- A deck box is basically a storage box that's usually doubled as a patio bench. You can store supplies, tools, extra blankets, and accessories inside it. They can also serve as an outside coffee table, depending on its size and capacity. The sizes vary, so does the internal storage capacity.
Conclusion
There are a lot of great reasons to use deck storage boxes. You can build an entire system around them, or just take advantage of what they offer when you need it. Plus, if there's anything we know about decks and patios is that people like to store things in them but don't always have room for large items like furniture and outdoor gear. That's where the deck storage boxes, outdoor storage sheds, and the garage storage shelves come to play.
Last update on 2023-11-30 / Affiliate links / Images from Amazon Product Advertising API