Are you looking for a seat cushion to give more comfort on your office chair? You might be feeling discomfort regarding your back recently due to the fact that you have an extensive eight-hour-long sitting job. Chances are, you are developing a back problem, and your seat is the one to blame. You need something comfortable to provide support for your back, and that's why seat cushions are one of the best choices. These multi-purpose cushions are not only great for comfortable office work but can also be used during activities like driving. It is also a great gift to give to your family or friends as it shows you care for them.
With so many different seat cushions, it can be a challenge to pick a good one, which will last long and reliable. Therefore, we have created this list to compile only the best selection for your pick.
List of the 10 Best Seat Cushions for Office Chairs, Car & Meditation in 2023
1. Best Value for Money: Everlasting Comfort Seat Cushion for Office Chair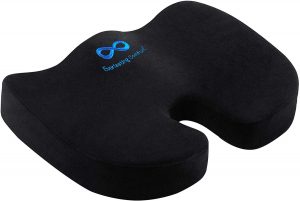 Brand: Everlasting Comfort
Warranty: Lifetime Replacement Guarantee
Colour: Black
This seat cushion for your office chair by Everlasting Comfort has been designed specially by keeping the recommendations of the orthopaedists and doctors in mind. Its U-shaped design, along with the best quality memory foam, gives you comfort like no other and relieves your back and neck of all pressure. You just have to place it on your office chair, and experience comfort in your workplace that will enhance your performance. You can also place it in your car while driving and eliminate any discomfort during travels.
The cushion's heat-responsive technology provides instant pain relief and straightens your posture. It is designed to be a user-friendly product and comes with a non-slip rubber bottom for proper placement.
Key Features
Orthopedic design recommended by doctors
Heat responsive technology for ideal support
Provides instant pain relief
Machine washable cover
100% premium memory foam
Lifetime Replacement Guarantee
2. Most Portable: Seat Cushion Pillow for Office Chair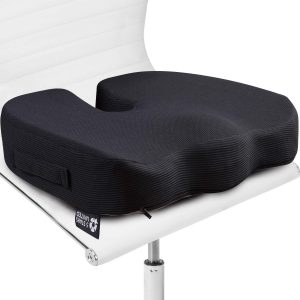 Brand: 5 Stars United
Warranty: 100% Money Back Guarantee
Colour: Black
With the invention of the seat cushion for office chairs, you now have the option of making each and every chair ergonomic and comfortable. However, all seat cushions must also be compatible with different chairs. Our next product solves this problem completely. This cushion, by 5 Stars United, nicely fits all office, home, and car chairs. Also, it is very compact and convenient to carry around. Therefore, if you are a frequent traveler or wish to carry a cushion with you everywhere, this is a good option. Thus, You can also carry it on your flight or train.
It relieves you back and tailbone pain instantly and provides comfort to your hips and back. The product is trustworthy as it is made of a premium-grade material, and it comes with a 100% money-back satisfaction guarantee.
Key Features
Orthopaedic doctor recommended for back pain relief
Durable and portable
Compatible with all chairs
100% money-back satisfaction guarantee
Made of best quality memory foam
3. Best Value for Money: ComfiLife Gel Enhanced Seat Cushion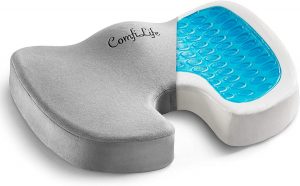 Brand: ComfiLife
Warranty: Money-back Guarantee
Colour: White
ComfiLife, as a brand, has made its name in the market as a well-known producer of top-quality cushions and pillows over the years. After innumerable trustworthy products that have made the customers happy, the gel enhanced cushion is another one of its wonderful products. It is an enhanced seat cushion for all types of chairs. You can use it in your house, workplace, or car. It can also be used in a wheelchair to provide comfort to the patient or the elderly. Furthermore, it is a good choice while traveling.
It's most outstanding feature is that it has been made especially of the best quality gel memory foam. Additionally, it has a non-slip rubber bottom for a better placement, an in-built handle to support portability, and a washable zip cover for easy cleaning. Basically, it has been designed to keep the convenience of the customer on top of the priority list. You can actually use this cushion as a meditation seat on the floor as well.
Key Features
Made of the best gel memory foam
Relieves pain of the back and the neck and straightens posture
Durable and long-lasting
Portable and can be carried anywhere
User-friendly
4. Best Runner Up: Xtreme Comforts Large Seat Cushion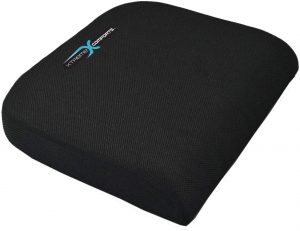 Brand: Xtreme Comforts
Warranty: Not Mentioned
Colour: Black
The seat cushion for office chairs by Xtreme Comforts is special because of its size. It is made of a size larger than the standard size for a seat cushion. Therefore, it provides more room and extra space and fits on almost any and every sitting surface and is not limited to only chairs. It is made of a two-layer foam system that ensures both comfort and durability. The texture of the surface has been very intelligently decided upon. It is neither too soft, which prevents you from slouching and falling asleep and not is it too hard.
It comes with a breathable mesh cover that maintains the grip of the cushion on the chair, and this cover can be easily washed, both by machine and hands. The product is durable, and its built-in carry handle makes it portable too.
Key Features
Portable, light, and travel-friendly
Easy to use with practical design
Quite a stylish structure
Extra space and can be placed on any surface
Assists in the relief of lower backache, pressure points, and numbness
5. Best Quality: OVEYNERSIN Seat Cushion for Office Chair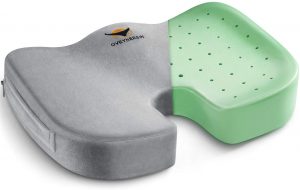 Brand: OVEYNERSIN
Warranty: 100% money-back satisfaction guarantee
Colour: Grey
Often while purchasing a product, we decide to go with the looks of it. Paying attention to the quality of the product is a sign of a smart buyer. For all the smart buyers, we have just the right product for you. OVEYNERSIN's cushion seat is a seat that sells for its quality and for its looks. Its innovative honeycomb design makes the foam soft and breathable. The company promises its customers' satisfaction guarantee where you can return the product if you are not satisfied with it.
The compatibility of this cushion is fantastic and can be used anywhere. It has a built-in handle and can, therefore, be carried anywhere. The foam adjusts according to the weight and shape of the body of the user and provides the most comfortable sitting posture and environment.
Key Features
Special Honeycomb Vent Design
Stylishly designed to go with every aesthetic
Sturdy and portable
Trusted and with a guarantee
Multifunctional Applications
6. Best Under $50: SOFTaCARE Seat Cushion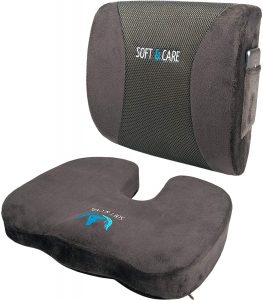 Brand: SOFTa CARE
Warranty: Lifetime Guarantee
Colour: Black
This one is a pair of orthopedic pillows from SOFTaCARE specially designed to correct your posture. A firm posture means better health conditions and development. Therefore, correcting your posture will have a ripple effect and solve the rest of the problems. It will relieve you of your backache, headache, and neck ache. Additionally, it will also cure fatigue and make your life more comfortable. It is a proven fact that your physical health drastically impacts your mental health. With no more physical discomfort, now you will be able to single-mindedly focus on your work and enhance your productivity and learning capacities.
Going against the conventional design, SOFTaCARE has designed a very well thought out product that supports your body both from underneath and from behind. Moreover, it's high-quality foam, and soft-velour covers enhance that feeling of comfort. This is a good pick for a very reasonable price.
Key Features
Thoughtful design if two cushions
Adaptable to all surroundings
Made of best quality memory foam
100 % money-back guarantee
7. Best Among All: Everlasting Comfort Seat and Back Cushion Combo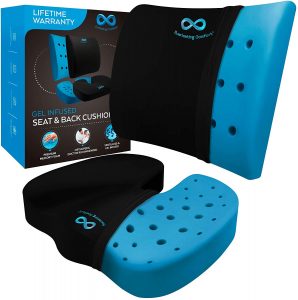 Brand: Everlasting Comfort
Warranty: Lifetime Replacement Guarantee
Colour: Black and Blue
Here is another of Everlasting Comfort's brilliant products. This again is a combo of two cushions, both of which are serving their purposes successfully. The back cushion can be used as a backrest and relive the upper back, spine, and neck of any soreness or pain. The seat cushion, on the other hand, is designed keeping in mind the recommendations of orthopedic experts. Its U-shaped ergonomic design helps to relieve a person of all sorts of pains, including Arthritis, Lumbar, Tailbone, Spores, or Pregnancy Pain.
Also check: Top 10 Best Lumbar Support Pillows for Office Chair in 2023
Both the cushions are made of advanced memory foam and are great responsive. These qualities help them to mold perfectly to the shape of your back and body and make you feel comfortable and healthy. This also comes with a lifetime replacement guarantee to build trust among consumers.
Key Features
Gel-infused and ventilated
Enhances comfort and cooling
Heat responsive technology
Pocket-friendly
Beautiful design
8. Cheapest Among All: Uhealer Premium Comfort Seat Cushion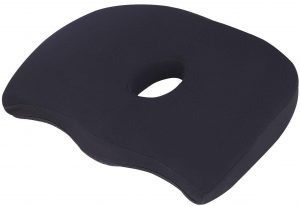 Brand: Uhealer
Warranty: Lifetime Replacement
Colour: Black
This product is a blessing in disguise for those who wish to relieve themselves of backache and stress by using a seat cushion but couldn't afford to spend money on this. If you are one of those, your problem has been solved. Although this product has all the standard features of a good and branded seat cushion, it is pocket-friendly and affordable. Its versatile design makes it compatible with all kinds of chairs, be it a couch, an office chair, a recliner, or a stadium bleacher.
It works on the heat-responsive technology and is made of the best quality memory foam to make your experience as comfortable a possible. The use of this product has been recommended by orthopedic experts to treat the body of all types of pains and stress. This is the best option for a student for their dorm room.
Key Features
Easy to clean and use
Convenient to carry and store while traveling
Pocket-friendly
Best quality material
Recommended by orthopedic experts
9. Most Mechanical: Memory Foam Car Seat Cushion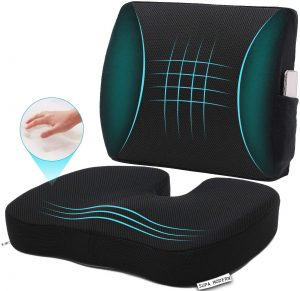 Brand: SUPA MODERN
Warranty: 100% money-back guarantee
Colour: Black
Mechanically designed, this product is highly recommended for those suffering from serious mental issues. This set of two cushions is made from the most premium memory foam that has been clinically tested and proven. These are ultra-comfortable and relieves you of all the pain and stress throughout your body. The design of this product is based on human body engineering, and it has been finished using smart details. These include a phone pocket and a pair of straps to adjust the placement of the cushions.
The product is user-friendly and easy to maintain and clean. The cover of the cushion can be machine-washed easily. All in all, this is a product that would do justice to its purpose. You can use this memory foam cushion for car, office chair and any other wood chairs which you see compatible to place it in.
Key Features
100% money-back guarantee
Designed basis human engineering
Recommended by orthopedic experts
User-friendly and easy to maintain
10. Most Simple: HOKEKI Seat Cushion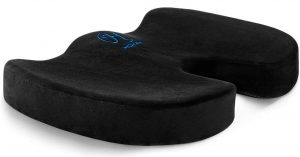 Brand: HOKEKI
Warranty: 100% money-back satisfaction guarantee
Colour: Black
Here is an extremely simple and basic, yet very useful product called HOKEKI's Seat Cushions. This sums up the desired qualities that were required in a seat cushion for an office chair. This chair is adjustable, compatible, made of good quality memory foam, pocket-friendly, and can be carried around easily. The cushion has a built-in carry handle and is based on the heat-responsive technique. It also has a rubber bottom so as to prevent the book from sliding the right way from the eyes.
It is a trusted product since it comes with a 100% money-back satisfaction guarantee. This product is recommended by orthopedic experts and will change the way you work and definitely improve your performance.
Key Features
Compatible with all chairs
Portable and durable
Made of good quality memory foam
Easy to clean
Pocket-friendly
Verdict
At first glance, these cushions might seem unnecessary. But for those who suffer from any posture-oriented problem, it is a boon. The memory foam relieves you of all stress and pain, both physical and mental, enhanced your performance at work. A good thing about this product is that it is not limited to workspaces only. It is important for all people who work daily at their desks. Even if you don't have any problem, it will prevent any future development and still offer the utmost comfort that will enhance your job performance.
FAQs (Frequently Asked Questions)
Ques 1: How is a seat cushion better than an ergonomic chair?
Ans: Ergonomic chairs are a revolutionary invention. However, seat cushions have the ability to turn any chair into a substitute for an ergonomic chair, especially since they are portable. You can not carry your ergonomic chair everywhere, but a cushion is easy to carry anywhere.
Ques 2: What is the function of the backrest in certain products?
Ans: The backrest helps you to relax when you have been working on your work for a very long time now. When you are tired, it prevents slouching and maintains your natural postures.
Ques 3: Is it advisable to work for more than 8 hours while sitting on the seat cushion?
Ans: In general, working for more than eight hours consistently falls under the category of 'overwork.' It is exhaustive and can result in adverse effects. Therefore, in addition to cushions, it is a good alternative to take a walk and small breaks from work to maintain optimal mental and physical health.
Last update on 2023-10-04 / Affiliate links / Images from Amazon Product Advertising API