For beer lovers, keeping a large amount of beer chilled and fresh is really an uphill battle. You can definitely keep a few cans in the refrigerator, but storing a barrel of beer is not that simple, especially if you are running a restaurant. Fortunately, there is something that is specifically designed for this purpose. And, it is called a kegerator, the combo of keg and refrigerator. It helps you keep gallons of beer for weeks that too with original flavor and freshness. You can find different types of commercial kegerators in the market. To help you make a well-informed and suitable purchase, today we have come up with the complete buying guide and the 10 best commercial kegerators of the year.
List of the 10 Best Commercial Kegerators and Beer Kegs in 2021
10- Edgestar KC2000 Full-Size Kegerator and Beer Keg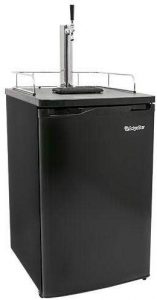 Start the list with Edgestar KC2000 full-size kegerator that can hold ½-barrel keg efficiently. Inbuilt with a powerful motor of 105W, it does its job flawlessly without making any noise. To allow you full flexibility with the setting, it is designed with an adjustable temperature that can be set from 30ºF to 40ºF. Furthermore, it features two drip trays, which catch the spills and prevent the mess. In addition to that, it also features a metal doorplate that provides enhanced durability.To ensure you easy portability, it is inbuilt with roller coasters. 
9- EdgeStar KC1000SS Craft Brew Kegerator for Beer Keg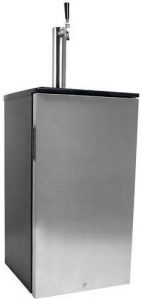 If you're looking for a compact commercial kegerator, look at EdgeStar KC1000SS craft brew kegerator. Since it is small in design, it can accommodate only 1/6- barrel. Speaking of its features, it is equipped with a loaded CO2 tank, an internal circulation fan, adjustable thermostat, and interior LED lights. In addition to that, it is also designed with an integrated lock that keeps the drink protected from unwanted access. Its reversible door allows easy and convenient accessibility too.  Made of sturdy steel, it is also super robust and highly durable. 
8- Kegco BF EBDCK-5T Conversion Kit Commercial Kegerator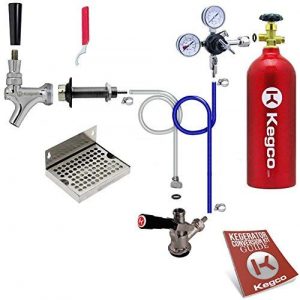 Kegco commercial kegerator is a perfect fit for the people who want to go advanced with their beer storing experience. Inbuilt with a 5lb aluminum CO2 tank, it has a large keg holding capacity. Furthermore, it features a dual-gauge regulator that ensures you smooth pouring even after constant use. Its steel construction with a powder-coated finish doesn't only ensure long durability but also reliable protection against corrosion and rust. Moreover, it also features a steel drip tray, which prevents the dripping and provides you clean and hassle-free operation. 
If you are going to purchase for your restaurant or pub business, you may also consider one of these large fridges along. Yet, if you are looking for a personal beverage chiller only, then this mini refrigerator is enough for your service.
7- Kegco BF 2SCK-5T Conversion Kit Commercial Kegerator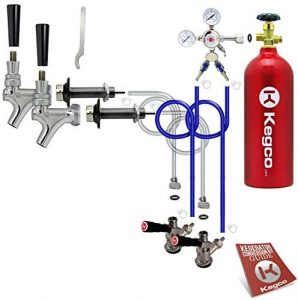 Another Kegco commercial kegerator with a complete kit. Unlike many others, it is inbuilt with independent shut-off valves, which allow you the freedom to dispense up to 2 kegs simultaneously. To make the accessibility easy, it is designed with a lever handle.  Its dual-gauge regulator and pressure adjustment knob further make the operation easy for you. Moreover, it is also equipped with a large CO2 tank of 5lb. If you're concerned about its construction, worry not. It is made of sturdy steel and is free from corrosion, marring, and rust. 
6- EdgeStar KC2000SSTWIN Beer Dispenser for Beer Keg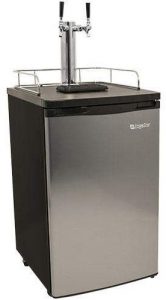 This EdgeStar commercial kegerator has garnered plenty of happy customers under its name. Inbuilt with a strong motor of 105W, it can efficiently hold different sizes of kegs including a standard-sized keg, pony keg, and slim-pony keg. To ensure the best results, it is designed with an adjustable thermostat, which allows you the freedom to set the temperature as low as 30ºF and make your drinks super chilled. The best thing about this kegerator is that it is incredibly power-saving and consumes only115V. 
5- EdgeStar KC3000 Commercial Kegerator and Beer Keg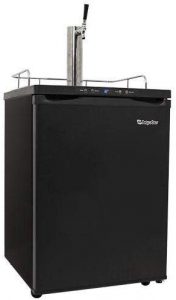 EdgeStar is a pioneer brand in this industry and it is clearly visible here. Speaking of this remarkable kegerator by EdgeStar, it is lightweight but high-functional. It can accommodate a variety of kegs including half-barrel, slim-quarter, corny, and six-barrel. The temperature is also adjustable that can be set anywhere from 32-50ºF depending on your needs. To ensure easy operation, it is inbuilt with a digital display. Furthermore, it also features a chrome safety rail, roller coasters, drip tray, guardrail, and 5lb aluminum CO2 tank. 
4- Kegco HBK309S-2 Beer Keg Dispenser and Cooler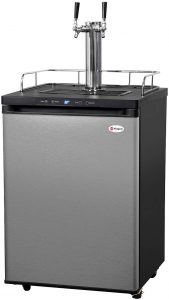 If you can invest in a high-end commercial kegerator, Kegco HBK309S keg dispenser might be a good fit for you. Unlike others, it offers you a wide temperature range starting from 32ºF to 75ºF. Given the fact, it can even ferment your beer to provide you an added flavor. The temperature can be adjusted with the help of its digital control panel. Speaking of beer holding capacity, it features a large interior and can hold up to 5-gallon beer efficiently. Moreover, it is also designed with a deep chill function, which cools down the beer relatively quicker.
3- EdgeStar BR2001SS Ultra-Low Temperature Kegerator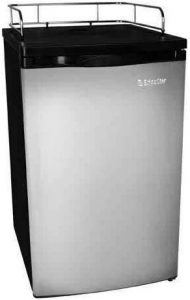 EdgeStar BR2001SS kegerator is an innovation, feature-packed, and mind-blowing commercial kegerator. The remarkable thing about this kegerator is that it can hold both full-sized and standard-sized kegs. Given the fact, it offers you large storage to store the beer. To get the desired results, the temperature can be adjusted from 30ºF to 40ºF. Furthermore, it features a protective floor plate that doesn't only enhance the sturdiness of kegerator but also protects your floor. Moreover, it is also equipped with roller coasters, which provide you easy portability. 
2- KeggerMeister KM5600BK Kegerator Commercial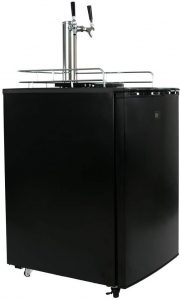 KeggerMeister kegerator is a stylish and high-functional commercial kegerator with a large holding capacity. Being a large-sized kegerator, it offers you plenty of space. Its 2.5lb of CO2 tank further makes sure to offer you enough storage. Even after its big size, it is incredibly easy to move around as it is inbuilt with wheels. To make the accessibility easy, it is inbuilt with a regulator. With the help of that, you can customize the temperature. Additionally, its dual-tap setting provides you smooth and hassle-free pouring.
1- Smad Full-Size Beer Kagerator and Beer Keg

If you want a small-sized commercial kegerator with a large holding capacity, leave all other kegerators and turn to this one. It is not much large in size but features a big CO2 tank of 5lb. In addition to that, it also features a variable temperature setting that can be adjusted from 32ºF to 50ºF according to your needs. Moreover, it also features 2 adjustable shelves, which allow you the flexibility to turn your kegerator into a refrigerator instantly.  The remarkable thing about this kegerator is that it is compatible with ½, ¼, 1/6, and 1/8 kegs. 
Key factors to consider when buying a commercial kegerator
Unlike any other household item, a commercial kegerator is something that you don't buy often. Given the fact, you need to be a bit careful and conscious when making your purchase. Make sure to consider the below-mentioned factors while buying the one.
Usually, these kegerators are large in size as compared to other kegerators. This is why the size of the kegerator is a significant considerable factor. Owing to their large size, they would also take up more space in your kitchen. So, first, be clear with your needs and your kitchen space and then buy the one that suits best to your needs. If you're looking for the one that can serve the beer to 2-3 people, go for a mini one. Yes, it can efficiently meet your needs. 
A commercial kegerator sounds a complex device. Doesn't it? Believe us, it actually is a bit complicated tool. Given the fact, pay close attention to the functionality of your kegerator and buy only if it allows a hassle-free operation. There are some features such as digital control panel, temperature regulator, CO2 tank, beer tower, coupler, spanner wrench, and tap, which simplify the overall accessibility of a kegerator.
The next thing that needs your attention while buying this device is its temperature setting. Without the temperature, this tool is nothing more than a container. So, see carefully whether your kegerator provides a constant temperature or has a variable setting. Always, go for the one with an adjustable temperature setting. Generally, a good commercial kegerator has a variable temperature range from 30ºF to 50ºF. 
The main reason for that kegerators are loved over the bottled beer is their tap functionality. With that, they avoid beer wastage and let you pour out only the amount of beer that you want. Generally, the tap configuration of kegerators differs from model to model. Amidst all, the ones with a dual-tap cater special love among the users. Nevertheless, you can go for a single-tap or more than double-tap commercial kegerator. It's completely up to your needs. 
Noise-free electric devices are always loved regardless of their design and functionality. And, a  this device too is not an exception. Though all kegerators tend to make a little noise, some are really loud and irritating. So, look for the one that doesn't make any annoying noise and provide you quiet operation.
Conclusion
Storing gazillions of beer for weeks while retaining the original freshness, flavor, and chilliness is no more a hassle. Get one of these commercial kegerators and enjoy your favorite-flavored beer anytime. Just turn on the tap and pour out as much as you want to drink. No need to worry about beer wastage, unlike bottled ones. 
Last update on 2021-04-27 / Affiliate links / Images from Amazon Product Advertising API