Wine bottle lights are the creative ways to recycle the use of wine bottles to decorate your home during Christmas, Halloween, party and even for daily life. If you are a DIY person, you can just save as many bottles as possible, then getting the string lights or candle lights to place in the bottle and around. Then you will get a beautiful lighting in your house.
However, if you don't want to bother making them your own, there are also the ready-made wine bottle lights you can grab from the market. These wine bottle lights are made and designed in various ways to bring the brightness and happiness to your home and office space.
List of the Best Wine Bottle Lights for Decorations in 2023
1. Most Safe: Adecorty Wine Bottle Lights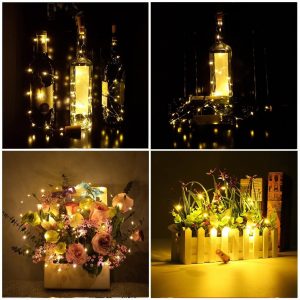 Brand: Adecorty
Color: Warm White
Quantity: 12
Be it the decoration for a party for Christmas, Halloween, or a Wedding, this pack of 12 bottle lights from Adecorty will literally light up your evening. Along with being extremely aesthetic, these lights are very easy to use. They are attached to a cork that can easily fit in a wine bottle without drilling it.
Once switched on, they are sure to create a warm and romantic environment for the guests where they can have a beautiful and fulfilling evening. These lights are also a great way to recycle wine bottles this festive season. The lights are made of very flexible silver wire and can be turned around accordingly to make any shape. With these lights, you will have the decoration department ticked off your to-do list.
Key Features
Battery operated
Made of thin and flexible silver wire
Allows you to recycle wine bottles and try other DIY decoration hacks
90-days quality guarantee
2. Most Energy-Efficient: CUUCOR Wine Bottle Lights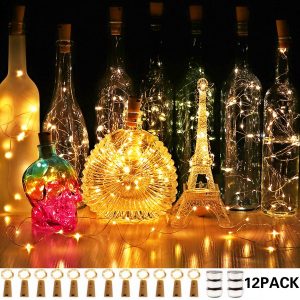 Brand: CUUCOR
Color: Warm White
Quantity: 12
CUUCOR's pack of 12 lights is made with specially designed high-quality ultra-thin silver wire that is used to ensure the long life of the lights. The material has low heat emission and prevents the lights from warming up and the bulbs from burning out. Moreover, they are safe to use and eco-friendly, and with them, you can contribute to the betterment of the planet along with your home. You can try out various DIY designs with these lights made of super-flexible wire.
The package also includes six pieces of complimentary replacement batteries along with the ones already installed in the lights. Overall, these lights are the easiest way to decorate your house for a party for any occasion.
Key Features
7.2 foot-long, high-quality lights with 20 upgraded LEDs
Various DIY designs can be made using them
Flexible silver wires with low heat emission
Complimentary replacement batteries included
90- days quality guarantee
3. Best Runner-Up: CUUCOR 24-Pack Wine Bottle Lights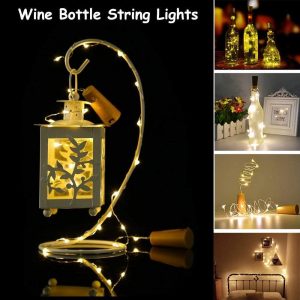 Brand: CUUCOR
Color: Warm White
Quantity: 24
In case you have to decorate a larger area of your house or any other venue for your party or need more lights for decoration, this option will be the ideal one for you. This pack of lights by CUUCOR includes a total of 24 warm white cork bottle lights with good quality batteries installed in all of them. These lights have all the standard features of the wine bottle lights like they are eco-friendly, made of ultra-thin silver wire that has low heat emission. However, the most outstanding feature of these lights is that they are waterproof. Therefore, you can add extra effect to your decoration by adding water to the wine bottles and placing the lights in them.
These lights are very safe and can be trusted by the user. They are user-friendly and come with a 90-day quality guarantee and a high-quality and friendly customer service.
Key Features
Pack of 24 best quality lights
Made of ultra-thin silver wire that does not get overheated
Durable and long-lasting
Safe and trusted
Waterproof
4. Cheapest Among All: Twinkle Star Wine Bottle Fairy String Lights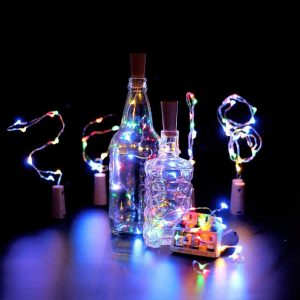 Brand: Twinkle Star
Color: Multi-color
Quantity: 10
Festivals come and go, what remains are the memories that you create with your friends and family while celebrating them. To make sure that these memories are not dull and plain but colourful and romantic, here are fairy lights that you can use to decorate your house this festive season. Besides, these lights have a unique multi-color light that lights up your celebration in a thousand different colours. They will definitely create an environment where you can enjoy yourself with your friends and family and make colourful memories that you will forever cherish.
Thus, this pocket-friendly collection of beautiful, bright, multi-colored lights are here to make your celebration a colorful one.
Key Features
Made of high-quality, trusted material
Pocket-friendly and easy to use
Multi-colored
Safe battery operated with installed batteries that have a long lifetime
Universal cork shape
5. Most Classy: Forthcan 10-Pack Wine Bottle Lights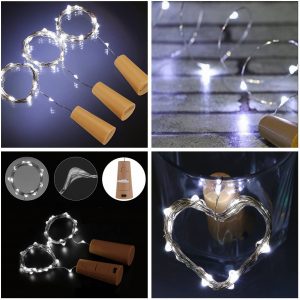 Brand: Forthcan
Color: White
Quantity: 10
What more than a pack of classy white wine bottle lights you will need to jazz up the decoration of your house for an upcoming party? Forthcan is here to fulfill your wishes. The wires of these lights are made of the best quality copper and have a long life. They are safe as they do not overheat while in use and also, they are specially designed to be energy efficient. Most importantly, they are waterproof. They allow you to add some water to the bottles to add extra effects to your decoration through the refraction and reflection of light through water.
With a simple to use on/off switch and a universally shaped cork, these white lights are a favorite of the users because of its convenience. This festive season, decorate your house, garden, and pathway with these white lights to dwell into a celebratory mood.
Key Features
Safe and energy-saving
Made of good quality copper wires
The long battery life of the installed batteries
Trusted and with a guarantee
Classic white color
6. Most Colorful: MUMUXI Wine Bottle Lights With Cork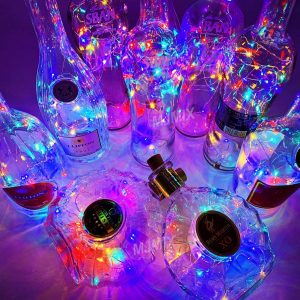 Brand: MUMUXI
Color: Multi-color
Quantity: 10
This is another pack of 10 multi-colored lights attached to corks by MUMUXI. They are made of super-bright 20 micro LEDs that are connected through silver-coated copper wire. The wire is super-flexible, strong, and heat resistant, and the LED bulbs are of premium quality. Due to this, the lights have a long life and can be used to light up multiple DIY decorations for a special occasion. Moreover, the lights have pre-installed batteries with a long-life of 48 hours and are also accompanied by replacement batteries. They are also safe to touch and do not get heated up while in use. Also, they are waterproof and can be used in decors that require water.
These lights are best suited for a wedding, Christmas, or any other festival, Halloween or a house party decoration for lighting both indoors and outdoors. They will look beautiful with wine bottles, jars, plants, trees, and doors and windows.
Key Features
Super bright, premium-quality micro LEDs
Heat-resistant, long-lasting wires made of silver-coated copper
With pre-installed and replacement batteries
Easy to use and safe to touch
Waterproof and widely used
Excellent after-sales service
7. Most Trusted: LEDIKON Colored Wine Bottle Lights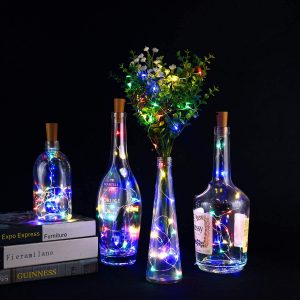 Brand: LEDIKON
Color: Multi-color
Quantity: 24
You can undoubtedly place your trust in LEDIKON's pack of 24 LED lights to decorate your house most beautifully for any party. It does not matter if the party is for Christmas, Halloween, or a birthday party; these lights have the tendency to blend in with the decoration for any occasion and compliment it to the fullest. Moreover, they can be used in multiple places. For instance, they can be used with wine bottles, jars, to decorate plants and trees or to make your doors look more warmly welcoming.
They are extremely user-friendly, easy, and safe to use. They are also waterproof, and you can use them to create various effects with water that will make your party look ethereal and magical. Basically, these lights are here to be your helping hand the next time you throw a party at your house.
Key Features
Vibrant and bright micro LEDs
Pack of 24 long-lasting, beautifully lit wine bottle lights
Compatible all bottles and jars
Waterproof and safe to handle
Easily operated and user-friendly
8. Best Overall: Helian Wine Bottle Lights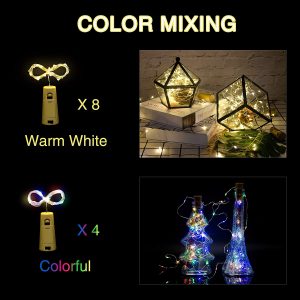 Brand: Helian
Color: Mixed Colors
Quantity: 12
This pack of 12 lights comes with the trusted name of the brand Helian that is known for its best quality products. The colors of these lights have been very thoughtfully curated and mixed for an overall overpowering effect. Helian's light is here to make you realize the potential lighting holds to control your mood. Good or bad lighting can make or break your mood. These lights can be used with jars, bottles, and other decorative items to enhance the overall aura of the party.
Your Christmas, Halloween and other celebrations will be complete and fulfilling with these user-friendly battery operated lights that will save energy and are safe to touch. Their good quality material prevents them from being over-heated and keeps your house and party safe and enjoyable.
Key Features
Thoroughly and rigorously tested
Made of best quality material
Pocket-friendly Usage and compatible
A thoughtful combination of colors
9. Best Value for Money: Seelight Wine Bottle Lights with Cork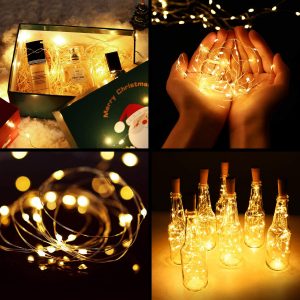 Brand: Seelight
Color: Warm White
Quantity: 12
To recycle waste material and make the most of it serves a dual purpose. Firstly, it contributes to the environment. And secondly, it gives you a feeling of satisfaction and productivity like none other. With this pack of 12 aesthetic lights, you can make the environment and yourself feel better by recycling old wine bottles, jars, and boxes by decorating them. You can place them in your room, and your house for everyday usage or you can use them in decorating your house for a party.
The lights come with pre-installed batteries and a convenient on/off switch that make them user-friendly. Overall, these lights will help you in decorating your house and adding a personal touch to it.
Key Features
Made with the best quality LED bulbs and thin and heat-resistant silver wire
The size of the cork is universal and fits in most bottles
Comes with pre-installed good quality batteries
User-friendly and easy to operate
10. Best Under $20: Sanniu Bottles Lights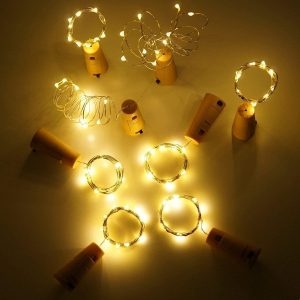 Brand: Sanniu
Color: Warm White
Quantity: 10
Sanniu's special starry lights are made of good quality copper wires and LED bulbs that can be used with other waste material, especially wine bottles, to create beautiful designs to decorate your house. You can use these decorations for all kinds of parties ranging from a festival to a birthday celebration. The romantic and warm environment that they create will make you look for reasons to celebrate and decorate your home. You can trust their quality since they come with a full one-year warranty.
They have a simple on/off switch to operate them, are waterproof and do not get overheated while being used. These qualities make them user-friendly, safe, and, therefore a good product to purchase for your household.
Key Features
Compatible with all bottles
Sturdy and durable
Made of good quality material
Easy to install and operate
Pocket-friendly
Bottom Line
All the lights mentioned in the list above are of great quality and have extended durability. They will help you decorate your home and will lighten up your celebrations. The lights are available in different quantities and colors. They will also help you in making use of all the waste materials in your house by decorating them with these lights. Along with using them for your parties, you can also place them in your living room table, on a coffee table or even on your roll-over bed table for everyday usage.
FAQs (Frequently Asked Questions)
Ques 1: Will the lights fit in all bottles?
Ans: Almost all of the lights are attached to corks that are of the universal cork size and fit with almost all wine, beer, and whiskey bottles. In rare cases, where they don't fit, you can make simple adjustments and resize them.
Ques 2: Are copper wires better than silver wires?
Ans: Scientifically speaking, silver is the best conductor of electricity. However, cooper is more malleable and ductile and can be drawn into thinner wires. Therefore, both these materials have their pros and cons, and none is better than the other.
Ques 3: For how long can these lights be switched on at a stretch?
Ans: The lights mentioned in the list above are the best quality lights that have been made of long-lasting material that prevents overheating. Therefore, these lights can be kept on for as long as the battery lasts. Then, the battery can be changed, and the lights start working again.
Last update on 2023-10-04 / Affiliate links / Images from Amazon Product Advertising API