Scented candles are not the new things that are used to spread fragrance and make your surrounding aromatic. We mean they have been there for a long time and their purpose has been the same too. The only thing that changed over the years is their way of functioning. Unlike the earlier the days, now you don't need to manually burn the candles to make them melt and scent the aura. Just get an electric candle warmer and it will do that job for you.
But, wait! Don't grab any random electric candle lighter. Do the proper research and make sure to buy the high-quality one. If you can't go through the hassle of hour-long research, let us help you pick the best one. We have already pulled together the top 11 best electric candle warmers of the year. Here, make your way to the list.
List of the 11 Best Electric Candle Warmers in 2023
Video Review of Electric Candle Warmer by Digital David
11- Deco electric candle wax warmer, 4.5×4.5×6 inches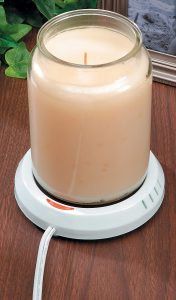 If the reliability of folks is an important consideration factor for you while buying a product, Deco electric candle warmer will surely make you fall for it. With its eye-catching design and mind-blowing features, the warmer has already garnered huge credibility. Having a size of 4.5×4.5×6 inches, the candle warmer doesn't only work with candles but also wax, fragrant oil, and tart.
The warmer melts the candles gently and fill your home with a soothing fragrant. The interesting thing is that the warmer leaves no soot residue behind and offers a mess-free experience. On top of everything, it is easy-to-clean, safe for dishwasher and microwave, eco-friendly, as well as stackable.
Why we recommend it:
Size: 4.5×4.5×6 inches
Elegant and classic design
Comes with 4 cubes
Dishwasher-safe and microwaveable
Leaves no soot residue
10- Darice large jar warmer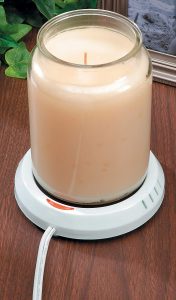 If you want an electric candle warmer that is something more than just a candle warmer, Darice jar warmer is made for you. As opposed to its competitors, the warmer also acts as a drink and soup warmer. Just keep your mug or bowl above it and it will heat up your drink or soup in just minutes.
Speaking of the design, the warmer has a unique flat design that looks like a heater plate and has a diameter of 4.25 inches. To allow you easy operation, the warmer features a handy switch on/off button and a light indicator that keeps flashing when the warmer is in function. Ideally, it is meant for the candles up to 4 inches in diameters.
Why we recommend it:
Flat design
Multi-functional
Meant for non-lit candles
Features an indictor
Equipped with an on/off button
Also check: Top 10 Best LED Flame Light Bulbs in 2023
9- Candle warmers etc auto shut off candle warmer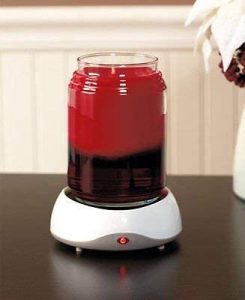 As the name suggests, this candle warmer is designed with an auto shut off function that saves the electricity as well as prevents the warmer from getting overheated. After 8 hours of continuous function, it shuts itself off automatically. Besides that, the warmer also features an on/off switch on the cord that is used to switch on/off the warmer manually.
Moving on, the warmer has a plate design and it can be kept on any flat surface. At the bottom, it features an indicating light that continuously flashes when the warmer is on. Apart from all this, the warmer is a flameless melter. Given the fact, it warms the candles without burning them and leaving any soot residue.
Why we recommend it:
Built-in auto shut off feature
Features an on/off button
Flat plate design
Offers flameless operation
Creates no mess
8-Hosley cream ceramic electric wax warmer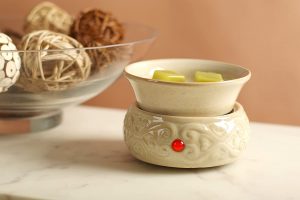 If you're looking for a modish electric candle warmer with a unique design, hands down. Hosley cream ceramic warmer is the best fit for you. The melter has such an elegant design that it can blend in with any type of home décor. Speaking of the size, the warmer is 5.98×5.98×4.84 inches and it can accommodate almost all sizes of candles.
As for construction materials, the warmer is made of high-quality ceramic. Given the fact, it is dishwasher-safe and can easily withstand daily rigor. Not to forget, the candle lighter also features an indicating light in the front that lets you know whether the warmer is in action or not.
Why we recommend it:
Ceramic construction materials
Features an indicating light
5.98×5.98×4.84 inches
Alluring design
Dishwasher-safe
7- SALKING electric wax warmer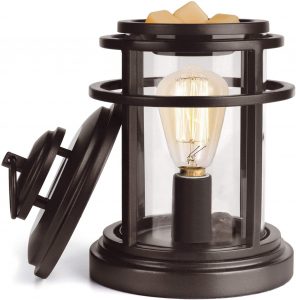 Another electric wax warmer with an appealing design that will surely add a unique charm to your room décor. Unlike other electric candle warmers, it comes with two 40W bulbs that melt the candles with their heat without burning them. Since it features high-voltage bulbs, the warmer also acts as a soothing night light. Given the fact, it creates a completely romantic aura with its pleasing fragrance and soul-stirring dim lights.
Furthermore, the warmer is secured with a transparent case from all sides that saves the bulbs from breakage. Not just that, it also features a top cover that can be removed in order to place candles or waxes in the warmer.
Why we recommend it:
Equipped with 40W bulbs
Attractive design
Removable top cover
Comes with 4 cubes of lavender waxes
Flame-free
6- Fleur De Lis ceramic candle warmer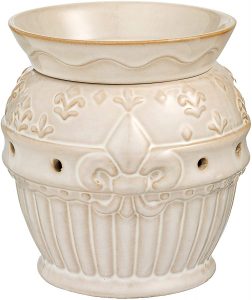 Fleur De Lis ceramic is one step ahead than other candle warmers when it comes to advanced features. As opposed to its competitors, this candle warmer is designed with a safety timer that lets you set the time according to your needs. Or, you can simply set the warmer in auto shut off mode that automatically turns off the warmer in 2, 4, and 6 hours intervals.
What to say more, it is even designed with 3 different power levels that let you adjust the intensity of the fragrance. Moving on, the warmer has a fleur-de-lis design that makes it unique from others. As for construction materials, the warmer is made of high-quality ceramic.
Why we recommend it:
Built-in timer
3 different power levels
Ceramic construction
Chic design
Smokeless and flameless operation
5- Foromas classic tart candle warmer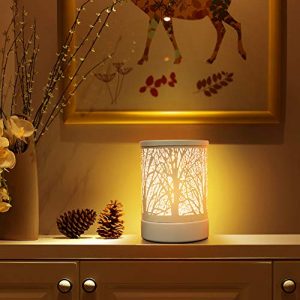 With its elegant and sophisticated design, Foromas classic tart electric candle warmer has impressed hundreds of people. Literally, its forest-pattern design is irresistible and it can flawlessly blend in with any type of décor. Speaking of the features, the warmer is equipped with a bulb that is the main source to melt the candles. Given the fact, it produces smokeless, flameless, and hygienic fragrances.
Moreover, it also acts as a night light with its dim, soft, and soothing light. The interesting thing is that the light is eco-friendly and energy-saving. On top of everything, the warmer is versatile and can be used to melt not just the candles but also waxes, tarts, and essential oils.
Why we recommend it:
Forest-pattern design
Acts as a night light
Energy-saving and eco-friendly
Leaves no soot residue
Stylish design
4- EQUSUPRO 3D glass electric wax melt burner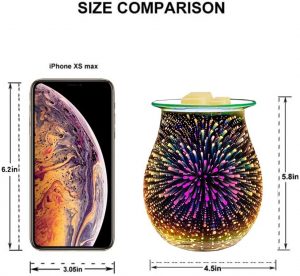 If you're in a hunt of an ultra-stylish melt burner, EQUSUPRO 3D electric wax melt burner is the best fit for you. The thing that makes it unique is its colorful 3D glass that sparkles in different colors when the bulb lights up. Thus, it emits a vibrant mild illumination along with a pleasing scent.
Being attractive and unique in design, this wax burner can't be used only in homes, but also in offices and hotels. To make the burner more stylish and colorful, you can paint it with your favorite colors and render it a completely new look. As for the size, the burner is 4.5×5.8 inches.
Why we recommend it:
Equipped with a 3D glass
Produces soothing fragrances
Appealing design
Size: 4.5×5.8 inches
Can be manually painted
3- Candle Warmer etc, pluggable fragrance warmer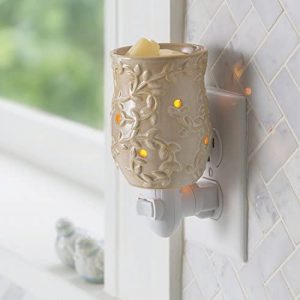 As the name suggests, this electric candle warmer is pluggable. Given the fact, it is the best fit for you if you hate the hassle of untangling long messy wires. Unlike others, it features no wire. The warmer itself is equipped with an electric socket. Just plug it in and it will start functioning.
Moving on to the features, the warmer is designed with a 15w bulb that emits mild glow and melts the candle slowly. Thus, it fills the ambiance with a soothing glow and fragrance. The interesting thing is that the warmer is extremely eco-friendly. It discharges no soot, flame, and smoke. Above everything, it has a classic design.
Why we recommend it:
Features 15w bulbs
Vine pattern design
Wireless and flameless
Pluggable
User-friendly
2- Glossy black ceramic stoneware electric candle warmer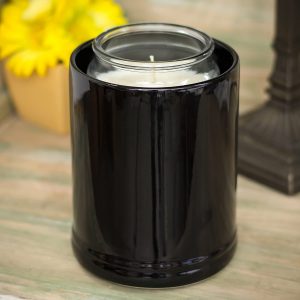 Here is another electric candle warmer that attracts the people with its eye-catching design. Unlike other warmers, it has a sleek shiny black finish that looks really alluring. Given the fact, this candle warmer can spice up your home décor. Featuring a 110V electric plug, the warmer melts the candles without leaving any smoke, flame, and soot behind.
As for the construction materials, the warmer is constructed of high-quality ceramic stoneware that makes it durable and break-resistant. To allow easy accessibility, it features an on/off button. On top of everything, it is larger than other candle warmers and can efficiently accommodate even large-sized candles. The exact measurement of the warmer is 8×6.5×6.5 inches.
Why we recommend it:
Size: 8×6.5×6.5 inches
Features 110V electric plug
Can accommodate large-sized candles
Ceramic materials
Equipped with an on/off button
1. Aimanni wax melts candle warmer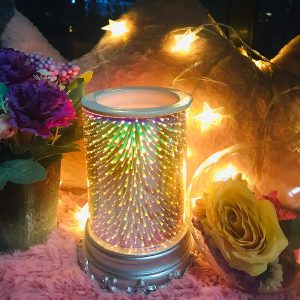 Aimanni wax candle warmer is stealing the heart of people with its elegant and eye-catching design. The warmer features a colorful glass that produces a vibrant glow and infuses your room with vivid colors of lights. If you don't like the preset colors of the bulbs, you can manually paint the glass with any color of your choice.
Speaking of the features, the warmer works with not only the candles but also tarts, wax, and essential oils. Furthermore, it is equipped with a 25W bulb that melts the candles in the consistent and gradual way. The best thing about this warmer is that it is designed with a stylish stand that keeps the warmer stable in its place regardless of the bumpiness of the surface.
Why we recommend it:
Chic design
Features 3D multi-colored glass
Equipped with a 25W bulb
Built-in nightlight function
Size: 4.5×6.1 inches
Key factors to consider while buying an electric candle warmer
Buying an electric candle warmer is not as easy as you might think. You need to keep a bunch of vital factors in mind before buying the one. Those significant factors are as follows:
Design
An electric wax warmer is not limited just to fill your room with the fragrance, but it is also a significant decorative item. This is why it is important to check the design of the warmer, first of all. You can get a huge variety in the design of the warmers. So, get the one that can blend in with your room décor seamlessly.
Construction materials
The next thing you need to check is the construction materials of the warmer. Since the candles warmers are meant to be used daily, they must be sturdy enough to withstand daily rigor. In general, the electric candle warmers made of premium-quality ceramic are preferred because they look elegant and have long durability too.
Versatility
Now, check the versatility of the warmer. Usually, the electric candle melters also act as a night light, as most of them are equipped with a bulb. So, if you want a candle warmer cum night light, look into this feature carefully and then buy the one that offers both functionalities.
User-friendliness
Last but not least, pay attention to the user-friendliness of the warmer. Make sure it is smokeless, flameless, dishwasher-safe, microwaveable, eco-friendly, and energy-saving. Plus, it should also have an on/off switch and an indicating light. In short, the candle warmer must be completely user-friendly.
Conclusion
Get one of these elegant electric candle warmers and infuse your surrounding with a soothing, pleasing, and relaxing candle scent in the possibly best way. These burners are flameless, smokeless, non-toxic, user-friendly, and eco-friendly. So, buy the one and add an appealing décor as well as scent into your home.
Last update on 2023-10-04 / Affiliate links / Images from Amazon Product Advertising API