Window lights decorations are among the most important things we do to create the best moment during Christmas occasion. Whether you have a traditional flavor or contemporary feel, your windows need to be lightened up to bring the bliss to your home and family. To help you with choosing the right window lights, we have collected some magical Christmas window lights that will help you beautify your home atmosphere. And indeed, they will stay shining during the annual occasion so that the celebration will be meaningful for the rest of the year 🙂
List of The 13 Best Christmas Window Lights in 2021
13- Twinkle Star 300 LED Window Curtain String Light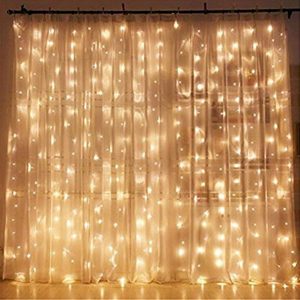 Let's start with Twinkle Star window lights that have earned a massive reputation in the market. After looking at its long fan following, you won't need any other proof to rely on its credibility. The tiny bulbs are designed for any widnow lights decorations. However, for your satisfaction, you can get into the details. It is one of the high-quality Christmas window lights with 8 setting modes ranging from combination pattern to wave pattern. There are nearly 300 white LED lights that are perfect for any decoration. It is also equipped with a bundle of hooks.
12- 12 Big Stars Curtain String Lights by YoyoKit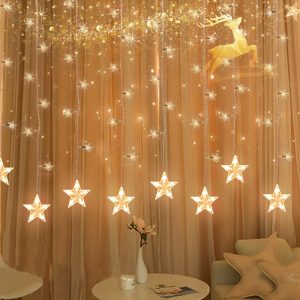 If you're bored with those old-designed string lights, you should try these lights for your window decor. All 120 LED lights are designed in a star shape that can brighten up your window curtain romantically. Given the fact, they really look breathtaking when all lit up. The bulbs illuminate in 8 flashing modes. You can change the modes manually. If you wish, you can also turn on the memory function which will help you to set your favorite pattern forever. When you'll plugin, it will automatically recover the previous setting. 
11- Zinuo Christmas Light Projector by YINUO MIRROR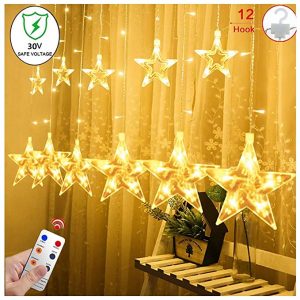 The start curtain string lights come with 12 stars and 138 LED window lights. You can control the light with its remote control and set them in the mood of your favor. There are 98 lighting patterns which you can manage with the help of a remote. Not only the flashing modes, but you can also control the lighting speed, brightness, and timer. If you're concerned about its length, it is long enough to cover a wide area of 8.3ft*3.2ft. Along with this Chrismas window light, you can also have these fiber optic color changing lamps to add additional romantic moment in your house or room.
10- Star curtain light, MaLivent LED Window curtain lights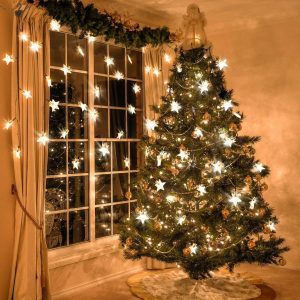 If you want star Christmas window lights at an affordable rate, none can beat MaLivent LED star curtain light. Given its reasonable price, it offers really impressive features. From 8 flashing modes to the high brightness of LED bulbs, it is no behind than other Christmas window lights. To make your work easier, it is also equipped with 10 hooks. However, it is smaller in size and designed with 60 bulbs.
9- Ollny window curtain light 192 LEDs Christmas lights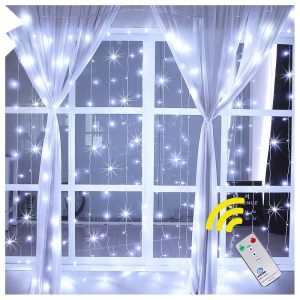 Take your Christmas decoration to next level with Ollny Christmas window lights. Just hold the remote in your hand let lights sparkle your room. There are 16 strings with a total 192 LEDs. Those are sufficient enough to cover an average-sized window. However, if it seems less for you, you can connect 3 set of Ollny Christmas window lights together. Another great feature about this window light is that it is designed with Glue-pouring technology which enhances the security of LEDs.
8- Areskey Star Christmas lights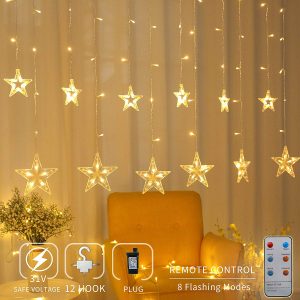 Areskey Star Christmas Lights have redefined the beauty. Its unique combination of classic and star shaped LEDs puts it apart from the others. Be it the Christmas or a wedding or be it a party, these window lights amplify the allurement of your home to the best. Its 138 LED lights are operated with the help of a wireless remote. You can alternate them on 8 flashing modes. It also takes the low power of just 31 voltages. It comes in size of 7.2*3.3 ft.
7- Weepong 40 LED photo clips strings lights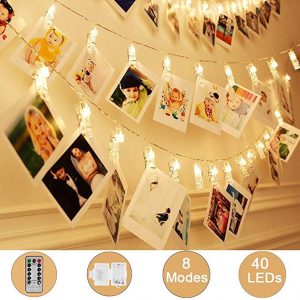 Unlike other window Christmas lights, this one is completely different in design as well as functionality. To start with, it is battery operated and remote-controlled. No need for power cords. It is actually a clipped string with LED lights. Hang little photos on these clips and turn on the lights. How breathtaking it looks to see all your happy memories illuminating in front of your eyes. Cherish your memories and bring them to life with these Christmas window lights.
6- Sienna set of 50 twinkling & shimmering clear window lights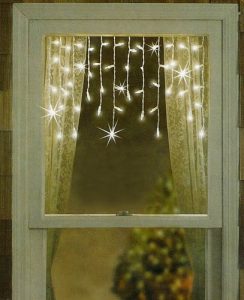 Simple and beautiful are the words that sum up the sparkle of Sienna Christmas window lights. If you're looking for the lowest-priced window lights, you can't get cheaper than this. In just a few bucks, you can decorate your window, Christmas tree, birthday party, bedroom, or anything that you want. Since there are 50 bulbs and the size is also not much longer, it would be a perfect fit for a medium-sized window.
5- Areskey Start Christmas lights, 138 light and 12 stars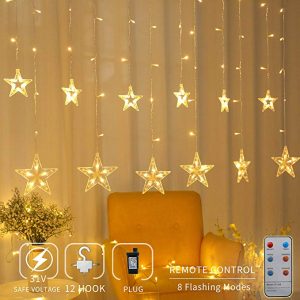 Another Areskey Christmas window lights string is here to light up your home. If you want to buy a universal window light that can be used on any special occasion, Areskey is definitely the first choice. With its 138 LED bulbs of 31 voltages and 8 flashing modes, you can decorate your house the way you want. The best thing about this Christmas window lights is that it comes with 12 hooks which allow you to hang it anywhere.
4- Twinkle Star12 stars 138 LED curtain string lights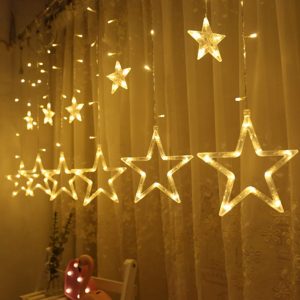 Twinkle Star is the indisputable ruler of this industry. The thing that makes it unique from the others is its inimitable design and high brightness of LED. The big-sized stars between the little LEDs make it eye-catching. To make it more striking, you can change the lighting pattern in 8 different modes. The string's length is 6.7*3.3 ft which makes it an ideal Christmas window lights. Above all, it is power-saving, easy-to-install, and also waterproof.
3- Twinkle Star 300 LED Window curtain string light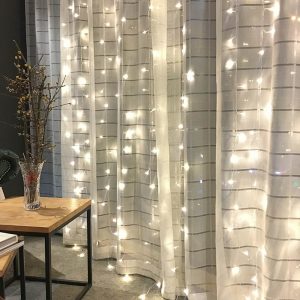 If you want a simple and low-priced Christmas window tree from Twinkle Star, turn to this one. With its simple white LEDs, it creates an elegant look. Interestingly, it features more LEDs than other Christmas window lights of this brand. Given the fact, the bulbs are dense and disperse the light efficiently. It also has 8 flashing modes to give you more freedom with your lighting patterns. The best thing about this Christmas window lights is that it comes in a big size of 6.6*9.8 ft.
2- Window curtain lights by starSolar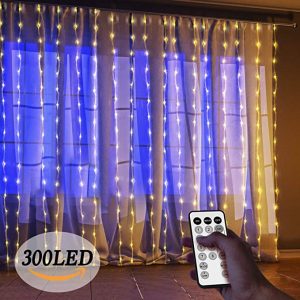 If you choose class over fanciness, Window curtain lights by starSolar is a must-try Christmas window lights for you. Its same-styled 300 LEDs make it look classy. There are no stars between the bulbs. Thus, it looks elegant when all bulbs are lit up. The string wire is made of Nylon materials. Given the fact, it lasts longer as compared to other Christmas window lights. The different flashing modes can be controlled with a remote.
1. Battery Operated Christmas window lights by Lights4fun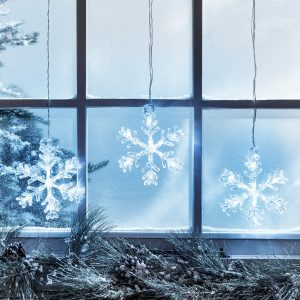 True to its name, Light4fun Christmas window lights are indeed the funniest way to decorate your home. It features 36 ultra-designed LED bulbs. Each of them is meant to hang individually. All bulbs are equipped with a drop wire and a suction cup. You don't need to do anything. Just wrap it out and hang over wherever you want. However, you need to buy 3AA batteries separately to see it illuminating. Given its high brightness and fancy design, this one is certainly the best Christmas window lights.