Keeping your clothes, especially the professional ones, organized is really an uphill battle. Obviously, you just can't throw them randomly anywhere in your room and running to your closet every time whenever you need a pair of clothes is not so convenient either. So, get a sturdy wall coat rack and avoid this hassle. To save you from hour-long research, here we have narrowed down the top 10 best wall coat racks in 2020. 
List of the 10 Best Wall Coat Racks in 2020
10- Amazon Basics Wall-mounted coat rack, barn wood 

Do you need a wall coat rack for your piles of heavy clothes? Well, turn to this AmazonBasics Wall-mounted coat rack because it has a good holding capacity combined with reliable construction. It features total 5 hooks and each hook can hold up to 5 lbs. Made of metal, these hooks are stamped on a sleek wood panel. Given its beautiful design and sturdy construction, it can be used in foyers, hallways, bedrooms, bathroom, or wherever you want. 
9- Tom Care Bamboo coat rack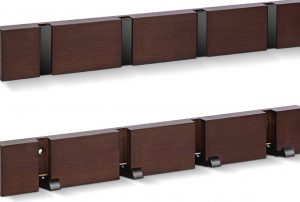 If you're the person, who goes organic and natural whenever possible, Tom Care Bamboo coat rack is designed for you. The panel is made of 100% natural bamboo woods, while the hooks are made of Zinc alloy. Given the fact, this wall coat rack is completely eco-friendly and incredibly durable. There are 4 hooks, which can put up with the weight of nearly 20 pounds altogether. In addition to that, it features foldable hooks. So, you can fold them when they are not in use. 
8- Amazon Basics wall-mounted coat rack, light walnut

The simplicity is combined with elegance in this wall coat rack. It is a set of 5 metal made hooks, which are stamped firmly in a wooden panel. Each hook can withstand up to 5 lbs without any problem. So, just mount it on a wall anywhere and clean the clutter of clothes from the floor. Being simple in design and robust in construction, this wall coat rack is a perfect fit for everyday function. So, just go for it. 
7- Langria Coat Rack Shelf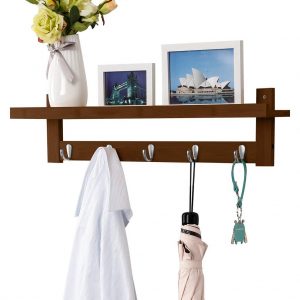 Langria coat rack shelf has taken the style of a wall rack to the next level. Unlike other wall coat racks, it is a combo of a wall rack and a shelf. Made of bamboo wood, it features an upper shelf, where you store little stuff like your watch, keys, sunglasses, and other such things. There are 5 metal made hooks and each of them has a holding capacity of more than 6 lbs. Given the fact, you can use these hooks to hang even your heavy clothes like sweaters. 
6- Brainerd RPLR6DJ-PWW-L1 heavy-duty coat rack

If you're looking for a simple, budget-friendly, and sturdy coat rack, look at Brainerd heavy-duty coat rack. Constructed of zinc-made hooks and wooden panel, this wall coat rack is a perfect fit to keep your room clean and organized in the absence of a closet. It features 6 hooks and each of them can withstand the weight of nearly 6 lbs. You can mount it anywhere from a wall to a wooden surface and can also store anything from heavy clothes to little hanging items. 
5- Homfa Hanging Entryway Shelf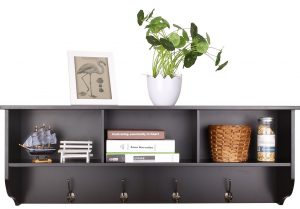 Homfa Hanging Entryway Shelf is one of the most stylish wall coat racks on this list. Unlike other wall racks, it provides ample space as it features 4 hooks, 3 cubes, and an upper storage, where you can keep things like a vase, paintings, and other such stuff.  The panel is made of melamine materials and coated with a beautiful gray-colored finish. Given the fact, it is durable, stain-resistant, and anti-stripping. The hooks are made of metal, so they are sturdy too. 
4- Dseap coat rack wall mounted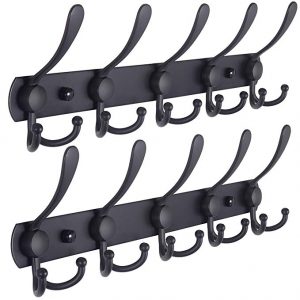 Dseap coat rack is a blend of simplicity and style.  The rack is entirely constructed of heavy-duty metal and coated with a black finish, which doesn't only render it an elegant look but also increases the life of the rack. Since the hooks have long-projected arms and big ball tips, they hang up the clothes really well. Given its simple design, it is easy to mount on the wall too. There are 5 hooks in a panel and the pack comes with 2 panels. 
3- HBCY Creations Rustic coat rack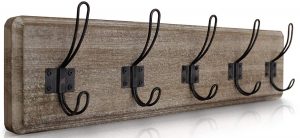 Get HBCY Creations coat rack and add a rustic charm to your home. The panel is made of solid wood, so it is sturdy enough to endure even heavy clothes. The hooks are also big in size and each one is secured with 4 screws. Given the fact, you can rely on its sturdiness. Since it is small in size and has a good holding capacity, you can use this coat rack anywhere from your living room to bathroom and from kitchen to hallway. 
2- Liberty 165541 Six scroll hook rack

With an antique design, Liberty 165541wall coat rack will perfectly blend in with the rustic charm of your room. It features 6 hooks, which have a shiny iron finish. The panel is made of high-quality fiberboard, so it is sturdy, durable, and easy to clean. Speaking of weight capacity, the rack can hold up the weight up to 35 lbs. Given the fact, you can use this rack for hanging the umbrella, robes, hats, coats, and many such stuff.  Just make sure to distribute the weight evenly. 
1- Rustic Wall Mounted coat rack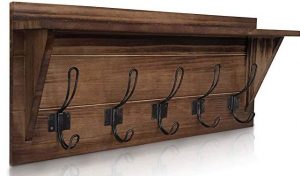 From its unique design to multi-functionality, Rustic wall mounted coat rack is unique. Unlike other coat racks, this wall coat rack is designed with upper storage, where you can keep little stuff such as keys. The rack features 5 hooks, which are bigger and sturdier than that of other wall racks. To add further, the panel is made of wood and the hooks are constructed of metal. If you're concerned about its set up, it comes with screws and anchors. Given the fact, you can mount it easily wherever you want. 
Conclusion
Throwing your clothes here and there in all over the room doesn't only make your room look messy but also downgrades the quality of your much-loved clothes. So, get one of these wall coat racks and keep your clothes in one place easily, systematically, and conveniently.