Do you remember when did you visited a movie theater and enjoyed your favorite movie with your favorite person? Maybe last week or last to last week? Sometimes, you're busy and sometimes, your partner can't take out time or plans just don't happen. As a result, you end up missing the fun of watching a movie in a theater. This is why we suggest you to invest in a home theater projector, which will allow you to enjoy theater-like movie-watching experience at your home itself. The home theater projector allows you to screen the movie from your Netflix and other online movie streaming channels for the whole family members at home. Yet, you need to make sure that you get a good quality one. And for that, our buying guide and customized list of top 10 home theater projectors will surely help you to get the best one.
=> Click buying guide if you need further advices before purchasing.
List of the 10 Best Home Theater Projectors in 2023
Home Theater Projector Reviews
10- ViewSonic 3600 Lumens SVGA high brightness projector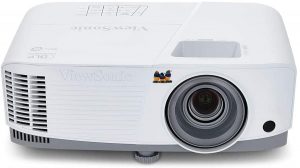 If you're looking for a versatile home theater projector that can be used for education as well as business purpose, ViewSonic 3600 Lumens projector is made for you. Designed with a big projection screen, the projector can project from a long distance of 15 ft 8 inches. It has a throw ratio of 1.96-2.15 and the throw distance is 1.19 to 13.11m.
Besides the basic features, the projector is designed with many advanced audio and visual features that enhance the functionality. Having the brightness of 3600 lumens, it produces high-quality images and even offers you the freedom to dim the brightness of the projector by 70%. Thus, you can extend the lamp life by up to 15,000 hours. To ensure crisp audio quality, the projector is also designed with a 2W internal speaker and a noise level of 27dB. The projector can also be used with a conference room camera for video calling and other presentation.
Key features:
High brightness of 3600 lumens
Compatible with HDMI-enabled devices
Throw distance: 1.19-13.11m
Throw ratio: 1.96- 2.15
Aspect ratio: 4:3
9- VANKYO LEISURE 3 mini projector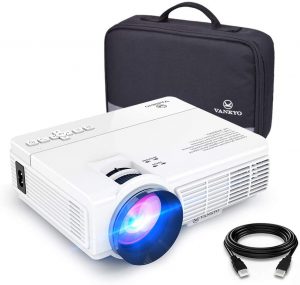 VANKYO LEISURE is a mini projector but it can beat some of the high-featured home theater projectors when it comes to features and user-friendliness. Powered by MStar advanced color engine that is known for its incredible services, the projector has many awesome features to amuse you. To start with, it can support the screen resolution up to 1920×1080 offering you crisp and clear pictures.
The brightness of the projector is 3600L and the contrast ratio is 2000:1. To boost your home theater experience further, it is designed with a heat dispersion technology, a noise suppression technology, as well as cooling functionality. What to say more, it is even inbuilt with 3 different levels of aspect ratio that are respectively 4:3, 16:9, and auto mode.
Key features
Brightness: 3600L
Inbuilt with noise suppression technology
Up to 40000 hr lamp life
Contrast ratio: 2000:1
Watching size: 32-170 inches
8- BenQ TK800M 4K UHD theater projector

Get this amazing theater projector and take your film-watching experience to the next level. What makes it unique from others is its compatibility with 4K UHD resolution, which enables the projector to produce breathtakingly clear and life-like pictures.
To further intensify the image optimization, brightness, and contrast level, it is inbuilt with the DLP technology that is known to provide the top-level of crispness and clarity to the images. Given the fact, the projector will intensify the thrill of watching sports million times more.
To your surprise, the projector can be set in different modes including sport mode, football mode, and film mode. Its 4K UHD HDR resolution with 3000 lumens brightness brings out clear and crisp images even in dark scenes.
Key features
Inbuilt with DLP technology
Brightness: 3000 lumens
Multiple modes
Easy setup
4K UHD resolution
Related: Top 10 Best Star Projectors in 2023 | Reviewed by SpaceMazing
7- Movie Projector by Artlii 5500 full HD support projector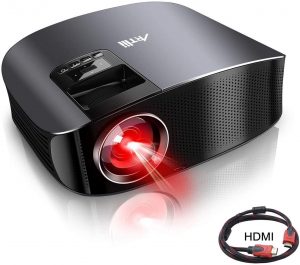 If you're an avid gamer and want to play your favorite video game on a big screen with clear pictures and crisp sound quality, hands down, Artlii movie projector is made for you. Other than amplifying your film-watching experience, it will also let you play video games efficiently.
Supporting full HD 1080P resolution and featuring 5500L brightness as well as 3000:1 contrast ratio, this home theater projector makes sure to offer you crisp, clear, sharp, and color-balanced images. Not only the image quality, but it takes care of the sound quality too.
The projector is equipped with 2 big HIFI sound speakers that offer mind-blowing sound and further intensify your overall home theater experience. Not to forget, the screen has an aspect ratio of 16:9 and the screen resolution of 1920×1080.
Key features
Two 3W built-in speakers
Inbuilt with noise-reducing system
Brightness: 5500L
Screen size: 44 to 200 inches
Aspect ratio: 16:9
6- Sony Home theater projector VPL-HW45ES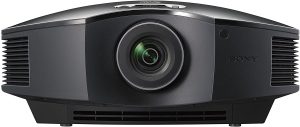 Turn your comfy room into a thrilling world of entertainment with this remarkable home theater projector by Sony. Its advanced features coupled with innovative technology will literally take you to new heights of thrill.
Having a brightness of 1800L and a high contrast ratio, the projector displays clear and multi-colored pictures with minimal blur. Furthermore, it is designed with SXRD technology that refines the saturation and sharpness of pictures and ensures real-like images, unlike its competitors.
The unique thing about this projector is that it offers you the freedom to set it in 9 different modes such as gaming, photo, and cinema mode among others. On top of everything, the projector is equipped with a whisper-quiet fan that lets the projector does its job without making any annoying noise.
Key features
Brightness: 1800L
Features no-noise fan
Zooming functionality
1920×1080 screen resolution
Equipped with motion flow technology
USB compatible
5- Epson home cinema 1060 full HD 3lcd projector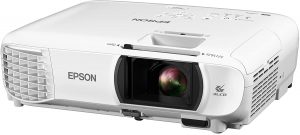 What if we tell you can enjoy 25 times larger images than that of your TV at your home itself? Sounds unrealistic? Well, this Epson home cinema projector makes it possible with its large screen and impressive features. Its full HD 1080p screen can provide you up to 300 inches images. Even after such a gigantic size, it doesn't compromise on the quality. With its 3100L brightness and 15000:1 contrast level, the projector offers super clear and crisp pictures.
To boost the intensity of pictures further, it is also designed with an innovative 3LCD technology. Another great thing about this projector is that it is inbuilt with 2×HDMI ports that make it compatible with almost all types of streaming devices.
Key features
Full HD1080p screen resolution
Inbuilt with 3LCD technology
Features 2×HDMI ports
Contrast level: 15000:1
Brightness: 3100L
4- BenQ HT3550 4K home theater projector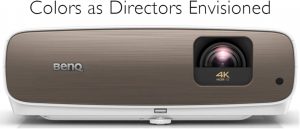 This BenQ home theater projector takes your cinematic experience to a whole new level. With its 4K UHD resolution, it ensures awfully clear and crisp pictures. Unlike others, it is inbuilt with a cinema-optimized technology, which makes sure to maintain perfect color balance, brightness level, contrast range, and saturation intensity. As if this was not enough to impress you, it is also designed with the DLP technology that adds further sharpness to the clarity of the images.
Speaking of the specifications, the brightness of the projector is 2000L and the contrast ratio is 30,000:1. Adding more to its features, the projector has 1.3 times zooming functionality that further enhances the awesomeness of the projector. Not to forget, it also features two 5W speakers, which emit immersive sound and offer you a complete theater-like movie-watching experience.
Key features
Contrast ratio: 30,000:1
Features two 5W speakers
Brightness: 2000L
1.3 zooming lens
4K UHD resolution
3- Optoma HD142X 1080p home theater projector

Optoma is a loved choice of users and it has a whole set of reasons for that. To begin with, it offers you a full HD 1020p projection with incredibly crisp images. The brightness of the images is also high.
With 3000L brightness, the contrast ratio of 23000:1, and images sizes of 41.8 to 305 inches, the projector perfectly balances the color and ensures like-like images. The awesomeness of the projector doesn't end here. To add more, it is even inbuilt with REC.709, which further intensifies the accuracy, brightness, and color saturation of images.
The best thing you would love about this theater projector is that its lamp has a long life. To your surprise, it can last up to 8000 hours even if you use the projector 2 hours daily.
Key features
Built-in 10W speaker
23000:1 contrast
3000 brightness
Can display image size from 41.8 to 305 inches
1920×1080 HD resolution
2- Epson home cinema 2045 home theater projector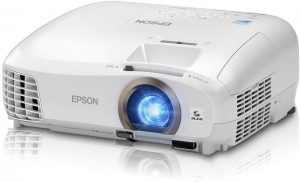 This Epson home theater projector is made for the people who just can't handle the complex setup of the devices. Unlike its competitors, this theater projector is incredibly easy to set up. Moving on to the features, the screen resolution is 1080p and it offers you super crisp and blur-free pictures.
The main reason for sharp images is its high brightness of 2200L and contrast of 35,000:1. You can hardly find such a high level of contrast in any other projector of this list.
Speaking of its advanced features, it is inbuilt with an innovative 3LCD technology that literally brings the action scenes to life and makes them super thrilling. Furthermore, the projector features 2 HDMI ports that make it compatible with almost all types of streaming devices.
Key features
Features 2 HDMI ports
Contrast ratio: 35000:1
Brightness: 2200L
Inbuilt with 3LCD technology
5W built-in speaker
1. XIAOYA mini projector HD 720p home theater projector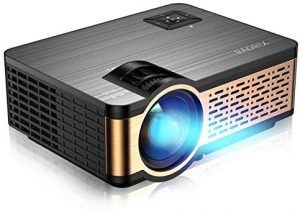 XIAOYA mini projector is a handy pick for you if you're looking for a small-sized home theater projector with advanced features. Unlike others, this projector is designed with an advanced brightening technology that enables it to produce the brightness of 4000L. Given the fact, you can enjoy vibrant, crisp, and high-quality images with perfect color balance on this theater projector.
To ensure immersive sound, it is equipped with a HIFI stereo speaker, which produces pulsating sound and intensifies your film-watching experience. Not only this, but the projector is also inbuilt with a reduced-noise fan that ensures quiet and smooth operation. Above everything, this projector can be connected with multiple types of video streaming tools.
Key features
Brightness: 4000L
Built-in HIFI stereo speaker
Features reduced-noise fan
Lamp life up to 60000 hr
Low-noise operation
Key factors to consider while buying a home theater projector
Let us start by telling you the significant factors that you must keep in mind before giving out your money on a home theater projector. Here are those factors:
Screen resolution
You have many points to consider while buying these projectors but begin with checking the screen resolution of your projector. Usually, all such types of projectors are designed with 3D or 4K screen resolution. If you can't compromise on the image quality, go for the one with 4K screen resolution.
Brightness level
You can never have a good film-watching experience if the brightness level of your projector is low. This is why make sure to buy the one that is designed with the brightness level of 3000L at the minimum. The higher the brightness level is, the better the projector would be.
Contrast level
Brightness is not everything. In order to enjoy crisp, sharp, and high-quality images, you need to look into the contrast level of the projector too. In general, your projector should have a sharp contrast level of 15000:1 or more if you're really after the high-quality ones.
Speakers
Once you're done investigating the image quality that your projector offers, move on and check its sound functionality too. Examine how many speakers it features and how powerful the speakers are. In the market, you can get the home theater projectors with 1 or 2 speakers. You can go for any of them depending on your needs. However, the projectors with 2 speakers of 5W are considered best, as they produce immersive and crisp sound.
Conclusion
No need to visit film theaters and spend a chunk of money on movie tickets to enjoy your favorite film. Just get one of these home theater projectors and turn your room into a movie theater or a thrilling gaming world. Yes, you can play video games too on these versatile theater projectors.
Last update on 2023-10-03 / Affiliate links / Images from Amazon Product Advertising API