Are you one of those people who're just too lazy to open and close the closet every time they have to change?  Yes? Well, then you should consider buying a standing coat rack that can be placed in any corner of your room. You can hang down your essential clothes as well as other stuff in it. However, make sure to get a top-notch standing coat rack so that it can withstand your heavy clothes. If you want a quick look at the best standing coat rack in the market right now, check out this list.
List of The Best Standing Coat Racks in 2021
Standing Coat Rack Reviews
10- WILSHINE Coat Rack Standing Hall

WILSHINE coat rack standing hall has redefined the style. Made of heavy-duty metal, it is sturdy, durable, and rust-free too. The stand has tripod legs, which make it stable in its place even after heavy loading of clothes. They are also designed with caps on the bottom. So, you can drag it without any worries of the floor getting scratched. This rack features 12 hooks in 3 tiers. Given the fact, you can hang the clothes in an organized manner according to the size of the hooks. 
9- Kings Brands Bronze Metal Hall Tree Coat & Hat Rack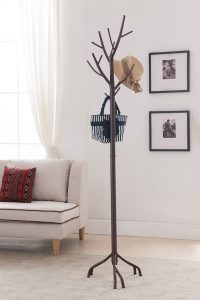 As the name suggests, Kings Brands Bronze standing coat rack is designed in a tree style. It features various branches like a tree, which are meant to hang the clothes. Unlike other standing coat racks, it enables more storage clothes to keep the clothes. Not only the clothes, you can even hang your hat, shoes, umbrella, handbag, and much more. Since it is made of metal, it holds up the weight smoothly. To ensure firm stability, it features a three-legged base. 
8- Mind Reader Standing Metal Coat Rack

If you can't afford spending chunks of money in a standing coat rack, Mind Reader standing coat rack is made for you. Given its low prices, it offers really amazing service. There are 11 hooks in 3 tiers. The hooks are relatively wide, so they can hold up the clothes really well. Other than clothes, you can use this standing rack to hang hats, purses, winter jackets, umbrella, and even your accessories. Having a tripod bottom, it sits firmly on the floor.
7- LANGRIA Standing Entryway coat rack

Get LANGRIA standing entryway coat rack and add a touch of elegance to your room with its chic design. Made of metal, it features 11 hooks that are distributed in 3 tiers. Given the fact, this standing coat rack provides ample storage that too in an organized way. In addition to that, it is built with 'end-cap' design, which avoids the mishap of clothes getting torn accidentally when you take them off the rack in a hurry. 
6- Vlush Sturdy Wooden Coat Rack Stand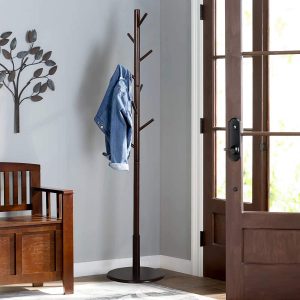 If you're looking for an elegant and modish coat rack stand, turn to this one. Its streamlined design in a vintage tree shape will perfectly blend in with the décor of your room. It is made of real wood and coated with eco-friendly lacquer. Given the fact, it is not only sturdy and durable but also waterproof and corrosion-resistant. The rack features 8 hooks and a circle shaped bottom. To your surprise, you can adjust the height of this rack as well as hooks as per your needs. 
5- VASAGLE Industrial Coat Rack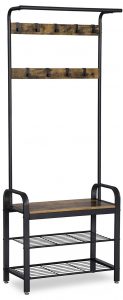 If you want something more than just a standing coat rack, VASAGLE industrial coat rack deserves your attention. Unlike other standing coat racks, it features 2 wire shelves and 1 bench at the bottom. Here, you can store your shoes, books or any such stuff. On top of the rack, there are 9 hooks stamped in 2 wooden panels, where you can hang down your clothes. With an iron frame and wooden construction, this rack can withstand a huge weight up to 176 lb. 
4- Vlush Sturdy wooden coat rack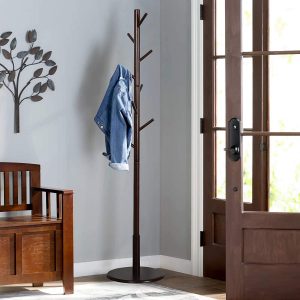 If you like vintage and elegant pieces of furniture, clap your eyes on Vlush sturdy wooden coat rack, which is a head turner in the market due to its unique design. Designed in tree shape with warm wood tones, the stand features 8 hooks in different directions. Furthermore, it is built with a big and flat stand in order to provide firm stability. To use its versatility at the best, you can customize the size of hooks and rack as per your needs. 
3- Black Metal Walnut Wood Hall Tree Coat Hat  Rack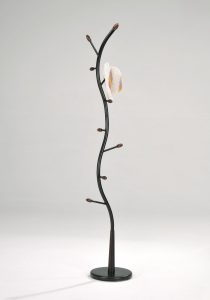 This is a masterpiece, indeed. Made of metal and walnut wood, this standing coat rack is designed with a perfect mix of style and elegance. Given the fact, it is the right fit for home as well as office use. It features 8 hooks, out of which, 4 are small and 4 are big in size. Use them according to the size of your clothes so that they can withstand the weight without any problem. It also features a flat stand, so you can rest assured about its stability. 
2- VASAGLE industrial coat rack with 3 shelves

This uniquely designed coat rack is a combo of a rack and a shelf. At the bottom, it features 3 shelves, where you can keep bulgy and heavy stuff. There are 8 hooks on the top of the rack. The frame is made of iron and has the side tapering design in order to ensure firm stability. Though it is big in size and complex in design, it is really space saving. In fact, you can keep it just in a corner of the room. 
1- Vlush Sturdy wooden coat rack stand, brown color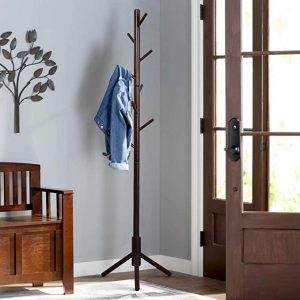 Vlush standing coat rack topped the list and the main reason for it is its user-friendliness. Unlike other standing coat racks, it offers stability, durability, and versatility altogether in one pack. With wooden construction and a lacquer coating, this standing coat rack does not only offer you long durability and easy accessibility but also render a sleek look. It features 8 hooks, which can be used to hang even heavy clothes. Furthermore, its three-legged bottom offers reliable stability too.  
Conclusion
A standing coat rack doesn't only keep your clothes handy for you and also cleans the unwanted clutter from your room. So, don't hem and haw. Just get one of these standing coat racks and make the things easier for you.