A truck bed tent can be a great plus to your pick-up truck if you plan to go far away at night and sleep outdoors. Moreover, even in the day time, it is a comfortable place for you to take a rest without going further from your car. Its mobility allows you to take a both wonderful and comfortable journey. Although this product is new to the market, users do not have to worry about choosing the wrong one. After a detailed research on the subject, we have come up with the reviews for the top ten best truck bed tents on the market. At the end of this article, buyers can also gain insights about how to choose the best truck bed tent.
List of the 10 Best Truck Bed Tents for Camping in 2023
TRUCK BED TENT REVIEWS
10. SportZ Truck Tent Blue/Grey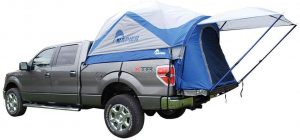 With this tent, users can enjoy the night either with a friend or loved one because the space can accommodate up to 2 people. The headroom measures at 5.6 feet. Moreover, it has a huge rear which enables users to connect to the cab for more storage. There are 2 windows, an entrance and vents to maximize air flow.
With the installation, users do not need any guide ropes because it has a shade awning to tighten it to the tailgate, allowing users to set up conveniently. Last but not least, strap protectors are included in the package for additional protection for the truck.
Also check: Best Foldable Camping Chairs & Camping Tables for Your Pick in 2023
9. Napier Backroadz Truck Tent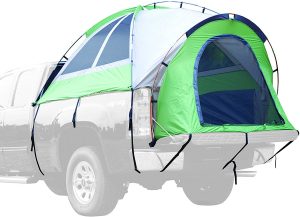 Napier is known to be the only brand in the market who manufactures a truck bed tent with a unique design. It has a full door to keep you isolated from the truck to ensure the cleanliness and dryness. With 4 different sizes, it is designed to be suitable for the standard sizes pick-ups. Even though there is already a toolbox or other items equipped, it still fits in very well.
Watch these two guys install their first truck tent on their trip
Moreover, in case there is a heavy rain in the rainy season, it still provides waterproof protection for the users to enjoy their sleep. For the purpose of easy installation, manufacturer has equipped it with pole and sleeve to make it easier in the assembly process. When preparing for your camping, you may consider to bring a Folding Chair and a Percolator as I'm sure you will need a proper seat to enjoy your hot tea or coffee in the forest.
8. Kodiak Canvas Truck Bed Tent | Truck Popup Tent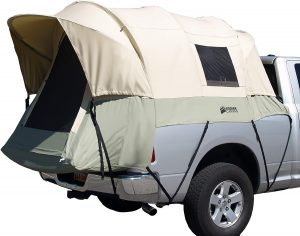 This truck bed tent is designed with premium quality with the main materials made of Hydra-shield. Its inside features 100% cotton, which is not only durable but also breathable with maximum air during the night. It is designed with tunnel shape, allowing the inside space expanding itself up to 5 feet high. Moreover, it has its tailgate down to exceed the normal size and provide a large space for storage. It also fits well with camping sleeping bag for your comfort.
In order to ensure the fitness, there is a steel frame linked to the rails. It is suitable for all 4 seasons, but not in the heavy snow circumstances. Moreover, it comes with window in order to enable the best ventilation for the users during hot weather seasons. If you always come with a big family and hard to fit in this truck sleeping tent, you can get either one of these pop-up tents or hammocks with mosquito net or portable camping cot for your additional convenience.
7. DANCHEL OUTDOOR Hard Shell Rooftop Tent for Cars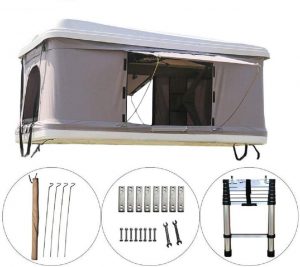 It is available in white grey color, and its size measures at 83 x 50 x 35 inches. For its opening and closing dimensions, it measures 82.7 x 49.2 x 35.4 inches and 82.7 x 49.2 x 11 inches respectively. The material of the tent consists of canvas pu200m, which is not only resistant to water but also protected against UV 50+. The mattress is designed to be ultra soft in its 3.15 inches thickness. It can accommodate up to 3 people with 260kg of maximum capacity.
Moreover, to allow maximum air flow, it has 4 windows and doors with zippers to be opened easily. It is equipped with 7.6 feet ladder, which is made of aluminum and able to support up to 300kg.
6. Airbedz by Pittman Outdoors Hard Shell Rooftop Tent with Covered Ladder Access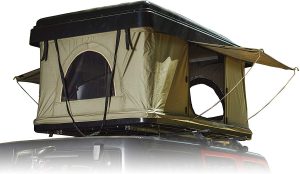 The tent bed is designed perfectly to fit 2 people in the outdoor settings. It is equipped with hard frame rooftop to provide a safer sleeping environment. It has its dimensions measure at 82.7 x 49.2 x 35.4. Users can carry it with them whenever they go on the adventure because it is extremely lightweight, estimated only 280g.
Its base is made of high quality aluminum which is not only durable but also resistant to water, wind and UV rays. The mattress consists of non-deforming foam in high density to offer the most comfortable sleep for its users.
Manufacturer has made it easy to install within minutes with an outstanding ladder for telescopic purpose.
5. Offroading Gear Rooftop Tent, 48″ x 84″ x 50″, Fits 2 People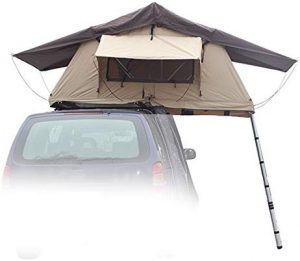 This tent design is not limited to the use of pick-up trucks, but it also fits well with SUVs and cars because it can be installed on the rooftop of the car. Even though it is installed on the roomy roof, it still allows 2 people to sleep comfortably in the tent. It has the opening dimensions at 48 x 83 x 49 inches. Its foam mattress is designed with 2.25 inches of thickness with removable cover to be washed in washing machines.
The tent is easy to step up in any settings as all the tools are included in the package. It also includes an aluminum ladder at 6.5 feet high. Its compact and lightweight are around 100 pounds with the most durable materials.
4. DAC Explorer 2 SUV and Minivan Tent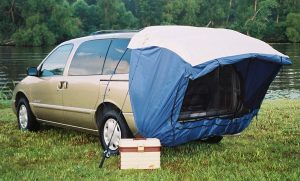 For users who are driving a minivan or SUV, they can consider this tent while going wild. The reason is that it is designed to fit the rear gate of any vans, whose width is below 67 inches. Users can set up the tent within 5 minutes because it is equipped with cord and hooks connected to the underframe of the van.
There is an outer door to be folded up to get maximum air flow, or to be tied to the bottom to get maximum privacy. It is not only lightweight and compact but also water and flame proof.
3. Rightline Gear Truck Tents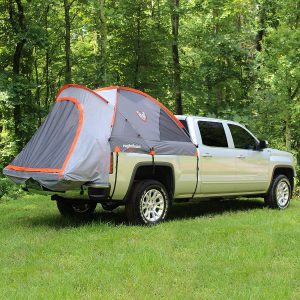 This tent is for mid size truck. It is more convenient than any other competitors because it is designed to be installed in floorless settings. Even without removing gear, users can still easily set up the bed. It is made of high quality fabric, which is the PU 200m, in order to provide a waterproof and dry place for sleeping.
It is also equipped with straps and buckles that help maintain the truck. While users are sleeping, they can see the view in the upper sky because there is a vent for better light and ventilation. Users up to 2 people can sleep comfortably in the tent without any disturbances from the environment.
2. Guide Gear Full Size Truck Tent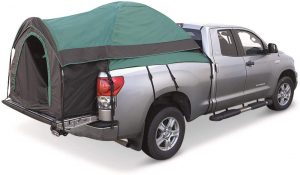 Being one of the best truck beds on the market, it is made of 190T polyester, which is water resistant up to 1500mm. It has a considerable light weight with 4 poles for easier installation. Inside the tent, there are windows for air flow and pockets to store items.
Its interior is measured at 5.25 feet. Moreover, it is resistant to all the harsh elements of the unpleasant weather. It fits most pick-up trucks at the standard sizes, including Ford, Nissan and other famous brands.
1. Hasika Waterproof Double Layer Full Size Truck 5.5 Foot Bed Tent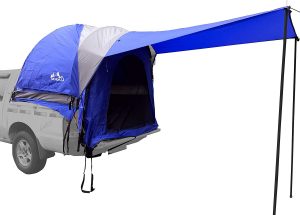 As the best truck bed tent among the top ten list, it is highly recommended by the customers with high ratings at 3.7 out of 5 stars. Its fabric is made of polyester, and its large space can accommodate up to 2-3 people. It has a sewn and awning on its floor. Moreover, it enables users to get themselves linked to the cab of the truck for more storage.
There are 2 windows and side vents for maximum air flow in the tent. Moreover, users are offered with a large awning that can accommodate table, chairs and kids.
What to Consider before Buying a Truck Bed Tent
Not all the truck bed tents on the market are suitable for the demand of the consumers, and therefore, an outstanding one is very important to keep the users safe in the harsh environment at nights while providing them the most comfortable sleep. Below are the main features that you as users should consider while doing the purchase:
Types of the truck bed tent
Users should look for the type that fits their vehicles the most, either connected to the rear panel or on the rooftop.
Dimensions
Most of the bed tents for truck are designed to fit most pick-up trucks at the standard sizes. That's the standard size of most car anyway. So, get the dimension right with your car.
Materials used
Make sure to use the tent which is made for water and wind resistant as it is essential to protect you while you are in their deepest sleep.
Ventilation
The tent should have enough doors, windows and vents to allow maximum ventilation. Normally it includes 2 windows and 4 side vents.
Frequently Asked about Truck Bed Tent
How do you set up a truck bed tent?
The setup of the truck bed tent is simple and easy. You can watch the video below on how a Righline Gear Truck Tent is setup
Can a truck tent be used on the ground?
Normally, the manufacturers design the truck tent specifically for attaching with your car. Yet, it depends as some truck tents are designed to install beside your car or on the top of your car. So, you can either buy the one used with truck only or the one which can be used both on the the truck and on the ground. It is your pick!
Conclusion
This article has introduced the top ten truck bed tents on the market for users to review and consider choosing the best one for themselves while going outdoors on their adventure trips. The best truck bed tent will provide you the same comfortable and warm experience just like home.
Last update on 2023-11-30 / Affiliate links / Images from Amazon Product Advertising API