Going for a picnic is always fun-filled but the bad part is that you're supposed to sit on the hard ground. Sometimes, it is uncomfortable and even a little bit aching. So, if you want to enjoy the sitting comfort of your home in the wilderness of outdoors, consider buying a folding picnic table, which will not only give you an ultra coziness but also a whole new picnic experience. So, check out the top 10 best folding picnic tables in 2020 and get the most suitable one for you. 
List of the 10 Best Folding Picnic Tables in 2020
Best Folding Picnic Tables Reviews
10- Lifetime 22119 folding picnic table, 6 feet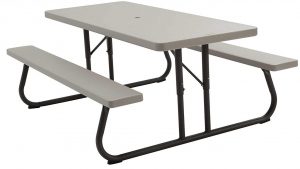 When buying a folding picnic table, make sure to notice the construction material of the table because the table would be used outdoors, so it has to be weather-resistant. Well, With Lifetime 22119 folding picnic table, you can rest assured about this as it is made of high-density Polyethylene and powder coated with steel. Its depth is 73 inches, height is 29, and width is 30 inches after being assembled. Given the fact, it provides a comfortable sitting experience for a group of people. 
9-Lifetime 60233 W-frame picnic table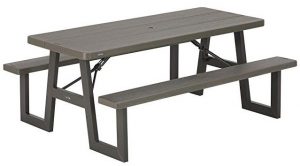 If you like the antique design of furniture, this Lifetime folding picnic table is made for you. With the seating capacity of 8 people, this folding picnic table comes with 72×30 inches dimensions. Speaking of construction materials, it is made of high-density polyethylene, which is not only weather-resistant but also waterproof and stain-resistant. You can use it outdoors without any worries of getting cracked, rusted, or peeled. On top of all, it comes with 2 year's full warranty. 
8- Lifetime 6 folding picnic table- brown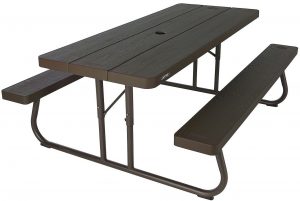 This 6-feet folding picnic table is a perfect choice to add some more spices in your fun-filled picnic. Made of high-density and UV-protected plastic and powder-coated with steel, the table is rectangle-shaped. Given its solid construction materials, it can seamlessly withstand all environmental elements and also the harmful rust. Don't worry, it won't get cracked or peeled in any weather conditions.  In addition to that, its unique design ensures a comfortable seating experience even after being not-so-large in size.
7- Gymax picnic table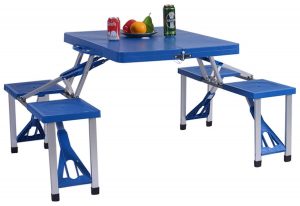 If your preference is a robust construction with solid materials, turn your head to this Aluminum-made folding picnic table. Even after its robust materials, it is extremely lightweight and can be easily transported from one place to another once it is folded. With a seating capacity of 4 people, the table ensures a comfortable and relaxing sitting experience. Furthermore, it also fights well against spills, stains, and unpleasant weather conditions. You can clean it without any worries too as it is waterproof. 
6- Giantex 70" portable picnic beer table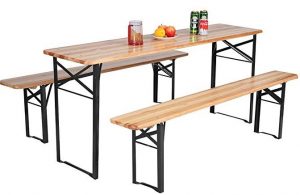 If you like wooden furniture, this alluring folding picnic table is made for you. The thing that makes it unique from others is its solid construction of high-quality Fir wood and robust iron. The top base is wooden while the frame and the legs are made of polished iron. Furthermore, its foldable design and remarkable portability make it a loved folding picnic table in the market. Given its solid construction, it is durable and won't be affected by harmful weather conditions. 
5- Lifetime 60239 kid's picnic table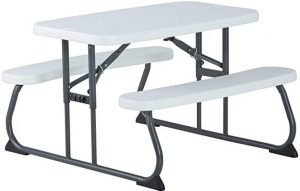 Another alluring and remarkable folding picnic table from Lifetime brand. Though it is designed for the kids, it will perfectly fit in for a family of 4 people. Unlike other folding picnic tables, this one is designed with a function to adjust the table with a single button only. Speaking of construction, the tabletop is made of polyethylene and the frame is made of steel. Given the fact, it is extremely solid, incredibly durable and can bear daily wear and tear flawlessly. 
4-Best Choice products VD 2837OP products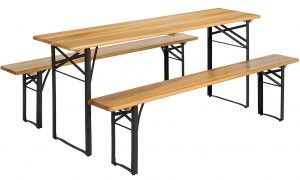 If classic pieces of furniture with a sleek design attract you, you can't resist this alluring and elegant folding picnic table. Made of smooth Fir wood with heavy-load polished iron frame, the table renders a fascinating look. Moreover, it is also big in size and offers you plenty of space to sit comfortably and enjoy the moment. Though the table in big size, it is not difficult at all to carry from one place to another. Just fold it properly and get along with you wherever you want.
3- Trademark Innovations portable folding picnic table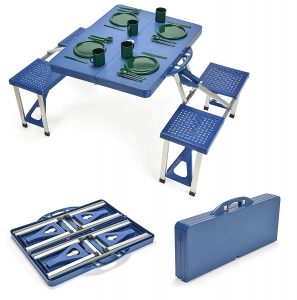 Get this fancy folding picnic table and match the high level of your comfort with the extreme degree of style. Seriously, it is the most stylish folding picnic table on this list. The tabletop and bench seats are made of heavy-duty plastic, while the frame is made of solid aluminum. Given its firm construction, the table can withstand the weight up to 66lbs. It is also weather-resistant and doesn't get easily damaged by rain, rust, stain, or heat. Ideally, the table is meant for 4 people.
2- Foldable laptop table, mini picnic table by Superjare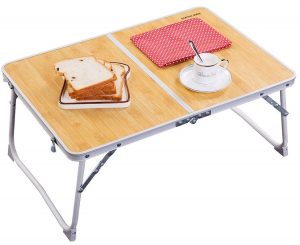 If you're looking for a folding picnic table for your use only, Superjare foldable laptop table is the best choice for you. It is small in size, advanced in functionalities, and affordable in price. The good thing about this picnic table is that you can use it even indoors. It is beautifully designed and features supporting buckles and the aluminum alloy frame. Not only this, it is also designed with a non-slip bottom in order to ensure firm stability in any type of flooring. 
1- Stansport Picnic and umbrella comb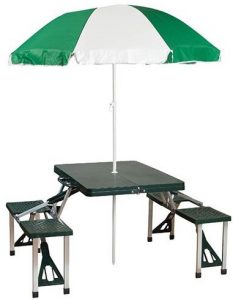 After looking at this folding picnic table, you'll realize why it topped the list. To start with, it is beautifully designed with an umbrella, which creates a romantic aura for you just in case if you want to go on a picnic with your better half. Another mind-blowing thing about this folding picnic table is its blended construction of aluminum and high-density polyethylene, which doesn't only ensure long durability but also firm stability. Speaking of its portability, it becomes like a briefcase after folding it up completely. 
Conclusion 
Get one of these top-notch folding camping tables and make your picnic a fascinating affair. These folding tables are not only suitable for just picnics but also for camping, tailgating, or any other outings. So spice up your outings with a pinch of homey comfort.