If you think a picnic is all about sitting on the bumpy ground in the courtyard of nature and enjoying the vista around you, you have got the wrong idea, I must say that. Yes, a picnic can be something more than that. You can make it a little bit more cozy and enjoyable by carrying your own folding picnic chair with you. Before that, you need to buy the same that too a high-quality one. To save you from hour-long research, here we have compiled the list of top 10 folding picnic chairs in 2020.
List of the 10 Best Folding Picnic Chairs in 2020
10- Coleman Portable camping quad chair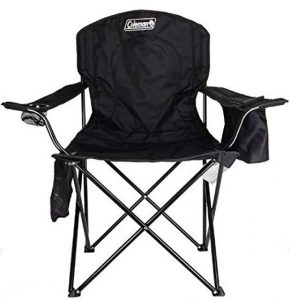 Coleman makes your outing perfect with its mind-blowing products and this folding picnic chair is one of them. With a sturdy steel frame, it offers you the extreme degree of comfort and the highest level of reliability. It is designed with cushioned seat and back in order to provide you utmost comfort. In addition to that, the armrest of the chair features a 4-can cooler pouch, which keeps your drink within your reach. There is also a side pocket, where you can keep your little belongings. 
9- AmazonBasics Camping chair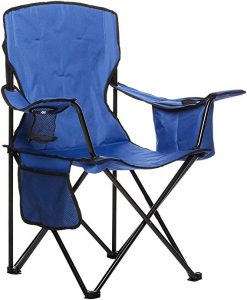 Get AmazonBasics camping chair and make your picnic a cozy affair. It is inbuilt with a cooler pouch, comfortable armrests, a cup holder, a little storage pouch, and cushioned back and seat. If you're concerned about its construction, it is designed with a heavy-duty steel frame, which is not only durable but also weather-resistant. Moreover, it is also incredibly portable. You can fold it up and pack in its carry bag, which can be slung over one shoulder only without creating any discomfort to you.
8- Kijaro Dual Lock portable camping and sports chair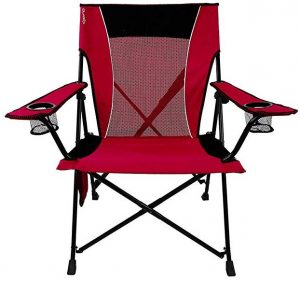 Kijaro dual lock portable folding picnic chair offers some extra functionalities including dual lock technology, which locks in the chair and ensures firm reliability. The chair is inbuilt with a push button. Just press it and the chair will be unlocked.  Moreover, it is designed with 'no-sag' padded seat, which offers optimal comfort and relaxation. The chair is made of ripstop polyester and has a sturdy steel frame. It also features 2 mesh cup holders, a zipped organizer, and comfortable armrests. 
7- Coleman Broadband mesh quad camping chair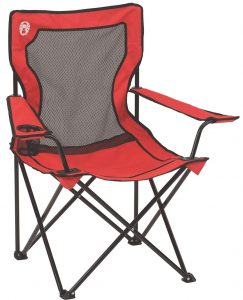 If you love mesh back of a folding picnic chair over cushioned one, this Coleman mesh quad camping chair is made for you. Its mesh back doesn't only ensure cool ventilation but also provides long-lasting comfort. Unlike many other folding picnic chairs, it features an extra-wide seat, which offers you lots of space to luxuriate in. You can further customize the chair and the armrest as per your needs. Made of nylon fabric with a robust steel frame, the chair can hold up to 250 pounds. 
6- Quik Shade chair portable folding chair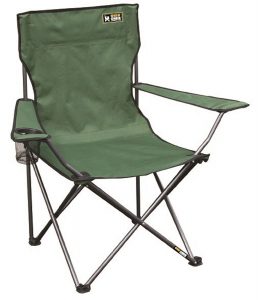 Made of high-quality polyester fabric and steel frame, Quik Shade folding picnic chair is a comfortable and stylish seating option outdoors. Given its robust construction, it is weather-resistant, stain-free, and ultra-durable. To ensure you a snug sitting experience, it is designed with armrests, which features a mesh cup holder that is meant to keep your drink within your reach. Other than its foldable design, it also comes with a carry bag, which offers you convenient portability.
5- ONIVA- A Picnic Time Brand outdoor folding chair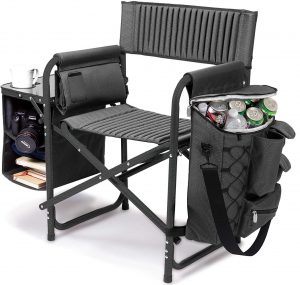 ONIVA- A Picnic Time Brand outdoor folding picnic chair is the blend of style and comfort. Seriously, it is one of the most stylish folding picnic chairs equipped with a number of features. To start with, it features a table tray with two hanging shelves, where you can keep little but essential things. On the other side, there are also big expandable shelves, which are meant to keep large stuff like books and food. To keep your phone handy, the chair features a cell-phone specific little pocket. 
4- Sport-Brella 3-position recliner chair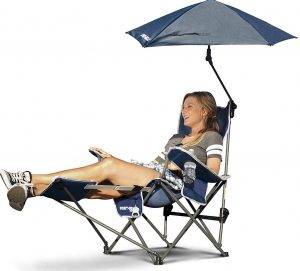 Sport-Brella folding picnic chair has something different in store for you. Unlike other folding picnic chairs, it can be set in 3 different positions. Given the fact, you can comfortably sit, leisurely lay back or pleasantly lounge in this amazing folding picnic chair. To your delight, it comes with a beautiful 3-way swiveling umbrella canopy, which takes you picnic experience to a whole new level. Furthermore, it also features hanging pockets, cup holder, and storage pocket that allow quick access to your belongings.
3- Sportneer portable lightweight folding camping chair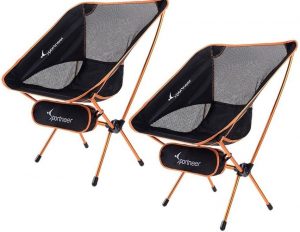 If you're going on a picnic with your partner, Sportneer portable lightweight folding camping chair can be a good fit for you because the set includes 2 chairs. Built of nylon fabric and alloy aluminum frame, the chair is sturdy enough to hold the weight of 350lbs. Even after such a heavyweight capacity, the chair is extremely lightweight and portable.  Furthermore, it is designed with sweat-proof and ultra-breathable net, which circulates the cool breeze in and keeps you calm and sweat-free. Furthermore, its non-slip legs add extra stability to the chair.
2- Cascade mountain tech compact outdoor folding camp chair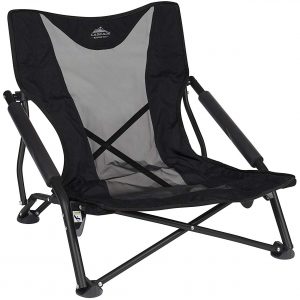 Cascade folding camp chair is not suitable only for a picnic but also for any types of outings. What makes it a versatile camp chair is its incredible portability and lots of functionality. Its compact design with cushioned armrests and non-slip legs further makes it a desirable folding picnic chair. To ensure a cozy relaxation, it is designed with a mesh back and seat. Speaking of its portability, it comes with a shoulder-strap carry bag, which makes it easy to store and carry the chair. 
1- Coleman camp chair with side table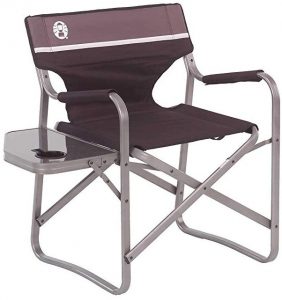 Coleman camp chair is a one-of-a-kind chair on this list because it is designed with a little side table too. There is also a cup holder, which makes sure to keep your drink at your fingertip. In addition to that, the chair also features a comfortable seat and back so that you can kick back and enjoy the moment. Its padded armrests add further comfort to your leisure time. Speaking of its construction materials, it is designed with a heavy-duty steel frame, which has a weight capacity of nearly 225 pounds. 
Conclusion
Take a break from your daily grind and go on a picnic with one of these deluxe folding picnic chairs, which will not only offer you a comfortable seating option but also a whole new picnic experience with a blend of cozy relaxation.