Graco crib is a small bed with surrounded safety gate for infant and young children who are at the early development stage and capable for standing. As we all know raising kids has never been an easy task as we will need to take a very serious look and wise choices on anything that has to do with them. One of the important things that we also need to make sure is the high quality and completely safe furniture for them. Therefore, today we would like to introduce you to one of the best baby crib from Graco brand which has a long experience in baby safety products.
Among all the famous brands that supply baby cribs in the market nowadays, Graco is one of the top suppliers that everyone admits the quality and trust in purchasing their products. If you are also looking to purchase cribs from Graco, here are the 10 best baby crib models from the company that our team have compiled for you. They are the best selections, and you can choose the one that fits well with your baby.
List of the 10 Best Baby Cribs from Graco in 2023
Graco Baby Crib Reviews
10. Graco Solano-PARENT 4-in-1 Convertible Crib with Drawer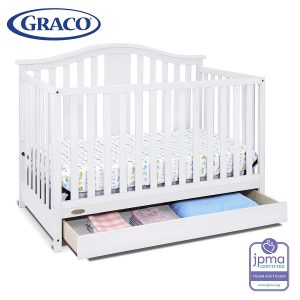 The first Graco crib in our list is a Salano Graco 4-in-1 crib model which is designed with drawers for storing many baby and toddler products inside. Salano model is a kind of convertible crib which can be adjusted along with the growth of your child. It is called Graco 4-in-1 crib because of its four separated functionalities. Firstly, it is a crib with three adjustable positions for the mattress supporting base for a new born baby. Secondly, you can use it as a bed for toddler it has a guardrail to guard your baby when they started to standup. Third, you can convert the crib into a daybed when your child grow bigger and bigger, and lastly transform it into a full-size crib bed.
Moreover, this Graco baby bed also has the height adjustment for crib mattress so you can choose how you want it to be; to prevent your child from climbing or falling over the crib. Such flexibility allows this Graco crib to be very economic friendly because you don't have to buy more products as your baby is growing up. This means this Graco crib can accompany your baby from birth till the grownup.
Graco convertible baby crib video by TheNorthernLights
9. Graco Benton 04530-21F-PARENT 4-in-1 Convertible Crib (Pebble Gray)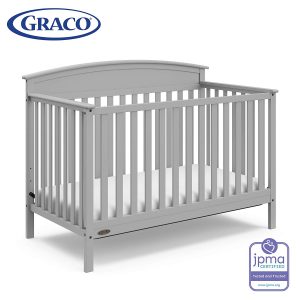 At the top 9th, we have another useful convertible 4 in 1 crib from Graco again with this model called Bento 04530-21F-PARENT. Similar to the previous model, this one can be used as a crib or to convert into the full size mattress and another 2 position with up to 3 adjustable mattress height. Using non-toxic finishes in 5 available colors, this crib can be perfectly match any décor theme in your room.
Moreover, this model also got many truthfully certificates from JPMA, ASTM and CPSC which ensures that it is completely safe to use for your kid. Also, since this crib weighs only 41 pounds, it's fully portable to bring anywhere you go so your kid can always have a comfortable bed whenever you travel.
8. Graco Lauren 04530-369 Convertible Crib, Espresso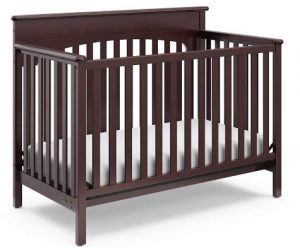 Moving onto the top 8th, another best crib from Graco is a model known as Lauren 04530-369. As highly functional as the previous two cribs, this one also features with the 4-in-1 design which your child can use from when she/he is still an infant until adulthood when it's opened to a full size bed. Using sophisticatedly high quality wood, this product surely lasts a lifetime after purchasing.
Moreover, a lot of users have supportively claimed that this crib is very easy to assemble that anyone can effortlessly put it together. It can be used for both sexes, so you don't have to worry if you're going to have to buy two separate cribs for your children.
Also check out:
7. Graco Salano-PARENT 4-in-1 Convertible Crib with Drawer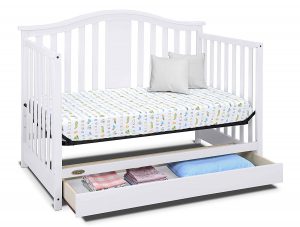 Here at the top 7th, one of the most popular cribs from Graco no doubt belongs to this model called Salano-PARENT. What's special about this model is that on top of the useful 4-in-1 convertible features, this crib also has a changing table and shelves designed on the crib so you can use it for you and your child's conveniences. Besides, this JPMA certified crib also comes with a big draw that is installed below the crib which you can use to store all the baby's stuff to avoid you walking from a distance to get it when you need.
On top of that, with the classic design of this crib, it can be a great combination of your home decoration. A lot of the stars were actually given to rate this crib on its appearance and quality. As long as assembling is concern, this Salano-PARENT would cause you no headache, so you don't have to worry about anything after purchasing the product.
6. Graco Solano 4-in-1 Convertible Crib with Drawer, White, Easily Converts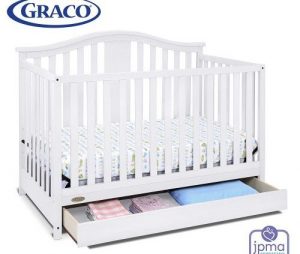 What's special from Graco at the top 6th is clearly this beautiful wooden 4-in-1 crib from a model called Ellis 04549-101. Featuring the same great innovation that includes height mattress adjustment, the design made it to be super useful no matter how long you own it because this crib can be easily converted into the full size bed. Moreover, the material used to construct this is super sturdy that you can use it for many years without concern.
With 3 elegant available colors ranging from white, slate grey and pebble grey, you can choose anyone and it will still look great in your house. This Graco Ellis crib also look absolutely stunning when it's decorated with rustic charm.
5. Graco Hadley 04521-70F 4-in-1 Convertible Crib with Drawer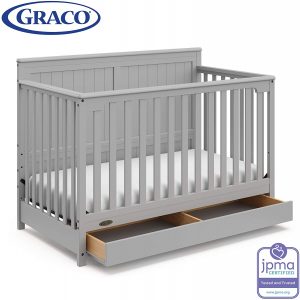 Here at the top 5th best Garco crib goes to this 4-in-1 model called Hadley 04521-70F. With the same great design as the top 7th in the list, this model is recommended for those who looks to own any crib that has the drawer as this one comes with the spacious drawer that is designed at the bottom. With this innovation, you can easily use it for to keep your baby's toys or anything that you'd like to easily get reached by hand.
As long as its material is concerned, the bed is constructed by completely non-toxic materials and finishes, so you would never have to worry about the baby's health when you are using this crib from Graco.
Also check out:
4. Graco Benton 04530-21F-PARENT With Drawer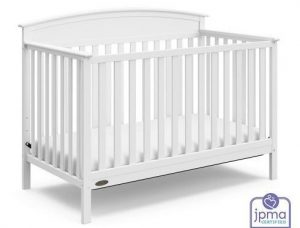 Moving onto the top 4th best crib model that you could buy from Graco is from the model commonly known as Benton. Marked as Safe Choice baby crib by JPMA certified, this product has everything from popular 4-in-1 conversion, 3 adjustable mattress heights and the famous non-toxic finishes that is available in 5 colors.
Since the construction of this product is made from premium quality pine wood and composites, you don't have to ever question the quality of this crib. It's ideal for any kid from infant to toddler stage. For safety usage, the weight limit is 50 pounds if the crib is positioned to toddler bed and daybed.
3. Graco Lauren 04530-361 Convertible Crib, White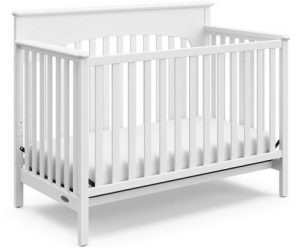 Here at the top 3rd, the best Graco crib is from a model called Lauren with the item number of 04530-361. Now, one of the most special things about this product that some other models do not have is on top of the presence of 4-in-1 conversion design and 3-position mattress adjustment, the crib also has different features that you can use to add onto the product; one of that is the changing table.
With up to 5 different colors available and non-toxic finishes, the crib is certified by JPMA and ASTM & CPSC for its safety standards, so you can rest assured knowing that it's the right product to purchase for your kids.
2. Graco Rami 04586-211 4-in-1 Convertible Crib and Changer, White, Easily Converts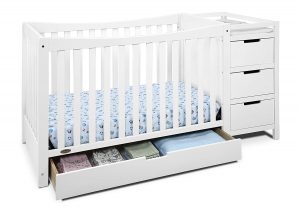 Moving onto the top 2nd best Graco crib is a product modeled as Rami 04586-211. Now, this top 2nd is a real useful baby crib that every parent should own at least one because not only that it is a high quality crib with 4-in-1 convertible design, but it is also designed with changing table and super spacious storage drawers that you can use to store many things from baby's toys to diapers and clothes.
Moreover, the changing table is made from high quality waterproof material that allows the product to stand strongly despite a long period of using. This product is recommended for anyone within 50 pounds weight capacity for the ultimate safety.
1. Graco Solano- PARENT (With drawer and changer)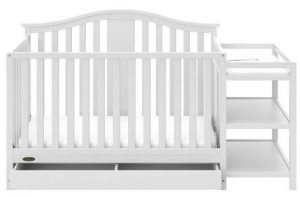 Finally, we are at the last product which is also the product from this model, Solano PARENT. Now, what makes this the best crib on Graco is that it comes with a handy designed that features changing space and shelves. With this, you can easily store anything on it. On top of this, this crib is quite sturdy with up to 4 different position adjustable based on how you'd want to use it. Such flexibility actually allows the crib to be continuously handy as your kid can use it from infancy until adolescence.
What's also special about purchasing this crib from Graco is that it is very easy to assemble, so you don't have to worry about any headache when you receive it. Aside from this, each color finish of this crib is absolutely stunning and elegant. Hence, it will enhance the look of your space with this crib.
Buying Guide
When purchasing Graco cribs, it's highly recommended that you should pay attention on what will be included in the package along with the products because usually the crib won't come with the mattress and other decorative accessories, so you may want to make sure you order the purchase all at the same time so your baby's bed is ready to use when it arrives.
Moreover, there are some additional features that are available to purchase to upgrade the product, so if you are interested in any model that has upgraded features availability, you should also check it out as it can make your crib to be more useful in any case.
Conclusion
You have just sifted through the top 10 best Graco cribs of the year. These picks are made from high quality materials, and come with great functions as well as reliable safety. Getting one from the list will never disappoint you.
Last update on 2023-10-04 / Affiliate links / Images from Amazon Product Advertising API