As parents, we are all caring for our baby's development. We find their adorable cuteness from birth to around 5 years old. Then, it's their active stage of which are too active and become annoying if we do not have any things for them to play by themselves. So, to encourage their creativity and professional mindset from early age, I'd introduce you to these types of tables and chairs they allow your kids to sit and enjoy doing various stuff by themselves.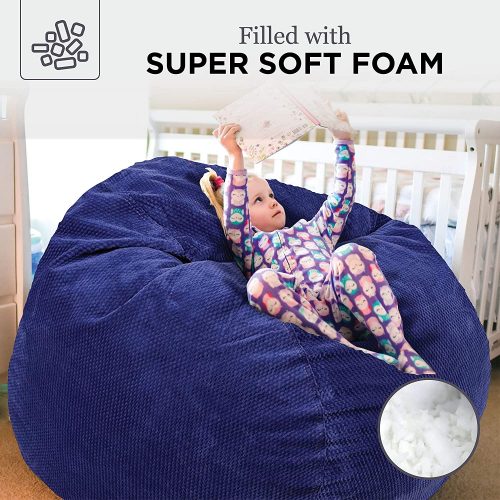 Why you need a bean bag chair for kids? Well, we adult know it well how comfortable the bean bag is. It is easy for kids to lean on, doing the reading, playing and even napping in it. The bean bag chair is normally made with Polyester Blend and filled with foam to provide flexibility while sitting in it.
In their active stage, kids love something flexible so that they will not get bored easily. Bean bag is also easy to move around, allowing you to keep your kids to play in the separate room from your working space or just inside with you. Adult loves the bean bag, but the kids love it even more.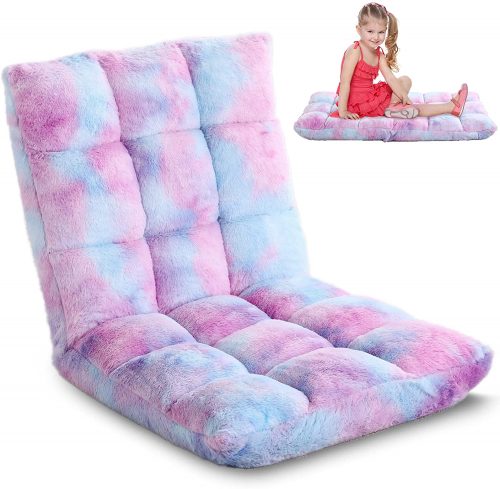 Baby girl is the princess in the family once she was born. She loves something colorful and bright. Thus, having this shiny recliner floor chair for her will be the greatest gift for the upcoming Christmas. Kid's floor chair is designed with back support and can be adjusted up to 6 positions. Your girls can sit and read their favorite tales, laying down to watch TV show with you in the living room, and even sleeping in it.
The girl is always creative and charming. You give her this chair, and she will show you how best she'll make use of it. You can't imagine how creative she is until you gift her one. The kids' recline floor chair can be used in bedroom, living room and even bringing along on the trip. It's light weight and easy to move around.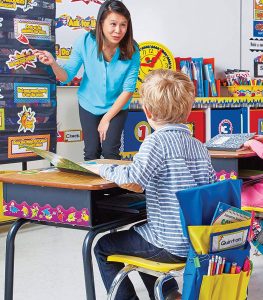 School chairs for kids are designed for kids to sit and learn in the classroom. That's how important the education is for kids based on University of The People's finding. But school table and chairs no longer the exclusive furniture for school. During this Covid era, all our kids need to learn from home. So, why not getting a set of school chair and table for them so that they can feel the real class from home? For now, you can get such a school chair and table set for kids online easily.
School chair gives your kids a sense of real classroom while they are taking course online. You can also add the seat sack on the back of the chair so that your kids can keep their study materials organized. It is an ideal way to keep your children learning and discipline.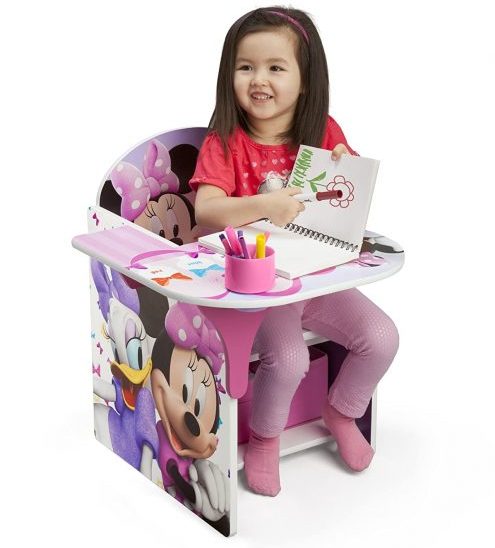 If your kid is still small, then the toddler desk chair is probably the most suitable for her or him. Painted with mickey cartoons, the desk chair is appealing to every child. It is designed to attract children to use it for their studying, drawing and creating something. If you have a annoying kid, this chair will keep her happy and leave you to do your work peacefully. Well, hopefully if she really loves it 🙂
The desk chair is also a good furniture to prepare our children to get a sense of working environment. It is an early preparation for them to grow up and be professional. Who doesn't love to be professionally look at this young age? Just imagine, you can feel how adorable your kid is like.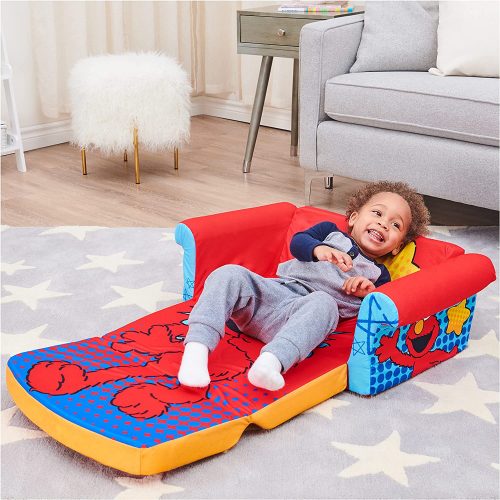 Do you enjoy seeing your little boy and girl lazying in their lounger chair? That's a very adorable look you will want to see. The kid's lounger chair or toddler chair is design for all kids to sit in, play and even sleeping in. They can use it to accompany you watching TV in the living room or in bedroom. Just place more toys for them, they will enjoy themselves without bothering you at all. The benefits of the lounger chair is that your little kids can sit and sleep comfortably in it.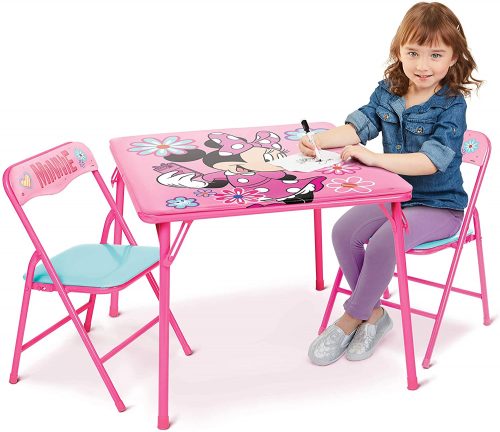 The folding table and chair set is an ideal furniture for your kids if they like to move their seat around. They table set is designed to attract the kids to study, while at the same time light weight to move around. It is also easy to fold them and store them near the wall. You can also bring the kid's table set on the trip or camping so that your kids can enjoy their time reading, drawing and playing with their peers. It is an ideal furniture set for every kids.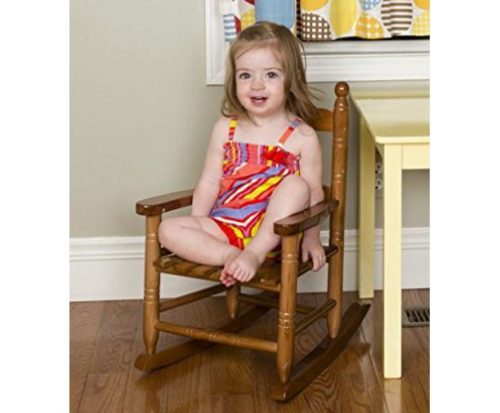 Based on the U.S. Department of Health and Human Service, physical activities are very crucial for your kids' health and growth. Among those, rocking your baby or kids, if doing it properly, is also the best activity to help boost the kids' blood circulation, improve the rate of their heart beat, and getting a sense of balancing. This is why kids like playing with swing, sitting in a rocker and more. These are the reasons we place rocking chairs for kids and children in our ideal list for every parents to consider.
Five Benefits of Having A Good Chair for Your Kids
During development stage, kids start learning and want to do thing by themselves. They want to try as many new things and as many ways as possible. So, here are the 5 benefits to have a proper chair for your kids to explore their creative talents and abilities.
Learning Practical Life Skill and Manners
Sitting in one place for a specific period of time is a habit required for every adult at most places; office, restaurant and more. However, kids like to run around more than sitting still. Thus having a chair for them is a motivation and encouragement for them to have a sitting manner. It helps them to properly sit and practice doing things such as reading, drawing and playing. Gradually, your kids will develop such a good manner sitting and doing their work on the chair and table.
Help Kids to Concentrate and Focus
Concentration skill is among the most crucial skill every kids need to develop. According to the Underwood Organization, limit your kids' directions to one or two at a time is the way to help them focus. If you don't have anything for them to focus on, kids will keep annoying you or running around to see whatever caught their eyes. But if you place them in the chair that comfy them, then give them one thing to do or play with, they will be able to stay still to concentrate on that specific thing. They can also lay down in their lounger chair, enjoying TV show with you or focus on reading their cartoon books. That's the process of focusing, and then developing the concentration attitude of your children.
Promote Kid's Good Posture
Based on the study by the National Institutes of Health, children's poor sitting posture contributes to the musculoskeletal pain in their body. As parents, we need to have a proper seat for our boy or girl as it is very important for their posture development. Kids of course can sit in the adult's chair. However, having a seat that is designed to be suitable for them is a plus. For instance, a small chair allows your toddler or little girl/boy to sit with their feet reaching the floor. That's better than sitting in a tall chair in some circumstance.
Develop Kids' Independency
If you want your kids to grow up independent, it's time to let them start growing that attitude. A set of table and chair can let you kids to play their stuff by their own or with their friends without the guidance from you. They can sit and play the lego on the table to create their imaginative land or empire. If you don't let them learn to do something by their own and alone, then they will be likely depending on you forever.
Improve Their Authority Level
Do you know that giving your kid their own chair to sit and watch TV with you help increase their authority and power within them? Try it and you will see their energetic and powerful attitude, the adorable authority attitude actually you will want to see in your children. It also helps them develop their maturity faster and better when they sit in the same level with you.
Conclusion
These chairs for kids and their benefits are well studied by many experts in the field. So, we hope it is useful for you as parents to decide what are best for your children mentally and physically. Feel free to leave your comments and feedbacks if you have any.