Kids love bikes, as it is one of the few things that gives them endless joy. It is an excellent way to soothe them as you go about your routine. It can be tough to control kids, and a "toddler bicycle" or "toddler bike" can keep them occupied for some time, giving you that slight bit of quietness. Also, when you go to the nearest store, carrying a child in your arms is difficult. All these issues make the toddler bike a necessity. If you are considering buying one, take a look at a few of the following suggestions.
List of the 10 Best Toddler Bicycles on Amazon in 2023
1- Best Overall: Radio Flyer 4-in-1 Stroll 'N Trike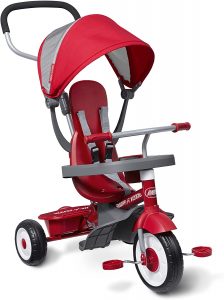 Brand: Radio Flyer
Style: Classic, Base, Infant, Sport, Ultimate, & Ultimate+Storage.
Weight Capacity: 49lbs.
This stroller by Radio Flyer is ideally suited for you to carry your kid around, and for your toddler to pedal it around. There are supporting wheels in place to provide ample balance while learning to ride. Even footrestsare provided for very young kids, who cannot paddle yet. The parent pouch at the back allows you to keep your necessities, while the integrated canopy keeps your kid safe from the sun's harmful rays. This canopy is easily adjustable, depending on the sun rays. You get a push handle with a layer of foam to make it more comfortable.
Radio Flyer is a Chicago-based company that specializes in making products for small kids. This stroller cum bike is suitable for children from 9 months to 5 years old.
Key Features 
Stroller cum bike.
Adjustable canopy.
Removable footrest.
Storage pouch at the back.
Adjustable push handle.
2- Best Runner-Up: Fisher-Price Harley-Davidson Tough Trike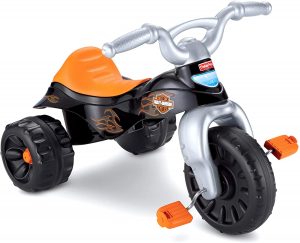 Brand: Fisher-Price
Color: Black with Harley Davidson theme.
Weight Capacity: 49lbs.
The purpose of this trike is to provide the much-needed exercise for the kids and to develop their balance and hand-eye coordination. Your kid will be occupied for hours playing with it, giving you that slight bit of time to relax. The pedals are positioned at the front wheel's axis, while the two wheels at the rear provide excellent balance. Its build-quality is also pretty good, with durable tires, solid handlebars, and a stable wheelbase. Overall, the design looks pretty good, and your kids will surely love it.
The company suggests that it must be used by children between the age of 2 and 5 years. Also, any overloading must be avoided, as it is made for seating a single toddler.
Key Features 
Excellent build quality.
Appealing design.
Good stability.
Well-placed pedals.
3- Cheapest Of All: Radio Flyer Deluxe Steer & Stroll Trike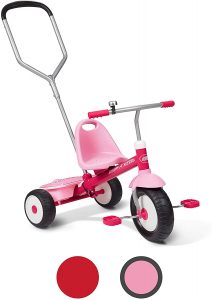 Brand: Radio Flyer
Color: Red & Pink.
Weight Capacity: 49 lbs.
This is another trike cum stroller, which is a smart combination of fun and functionality. The front wheel's pedals allow it to be ridden independently, while the push handle at the rear will allow you to control the bike quickly. Two wheels at the back make it a well-balanced trike. The parent handlebar is removable, and so is the footrests. It is recommended that you mount the footrests when strolling, to avoid any injuries.
The storage compartment at the back can serve well as a storage cabinet. The build quality is excellent as Radio Flyer is known for. Wheels, seat, and even the handlebar are made of high-quality materials, not to hurt the kid.
Key Features 
It can be used for 2-5year old children.
Removable handlebar.
Provides good stability.
Adjustable grow-with-me seat.
Excellent build quality.
You may also check: Top 15 Best Toddler Chairs for Your Kids in 2023
4- Best Under $70: XJD 3 in 1 Kids Tricycles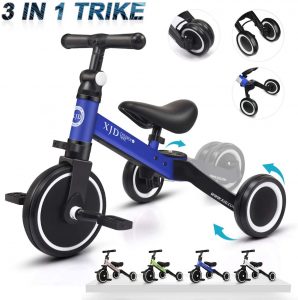 Brand: XJD
Color: Blue, Green, Pink & White.
Weight Capacity: Not mentioned.
This is a 3 in 1 trike, which has the rear wheels adjustable, making it suitable for kids to learn the art of balancing. The rear wheels can be rotated along the same axis. When these wheels are apart, it works like a trike, and when closer together, it becomes a bike. It has a very ergonomic design to suit children's needs. When you buy one of these, the handlebar and seat are dismantled, and you need to assemble them before usage. Also both handle bar and seat are adjustable, and do not require any specific tools to do so.
The wheels are fully covered to avoid your kid's feet from tangling in the spokes. Also, the steering is adjustable to make it easier to learn biking.
Key Features
Good build quality.
Ergonomic design.
Adjustable handlebar and seat height.
Covered wheels.
Adjustable rear wheels.
5- Best Value For Money: RoyalBaby Kids Bike Boys Girls Freestyle Bicycle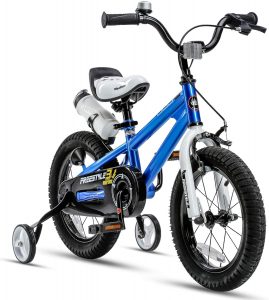 Brand: RoyalBaby
Color: Blue, Fuchsia, Green, Orange, Pink, Red, & White.
Weight Capacity: Not Mentioned.
This is amongst the most conventional toddler bikes in the market. It features a traditionally inspired design. You get an option to choose from a large number of wheel sizes, most of which come along with supporting wheels. The frame is made of steel and provides a very stable and sturdy ride. Also, the wheel thickness makes it slightly easier to balance.
When you buy one of these cycles, you get it completely assembled. All you need to do is fix a few additional components like training wheels, and start riding. The seat height and training wheels are adjustable. The pedal sprocket is also covered to prevent your kid's feet or clothes from tangling with the chain.
Key Features 
A conventional design.
Separate training wheels.
Sturdy frame.
Easy to balance.
Adjustable seat height.
6- Most Modern: Avenor 2 in 1 Tricycle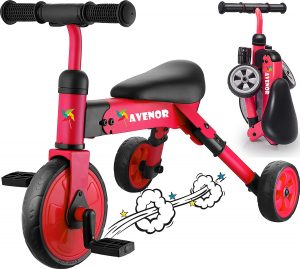 Brand: Avenor
Color: Red
Weight Capacity: 49lbs.
Avenor is famous for making futuristic and yet functional kids products. It is a perfect gift for a two-year-old kid. The pedals are mounted at the front wheels while there are two separate wheels at the rear, providing balance and stability. This is an entirely foldable trike and is pretty easy to fold and carry around.
The construction is very sturdy and provides a rigid riding experience. The handlebar and seat are well-positioned to keep the riding posture upright. You get a two-year warranty for any manufacturing defects. The Avenor customer service ensures that any issue in your trike is quickly resolved, at the earliest.
Key Features 
Futuristic and appealing design.
Excellent riding posture.
Two-year warranty.
Completely foldable.
Easy to control.
You should also check: Top 10 Best Outdoor Toddler Swings in 2023 | Parents' Best Choices!
7- Best Design: Radio Flyer Pink Rider Trike
Brand: Radio Flyer
Color: Red & Pink.
Weight Capacity: 49lbs.
This trike from Radio Flyer is excellent for learning the balancing and handling of a bike. It is front-wheel driven and provides an excellent exercise for your kid's legs. Alongside all these features, it is fun to ride this bike. The rear wheels are made of high quality, to allow the trike to be ridden outdoors. There is a storage bin at the rear of the seat, to allow storage or a few items. For the parents, there is a handlebar at the top of the seat to control the trike.
The seat height is adjustable, and overall the trike is suitable for kids between 2 and 5 years. The product has a great build quality and is quite trustworthy, as expected of Radio Flyer.
Key Features 
Storage space at the rear.
Appealing design.
Adjustable seat height.
Front-wheel driven.
Handlebar at the top of the seat.
8- Most Ruff & Tuff: Dynacraft Magna 12″ 16″ 20″ Youth Bikes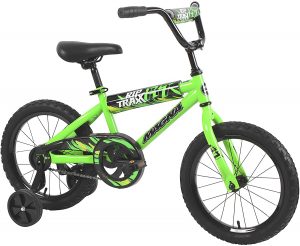 Brand: Dynacraft Magna
Color: Gravel Blaster Black & Hot Rod Blue.
Weight Capacity: 50lbs.
This is one of the most good looking bikes in the market. The BMX inspired design, coupled with the excellent themes, increase its street presence. It is a perfect beginner bike and suited for kids between the ages of 3 and 5 years. There are training wheels available as well and can be adjusted as required. It is better than other bikes because the pedals are centrally mounted as opposed to the front wheel. This makes it a better prospect for learning to ride.
The build quality of the bike can be justified by the fact that Dynacraft provides a lifetime warranty on the frame and fork of the bike.
Key Features 
BMX inspired design.
Centrally mounted pedals.
Excellent build quality.
Lifetime warranty on frame and fork.
Adjustable training wheels.
9- Safest Of All: CYCMOTO Boys Bike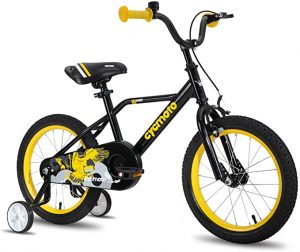 Brand: CYCMOTO
Color: Black, Green & Blue.
Weight Capacity: 49 lbs.
This is one of the safest bikes for kids in the market. It uses caliper, and coast brakes make it easier for the kids to stop the bike. The bike handles well, making it suitable for learning purposes, while the age limit of 3-6years means that you do not have to change the bike soon. The chain is covered as well, to avoid your kid's feet and clothes tangling in it.
With low maintenance costs and excellent build quality, you can be confident that it can survive several falls when your kid is learning to ride.
Key Features 
Easy to handle.
Low maintenance cost.
Excellent brakes.
Covered chain.
Designed to emphasize on learning to ride.
10- Most Minimalistic: JOYSTAR Totem Kids Bike with Training Wheels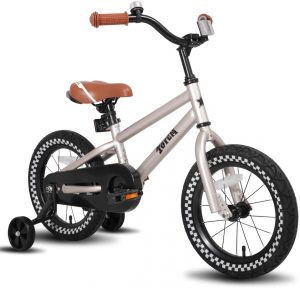 Brand: Joystar
Color: Blue, Mint Green, Pink, & Silver.
Weight Capacity: Not mentioned.
A minimalistic look and excellent ride characteristics make this an excellent choice for your kid to learn cycling. Initially, you can opt for the training wheels, which are adjustable depending on your requirement. The minimalistic design means that it requires less maintenance, and offers better stability.
The bike comes fully assembled, all you got to do is fill up the tires with air and attach the training wheels if required, and you are good to go. It is available in different sizes to make it suitable for kids of varying ages. The 12″ model is best suited for kids around 2-4 years.
Key Features 
Minimalistic design.
Easy to handle.
Low maintenance.
Numerous color and size options.
Verdict
The first step towards learning a bike is challenging and is very time-consuming. The bikes mentioned above are built for this exact purpose. Look at the above suggestions if you are planning to buy a bike or a stroller. These bikes are not only suitable for the use of learning but are designed to set your kid apart from the others. The safety of your child is also a concern, and most of these bikes are designed to provide excellent stability and less resistance. From stroller cum bike to trike, all such toddler bikes are mentioned in the above list.
Related: These 10 Remote Control Cars Are Best Play Toys for Kids in 2023
Frequently Asked Questions
1) Should I Buy A Stroller Cum Bike?
A stroller cum bike is an excellent option for parents and kids alike. It provides the best of both worlds. When you take your kid out, you can bring it along so that you do not have to carry your kid around.
2) Are These Bikes Suitable For Outdoors?
Yes. These bikes are built to facilitate your kid to learn riding. For this purpose, these bikes are manufactured using high-quality material. Your kid cannot learn to ride inside the house. To get a proper learning experience, it is advised to teach your kids outside. The bikes as well, are built for the same.
3) Do I Need To Buy The Training Wheels Additionally?
No. In bikes, usually, the training wheels are a part of the package. However, in trikes, you do not need them. These training wheels are designed for a particular bike and can be easily adjusted to suit your kid's needs.
Last update on 2023-11-30 / Affiliate links / Images from Amazon Product Advertising API