Different types of shoes are usually needed to fit in different settings, different occasions and different weather. Therefore, shoe rack is always a necessary shelf in the house. With these types of rack, users can get all the shoes well organized without consuming a lot of space on the floor.
If you are looking forward to purchasing a shoe rack, then you have come to the right place. After conducted research on the subject, our team has come up with this article to introduce the top ten best shoe racks on the market. At the end of this article, readers can also find a buying guide section to see the main features to consider before making a purchase.
Here are the 10 Best Shoe Racks for Home and Apartment in 2023
Also check: Top 10 Best Steel Toe Shoes for Men and Women in 2023
Product Reviews
10. Simple Houseware Bronze 4-Tier Shoe Rack
The shoe rack is constructed from 600D polyester, which allows users to wash it with peace of mind. With the strong metal frame, it consists of 4 floors of shelves to store up to 20 pairs of shoes. Moreover, users can use the bottom space to put their slippers in.
Users can adjust their own heights for each shelf, and they can also remove any panel to transform the rack into a 2-floor or 3-floor shoe rack. This is to enable users to store different kinds of shoes, including high heels and boots.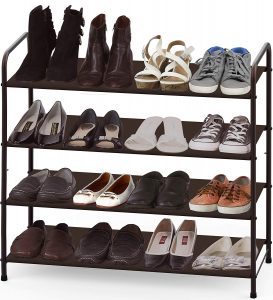 9. Homebi 4-Tier Metal Shoe Tower
Consisting of 4 tiers of shelves, it is one of the best shoe racks in the market. It has a strong structure because it is made of metal tubes, and its parts are high quality plastic. The metal tube has its diameter at 13.2 mm, which enables users to store heavy shoes. Each shelf can support 4 to 5 pairs of shoes. For shoes and sneakers, it can fit up to 16 pairs in total, whereas for high heels, it can store up to 20 pairs.
Each tier has the distance in between at 7.48 inches, which is perfectly designed for normal shoes. Users can store it anywhere in the house, including entry way, closet and wardrobe. Users can also DIY their own racks because it enables users to choose to split the 4 tier shoe rack into 2 sets of 2 tier shoes rack.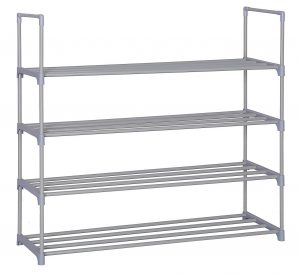 8. Seville Classics 3-Tier Resin Slat Shelf
The frame of this rack is made from iron, which provides a concrete structure for the rack. It can support up to 30 pounds of shoes on each shelf. If it is well distributed, the overall capacity is seen to be 90 pounds. Users can store 3 pairs of shoes on each shelf, regardless of men or women shoes. In total, users can put 9 pairs of shoes on it. However, there is extra storage in the bottom for users to store flats and flip flops.
For the installation, users do not need any tools to assembly. Users can simply attach the shelves to the frame with clips to assemble.

7. SONGMICS 10 Tiers Shoe Rack
The shoe rack is designed for quality and durability. It is constructed of iron pipes with PP connectors. Each shelf comes with a special type of fabric which is waterproof and non-woven. It comes with 10 tiers which can hold up to 50 pairs of shoes. The layer height is 6 ¾ inches which enables users to store sneakers, heels and slippers.
Moreover, it has an optional function. Users can remove any shelf to fit in boots or high heels. For the assembly, there is no tool required. Users can split the rack into 2 or 3 rack with any number of layers they prefer.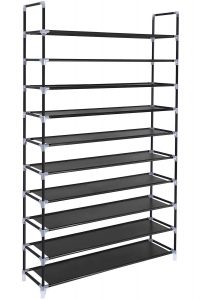 You may like to check: Top 10 Best Standing Coat Racks in 2023
6. Seville Classics 3-Tier Expandable
The list of best shoe racks can't be completed without the mention of this rack. It is known to be expandable. It allows the extension from 25.4 to 46.6" in terms of the width. The poles of the rack are finished with gray and epoxy coat. Moreover, the rack is coated with chrome to secure the frame against corrosion in case it is stored in the dry environment.
The rack consists of 3 layers of shelf, with each shelf has the height at 6 inches. For the bottom shelf, the space from the floor up there is of 5 inches high.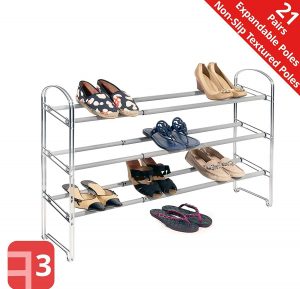 5. Simple Houseware Stackable Shoe Rack
The rack is proved to have metal construction for its frame with bronze coating in classic yet stylish appearance. It is a 3-tier rack with each tier can support 3 pairs of shoes. Overall, 9 pairs of shoes can be stored on the rack. However, there are spaces in the bottom to store additional slippers and flats. The capacity of each shelf is 30 pounds, and therefore, users do not have to worry about storing heavy boots and high heels.
For the installation, users can simply install it on their own following the detailed instructions. Users can also make the purchase for additional parts to build more storage to the shoe rack.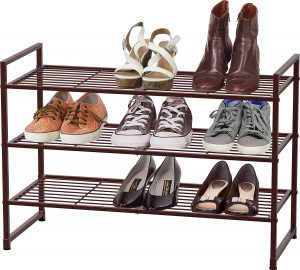 4. Blissun Shoe Storage Organizer
Another great addition on this list of best shoe racks. Iit is a large shoe rack covered in non-woven fabric. The construction of this rack offers both quality and durability because the shelves are made of water-proof fabric. The structure is built with steel tubes and high quality plastic connectors. The non-woven fabric can be recycled, and therefore, it also produces a friendly environment. It offers a large storage to put in not only shoes but also clothes, toys and other items.
The rack functions well for the demand of the whole family. Because it is waterproof, users do not have to spend a lot of time and effort on the cleaning. Users can choose between 2 colors, either black or grey.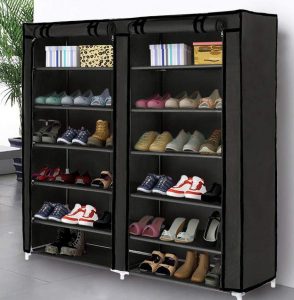 3. Herron Shoe Rack 5 Tiers (Grey)
It is a 5-tier shoe rack, which is made from metal pipes and non-woven fabrics. The rack also consists of plastic connectors to maintain stability. It can be stored perfectly in the entryway or closet. The function of this shoe rack is not limited to shoes, but users can also store other items, such as clothes and bags. For shoes, the rack can support up to 25 pairs of shoes.
It saves a lot of time for you to find the shoes when all are organized on the rack. For the assembly, there are no extra tools needed. Users can also split the rack into 2 or 3 of them.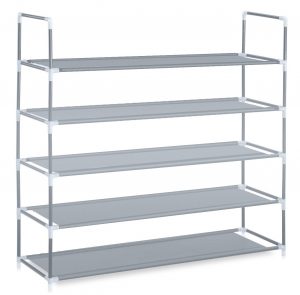 2. Halter 10 Tier Stackable Shoe Rack
Halter shoe rack is known to provide a sturdy and durable structure. It is constructed of stainless steel in high quality. It also comes with fabric cover, which is moisture-proof and breathable. The materials are all non-toxic, and therefore, they offer a friendly environment for the house.
It is a 10-tier shoe rack which can store up to 50 pairs of shoes. It is designed perfectly for high heels and sneakers. The rack can be easily installed with detailed instructions provided by the manufacturer.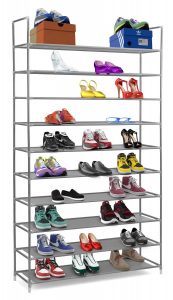 Also check: Top 10 Best Waterproof Garden Shoes in 2023
1. SONGMICS Bamboo Shoe Rack Bench
As the top best shoe rack among the top ten list, the shoe rack is highly praised and recommended by the consumers, receiving up to 4.8 out of 5.0 star ratings. The unique feature of this rack is that it is made from natural bamboo. The cover is finished with moisture resistant materials which allow the rack to be dirt resistant. While it only consumes little space, it can store up to 12 pairs of shoes.
Moreover, to help the shoes to maintain its good quality, there are also breathable gaps to prevent any unpleasant odors. The package includes side frame, shelves and screws, which allow users to set it up on their own easily.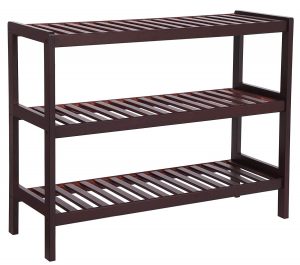 Buying Guide
If you have a collection of a variety of shoes, you also need to have a shoe rack which can store all these shoes properly with good organization. However, not all the shoe racks fit the same purposes, and therefore, users should consider the following features while choosing the best shoe rack for home use:
Capacity
If there are more members in the family, users should consider purchasing one with a larger capacity, varies between 20 and 50 pairs of shoes. However, if there are less members in the house, the one with 10 – 12 pair's capacity fits in well.
Tiers
Consumers should look for the numbers of the layers of the shelves before purchasing. Also, some shoe racks allow users to split it up which is good for fitting in the limited space.
Materials
To guarantee the durability, it should be made from durable materials, such as metal, iron and bamboo for the frame.
Conclusion
To sum up, this article has demonstrated the main features of the top ten best shoe racks on the market. After reading this article, consumers should gain an insight to choose a desirable shoe rack to fit in perfectly with their home in order to get rid of messy shoes organization.
Last update on 2023-10-04 / Affiliate links / Images from Amazon Product Advertising API