Lightings are the first thing people think of when it comes to adding a sparkling decoration to their homes, surroundings, or any other place. However, in today's digital world, fiber optic lights are becoming the first choice of users. They have gone a step ahead offering you aesthetic effects in a wide range of color alterations. The best thing about fiber optic lights is that the light can be transmitted to even a remote location over long distances with them.  So, if there is any party, get-together, festival, or special occasion in your household or you simply want to decorate your home, try fiber optic lights. We have already found out the top 10 best fiber optic lights for you below. Check them out!
List of the 10 Best Fiber Optic Lights in 2023
10- E&A Ice Fiber Optic Mood Novelty Lamps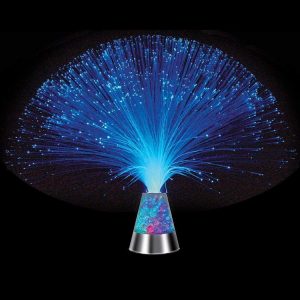 As the name suggests, E&A ice fiber optic mood novelty light produces a shower of lights that exactly looks like the ice. This fiber optic light creates a romantic aura in the darkness of night. The lights go up to 9 inches tall in the space. To entice you even more, it keeps changing the colors creating different moments for you. Moreover, it is designed with a stylish crystal base, which doesn't only ensure firm stability but also complements perfectly the glitter of lights. This fiber optic light by E&A is battery operated but very convenient to use.
9- Playlearn Fiber Optic Light Color Lamp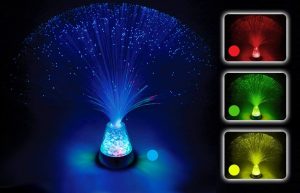 How about replacing candles and ordinary lightings with this amazing Playlearn fiber optic lamp? This fiber optic light can scatter its sparkling magic up to 13 inches tall. The lights keep changing their colors and create vibrant aura filled with glittering lights. Its shiny crystal base also blends in flawlessly with the light animation. Since it features LED bulbs, it is long-lasting and produces light brightly. The lights are also battery powered with a 3AAA battery. Moreover, it also provides a removable USB option for brighten it up as well. This fiber optic lamp can go well with this decorative wine bottle lights for indoor purpose.
8- Apol Colorful Fiber Optic Light LED Rose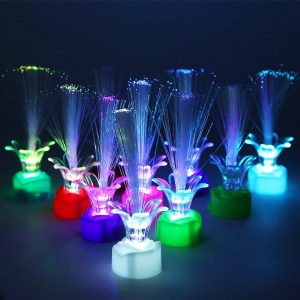 Noting can be more romantic than these alluring and illuminating fiber optic lights. The set includes 10 pieces, which can be placed in different places separately or in a single place altogether. The lights are inbuilt with a color-changing pattern, which produces yellow, blue, red, green, and purple colored lights. The color will automatically change at a certain frequency. Moreover, its rose-shaped base looks really breathtaking when the lights are all lit up. The accessibility is also super easy. It features a switch control. Simply, press the button and it works like magic. We would recommend you to get it along with these window lights if you plan to buy it for a home or restaurant decoration.
7- Remote Control Fiber Optic Lamp By Lianya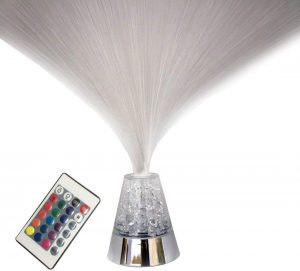 If you want to take your experience with fiber optic lights to the next level, get this amazing fiber optic lamp by Lianya. Unlike many other fiber optic lamps, it is remote-controllable and offers 16 different light variations. You can change the light patterns, color brightness, and other functions easily with the remote. The lamp uses a powerful battery of 3A, so you don't need to worry about its battery getting low. To avoid battery consumption all the time, you can remove the battery when it is not in use.
6- E&A 2pcs, LED Colorful Changing Fiber Optic Light Lamp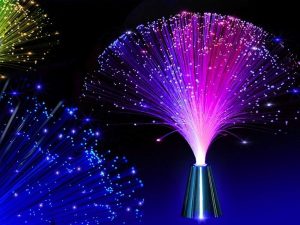 If one fiber optic light is not enough to fill your entire home with sparkling lights, this E&A optic light lamp is made for you. The set includes 2 pieces and each of them features a 3AAA battery. Owing to its powerful battery, the lights reach up to a huge height of 34-cm high in the open sky. The lights are designed with a color-changing function. Given the fact, they create a colorful and warm atmosphere all around. To ensure firm stability, it is inbuilt with a reflective chrome base.
5-Lightahead LED RGB Color Changing Fiber Optic Lamp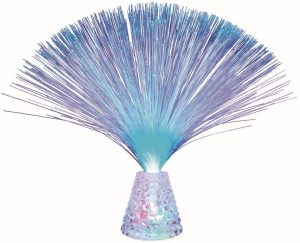 You can't resist the amazing color production of Lightahead fiber optic lamp. Unlike many other fiber optic lights, it produces an outburst of illuminating lights that get scattered in a wide range. The lights are inbuilt with a color-changing function, which produces green, red, and blue colored lights. Given its vibrant illumination, it can be a perfect fit to add a sparkle to your romantic dinner table. Moreover, its cone-shaped crystal base doesn't only provide reliable stability but also blends in perfectly with the glitter of light intensifying the illumination.
4- Westminster Fiber Optic Light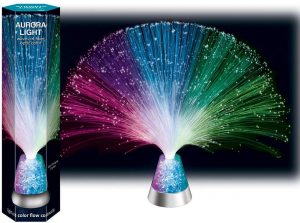 If you want to try something different in optic fiber lights, Westminster Fiber Optic Light would be a good choice for you. The reason being, it is a glacier fiber optic light, which produces snow-like light sprays, unlike other fiber optic lights. The height of light sprays is also not less. In fact, they stand up to a huge height of 13 inches. As if this was not enough to please you, it is also designed with color-changing function. Moreover, it features a stable crystal base, which absolutely complements the vibrant sparkle of lights.
3- Weiduka Multi-Color Fiber Optic Light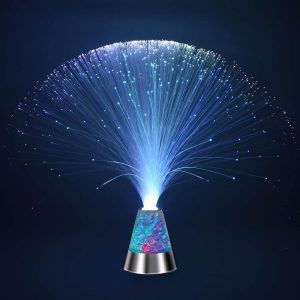 Weidukafiber optic light is a multi-purpose fiber optic light that can be efficiently used indoors as well as outdoors. The reason for its such a hassle-free mobility is its small size with a sturdy crystal base. Moreover, the lamp is also battery powered and features a powerful battery of 3AAA. To create a soothing and colorful ambiance, it produces multi-colored lights. In addition to that, it is also extremely easy to operate. You simply need to press the power-on button. That's it. It will start doing its job.
2- Novelty Place Party Stars, Optic Fiber Light Set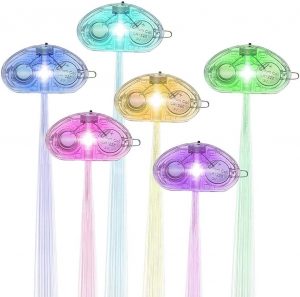 Get this remarkable set of fiber optic lights and fill your house with the splashes of illuminating lights. This set includes 24 optic fiber lights that are inbuilt with 7 different color patterns. Unlike other fiber optic lights, you don't need to put these lights on a table or on the ground. Instead, you can clip it anywhere and it will start doing its magic. In addition to that, these lights are also designed with a powerful battery, which ensures a long runtime of 24hours.
1-NUIGSUT POINT Color-Changing Fiber Optic Light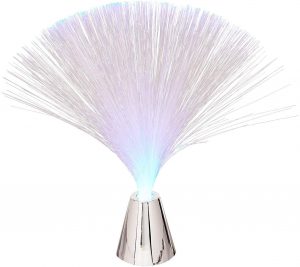 NUIGSUT POINT is a budget-friendly option for you if you don't want to spend much on a fiber optic light. Designed with calming color-changing functions, it literally adds a magical sparkle to its surroundings. The lights keep changing their colors automatically and scatter their magic up to the height of 13 inches. All thanks to its powerful battery of 3AAA that doesn't go down even after hours of continuous use. Moreover, this optic light can be placed anywhere as it features a cone-shaped silver base.
Key factors to consider when buying a fiber optic light
Though a fiber optic light doesn't require much investment, you should still try to buy the best one.  For that, you need to consider certain factors in mind before buying the one. Those factors are:
Light spreading height
A fiber optic light is expected to scatter the light up to a huge height reaching all around in its surroundings. However, different fiber optic lights have different light spray capacity. Generally, a good fiber optic light can scatter the lights up to 13 inches creating the whole surrounding vibrant and hued. Given the fact, buy a fiber optic light that can reach at least this much height. If you need a fiber optic light with bigger spray capacity, you have to invest more money for that.
Battery  capacity
Generally, all fiber optic lights are battery-powered. It's the capacity of the battery that distinguishes the high-quality ones from its low-class competitors. Given the fact, go for the one that is inbuilt with a powerful battery and can last for hours without the worries of plugging in the charger. Ideally,  a 3AAA battery is considered the best as it provides a long run and also produces more sparkling lights. Moreover, some  lights even allow you the freedom to remove the battery when it is not in use in order to avoid the battery consumption. So, pay close attention to the battery capacity of your prospective one.
Color-changing function
No matter what type of light decoration is, it looks beautiful only if it is multi-colored. Single-colored lighting renders really a monotonous look. Isn't it? This is why look out the color patterns of your desired light. In general, all fiber optic lights are inbuilt with color-changing function. Nevertheless, some lights produce breathtakingly beautiful lights due to their mind-blowing color combinations. So, look for such types of optic light.
Light base
Considering the stability of fiber light is yet another factor that you can't ignore while buying your light. The fiber optic lights are designed with a sturdy base of either crystal or silver. If you're looking for a stylish one, go for the one that has a crystal base as it intensifies the sparkle of lights blending in with its reflection. However, if you're up to quality, the fiber optic light with silver base is the best for you.
Conclusion
Now you have the complete buying guide for fiber optic lights. You just have to choose the perfect one suiting to your needs. So, make a wise choice and decorate your house with these lights leaving everyone astonished with your home décor. Believe us, they will bring additional splashes of sparkle to your festivities.
Last update on 2023-10-04 / Affiliate links / Images from Amazon Product Advertising API