There is nothing like unwinding in a comfortable chair with your favorite book. Lovers of books are aware that spending alone time with a great piece of literature can be the best medicine for relaxation. A reading chair will provide you with comfort, relaxation, and protection from the demands of the world which is outside your book. In simpler terms, it will allow you to become submerged inside the world of your book and help you make sense of it in a better way. Finding the right reading chair can be difficult as there are multiple varieties in terms of style, design, and comfort available in the market. However, do not be worried as we are here to guide and help you make the right choice with our list.
List off the 10 Reading Chairs in 2023
1. Best Overall: JUMMICO Fabric Recliner Chair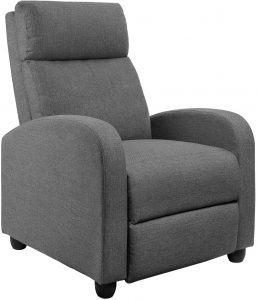 Material: PU leather
Color: Grey
Item Weight: 59.5 pounds
JUMMICO adjustable linen chair is the first on our list as it provides superior comfort and is perfect for reading, watching TV, or taking a nap. It features a steel frame that provides utmost stability and thick seating cushions that offer strong support while sitting. Next, it has a convenient push-back design and rubber feet that protect your floor and makes it easy to move the chair around. Moreover, the reading chair has an elegant design that will make it look good in your living room as well as your bedroom. It is easy to assemble a chair that can be adjusted for seating from 90 degrees to 165 degrees. Overall, this reading chair is simply amazing and would let you enjoy your favorite book.
Key Features:
Made from best material
Superior comfort
Utmost stability
Adjustable recliner
Easy to assemble
Elegant design
2. Best Runner Up: Christopher Knight Home Evelyn Mid Century Modern Fabric Arm Chair

Material: Textile
Color: Beige
Item Weight: 48.2 pounds
If you are looking for a comfy reading chair that also makes a good statement piece, then this mid-century modern armchair is a good choice. It has a rich-looking, sophisticated design that speaks for itself. No matter where you keep the chair, it will delve into the background and add to the beauty of that specific room. It has a solid construction that makes it durable and easy for clean-ups. The material of the reading chair is good and strong enough to handle wear and tear. Plus, this chair comes fully assembled, and therefore, no need to waste any time on assembling. Just sit on the chair and get lost in the pages of your book.
Key Features:
Comfortable reading chair
Sophisticated design
Solid construction
Durable
Comes fully assembled
Good statement piece
Related: The 11 Best Lumbar Support Office Chairs for Office in 2023
3. Cheapest Of All: Urban Shop Faux Fur Saucer Chair

Material: Polyester
Color: Black
Item Weight: 9 pounds
If you are looking for a nice, cozy, and supportive reading chair that is also pocket-friendly, then the Urban shop faux saucer chair should be your pick. It has a soft plush fabrication that is comfortable as well as luxurious. Moreover, the chair leg latch provides stability and safety. This chair is usually considered ideal for young adults and teens as it has a weight capacity of 221 lbs. Further, this chair has a nice, cute design, which makes it look good anywhere it is placed. It comes in a compact size, which means that it takes limited space. Overall, the chair is simple yet elegant and allows you to read peacefully.
Key Features:
Pocket-friendly
Soft plush fabrication
Comfortable
Nice support and stability
Compact size
Simple yet elegant
4. Best Value For Money: GDFStudio Macedonia Mid Century Modern Tufted Back Fabric Recliner

Material: Polyester, Textile, Birch
Color: Blue
Item Weight: 69 pounds
This mid-century but modern recliner is a great addition to any room of your home. Featuring a smooth finish and polished lines, no one will ever be able to figure out that it is a recliner until you push your feet up for added comfort. This reading chair is so comfy and inviting that you will be able to reposition your mind and body as well as reach near-perfect alignment. Plus, the chair is covered in a soft, durable fabric that can handle wear and tear. It is easy to operate by those who instantly need to change their latitude. On the whole, it is a well-made chair with a nice design that won't disappoint you.
Key Features:
Smooth finish
Provides added comfort
Offers near-perfect alignment
Soft and durable fabric
Easy to operate
Can handle wear and tear
5. Best Under $ 160: OSP Designs BF25292-11 Papasan Chair

Material: Polyester
Color: White
Item Weight: 1 pounds
Create a chilled-out, informal vibe in your home with this twist on the classic Papasan chair. It comes with built-in fabric straps that hold the cushion in place, while the cushion is thick padded that provides utmost support and comfortability. Plus, it comes with a 360-degree swivel function that makes it a great choice. This reading chair is great for adults and teens as well as for dorms, apartments, homes. It is a great chair that has a well-sturdy structure and material. On the whole, it is a nice reading chair which has a boho-style design.
Key Features:
Support and comfortability
Well-sturdy
It comes with a 360-degree swivel
Ideal for adults and teens
Boho-style design
Affordable price
Related: Top 10 Best Meditation Chairs in 2023 | Best Picks for Meditations
6. Most Sturdy: Lexicon Fabric Accent Chair

Material: Textile, Wood, Foam
Color: Blue
Item Weight: 27.5 pounds
Lexicon reading chair comes with a stylish frame design, warm wood finish, fine quality fabric, and comfortable cushion. It offers superior comfort while reading and perfect support to your back with a tight all-foam back, which makes it a more appealing choice. Made from polyester upholstery fabric, this chair is durable and hard-wearing. It requires assembling and can handle a weight limit of up to 300 lbs. Further, this reading chair has a really amazing design and will look good wherever it is placed. It offers generous seating and is available in four different colors apart from blue. All in all, this retro-inspired reading chair is beautiful as well as sturdy.
Key Features:
Well-sturdy
Superior comfort
It comes with a tight all-foam back
Durable and hard-wearing
Simple to assemble
Weight limit up to 300 lbs.
7. Best Ergonomically Designed: DAZONE Modern Accent Chair

Material: Yellow
Color: Yellow With Ottoman
Item Weight: 26.84 lbs
This Dazone modern accent chair with ottoman is the perfect addition to your living room, bedroom, reading room, kids room, home bar, or to a café, hotel, club. This sofa furniture comes with solid wood legs that promote comfort and helps in maintaining a healthy posture. It has a soft-linen-like fabric upholstery with a retractable cushion for hassle-free cleaning. As said, it comes with a matching ottoman that is perfect for kicking up your feet after a relaxing day. You can read books, watch tv, work on your laptop or take a nap on this amazing chair with an ottoman. It will make any room come alive with its simplistic and sophisticated style.
Key Features:
Simplistic and sophisticated style
Matching ottoman
Removable cushion
It needs to be assembled
Super comfortable
Protective leg pads
8. Best With Massage Mode: Recliner Chair for Living Room

Material: Leather
Color: Brown
Item Weight: 55 pounds
Sit back and relax in your personal space with this recliner chair that will look good in all places. Perfect for living room, theatre room, reading, and many other things. It comes with a dual-function foot extension and reclining back that will help you to unwind the stress. Additionally, the chair comes with a massage option that further helps you to calm down your aching muscles. It is simple to install. Made with durable PU, the recliner chair is waterproof and simple to maintain. On the whole, the chair has a sleek, modern design that will enhance the beauty of any room.
Key Features:
Simple to maintain
Easy to clean
Dual-function foot extension
Calm down aching muscles
Made with durable PU
Simple to install
9. Best Lounge Chair: YAHEETECH Accent Chair with Ottoman

Material: Velvet fabric
Color: Grey
Item Weight: 32.85 pounds
Everyone will enjoy a super comfortable chair with a timeless classic look. After a hectic schedule, you need a place where you can just sit and read your book peacefully or simply relax. This YAHEETECH accent chair with ottoman provides you with super comfort. With a barrel shape and large sheet together with a smooth padded ottoman, this chair set allows you to sit comfortably for hours. It is manufactured using a solid wood frame and covered with luxurious velvet fabric. Overall, it has an ergonomic design that will suit your body perfectly well. It is perfect for living rooms, beauty salons, hotels, and other such places.
Key Features:
Timeless classic look
Super comfortable
Smooth padded ottoman
It is covered with velvet fabric
Ergonomic design
Well-sew finish
10. Most Unique Design: HollyHOME Modern Velvet Fabric Lazy Chair

Material: Textile, Velvet, Cotton
Color: Dark Grey
Item Weight: 19.21 pounds
This chair has a unique modern design and will make for a perfect addition to your home. It will delve into the background and add to the beauty of any room in which it is placed. The armrests and comfortable seats create a comfy setting for you to sit back and enjoy your book. Made from a durable powder-coated steel frame and sofa sponge, it features a small pocket to hold your book, phone, newspaper, etc. Further, the chair can be quickly assembled without needing any extra screws or nuts. Overall the chair is extremely good-looking and will provide added comfort and support while sitting.
Key Features:
Simple to assemble
Extremely good-looking
Comfortable seating
Durable
It comes with added pocket
Modern design
Verdict:
All the above-mentioned reading chairs come with a simplistic, modern, sophisticated design. They are made from highly durable materials and offer comfortable seating as well as ample back support. You can easily sit back on these chairs and get lost in your book without any worry.  Most of these chairs have easy assembling, while others come already assembled. Further, a few of them come with a matching ottoman for added comfort and relaxation. A unique thing about all these chairs is that you can place them in any room of your house, and they will complement the beauty of that place.
FAQs
Which Kind Of Reading Chair Is Considered The Best?
For starters, a perfect reading chair should be comfortable, and you should be able to sit on it for a long time without feeling any kind of stiffness. Next, it should be relaxed and supportive with a design that provides the right neck and back support. Plus, the fabric should be soft and durable, made from materials such as twill, linen, cotton, velvet, and leather.
What Should Be The Leg Height Of Reading Chairs?
Reading chairs should have a shorter leg so that you can comfortably bend your legs as well as easily stretch them out. A seat height of around 17 inches is fine.
What Should Be The Depth Of Reading Chair?
If you have someone in your family who is extra tall and loves to curl, a deep-seated reading chair is a good option. However, if you are looking for a chair that is not meant for especially tall people, a deep seat chair could be uncomfortable, so consider how you are going to use the chair prior to purchase.
Last update on 2023-10-04 / Affiliate links / Images from Amazon Product Advertising API