Taking care of our health while adhering to deadlines and commitments in our busy lives is a difficult task to accomplish. To make it easier, certain products in the market have combined health benefits with workplace productivity. One of such products is the Kneeling Chair. If you have a desk job that requires you to sit and work continuously, this kneeling chair will change your life and can be used interchangeably with your office chair.
The kneeling chairs are designed especially to straighten your back, maintain your posture, and protect your spinal cord. If you always sits long hour at your desk, then it's an ideal to consider one of the following best kneeling chairs for yourself.
List of the 10 Best Kneeling Chairs on Amazon in 2023
1- Best Quality: ProErgo Pneumatic Ergonomic Kneeling Chair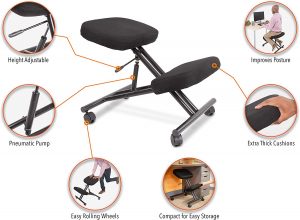 Brand: Stand Steady
Base Material: Metal
Colour: Black
The first one in this list is the ergonomic kneeling chair by Stand Steady. This seat truly is ergonomic, as it prioritizes your comfort in your workplace before anything else. This seating chair, in turn, has adverse effects on your efficiency while working. The effects are notable; your head, neck, and back are not sore anymore, and therefore you are more focused and productive.
With its special design, this kneeling posture chair makes it suited for any work environment. The extra thick seat and knee cushions are made of breathable fabric, the base is sturdy metal, and you can adjust the height using the pneumatic pump. The rolling casters also make it very easy to move around as you need. The chair seat is also compact and, therefore, portable. Hence, this chair performs its dual function of maintaining your spinal cord and making you efficient at work, successfully.
Key Features
Maximum comfort with thick knee and seat cushions
Sturdy and improved design
Supports up to 250 lbs
Corrects your posture
Easy to move around and store
2- Most Stylish: Master Massage Comfort Kneeling Chair
Brand: Master Massage
Base Material: Wood
Colour: Red
This wooden kneeling chair by Master Massage is perfect for both home and office use. It is made of beech wood. The knee and seat cushions are made of thick foam and covered with vinyl upholstering. Overall, the structure is quite promising, along with being visually appealing. The chair blends in perfectly with both the home and the office decor and makes your seat fit in the surroundings.
Spending most of your day sitting on this chair instead of other ordinary chairs prevents fatigue and lethargy. It prevents neck and back strain and keeps the spine and the knees in the correct position. Additionally, it comes with an attractive 5 years warranty for the frame and 2 years for the frame. This product has held the trust of the customers for a while now.
Key Features
Attractive design that blends in
Comfortable and long-lasting
Made of wood
Easily movable with 4 universal wheels
5 years warranty
3- Cheapest Among All: Solace Plus Kneeling Chair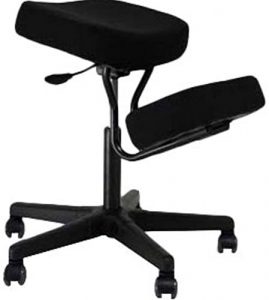 Brand: Solace Plus
Material: Steel
Colour: Black
To keep working with complete focus and concentration, it is necessary to maintain a proper posture. This ergonomic kneeling office chair from Solace Plus prevents you from slouching during long days in front of a computer. Additionally, its memory foam relieves pressure on the vertebral discs of the spinal cord and keeps it healthy. To prevent discomfort or pain, this chair is a good pick.
The design of this chair keeps your posture straight and upright, and the kneeling position allows for deeper breathing and increased blood flow. All this strengthens the core of your body and makes the muscles healthy. With this chair, you will not be worried about maintaining a healthy lifestyle while dedicating all your time to your desk job.
Key Features
Made of stainless steel
Visco Elastic Memory foam provides extra comfort
Durable and long-lasting
Portable and can be carried anywhere
User-friendly
4- Best Runner Up: Master Massage Ergonomic Kneeling Chair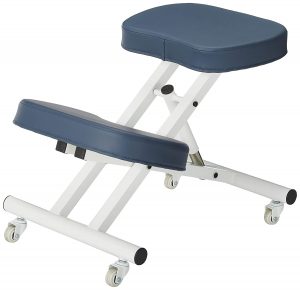 Brand: Master Massage
Material: Steel
Colour: Blue and White
Master Massage is a well-known brand name when it comes to furniture for workspaces. Another one of its outstanding products is the kneeling chair made of stainless steel with a thick cushion. The chair surprisingly supports a weight capacity of up to 440 lbs. It definitely has strength and is sturdily built. The royal blue color gives it an edge in the workspaces, and just like its function makes it stand out in appearance as well.
It is easily movable with universal wheels and, therefore, gives you that much more space to work in and around. Moreover, it keeps you focused because of the kneeling posture it enables you to sit in. It prevents your hunches back from getting worse and therefore is a must-have for those who have a desk job.
Key Features
Portable, light, and sturdy
Easy to use with practical design
Quite a stylish structure
Adjustable height
Best quality stainless steel and foam material
5- Most Health- Friendly: Sleekform Kneeling Chair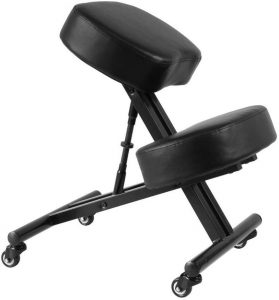 Brand: Sleekform
Material: Stainless Steel
Colour: Black
The placement of the seat and knee foams in this kneeling desk chair is the best that it could get. It has been designed in such a way as to balance the body weight between the shins and the back encouraging a natural upright posture. The science behind the angles decided upon has been very carefully thought of and calculated. Therefore, the pressure on your spinal discs is relieved.
This is the desk chair kneeling that you will look back upon as one of the best decisions of your life. It will maintain your spinal cord even when you are nearing old age. It also relieves mental stress and helps you to single-mindedly focus on your work and be as efficient as possible.
Key Features
Reduces pain and relieves pressure and stress
Improved wheels come with a smooth-rolling feature
Sturdy and portable
Trusted and with a guarantee
Adjustable to any height and user-friendly
6- Best under $100: Flash Furniture Mobile Kneeling Chair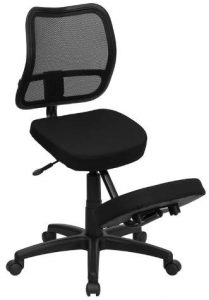 Brand: Flash Furniture
Material: Stainless Steel
Colour: Black
This BIFMA certified chair is the best pick for office use. The design of  this ergonomic kneel chair has been made keeping in mind its usage. It is extremely office-like, professional yet very, very comfortable. The contemporary style with a backrest adds to the entire vibe of the product. When not in a mood to kneel and sit, you can always sit on it like any other chair. This is because of the ventilated mesh back support that comes with it.
This chair is BIFMA certified, and you need not worry about the quality of the product. Flash Furniture as a brand has also made a good and reputed name for itself in the market. Its multi-purpose functions make it a good pick on the list.
Key Features
Contemporary Style
Multi-purpose function
The good quality foam used in seat and knee foam
Durable and long-lasting
Adjustable height
7- Best Among All: WishaLife Ergonomic Kneeling Office Chair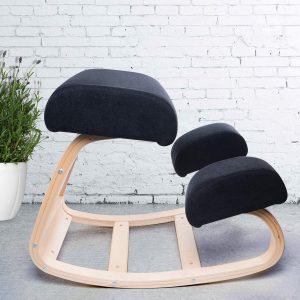 Brand: WishaLife
Material: Wood
Colour: Black
WishaLife's Ergonomic Kneeling Wooden Chair is the most stylish, most comfortable, yet most affordable piece of furniture that you will own. Its unique and interesting design provides for more leg space and balances your weight between your shins and your lower back. This has been proven to be your ideal posture, and sitting in this posture relieves you of the stress and tension, both physical and mental. Moreover, the rocking design makes the kneeling chair benefits valuable than just a working seat. You can relax by rocking to and from when you need a break from your work. You can also use it as a reading chair if you like to.
Both the frame and the foam are made of the best quality material, and therefore the chair is all the more comfortable. It is also sturdy, durable and light-weight. If you have any complaints regarding the product, it can be replaced within 24 hours.
Key Features
Beautifully and stylishly designed
Made of the best quality material
Puts your body in the ideal posture
Can relax by rocking
24-hour exchange guarantee
8. Most Trusted: Stand Steady ProErgo Kneeling Chair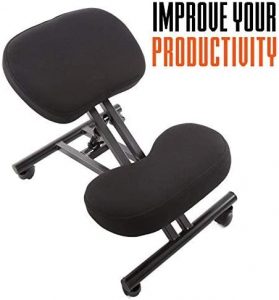 Brand: Stand Steady
Material: Stainless Steel
Colour: Black
Stand Steady's chair kneeling has been made keeping in mind everybody's height and expectations. It has a total of 3 adjustable height levels and can be set in either depending on the user. This is designed to your body in the correct posture and relieve you of any neck or back pain. This also keeps your fresh and energized as it prevents you from slouching. It has a strong metal base and can carry a weight of up to 250 lbs.
The universal wheels allow you to keep moving at work and increase productivity and efficiency. To be the most productive or the most successful, it is very important to be in the correct space of mind without any stress. This chair helps you to attain that space of mind.
Key Features
Adjustable height
Improves your posture and relieves back or neck pain
Maximum Comfort
Best quality material
Great fit for home, office or classroom
9- Best Value for Money: Flash Furniture Wooden Kneeling Office Chair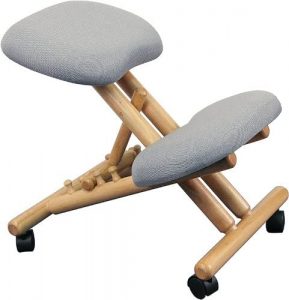 Brand: Flash Furniture
Material: Wood
Colour: Black and Grey
With a classic style and available in two colors, Flash Furniture's wooden Ergonomic Kneeling Posture Office Chair is actually a good option on the list. It is quite pocket-friendly and can be is made of good quality wood and foam. The height can be adjusted. Its classic design makes it look antique and adds character to the room, wherever it is present.
The casters have dual wheels, and hence the chair can be smoothly rolled from one place to another. This chair is definitely a trendsetting option for you if you wish to stylishly support your body's natural posture and take create of your spinal cord.
Key Features
Pocket-friendly
Made of best quality wood and foam
Available in classic black and grey colors
Casters with dual wheels
Adjustable height
10- Most Innovative: The Edge Desk Ergonomic Kneeling Chair and Desk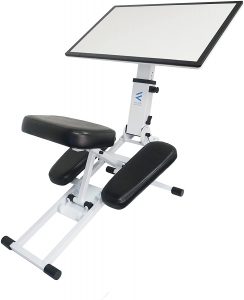 Brand: The Edge Desk System
Material: Metal
Colour: White
This edge desk is an innovation in the field of kneeling chair. Mechanically designed and intelligently built, it is extremely useful not only indoors but also outdoors. This is because it can be folded and easily fit in the trunk if a car. You can carry it with you wherever you want to write, paint, study or work. Even when indoors, it can be folded and slid under a couch or behind a bed.
The height or level of the desk and chair can be adjusted easily, and the product is, therefore, fit for people of all heights. Moreover, its assembly and setting up takes less than a minute With this product, whenever you need a change of scenery or environment, pack your desk and move to the nearest park or wherever you want. It will increase productivity in your work and also give you time to relax.
Key Features
Fast and simple setup
Maximum productivity
Extremely convenient to carry around
Extensive usability
Superior Mobility
Conclusion
An ergonomic kneeling chair is a new and innovative product in the market. Its benefits are still not popularly known. When they become known, most of us will be relieved of the problem of overworking. The posture that the chair puts you in relieves you of necks, and back stress relaxes your spinal cord, which in turn relaxes your brain and makes you more productive and efficient.
The varied designs and styles give you a lot of options to choose from. This list provides the best opportunities for your purchase of the right chair for your benefits.
FAQs (Frequently Asked Questions)
Ques 1: Are the ergonomic kneeling chairs uncomfortable?
Ans: The ergonomic kneeling chairs are definitely not uncomfortable. When using it for the first time, one might feel new but not uncomfortable. Once you become used to the posture, it is e extremely relaxing and stress relieving. Most chairs mentioned in the list come with additional features like backrest or rocking chair.
Ques 2: Do all chairs come with an adjustable height feature?
Ans: Since most of the chairs are only chairs or stools and bot desks, the height does not really matter. Most of them do come with height adjusters, but that does not make a lot of difference. The desk, however, must have adjustable height; otherwise, you will not be able to have the most comfortable time with the chair designed for comfort and efficiency.
Ques 3: Do we have separate kneeling chairs for children?
Ans: Most kneeling chairs come with height adjusters. In that case, therefore, all chairs can be adjusted according to the height of children. However, if you buy to be a chair, especially for the children, they are available too.
Last update on 2023-10-04 / Affiliate links / Images from Amazon Product Advertising API