If you are a biker or a skateboarder who sometimes need to ride in the dark, then it's very necessary to have the light signal with you to avoid any accident. The light signal can be attached to your head, your arm, or your bike. These light signals might only let people know your presence, but it might not give a clear signal of where you are heading to. So, today let me introduce you to the LED light signal gloves which allows you to communicate on the street more effectively. Check them out below:
List of the 5 Best LED Light Signal Gloves for Bike Riders & Skateboarders in 2020
5. Zackees Award Winning LED Turn Signal Cycling Gloves with 4 Rechargeable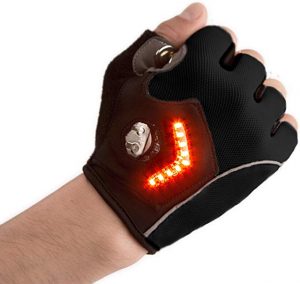 This is the award winning LED signal cycling gloves from Zackees. This LED light signal gloves are designed for cyclers, board-skaters and even pedestrians to wear for their safety. The gloves are made with leather palm and attached with small LED light bulbs design in an arrow shape so that you can let other commuters know where you want to head to. The gloves are rechargeable and washable as well as waterproof. So, you can wear it even in the rain. It is 100% customer satisfaction guarantee. If you or you have a family member who like riding bike or skateboard, get one for them as a safety gift. It has all size such as small, medium, large and extra large to pick from. For now, you can just get it from Amazon with the click on the button above.
4. AMZSTAR LED Cycling Light Glove for Cycling, Running and Working Outdoor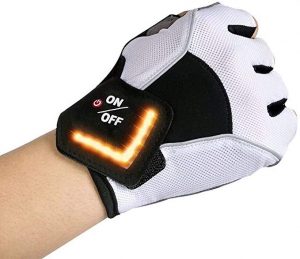 This second LED light signal glove is from AMZSTAR. The glove is beautifully design with white and black color on the back and gray in the palm. The arrow LED light bulbs are controlled with the on/off switch. You can use it to show other commuters when you want to cross the road or turn right or left. The light gives a clear sign for that.
This LED light signal glove is invented for both indoor and outdoor activities such as gym, cycling, motorcycling, jogging and more. It is available in small, medium and large size. It's designed in the way that it's adjustable as well. So, it will fit well with your palm.
3. Cycling Gloves LED Turn Signal for Outdoor Cycling and Sporting by NTRA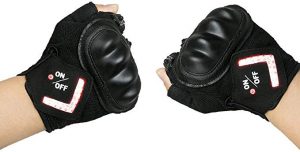 These outdoor LED turnable signal gloves are made of acrylic polyester and silicone combined. The glove is durable and attached with 1x180mA built-in battery to light up the arrow signal on the back of your palm. Wearing it on your palm during biking or skateboarding allows you to give signal to other people of where are you are heading to. It's suitable for mountain bike rider, motorbike rider, gym workout, hiking and jogging. It's available in medium, large and extra large size.
Also check: The 10 Best Bike Lights for Night Riding
2. LED Cycling Gloves with Swivel Signal Warning Half Finger by LBAFS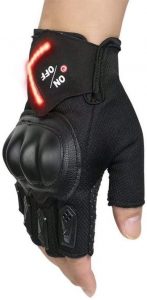 This LED Light Signal Glove is built with an intelligent recognition system for gesture steering. It's design to fit well with your palm, adjustable and easy to take off. The LeD light bulbs is designed in arrow so that you can use to show other people where you are going to move t. That's very helpful for communicating with other travelers on the road. The glove is also comfortable to wear as it is made of breathable fabric on the back of your palm. It looks elegant and strong.
1. Beautly Mountain Bike Gloves with LED Turn Signal Lights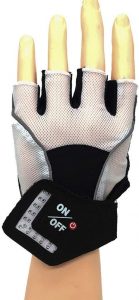 This is the last LED light signal glove in our list. Offered by Beautly, this glove is designed for unisex meaning any one can use it. The glove is more stylish than other peers above but designed with one same purpose of giving signal for traveller. So, it is also attached with arrow LED light bulbs for that functionality. If you want a glove which is more fancy and stylish, then go for this one. It can be used for both indoor and outdoor activities such as biking and gym workout.
Conclusion
As one of the biker, I know how important it is to equipped ourself as well as our bike with the devices that can help safeguard us on the road. This is why I bring this glove in for your consideration. I hope this article is helpful for you to pick the best glove for yourself or your family member's safety.