Our mobile phones have become a dominant part of our lives; today, so much so that imagining a life without them seems impossible. We have developed a tendency to keep always keep our phones in close proximity and within our reach. Doing so while doing something that requires our complete focus like driving a car or riding a bike can prove to be fatal.
To solve this problem, compatible and safe bike phone mounts are the best option. They ensure that the safety of both your phone and you and keeps your phone within your visual range for best results. To assist you in selecting the best phone mount for yourself, we have a list of the 10 best bike phone mounts available in the market for you.
List of the Best Bike Phone Mounts or Bicycle Phone Mounts 2023
Bike Phone Mount Reviews
10. Most Sturdy: Roam Universal Premium Bike Phone Mount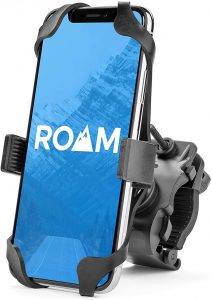 Brand: Roam
Warranty: 100% money-back guarantee
Colour: Black
Bike Riding is an adventure sport, and the strength of all materials used directly determines the safety of the rider. The material used for making these mounts is the premium hard plastic that keeps the mount from breaking at all costs. In addition to this, it comes with a silicone net that secures every corner of your phone to the mount correctly. Other mounts use rubber instead of silicone for the purpose. However, the usage of silicone increases safety by making the entire arrangement extremely strong and durable.
The size of the mount is compatible with handlebars of all sizes. The mount is also compatible with almost every cell phone about 3.5 inches wide. With its compatibility and strength, this bike mount for holding your cell phone is the most reliable mount that will ensure the safety of your device.
Key Features
Universal size suits all phones
Compatible with handlebars of all sizes
Secure grip and largest clamp
Great strength makes it sturdy and durable
100% money-back guarantee
Detailed improvement
9. Best Runner-Up: BOVON Bike Phone Mount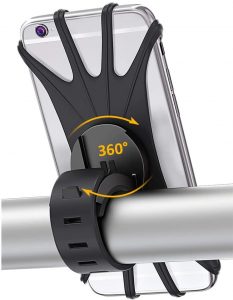 Brand: BOVON
Warranty: Not mentioned
Colour: Black
When on your bike, you would want to twist and turn your phone at different angles, either to be able to look at the screen correctly or capture some picturesque shots while you are riding away through the valleys of nature. BOVON's bike phone mount allows you to do just that. With its 360° rotation feature, you can adjust your phone to your preferred angle. This flexibility feature will help you to keep track of your mileage or distance, your timing, or your route through maps. You can also use your phone attached in this mount to record your route or take pictures of it.
The flexibility is not only in your phone placement but also with the kind of handlebar you use. With an adjustable strap, the mount is compatible with handlebars of all sizes of all two-wheelers. Its sturdy material of silicone and its grip adds to its impressive features. Overall, a great pick that supports compatibility and strength, both.
Key Features
Durable and Secure
Super-elastic silicone band for compatibility
360° rotation
Easy and convenient installation
Versatile design
8. Safest Among All: OPAMOO Bike Phone Bag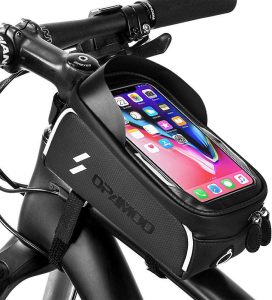 Brand: OPAMOO
Warranty: Not Mentioned
Colour: Black
Count on the brand of OPAMOO to get all creative and innovative with its products. This time, it brings to its users a bike phone bag that attaches the phone to the handlebar with complete security. Through its sensitive screen cover, you can operate your phone, listen to music, and use maps. This feature is enhanced by a hidden earphone hole that makes answering calls while riding easier and safer.
This bag undoubtedly is the safest cover for your phone. Its waterproof polyester material protects your phone in extreme weather conditions. Keeping the phone intact in the bag, leaves absolutely no chances for it to get damaged during your ride. Besides, it comes with universal and adjustable fits that make it compatible with phones of all shapes and sizes. If the safety of your phone is on top of your priority list, this is the best pick for you.
Key Features
Sensitive touch screen
Seamless dual zipper
Hidden earphone hole
Strong waterproof polyester
Big space
Amazing compatibility
Sun visor for enhanced visibility
7. Best Design: Mangoora Bike Phone Mount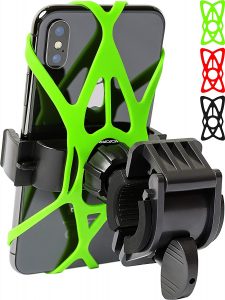 Brand: Mangoora
Warranty: Lifetime Warranty
Colour: Black and Green
Bike accessories need to purchased thoughtfully and carefully. A bike mount is responsible for your expensive phone, without which all your contacts will be lost, and you will be disconnected from the world. Therefore, it is imperative to see that the mounts are promising and are worth handling the responsibility. Mangoora brings to us a most thoughtfully and intelligently designed bike mount to take the responsibility of your phone and keep it safe.
The mount's unique butterfly netted design ensures that there is no way in which your cell phone can suffer any danger. These are made of premium quality silicone that is available in different colors that you can choose from. The unique design of this mount delivers both in appeal and in performance. This is the reason why it comes with a lifetime warranty.
Key Features
Premium quality
High level of security
Thoughtful and mechanical design for best results
Best-quality silicone used
Sturdy butterfly bands
Lifetime warranty
6. Best Under $30: TruActive Premium Bike Phone Mount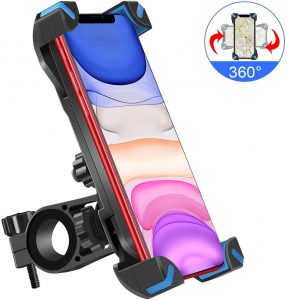 Brand: TruActive
Warranty: Lifetime replacement guarantee
Colour: Black
Proper installation of the mount plays an important part in determining the safety of your phone. If the installation is not done completely and as per the instructions given, there is always a danger of damage to the device. TruActive's premium edition bike mount is designed especially for easy and convenient installation without the use of any tools. Moreover, it comes with a manual that gives you easy instructions that can be followed for installation of the mount.
The advanced security grip of the mount on the device is strong, and there is no chance of failure, if correctly installed. This grip is enhanced by non-slip, anti-vibration padding that ensures the safety of the phone even on rough roads. The universal makes it compatible with all phones. Along with all these impressive features, the mount comes with a 100% lifetime guarantee that increases our trust in the product.
Key Features
Easy and convenient installation
Advanced security grip
Tested quality and durability
Universal fit
Innovation at its peak
5. Cheapest Among All: OHUI Bike Phone Mount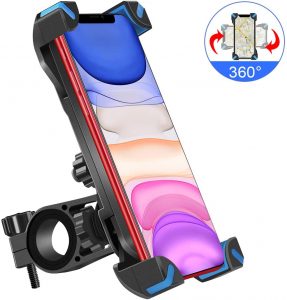 Brand: OHUI
Warranty: Lifetime Guarantee
Colour: Black and Blue
OHUI is a bike phone mount that is competent with all other amounts due to its excellent features but comes at a much lower price. This is the reason that makes it stand out among its contemporaries. The mount can be easily installed, is lightweight and sturdy, and is compatible with handlebars of all sizes. Furthermore, its universal approach and adjustable size make it compatible with all phones as well.
The unique design of the mount allows full-screen touch and display and causes no hindrance to your visibility. At a very low price, you can easily navigate your way using maps, listen to your favorite music while you ride or capture your journey using your phone camera. The 360° rotation adds to the ease of access for the user. With a lifetime guarantee, this bike mount is a steal for its price.
Key Features
Pocket-friendly price
Easy installation
Compatible with all phones and all handlebars
Full-screen touch
Lifetime guarantee
4. Most Thoughtful: OPAMOO Bike Phone Mount Bag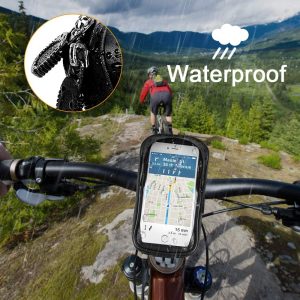 Brand: OPAMOO
Warranty: Not Mentioned
Colour: Black
OPAMOO has taken the extra step by designing a bike phone mount bag instead if a stand that guarantees 100% safety at all costs. Not only this, the innovation in its design has made sure to humanize the design as much as possible. Where on the one hand, the sealed zipper that places the phone in a waterproof bag with no chance of damage, on the other hand, the various perfectly placed holes in the bag serve the best purpose. Through these while, you can plug in your earphones and enjoy music, answer you're important calls without halting and recharge the phone for future use.
The bag also encloses good storage space that can be used to keep your essentials or the products that are necessary for the maintenance of either or phone or your bicycle. The material used to make the bag keeps your phone dry and sage in both hot and rainy weather. With the best approach for your service, this bike phone bag mount is definitely the most thoughtful product on our list.
Key Features
Easy to operate and install
High-sensitivity touch screen
Sealed zipper and waterproof material
Good rook for storage
Ease of access
3. Most Mechanical: GUB Bicycle and Motorcycle Phone Mount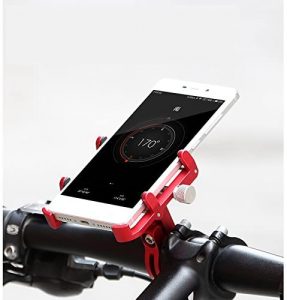 Brand: GUB
Warranty: Not mentioned
Colour: Black
The most simple yet highly mechanically designed bike mount is brought to the market by GUB and made of a strong aluminum alloy that guarantees its strength and long-lasting existence. The aluminum body is, however, coated with a sponge on the inside to provide extra protection to your phone. The mount safely and securely covers only the edges of your phone and does not obscure the screen. Its strong base built allows for the phone to be held in place without any risk.
The mount is compatible with all phones, but it is especially advised for phones with larger screens. It works best with them. The mechanical design also allows for a full 360° rotation for all viewing angles without much trouble. Overall, one of the best and the most practical designs on the list.
Key Features
Most mechanical design
Adjustable width
Made of strong aluminum alloy
Lined with a sponge for extra protection
360° rotation
2. Best Value For Money: SYOSIN Bike Phone Mount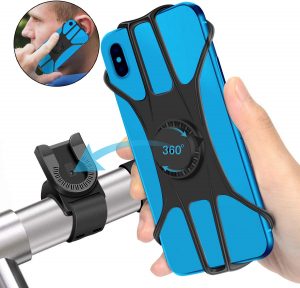 Brand: SYOSIN
Warranty: Not mentioned
Colour: Black
SYOSIN's light and upgraded bike phone mount comes with a number of impressive additional features that make it worth the money invested. Firstly, the phone holder can be easily detached from the mount on the handlebar. This feature makes it extremely easy to answer calls, instantly reply to important text messages and emails, or click a selfie during the course of the journey at the click of a button. Now, you will bot have to disassemble every part to release your phone and finally reply to the important email that you had been waiting for.
Secondly, the silicone material that it is made up of has special shocks and vibration absorption characteristics. They can withstand powerful jerks and hence add double protection to your phone while you are cycling away. With these impressive features, this makes a perfect gift for your loved ones, friends, and family.
Key Features
New and upgraded design
360° rotation
Instantly detachable bike phone holder
Special shock-absorption material
Wide compatibility
Undeniable strength
1. Best Among All: JOYROOM Bike Phone Mount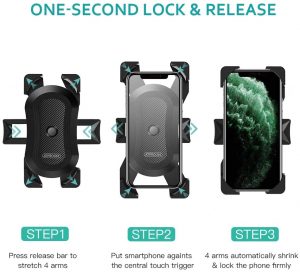 Brand: JOYROOM
Warranty: Lifetime Replacement Guarantee
Colour: Black and Silver
The features in the latest 2023 version of the JOYROOM Bike Phone Mount is all that you require for a smooth and fun adventure. It comes with a button at its center, which, when clicked instantly shrinks and tightens its grip around your phone. This one-hand operation makes this latest design extremely useful and convenient. Designed with four corner claws, the mount offers full and secure protection to your phone with no chance of damage, whatsoever.
With wider compatibility with handlebars of all sizes and phones of all brands and a convenient and useful 360° rotation, this bike mount is the best that you can get till date. Its latest developments have proved to be a success, and its effects are impressing all customers every day
Key Features
Latest version with latest upgrades
Security and full protection
Instantly closing four claws
360° rotation
Lifetime Replacement Guarantee
Video: QuadLock Out Front Mount Pro Review
by Bikegeeks
Conclusion
Bicycles are the new trend. Along with being fun and adventurous, they are both healthy and environment-friendly. Taking care of your health is important. However, what is also important is not missing our on one aspect to enjoy the other. These bike phone mounts allow you to keep an eye on all your important calls, messages, and emails, and ensure that you do not miss out on something important. The above list mentions the best available bike phone mount in the market.
FAQs (Frequently Asked Questions)
Ques 1:Do Bike Phone Mounts Damage The Edges Of The Phone?
Ans: A good quality bike phone mount will always have a lining of a sponge and soft material that will in no way harm your phone. On the other hand, it will protect it from shocks and sudden vibrations, preventing the harm that might occur otherwise. Therefore, it is important to carefully examine and analyze the product before purchasing it.
Ques 2: What Is The Ideal Material To Be Used For A Bike Phone Mount?
Ans: The quality if a bike phone mount depends on various factors. The material alone cannot determine the usefulness of the product. However, the best-known materials for a bike phone mount are either silicone, hard plastic, or strong aluminum alloys. It has to also be noted that the inner lining should be some soft who k-absorbing material for the best results.
Ques 3: Why Is The Feature Of 360° Rotation Important?
Ans: When you can rotate your phone a complete 360°, you can take pictures and record videos at whichever angle you like. It also allows you to analyze the route maps that you are looking at and know and understand them better.
Last update on 2023-10-03 / Affiliate links / Images from Amazon Product Advertising API