If you own a bicycle, but cannot go out on a ride due to some reason, bike rollers or bicycle rollers can come for your rescue. These brilliant innovations can turn your outdoor bicycle into an indoor bicycle that offers you the same level of exercise and fun that you'd receive outside. So if you want your daily dose of workout, but can't ride your bike out, connect these rollers with your bike and have fun.
However, there are thousands of bike rollers in the market. Thus, we are bringing you the collection of the top rollers that offer you exceptional performance, impeccable durability, and authentic experience at home. Whether you're a competitive athlete or a casual rider, you will certainly like these.
List of the 10 Best Bike Rollers or Bicycle Rollers in 2023
Bike Roller Reviews
10. Best Overall: Tacx Antares Indoor Retractable Bicycle Rollers 201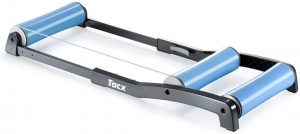 Brand: Tacx
Warranty: 1 year
Material: Hary Poly And Metal
The Taxc Antares is a stationary roller stand that allows you to train indoors and enjoy the feeling when riding a real bike. This aspect distinguishes it from other bike trainers. Their heavy-duty rollers are conically tapered to ensure that your wheels are centered. This builds muscle memory and provides mild resistance. The front and rear rollers operate in unison and tune that help your wheels carry more stability and angular momentum. This enables you to stretch your legs by standing up even when you're riding.
Hence, the high quality, portable roller system of the Taxc Antares lets you maintain speed, change gears while refining your technique. It enables you to completely extend or strengthen your legs during the activity.
Key features:
No power is required
Maintenance-free
Can easily fit bikes with 26″ to 29″ diameter
Can be folded down to 31.5″ x 18.5″ x 5.31."
Has a maximum footprint of 53″ x 18.5."
Features roller diameter of 3.93″-4.33″ (100-110 mm.)
9. Cheapest Amongst All: Soozier Adjustable Indoor Fitness Cycling Parabolic Roller Bike Trainer

Brand: Soozier
Warranty: 1 year
Material: Aluminum and Steel
Soozier's roller bike trainer guarantees to give you the same feel as that of riding a bike outdoors. Made up of lightweight but durable aluminum and steel material, Soozier aims at providing you the extra strength that can sustain over 265 lbs.
The front roller is adjustable, which allows it to fit a large variety of wheel sizes of 24″, 26″, 28″, 29″, and 700C. They provide unmatchable smoothness and sound-less performance. This trainer is highly adjustable and a great selection for training indoors to help you get fit, conveniently.
Key Features
Made up of Steel, Aluminum, HDPE, Nylon
Unfolded Dimensions are 32.25″ – 51.25″ L x 19.25″ W x 6.25″ H
Adjustable Length is around 32.25″ – 51.25″ L
Size of the roller is Φ5.25″ x 15.25″ L
Compatible with 24″, 26″, 28″, 29″, and 700C wheels
8. Most Flexible: Sportneer Bike Trainer Stand Steel | Bicycle Exercise Magnetic Stand With Noise Reduction Wheel For Road Bike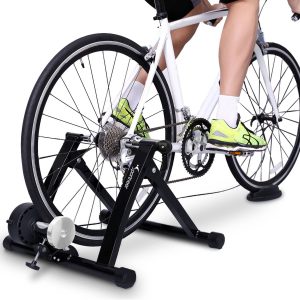 Brand: Sportneer
Warranty: Not available
Material: Steel and Magnet
The Sportneer Indoor Bike Trainer Stand is easy to assemble and disassemble for your requirements. It is highly compatible, and you can easily lock your bike, set the resistance, and start pedaling. They offer special noise-reduction wheels that help in making your workouts very quiet. The friction reducing design helps in increasing the life of the tires and offers you the maximum time to ride.
This noise-reducing wheel aims at reducing the hum, which is generated by the rear wheel spinning so that you don't have to pound hard on the jams. You can enjoy riding with the smooth resistance, instead of going to war with your bike.
Key Features:
Bikes with the rear wheel axle between 4.92′-6.57″ are compatible
Weight of the stand is under 20 pounds
Can withstand the excess weight of 250 pounds
Easy level fix
You may also check: Top 10 Best Pull-up Bar Stands for Home in 2023
7. Best Runner Up: Tacx Booster Training Base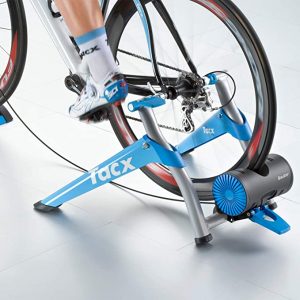 Brand: Tacx
Warranty: 1 year
Material: Hard Poly & Metal
Tacx galaxy brings you a road like an experience brought on by its oscillating revolutionary components. It provides incredible stability to the bike. This swinging helps the roller to move in harmony with the pedals and the cyclist. Thus, it allows great freedom during the exercise without the danger of falling off.
The generated kinetic energy with this acceleration helps the roll move forward, and with the decrease in speed, the roller automatically leans back. Stability is Tacx's strong suit, and the galaxy aims at giving you an all-rounded experience. Its stability is also owed to its patented rollers and high resistance base. Tacx galaxy can be folded down to 80 cm, which makes it easy to carry.
Key Features:
Swig system to change the movement, stand or absorb impact
Conical rollers for a central hold on the bicycle
Easy to store with retractable quality
Automatic roller adjustment
Kinetic energy absorption for optimal performance
6. The Most Sturdy: ROCKBROS Bike Rollers | Foldable Indoor Cycling Bicycle Roller Trainer With Resistance For MTB Road Bike Exercise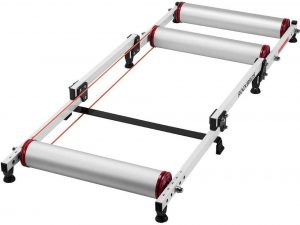 Brand: Rockbros
Warranty: As per dealer
Material: Aluminium Alloy
This has parabolic rollers to provide good stability and be much safer than the straight rollers. Hence, it is a good choice for an indoor environment. It is a product of aluminum alloys and high-strength rollers that can be mounted on an adjustable frame. This roller trainer is handy, saves space, and flexible in adjustments.
These rollers come with sealed roller bearings that make this roller trainer work more smoothly. It offers you a three-fold flat and a lightweight design that is very easy to store and carry. There are front holes that are adjustable, and the measuring cylinder could adapt to different diameters of the bicycle wheel. This is very suitable for a mountain bike with a 700c and a folding bike of around 16-29″.
Key Features:
Highly-adjustable and compatible with versatile bicycle wheels
Compatible with different bike types.
Easy to store with three-fold packaging option
Smooth function with sealed bearings
Dual-color choices, black and white
5. Best Value For Money: ROCKBROS Bike Rollers Foldable | Indoor Cycling Bicycle Roller Trainer With Resistance For MTB Road Bike Exercise Black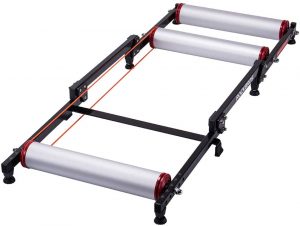 Brand: Rockbros
Warranty: One year warranty
Material: Aluminium Alloy
Rockbladers provide parabolic rollers instead of normal straight rollers. Hence, they are much safer and provide a secure environment with a firm fitting for the riders. This is an aluminum alloy high-strength roller trainer, which has three rollers that are mounted on an adjustable frame that holds the bike wheels. It has an adjustable wheelbase. However, there is no resistance level in the products.
Rockbladers aims at providing the ultimate quality with handy, foldable, and space-saving products. Its rollers with a sealed bearing make the product much smoother than other products. These rollers are flat but match the performance of parabolic models. They are compatible with different bicycle wheels that are suitable for mountain bikes, and folds down to a size between 16-29″.
Key features:
Made up of High Strength Aluminum Alloy
Weight of the package is 7.9kg/Pair
Flat rollers with a performance like parabolics
Industrial-grade quality and hold
High value for money choice
4. Best Under 100 Dollars: Tb Vechi Roller Trainer | Bike Trainer Roller Foldable Indoor Cycling Exercise Balance Black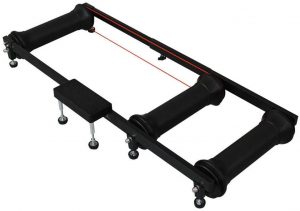 Brand: TBvechi
Warranty: Not provided
Material: Nylor and Steel
The product consists of three drums made up of sturdy thermoplastic that is mounted on an adjustable frame that makes it compatible with all bicycle sizes. These drums move at a consistent speed with the bicycle and maintain balance.
The riding material is made up of steel, and the roller material has tough nylon material to help with the riding experience. You can easily bolt them to the wall for better hold.
The ride on these rollers is very realistic, which offers you an authentic gesture of balance, almost like a real ride. It has a very compact design that makes it easy to store and install.
Key Features:
Made up of aluminum alloy, hard plastic
Comes in Black color
Slick and minimalist design
Can bear a maximum load of 150KG
Realistic experience with balancing factor
Great for polishing and improving skillset
3. Best Cordless: Elite Arion Roller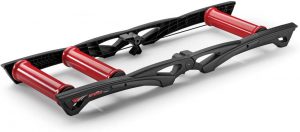 Brand: Elite
Warranty: Two-year warranty
Material: Fiberglass Reinforced Polyamide
If you are looking for a roller that gets the job done and does not cost too much, then look at this masterpiece! This roller has a slick design and vibrant color theme of this product. It is a versatile product that can be used in a wide range of places like a parking lot corner or indoors. These rollers are very adaptable and help the rider maintain form and riding techniques.
Elite's Arion Rollers believe in providing the customers with exact specifications and a description that tells the user what to expect. Therefore, it comes with parabolic rollers that help the riders with the riding experience. Overall, they offer you a commendable product at a reasonable price.
Key Features
Easily foldable for simple transportation
Can be used for road or mountain bike training
Very lightweight and easy to carry
Robust build and long-lasting performance
Value for money
2. The Most Stylish: Elite Arion Digital Smart B+ Trainer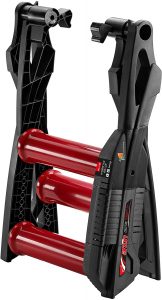 Brand: Elite
Warranty: 1-year warranty
Material: Fiberglass Reinforced Polyamide
Yet another brilliant product from Elite Arion. It is a highly adaptable and flexible roller that settles according to your riding styles. You can easily sharpen the riding techniques and even learn some new ones. If you are looking for a product that does not confuse you with features, too many complications, and adjustments, then choose it. Because this one is straightforward and simple to use, just bolt it with your bicycle, and you're good to go. Additionally, it has parabolic rollers that are better than the straight ones and provide a more realistic overall riding experience.
Key features
Simplistic design and minimalist interface
No complication, simple use, no need for deep knowledge
Suitable for all ages and all indoor and outdoor locations
Works with a wide selection of bicycle models
1. Most Multipurpose: Saris Cycleops Aluminum Roller For Indoor Bike Trainer

Brand: Saris
Warranty: Not mentioned
Material: Aluminum
If you want a straightforward product, but with better durability, here's Saris CycleOps. This one uses aluminum as a module material. Thus, it is a heavy-duty roller that offers a smooth ride. No noise either! It is very quiet that you can listen to anything without disturbance.
Cycle while you watch TV or listen to music inside your house. This product easily rolls into a flat fold for easy storage and transportation. It helps in improving balance, exercising more control and lets the rider practice cycling in a straight line. Overall, it offers you the same 'riding' purpose, with reinforced strength.
Key Features:
Heavy-duty model and long-lasting performance
Very quiet and offers a smooth ride
Easy to fix, compatible with many bikes
Can be upgraded with resistance units
Conclusion
Surprise everyone with how great you maintain yourself and use your bicycle. All of these products stand on the top due to their distinguishable qualities. So forget the hustle and bustle of the traffic, and don't let the lack of cycling trails stop you. Even if the weather is against you, pull out these rollers and start cycling. Stay fit and live your passion, or enjoy the recreational activity of cycling. Indulge yourself in the exciting balance-required activity and polish your skill.
Frequently Asked Questions
Ques 1- Is The Software To Track Distance And Speed Included With The Rollers?
Ans: No. Softwares are not included in the rollers. You need to use a bike computer to monitor parameters like speed and distance. You should also remember that the resistance offered by the rollers is less than that of an actual road. However, there are additional resistance units that may work with these rollers.
Ques 2- Will The Rollers Flat Spot The Tires Of The Bike?
Ans: No, since the pressure on the rear tires comes from the weight of the rider when cycling. There are also two points of contact with the bike rollers rather than just one, which is the case when you cycle on the road.
Ques 3: What Material Is Better For The Bike Rollers?
Ans: Aluminium is the superior material for the bike rollers. Rollers made up of plastic are also fine for lightweight use. However, most of the modern materials still offer similar durability and robust build.
Last update on 2023-10-04 / Affiliate links / Images from Amazon Product Advertising API