Singing is a skill but music mixing is definitely an art. For that, you would require a set of high-tech equipment including a DJ controller, which lets you control various DJ softwares. In the last recent years, we have witnessed a sudden boom in the demand for DJ music controlling devices, maybe because more and more people are getting into DJing or maybe due to the fact that they offer an incredibly easy music-mixing experience. Whatever the case might be, today buying a good-quality DJ music controlling device is not as easy as it was a decade ago. However, you don't need to fret. Here, we have done complete research and brought together the top 10 best DJ controllers for you to choose from.
List of the 10 Best DJ Controllers in 2023
10- Numark Party Mix for Beginners DJ controller
You can't get a more portable DJ controller than this Numark one. Seriously, its ultra-portable design controller loaded with a bunch of features that make it a darling among the users. Inbuilt with all essential DJ tools and remarkable sound quality, it ensures a breathtaking mixing experience just at the tap of your fingers. What works behind the scene is its powerful Serato DJ light software. To enjoy the best experience with this DJ mix controller, connect it directly to your PC, Laptop, or Mac and listen to your favorite song with whole new effects.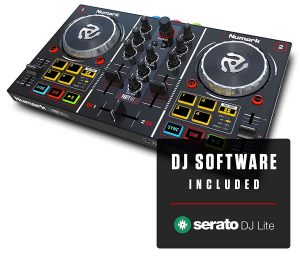 9- Pioneer DJ Controller DDJ-400
If you don't mind investing in a pricey DJ Music controller, Pioneer Music controller is made for you. Equipped with cue buttons, Beat FX, CDJ-style looping controls, it ensures a seamless operation taking your music experience to the next level. To provide you mind-blowing features, it is loaded with Pioneer's customized software Record box DJ. With this amazing music controller, you can do the mixing through your computer itself. Just connect it via the USB cable and it is all set to go. In addition to that, the frequency of this music controller is also too high ranging from 20-20000Hz. If you buy it to operate in a club, you can also be creative by grabbing a megaphone to shout out to your fans and rock the stage.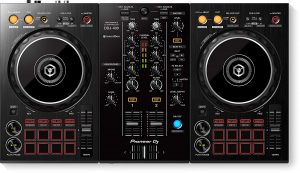 8- Pioneer DJ controller DDJSB3
Get this feature-laden Pioneer DJ controller and bring your music into life. With the help of its pad scratch, you can add various effects to the cued as well as the playing songs. On this DJ music-mix controller, the frequency range is nearly 20-20000Hz and the noise level is 103dB. In addition to that, it is also inbuilt with an FX fade feature, which allows a seamless blending in 4 FX patterns. Furthermore, it also features aluminum jog wheels that offer top-quality results producing a perfect scratch response and accuracy.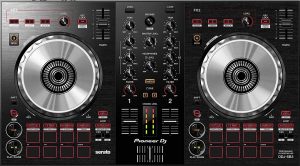 7- Pioneer DJ smart DJ controller, DDJ-200
Pioneer DJ smart DJ music controller DDJ-200 is far much ahead than its competitors when it comes to advanced features. Unlike many other controllers, it is smartphone compatible and offers you music blending just at your fingertips. Not only this, but it is also compatible with a number of streaming sites and apps including WeDJ, rekordbox dj, edjing mix, and djay. To ensure a seamless transition between the songs, it is inbuilt with 11 FX effects. To add further, this music controller for DJ also has a compact and lightweight design.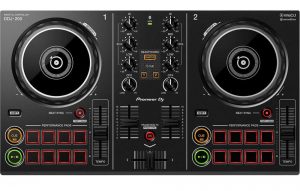 6- Numark DJ2G02 Ultra-portable Music Controller for DJ
If you want DJing anywhere at any time, Numark DJ2GG02 DJ controller is the best fit for you. Its ultra-compact design with a sleek look doesn't only make it voguish but also makes the portability hassle-free minimizing the risk of getting it damaged. To offer you a full control over your music mixing, it is inbuilt with 4 pad modes. What to say more, it is even designed with universal compatibility. Means, you can connect it to any DJ software application and start Djing instantly.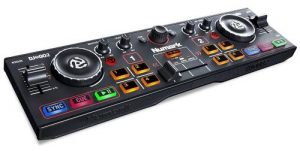 5- Numark Mixtrack 3, all-in-one 2-deck DJ controller
Get this innovative DJ controlling instrument and hone your DJ skills. It boasts to be far much ahead than other DJ controlling instrument in terms of performance and advanced features, and believe us, it truly is. Designed with 16 backlit multi-functional RGB pads, multiple FX effects, and dedicated filter knobs for each channel, it makes sure to offer you a seamless blending experience. With the help of touch strips, you can control the FX effects and scratch or stop a song according to your needs.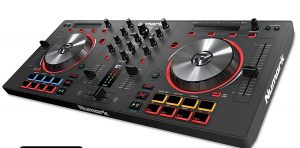 4- Numark Party Mix DJ controllers
Whether you're an expert DJ spreading the magic of your music or just a beginner honing your skills, Numark Party Mix controller for DJ is your true friend. It is inbuilt with a sound card and an array of LED lights, which together create a party-like environment and intensify your performance. Use its 4 pad modes precisely and amuse the people around you. The best thing about this controller is that it is equipped with an auto loop function. On top of all, this remarkable DJ controlling tool comes with a full warranty of 1 year.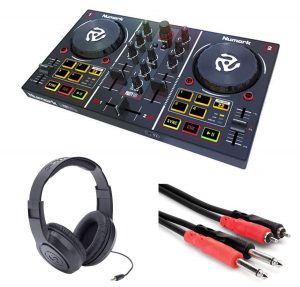 3- Hercules DJ control starlight DJ controller
Hercules DJ control starlight DJ tool is the best fit for the people who are looking for a decently good controller at a reasonable price. This Serato DJ lite integrated DJ controller is designed to simplify the music blending. With deep bass and high-quality filter EQ knobs, it ensures flawless blending with breathtaking sound effects. Furthermore, it is inbuilt with multi-colored LED lights, which lit up depending on the intensity of the volume. Moreover, it also supports DJ audio interface that lets you listen to your mixing before you go live.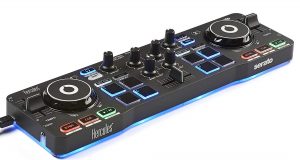 2- Native Instrument maschine mikro mk3 drum controller
Mixing music with this amazing DJ's controller is as easy as pie. It helps you create your tracks by adding sound effects, light effects, and tunes in just seconds. To enhance the sound quality, it is inbuilt with dual-touch smart strips. Means, you just need to slide your finger and sound effect will be changed at a blink. You can use groove-building tools to further change the pitch and tune of songs. The great thing about this controller is that it lets you switch between the playing modes without stopping your music. For that, all you need to do is to press the dedicated button.
asinid asinid="B07GY8C68J"]
1- Pioneer DDJ-SB3 DJ controller
A Pioneer DJ's sound controller topped the list. No wonder how it managed to do this as it is the leading brand in this industry. From its portable design to remarkable features, this Pioneer DJ's controller is truly a head-turner in the marker. Unlike other controllers, it is inbuilt with large jog wheels, which ensure flawless scratch results. If you're still not impressed, let me tell you that this amazing tool allows you to add scratch effects to your cued and playing songs. To ensure a smooth mixing experience, the set comes with a sturdy laptop stand and a pair of stylish DJ headphones.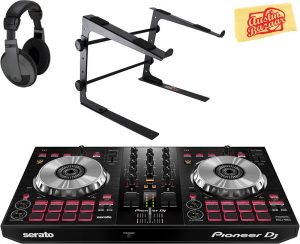 Key factors to consider when buying a DJ controller
With the fact that a DJ controller plays a vital role in the whole music mixing process, you should buy a high-quality one. And you'll be able to differentiate between the top-notch and poor-quality ones only if you'll consider the below-mentioned factors while buying your controlling device.
Required software
First of all, investigate the required software for your prospective controller. Different DJ controlling devices are inbuilt with different software and they have different functionality. Some particular types of software may even require you premium membership to run your controller. So, make sure you understand well the feature and function of your DJ's controller software. If it seems you complicated, look for another one. Generally, the DJ controllers with universal compatibility are considered the best.
Device compatibility
The next thing you should notice is the compatibility of your controller with PCs, laptops, androids, and other devices. Before presenting your performance in front of the audience, you'll be doing the mixing in your personal devices only. This is why your prospective controller for DJ must be compatible with at least your laptop, mac, and mobile phone. Also, make sure it is inbuilt with a couple of USB ports.
Efficiency level
Not all DJ's controllers are designed with the same user-friendliness. Generally, there are 3 types of music controllers available in the market, for beginners, intermediates, and professionals. Buy the one that suits best for your skills. If you're new in the DJ world and want to hone your skills, go for the DJ controller that is meant for beginners. A professional level DJ's device might be great for your comprehension.
Jog Wheels
Jog wheels are the backbone of a DJ's controller. They are meant to simplify the blending experience by allowing you full control over the device. Furthermore, they also boost or lower down the speed of tracks adding a fading effect to them. So, if you want a simpler and easier music mixing experience, look for a controller that is inbuilt with Jog wheels. Generally, the jog wheels function is available in the latest models.
Conclusion
The art of live mixing music is almost impossible without a good DJ controller. If DJ-ing is your hobby and you want to take it to the next level, get one of these DJ controllers and make it your passion. Whether you're a veteran or just a novice, these DJ controllers will craft your skills and make you rule the DJ world.
Last update on 2023-10-04 / Affiliate links / Images from Amazon Product Advertising API