Organizing all the media in your possession is challenging, especially if there is a lack of space or a separate compartment for different items. Often, we keep looking for some stuff, but are unable to find it in all the mess spread around. Imagine having countless USB cables, pen drives, adapters, or various devices just lying around without proper storage space. This is where storage cabinets come in to be an utmost priority. Remember not to confuse them with your usual almirahs. These multimedia storage cabinets allow you to organize your stuff systematically.
List of the 10 Best Multimedia Storage Cabinets in 2023
1. Best Overall: Sauder Orchard Hills Multimedia Storage Cabinet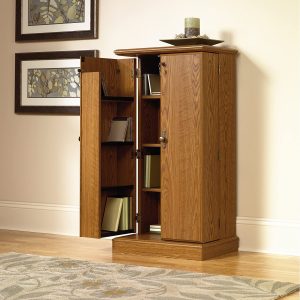 Manufacturer: Sauder.
Finish: Carolina Oak finish.
Capacity: 272 DVDs or 352 CDs.
Sauder is a well-known manufacturer in the furniture world. This particular storage unit is part of a collection called Orchard Hill. This collection features the Country Classic style of products. Started as a family-owned organization, Sauder is known for its exceptional after-sale service.  When you buy any of Sauder's products, you need to assemble them, and for that, you require a hammer and screwdriver. There are detailed instructions to gather all the products. In case you run into some trouble, use the fantastic customer support they offer.
Key Features: 
Lightweight: 75 Pounds.
Easy to assemble
Compact (smaller dimensions): 23.47 x 13.78 x 43.78 inches
High weight limits
Spacious storage cabinets.
Lock Mechanism.
2. Best Runner-Up : Prepac Locking Media Storage Cabinet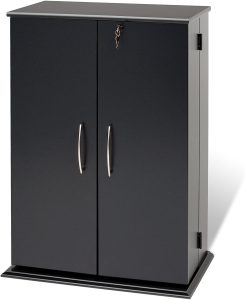 Manufacturer: Prepac.
Finish: Black.
Dimensions: 24″W x 33.25″H x 14.5″D
Prepac specializes in building media storage cabinets, and their latest collections are a treat for the eyes. This locking media storage cabinet is one such product. The pure elegance makes you feel like it should be yours. As good as its looks are, it has the features to be considered among the best cabinets in the market. There is a door locking mechanism in place, which makes your media safe from the world. Unlike most other cabinets, its doors are placed at the sides and not on edge. The hinges are offset, making it open in a full 180degree arc. This makes it a perfect cabinet to be considered as a showcase and a secured unit at the same time. The furniture finish is impressive, and apart from Black, no other color can possibly justify the looks of this cabinet.
Key Features 
Wide Base.
Compact.
Door Locking Mechanism.
180degree viewing angle.
Adjustable columns.
Top-notch looks.
3. Best Under $100: Sauder Multimedia Storage Tower 
Manufacturer: Sauder
Finish: Cinnamon Cherry Finish
Dimensions: L: 32.441″ x W: 9.409″ x H: 45.354
If you are looking for a storage unit, which is feasible, spacious, and elegant, Sauder Multimedia Storage Tower should be your preference. Sauder is well-known for its build quality and has exceeded its benchmark with this product. Amongst the most versatile products in the market, this multimedia storage unit offers adjustable shelves. Designed to be placed along a wall, there is ample space for your CDs, DVDs, books, gadgets, and other multimedia.
Key Features 
Cinnamon Cherry Finish.
Amazing build quality
Elegant surface finish.
Easy to assemble.
Adjustable shelves.
Engineered wood construction
Spacious.
Also check: Top 10 Best 3 Drawer File Cabinets in 2023
4. Best Value-For-Money: Leslie Dame Solid Oak Multimedia Storage Cabinet with Classic Mission Style Doors, Black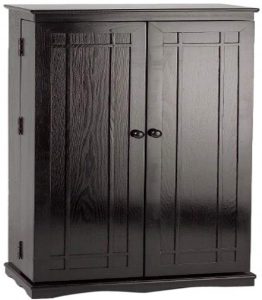 Manufacturer: Leslie Dame
Finish: Black.
Dimensions: 23.25 x 13 x 40 inches.
Solid Oak Multimedia Storage Cabinet is a product of Leslie Dame's collection of classic furniture. This unit, in particular, features an old school design with doors. The cabinet features completely adjustable shelves, which make it much more accessible. Its compartments are spacious, and if you need to store something larger, remove or adjust the racks according to your needs. The storage unit comes completely assembled, and so you need not spend time assembling it. It is slightly on the heavier side, weighing about 99 pounds. However, the build quality and sturdiness it provides is exceptional.
Key Features 
Premium finish.
Great Build Quality.
Sturdy.
Better Functionality.
Adjustable Shelves.
Option to get re-assembled, or otherwise.
5. Best For Functionality: Prepac Triple Width Wall Storage Cabinet

Manufacturer: Prepac
Color: Black
Dimensions: 8.75 x 56 x 51 inches
If you visit libraries or stationery shops regularly, you must have seen one of these cabinets. Prepac specializes in manufacturing spacious, minimalistic, library-inspired cabinets. The triple width wall storage unit is the perfect solution for a space-saving utility storage unit. It is mounted with 21 adjustable shelves, to offer better convenience. If you need to store any large items, you can opt to remove any of these shelves. The three rows help you in organizing all your multimedia. The unit is slightly tall, and to provide it with better balance and stability, the base is slightly bigger.
Key Features 
Large base for better stability.
A large number of compartments.
Adjustable shelves.
Compact.
Excellent finish.
Good build quality.
6. Classic Look And Finish: Leslie Dame Solid Oak Multimedia Storage Cabinet with Classic Mission Style Doors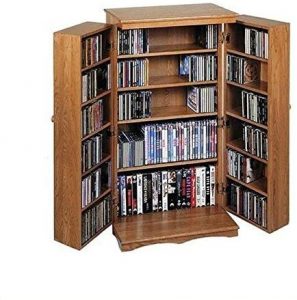 Manufacturer: Leslie Dame.
Finish: Walnut.
Dimensions: 23.25 x 13 x 40 inches
Leslie Dame has some exceptional designs in their collection of Classic mission style door cabinets. Solid Oak multimedia storage cabinet is also a part of this collection. Cabinets of this series are known to be quite sturdy and are known for their excellent build quality. The wood used for making this cabinet is authentic Oak. Multiple shelves are fully adjustable. You don't always need to place it against a wall. The walnut finish is remarkable and makes it much more versatile.
Key Features 
180-degree doors.
Authentic Oakwood.
High build quality.
Occupies less space.
Adjustable shelves.
Quality door hinges.
Premium surface finishes in exterior and interior.
Also check: Top 10 Best 4 Drawer File Cabinets in 2023
7. Modern And Functional: Atlantic Oskar Adjustable Media Wall-Unit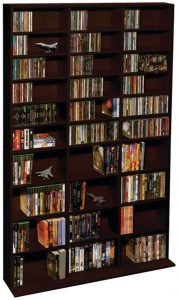 Manufacturer: Atlantic
Finish: Espresso.
Dimensions: 71.25 x 40 x 9.13 inches
Atlantic provides you with an entirely customizable storage unit that features a beautifully crafted Espresso finish to match the modern taste in design. This storage unit is a perfect utility product if you are looking to organize your media stuff. There are six fixed compartments, while 30 other shelves are adjustable. These shelves allow you to experiment with space according to your requirement. The wood pattern is also fantastic and has tiny grains to provide a smooth finish. Since this cabinet is pretty tall with a height of 71.25", it must be highly unstable. However, the base is extended, making it much more stable, be it along the wall or in the middle of a hall.
Key Features 
High Storage Capacity.
Flexible storage configurations.
Exceptional build quality.
Smooth surface finish.
Easy to assemble.
8. Cheapest Among All : SEI Furniture Display Window Pane Media Cabinet

Manufacturer: SEI Furniture.
Finish: Cherry.
Dimensions: 9.5 x 26.25 x 47.75 inches
SEI Furniture has developed this cabinet to provide a smart combination of elegance and functionality, without compromising quality. This media cabinet boasts of magnetic doors. Although it gives an old school vibe, that is where its beauty lies. The middle compartment is fixed and provides the cabinet with the much-needed structural rigidity. Other chambers are entirely adjustable to suit your storage configuration needs. Inlaid glass doors make this display media cabinet a versatile unit.
Key Features 
Magnetic Doors.
Adjustable compartments.
In-laid glass doors.
Cherry Finish.
Classic look.
High storage capacity.
9. Maximum Storage: Prepac Espresso Triple Width Barrister Tower

Manufacturer: Prepac
Finish: Double Rich Espresso Laminate.
Dimensions: 9.5 x 57 x 63.75 inches.
Prepac is the masters of building Storage towers, with ample storage to hold your media and other stuff. Towers are generally taller than your usual cabinets and similar in the overall length and width. Its height is an advantage, because of the increased space on offer. Vertically it is divided into three columns, which are fixed. Horizontally there are adjustable compartments that make the storage customization easier. Imagine its storage capacity with the fact that it can hold a commercial collection. The exceptional finish and build-quality of Prepac are an added advantage.
Key Features 
Broad base to provide better balance.
Large storage capacity.
Extremely versatile
Adjustable shelves.
Exceptional Finish and build quality.
10. Multemedia Storage And Show-case: Atlantic Windowpane Adjustable Media Cabinet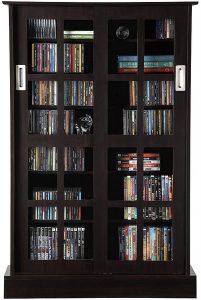 Manufacturer: Atlantic.
Finish: Espresso.
Dimensions: 50.4 x 20.75 x 6.75 inches
Atlantic has built some exceptional doors over the years. However, the Windowpane adjustable media cabinet is probably the best one. The biggest attraction is that the cabinet can house several media and showpiece items, while it is a showpiece in itself. Sliding doors and tempered glass panes make it sturdy, and yet minimalistic. The interior and exterior possess a quality finish to give you a sense of luxury. The storage available is also pretty decent, and will never let you feel the need for more.
Key Features
Sliding Doors.
Tempered glass panes.
Light and sturdy.
Espresso Finish.
Strongback covering.
FAQs
1. Should I go for a sliding door cabinet?
Sliding doors are slightly new for cabinets when compared to other types of doors. When compared to traditional doors, the sliding doors offer a better viewing angle and occupy no additional space to open and close. If you are looking for a covered cabinet, and limited space is your concern, opt for a cabinet with sliding doors.
2. Is the wood used for these cabinets authentic and original?
All these cabinets are manufactured by some of the most experienced and trustworthy companies in the world. Build-quality and finish are given prime importance when manufacturing these cabinets. To attain a better build quality, all the cabinets mentioned above are made of authentic wood.
3. How do I assemble these storage cabinets?
When you open the packaging, the first thing you will find is the instruction manual. There are step by step instructions on the assembly of these cabinets. The different parts are also numbered for a better understanding of the assembly process.
Verdict
Having a storage unit is always beneficial. It helps keep your media organized and is versatile enough to be kept in every room of your house. The wood used in these storage units is of high quality and authentic. Also, most of these units have the option to get assembled and pre-assembled, you can choose any of them based on your preference. From Espresso to Cherry, there is a wide range of colors and surface finishes available to match the décor of your room.
Last update on 2023-11-30 / Affiliate links / Images from Amazon Product Advertising API