Are you the person who has to present important notes and presentations with a large audience frequently? Yes? Then, you should consider investing in a document camera if you want to make your work easier and more convenient. Before that, let me tell you what the document camera scanners are actually. Okay, a document camera scanner is a tool that easily transfers the hard-copy documents and images into your computer turning them into soft copies instantly. Thus, it avoids the hassle of carrying bundles of hard copies and also lessens tons of effort and time. So, now go ahead and get a high-quality document camera scanner. If you have no idea where to look for, check out our list of top 10 document camera scanners in 2023.
List of the 10 Best Document Cameras for Classroom and Presentation in 2023
Also check: Top 10 Best Conference Room Cameras in 2023
10- IPEVO Camera Ultra-High Definition Document V4 for Classroom and Office Work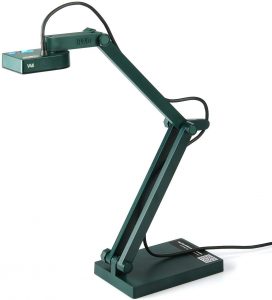 As the name suggests, IPEVO camera is an ultra-high image quality scanner for projector. This scanner is equipped with a document camera of 8-megapixel, allowing it to capture the images up to 3264×2448 pixels. In addition to that, the IPEVO camera is also designed with a high frame rate that ensures a lag-free live HD streaming up to 30 frame per second. It works very fast and the focusing speed function minimizes the interruptions and provides a smooth streaming experience of its document camera kind. The IPEVE visualizer also offers further smoother experience as it is made with noise reduction, color reproduction, and CMOD image sensors. It can be used as a document camera for classroom or office.
IPEVO visualizer also has another version called IPEVO VZ-R which utilized both HDMI and USB Dual mode for connecting the device with projector or computer. You can get this IPEVO VZ-R Document Camera if you need more flexibility. Otherwise, the the Ultra HD V4 is more than enough for your work. Not to forget, this IPEVO visualizer fits well with this AmazonBasics High-Speed 4K HDMI Cable in case you need it along.
9- ICODIS Document Camera X3 High Definition Scanner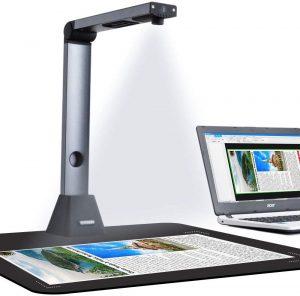 iCODIS Document Camera is designed with a whole new bunch of features to offer you a smooth and flawless projecting experience. It is inbuilt with various innovative features such as intelligent continuous shoot, optical character recognition, automatic image segmentation, automatic correction, automatic merging and many more. Moreover, its 8-megapixel camera and various LED fill lights don't only ensure a crisp image quality but also allow you the additional function of video recording. Other than its impressive features, this document camera is also amazingly portable and handy in design. You can use it to view document on your laptop or project as you need.
For some useful tip, you can also use this document camera to capture your book page or image into your computer, then use your application to convert the visual image into your electronic document as well. It's very convenient and easy to use. You can watch the video instruction on how to do it by going to the product link above. Then scroll down to videos below. There are various helpful tutorial for your to learn from.
8- CZUR ET16 Plus Advanced Book Document Cameras for Multiple Projects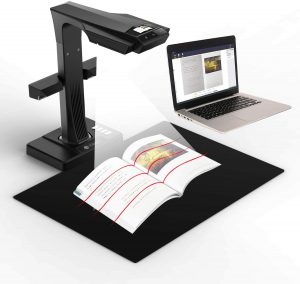 CZUR ET16 plus advanced book document scanner is a bit expensive, but it is worth the price. The device features a 16-MP camera with a high scanning speed of 1.5 S/P. Unlike many other camera document scanners, it is designed with 'patented flattening curved book page technology' that flawlessly flattens the 3D-curved page ensuring you clear visibility. Moreover, it is inbuilt with 10 LED lights, which provide enough light exposure to capture the clear and shadow-less images even in a dimly lit environment. It is compatible with both Windows and Mac OS computers. The document camera allows you to capture your book page or other projects and transform them into PDF, Word, Excel and event TIFF file electronically.
If you are holding many huge projects in hand and are in need of a lot of scanning and presenting your work, then we recommend you to get it along with this Epson Perfection Document Scanner to help ease your job. Most customers get them both along as they are good companions in achieving the scanning tasks.
7- CZUR ET18 Pro Professional Document Scanner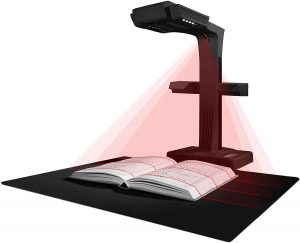 If you want a long-lasting and top-notch document camera scanner, look no further than CZUR ET 18 pro professional document scanner. It might seem you a bit pricey, but is just unbeatable when it comes to quality and durability. With its 18MP powerful camera and 1.5 S/P scanning speed, it offers 10 times faster results as compared to its competitors. Additionally, it is designed with auto-scan technology to make scanning easier for you. To ensure the best results with clear pictures, it is inbuilt with 2 high-quality supplementary lights.
Also check: Top 10 Best Home Security Cameras in 2023
6- VZ-R HDMI/USB IPEVO Cameras for File Conversion and Presentation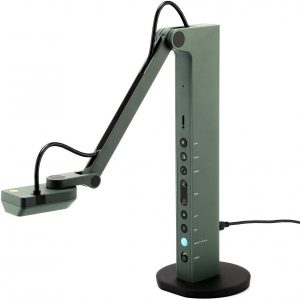 VZ-R HDMI IPEVO cameras are functional in two modes and both of them have different capturing capacities. In USB mode, its 8MP camera captures the images up to 3264×2448 pixels while in HDMI mode, its capacity is 1920×1080 pixels. To boost the quality of images, it is designed with the Sony CMOS image sensor, which significantly reproduces the colors of images intensifying their overall quality. Speaking of its compatibility, it works efficiently with Mac, windows pc, and Chromebook. This version is another upgrade from the previous Ipevo Camera document scanner. Yet, it depends on your need. So, find the one that fulfill your desire best.
5- Epson Camera DC-7 Portable for Document and File Scanning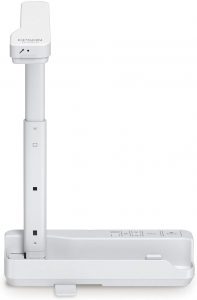 Packed with mind-blowing features and a chic design, Epson DC-7 portable document camera is a one among its kind devices. With 1080p high resolution and up to 8-times digital zoom, it makes sure to offer you super clear scanning results. What to say more, it even offers you the remarkable features of recording audios and videos in seconds. Its high-quality microphone never fails to provide a clear and audible sound. To get this amazing document camera scanner in function, you simply need to connect it to a PC with a USB. Then let the device do its magic work. You are just waiting for the outcome and make it for your own use.
4- Document Camera iOCHOW S1 High-Definition Portable Scanner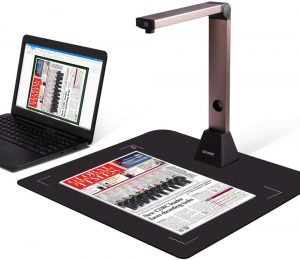 iOCHOW document cameras are packed with a bundle of advanced features that you can hardly find in any other document camera scanner. Other than basic functions, it is designed with intelligent picture shooting, optical character recognition, automatic correction & filling, automatic merging, automatic image segmentation, and real-time projecting. Moreover, it is also inbuilt with video recording function, which takes the scanning to the next level. In addition to that, its 8MP camera and 4 LED fill lights add further awesomeness to this scanner.
3- Alibecy portable High-Speed Book Image Document Camera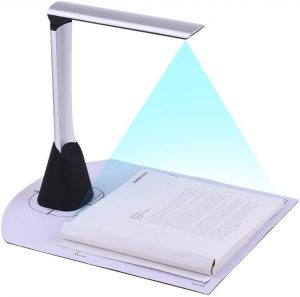 Alibecy has brought a budget-friendly yet good-quality document camera scanner for you. Its 5-MP camera with the resolution of 2592×1944 ensures clear and easily-readable scanning results. To further intensify the image quality, it is inbuilt with a CMOS image sensor. Not only this, but it also ensures a quick and efficient scanning. In fact, it doesn't take more than 1 second to do its job. Apart from this, it also supports OCR function, which enables it to convert images to an editable word file.
2- Eloam Portable Book & Document Scanner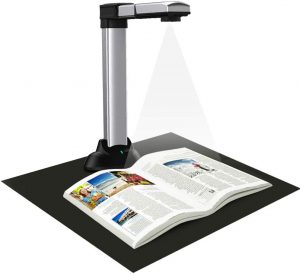 If you can compromise with other features but not with the camera quality, hands down, eloam portable book & document scanner is the best choice for you. With a powerful camera of 18MP and a CMOS image sensor, this document camera scanner ensures a quick scanning with amazingly clear pictures. Its advanced 'intelligent processing function' further boosts the quality of scanning by flattening curves, erasing fingerprints, correcting page position, and purifying the background.  Moreover, it is also inbuilt with the OTR technology that easily converts the format of files.
1- iCODIS ×7 Book & Document Scanner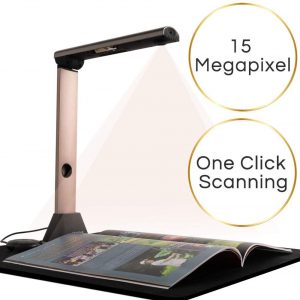 From its stylish and portable design to mind-blowing functionality, iCODIS ×7 book & document scanner truly deserves to be on the top. With its 15MP camera, all-files compatibility, and LED light, it ensures a one-click scanning. Unlike many other document camera scanners, it is designed with many advanced technologies such as flattening curve technology, intelligent continuous shoot, optical character recognition, automatic image segmentation, and many more. The best thing about this document scanner camera is that it offers you real-time projecting as well as the video recording function.
Key Factors to Consider When Buying a Document Camera or a Doc Cam
Buying a doc cam without prior research and complete knowledge can make you spend money on the device that doesn't meet your needs. This is why be wise to consider these below-mentioned key factors while buying this kind of visual presenter device.
Design and Portability
The design of a doc cam is the first thing you should look into.  Here, with design, we mean the construction and portability of document camera scanner. This is why see carefully the construction materials of what it is made from. You might need to use your camera scanner in different places, so it has to be portable and handy. A bulgy-designed and heavyweight device is not only difficult to move around but also inconvenient to store.
Connectivity options
The doc camera is really varied in terms of connectivity. Given the fact, you can't afford to look out this factor when buying your tool. See carefully whether your prospective doc cam is compatible with all types of computers and projectors or only with limited types of them. Moreover, some document camera scanners support USB port while some use the HDMI port. So, pay close attention to this and select the one that suits the best to your needs.
Scanning quality, resolution and speed
Not considering the scanning quality and resolution of a doc camera while buying can cost you big. Therefore, give out some time to investigate the quality and resolution of this device. Else, you'll end up with a piece of garbage in a name of it. Generally, a high-quality doc camera offers HD-quality images and videos making it easier for you to read the files. However, if these top-notch scanners are beyond your budget, go for a device that produces at least XGA and CVGA images.
Speed is important. Waiting is always irritating especially when you can't do anything from your end to get the thing done quickly. Isn't it?  This is why buy a quality-packed doc camera scanner with a high scanning speed and one-click function. Ideally, a top-notch document camera scanner can scan more than 60 pages per minute. Now, see whether your desired document camera scanner is this much fast or not and then make the purchase.
Accommodation of paper sizes
This is yet another considerable factor that you should take care of while buying a doc camera. A high-quality doc cam generally accommodates all types of papers and can read all types of files too. So, look for such kind of device that fit in your tasks.
What is the best document camera for classroom?
Doc cam plays a very important for classroom presentation. The teacher can use the doc cam to produce a visual presentation from the book and other documents and show to student for the whole class instantly. The best document cameras that are best and most recommended for the teacher are vary. Yet, they can consider from among the brands as they are recognized for its quality and use: Visual Presenter or Doc Cam from IPEVO Camera, ICODIS Doc Cam HD, CZUR Advanced Doc Camera, and more in the list. Just grab the one you like among the top 10 best doc cam selections above.
Conclusion
Get one of these innovative and high-quality document camera scanners and build your own digital library in a second. These document camera scanners can efficiently handle any type of and any size of files. So, what is holding you now? Go ahead and mark your presence in this digital world.
You may also need one of these Best Pen Scanners, Handheld Scanners, & Portable Document Scanners in 2023
Last update on 2023-06-02 / Affiliate links / Images from Amazon Product Advertising API