Are you excited for Christmas? Whenever you think of Christmas, you instantly think of festive vibes, jocund environments, family and friends, meetings and greetings, feasts, and food. What you often tend to ignore is the hard work and responsibility that Christmas brings with it. Christmas seems incomplete without good food, but preparing it at home can be quite a big mess. Before you stress about the Christmas meal and its preparation again, we are here to introduce you to a product that will assist you in just the right way and take off the responsibility from your shoulders so that you can enjoy the festival as much as everybody else. This product is the electric roaster oven that will be your constant companion throughout the Christmas meal. Here is a list of the top 10 electric roaster ovens to help you with your cooking.
List of the Best Electric Roaster Ovens in 2023
---
Other Cooking Appliances: Best Electric Hot Pot Cookers| Best Programmable Pressure Cooker | Electric Pressure Cookers | Contact Grills | Electric Woks | Electric Hot Air Fryers | Electric Griddles | Hot Dog Toasters | Electric Countertop Burners | Electric Skillets | Cake Pop Makers | Cast Iron Dutch Ovens | Kitchen Stand Mixers | Cuisinart Griddlers | Stainless Steel Freestanding Gas Ranges | Bread Maker Machines | Food Steamers
---
1. Best Runner-Up: Oster Roaster Oven with Self-Basting Lid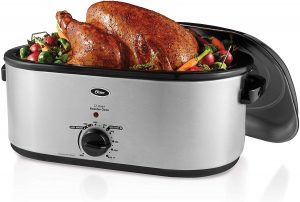 Brand: Oster Roaster
Capacity: 26 lbs
Colour: Silver
A Christmas meal is incomplete without a Turkey dish. However, a Christmas meal is also incomplete if the Turkey dish prepared is not served warm and fresh. During Christmas, it is a large gathering of friends and family, and all these guests arrive at different times. It is, therefore, not practically possible to warm up Turkey separately for everyone. To solve this problem, we have an electric roaster oven by Oster Roaster.
This multifunctional electric roaster will assist you with roasting, baking, cooking, and also serving warm food. It is simple and easy to use and clean because of its sorted out structure and design. Trust this product to assist you during all meals and turn your Christmas into a real celebration.
Key Features
Simple and easy to use and clean
Self-Basting lid for retaining moisture
Multifunctional
26 lbs capacity
Removable Pan and Rack
2. Most Capacity: Hamilton Beach Roaster Oven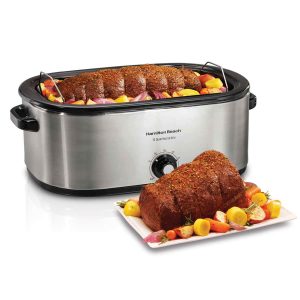 Brand: Hamilton Beach
Capacity: 28 lbs
Colour: Silver
This product is a multifunctional wonder that will assist you in resting chicken and ham, baking your favorite cakes and pies, cook stews and soups and serve fresh and warm food. With a large capacity of 28 lbs, this is an ideal product for a meal for a large gathering. The adjustable temperature control adds to its list of utterly impressive features. Additionally, it comes with a removable rack and pan so that the roaster can be washed and cleaned properly to ensure that your food is not only tasty but also healthy and hygienic.
It comes with a dome-shaped lid that adds to the volume of the roaster in order to accommodate the quantity of food you wish to cook. This product overall will be your companion in cooking and will help you enjoy large family and friend gatherings as much as everybody else.
Key Features
Multifunctional
Durable and portable
Easy to clean and use
Most Capacity and perfect for large gatherings
Adjustable temperature control
3. Best Under $60: Oster Roaster Oven with Self-Basting Lid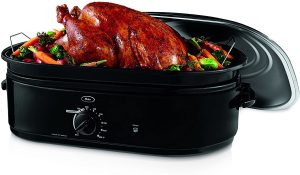 Brand: Oster Roaster
Capacity: 22 lbs
Colour: Black
Oster Roaster has acquired the trust and popularity amongst its customers due to its satisfactory service over the years. It has the best quality products that do not disappoint the user in any way. This particular electric roaster oven by the same company is a classic black one, which is a perfect mate for cooking. This is because of two primary reasons. Firstly, the roaster is extremely energy and time-efficient and has proven to save up to 30% time and 36% energy as compared to traditional ovens. Secondly, the 22 lbs electric roaster pan performs its task of baking, roasting, and slow cooking in a way that it will not disappoint you in any manner.
Overall, this product is a good choice for an energy-efficient and pocket-friendly electric roaster oven.
Key Features
The Capacity of 22 lbs
Energy and time-efficient
Durable and long-lasting
Portable and can be carried anywhere
User-friendly
Variable temperature control
4. Best Value for Money: Oster Roaster Stainless Steel Oven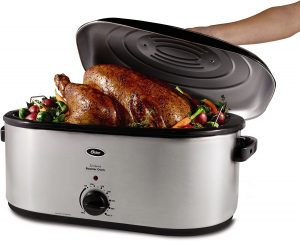 Brand: Oster Roaster
Capacity: 22 lbs
Colour: Silver
Here is another one of Oster Roaster's popular products, the stainless steel Electric Roaster Oven. This one has a capacity of 22 lbs and is, therefore, a perfect pick for a meal for close family and friends. The product is perfect when it comes to preparing food for a relatively large home gathering consisting of the nearest and dearest family and friends.
The structure of this appliance is its major plus point. It is made of durable and long-lasting stainless steel that has been used to design indeed a very practical product. This lid rest is a great convenience when serving food from the roaster. Also, the removable steel rack and enamel-on-steel pan can be separated in order to fully and completely clean the roaster. Overall, this appliance is a good buy for a low price according to the standards of the brand.
Key Features
Portable, light, and travel-friendly
Perfect Capacity of 22 lbs
Quite a stylish structure
Easily removable steel racks and pan for cleaning
Lid Rest
5. Best for a Small Gathering: Generic Electric Roaster Oven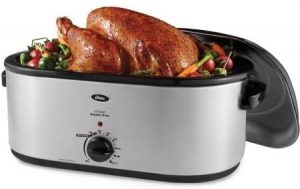 Brand: Generic
Capacity: Not mentioned
Colour: Grey
This compact and portable little electric cooker is perfect for preparing and carrying meals to picnics with your close friends and family. There is not a more relaxing feeling than sitting somewhere in the lap of nature away from the concerns and deadlines of the world and observe the nature in its true habitat while munching your favorite food that you have packed in this electric roaster from home.
Moreover, this product comes with a detachable pan and rack so that it can be cleaned easily. Its multifunctional attribute is also pretty impressive. This is a good option for those who like traveling and exploring new places with your home-cooked food.
Key Features
Capacity of 22lbs
Stylishly designed to go with every aesthetic
Sturdy and portable
Trusted and with a guarantee
Multifunctional Applications
6. Most Trusted: Oster Roaster Oven with Buffet Server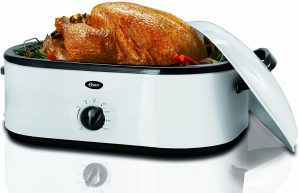 Brand: Oster Roaster
Capacity: 18 pound
Colour: White
Oster Roaster's Electric Oven with the special electric buffet sever feature, and three removable Enamel on steel pans and lids will make sure that all your dishes are served warm and fresh. Its versatile structure that not only roasts but also bakes and cooks and good Capacity makes it a perfect fit for the electric roaster for a little outdoor picnic. With this, you can have a happy time with your near and dear ones.
The buffet tray that comes along with it makes serving simpler and better since now your guests can choose and help themselves at the feast. Additionally, the variable temperature range helps you to adjust the temperature according to the requirements of different dishes. Purchasing this will give you a helping hand while you are cooking absolutely anything ranging from lasagnas and casseroles to cakes and muffins.
Key Features
User-friendly
Time and energy efficient
Made of best quality materials
Easy to wash and clean
7. Cheapest Among All: NESCO Roaster Oven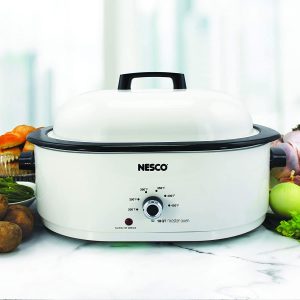 Brand: NESCO
Capacity: 18 lbs
Colour: White
Christmas is indeed a time for joy and celebration, and this celebration comes with new all the new products, gifts, and clothes that have to be purchased. In such a scenario, pocket-friendly goods feel like an angel in disguise sent from above. NESCO's roaster oven is one such blessing, which all of you will be thankful for this Christmas. Its long list of impressive features comes with at a very affordable price. It is easy to clean because it comes with a removable pan and rack and is also very easy to use because of its simple yet efficient mechanism.
Along with having all the standard features of a toaster oven, its classic white look will add character to your meal and your dining table. Additionally, it also comes with an adjustable thermostat to help you set suitable temperatures for different dishes. This product is also a good option for gifting it to your friends and family as a Christmas present.
Key Features
Removable Enamel Pan and Rack for easy cleaning
Adjustable thermostat from 200 to 450 degrees
Cool-touch handles
Pocket-friendly
Beautiful design
8. Most Portable: Sunvivi Electric Roaster Oven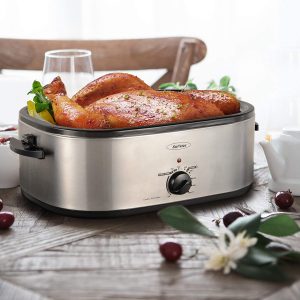 Brand: Sunvivi Outdoor
Capacity: 18 lbs
Colour: Silver
Sunvivi Outdoor's Electric Roaster Oven is designed especially for roasting a turkey for a perfect Christmas meal. It is an ideal roaster for a backyard party or an indoor gathering of friends and family. The appliance is portable, and you can carry it with yourself for a little picnic with your friends. It has a special heat preservation feature that serves a dual purpose. Firstly, it saves energy and contributes to the environment. Secondly, due to this feature, you will not have to worry about warming up the food again and again. With the 'Keep Warm' button, your food stays as warm and fresh as it was when it was prepared.
Other than this, it is easy to clean and handle due to the removable parts and the cold-touch handle design, respectively. Overall, this appliance will help you enjoy yourself to the fullest this Christmas.
Key Features
Multiple Temperature Settings
Convenient to carry and store while traveling
Pocket-friendly
Cold-touch handle design
Heat Preservation feature
9. Best Value for Money: Hamilton Beach Turkey Roaster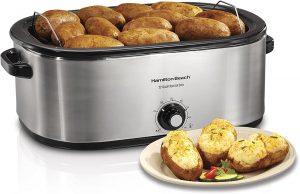 Brand: Hamilton Beach
Capacity: 28 lbs
Colour: Silver and Black
This brand new product by Hamilton Beach is going to be your savior on this Christmas The appliance is made especially keeping in mind Christmas meals and Turkey. Along with this product, you will also get a number of extremely useful accessories that will be your helping hand while preparing a delicious turkey meal for your guests. With the assistance and help of this appliance by Hamilton Beach, you can now be relaxed and prepare your turkey meal with a single focus. This appliance will make sure that your turkey is served fresh and warm at all times.
It has a removable pan and rack so that you can clean and wash it properly after every use. Moreover, the adjustable temperature feature is of great assistance. All in all, this electric roaster oven will be a perfect investment this festive season.
Key Features
Removable rack and pan
Number of useful accessories
Great Capacity of 28 lbs
User-friendly and easy to maintain
10. Most Healthy: Nesco Classic Roaster Oven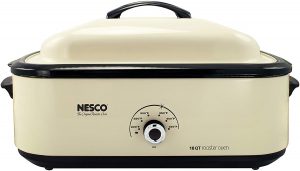 Brand: Nesco
Capacity: 20 lbs
Colour: Ivory
Lastly, on the list, we have this classic roster oven by Nesco. It is made of porcelain and is finished with an ivory look. This appliance has a nostalgic aura to it. It will remind you of your childhood Christmas days and the meal that you would have at your grandparents' place while enjoying the Christmas vacation from school. Its features are quite impressive as well, given the price range of it. The heating in this appliance is done through the exclusive 'circle of heat' heating element. The removable porcelain pan helps you to clean it properly after every meal and ensure healthy and hygienic food.
The adjustable thermostat helps you to fix different temperatures for different dishes. Additionally, the extra-high dome and self-basting cover help maintain moisture and keep the food fresh and warm always.
Key Features
All qualities of a traditional oven
Removable cookwell and a steel rack
Adjustable full-range temperature control
A long-lasting commercial level performance
Pocket-friendly
Verdict
The above list of top 10 electric roaster ovens will help you in investing your hard-earned money in the correct product this Christmas. An electric roaster will assist you in preparing the perfect Christmas meal that will be remembered by your guests for days to come. Every appliance mentioned here has a specialty of its own. You can choose the one that will be most beneficial for you based on your requirements and on your budget from the above list.
FAQs (Frequently Asked Questions)
Ques 1: What is the use of a self-basting lid?
Ans: A self-basting lid is a specially designed lid for a roasting pot or pan made of cast iron. It has spikes or ridges on the inside of the lid in order to ensure that moisture is captured, and it stays within the pan to help with the cooking. The steam settles on these ridges and then condenses to form water droplets that fall back on the contents of the pot. This keeps the food being prepared warm and fresh at all times.
Ques 2: How to clean the electric roaster oven?
Ans: Cleaning your electric roaster oven is not a difficult procedure but one that must be done with care. Before beginning to clean the roster, make sure that it has cooled down completely. Next, whatever parts can be removed as mentioned in the manual of the oven, remove them and keep them separately. Dispose off all the leftovers and then one by one clean all the parts using water and some liquid detergent. Remember to do it gently. Let is dry, cover it with a clean cloth, and then store it.
Ques 3: Is the cooking time for the food different from a traditional oven?
Ans: This aspect of the electric roaster oven is what makes it the most useful and helpful. Although the procedure of cooking a particular fish remains the same both in a traditional oven and in an electric roaster oven, the timings for both are different. Electric roasters normally cook 30% faster than traditional ovens.
Last update on 2023-11-30 / Affiliate links / Images from Amazon Product Advertising API