Cooking is not limited to the kitchen only. Many a time you want to enjoy outdoor cooking or you have to cook in any random place in your home itself. In this case, an electric wok is all you need to have with you. It comes handy and provides you efficient and enjoyable cooking. However, considering the umpteen numbers of electric woks in the market, finding the most suitable one might be a bit challenging for you, especially if you have not done any prior research. But, you don't worry about the research part. We have already done that for you. You just need to go through our list of top 10 best electric woks in 2023.
List of the 10 Best Electric Woks in 2023
---
Other Cooking Appliances: Best Electric Hot Pot Cookers| Best Programmable Pressure Cooker | Electric Pressure Cookers | Electric Roaster Ovens | Contact Grills | Electric Hot Air Fryers | Electric Griddles | Hot Dog Toasters | Electric Countertop Burners | Electric Skillets | Cake Pop Makers | Cast Iron Dutch Ovens | Kitchen Stand Mixers | Cuisinart Griddlers | Stainless Steel Freestanding Gas Ranges | Bread Maker Machines | Food Steamers
---
10- Aroma Houseware AEW-305 Electric Wok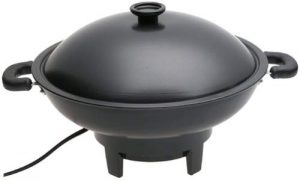 Let's start off the list Aroma Houseware AEW-305 electric wok that has already garnered plenty of happy customers under its name and one of the best electric woks out there. This wok offers you two different size options of 7Q and 5Q. Given the fact, it is spacious enough to hold any type of food. Its stylish high domed-shape lid allows you additional space. Speaking of features, it is inbuilt with a rapid heat-up system that provides continuous and smooth heat retention. Furthermore, the wok has a nonstick coating, which doesn't only make it durable but also easy-to-clean.
9- Breville BEW600XL Hot Wok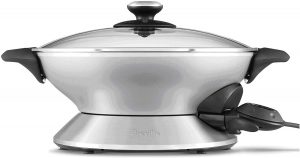 Breville hot wok is an innovative electric wok equipped with some advanced features. To begin with, it is designed with a powerful heating element that heats up to 425ºF and allows you the flexibility to customize the heat setting in 15 different levels. Adding more to that, it also features a removable temperature-controlling knob that can be attached or detached depending on your needs. With its cook 'n' look lid, it helps you keep a watch on the cooking process. Its stainless steel construction ensures long durability too.
8- VonShef 7.4Qt Electric Wok with Lid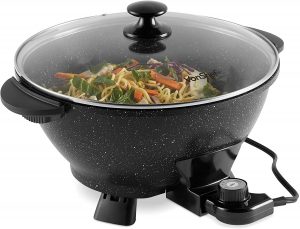 If you're in a hunt of a stylish electric wok, VonShef electric wok deserves your attention. It is not only voguish but also equipped with some cool features. Made of high-quality aluminum, it features a tempered glass lid and two cool-touch silicone handles. Additionally, its glass lid is also inbuilt with a little top knob that makes it easy for you to open the lid. To ensure a good cooking experience, it is designed with a temperature-controlling dial, which lets you adjust the heat setting in 4 different modes.
7- Aroma Houseware Company, 7Q Electric Wok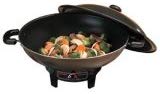 Simple, sturdy, and reliable are the words that describe Aroma Houseware Company electric wok the best. Don't go by its simple design. It is its top-notch quality where it makes a difference. Featuring a 7Q large pan, it offers you lots of space to cook any type of dishes. Furthermore, it has a non-stick bottom that doesn't only prevent food sticking but also ensures a hassle-free cleaning. Yes, you can clean it without any worries as it is completely dishwasher-safe. To make the accessibility easy, it is also designed with 2 sturdy handles.
6- Eco+Chef Copper Electric Wok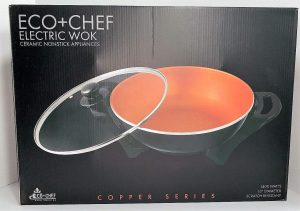 True to its name, Eco+Chef copper electric wok provides eco-friendly cooking. All thanks to its sturdy copper construction that is not durable but also completely eco-friendly. Other than its robust construction, it is its design that puts it apart from the rest. It is designed with a glass lid that ensures a tight closure as well as lets you easily monitor the cooking even without opening the lid. Furthermore, it features 2 metal handles, which make the portability and accessibility easy for you.
5- Aroma Electric Wok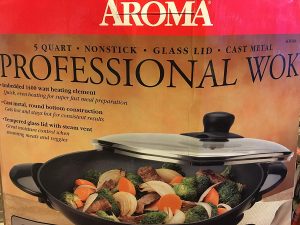 Aroma electric wok is here to take your cooking experience to the next level. Unlike its competitors, it is a versatile electric wok that can efficiently be used for stir-frying, braising, frying, steaming, and many other such functions. Its large dome-style lid and spacious pan of 7Q make sure that the food doesn't go outside of the pan creating a mess. Furthermore, it is inbuilt with an advanced heat element that heats up the wok rather quickly and provides you a smooth cooking experience.
4- West Bend 79586 6Q Electric Wok by Focus Electrics LLC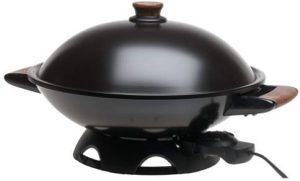 If you're looking for an electric wok with a powerful motor, look at West Band electric wok by Focus Electrics LLC. It features a powerful motor of 1500W and makes cooking faster and more enjoyable. With its 6Q space, it lets you cook a large amount of food in a single go. Furthermore, you can adjust the temperature with the help of its controlling regulator to achieve delicious food in perfect texture. Moreover, it also features 2 heat-resistant and sturdy wooden handles to make the accessibility easy for you.
3- Breville BEW600XL Hot Wok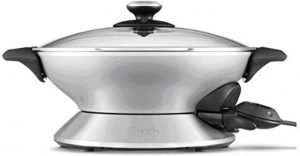 Breville BEW600XL hot wok is an amazing electric wok that will help you prepare dishes conveniently. With a powerful motor of 1500W and a pan capacity of 6Q, it makes sure to cook the food for 5-6 servings in minutes. In addition to that, it designed with butterfly heating element that produces the heat up to 425ºF. Moreover, it also features a removable temperature-controlling probe that allows you more flexibility with the temperature. The surface of the pan is also non-stick that ensures you easy cleanup and long durability.
2- Breville EW30XL Electric Gourmet Wok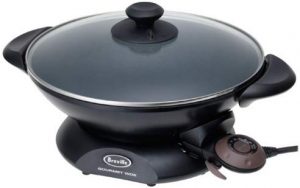 This is a stylish, small-sized, quality-packed electric wok by Breville. Even after being small in size, it can give high-quality electric woks a run for their money. Unlike many other electric woks, it is designed with 4-layer Quan Tanium non-stick coating that ensures a hassle-free cleanup as well as lasting sturdiness. Furthermore, it is inbuilt with butterfly heat element, which provides you 14 different settings and a high sear option. Speaking of its construction, it is inbuilt with stainless steel rim, heavy-duty glass lid, and robust steam vent.
1- Electric Wok 3-4 Stainless Steel Wok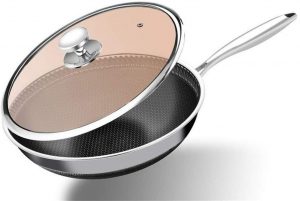 This electric wok by Wok is probably the most stylish, compact, sturdy, and feature-packed electric wok on this list. No wonder how it topped the list. Made of stainless steel, it has a non-stick coating all through that adds further durability to its sturdiness. The bottom of the pan is designed with 7 layers, which prevent food from burning and sticking.  Furthermore, it is inbuilt with rapid heat conduction that quickly heats up the pan and makes the wok super energy saving. Thus, it ensures you a mind-blowing cooking experience overall.
Key factors to consider when buying an electric wok
Buying an electric wok is not as easy as it seems. It needs hour-long research and consideration into certain factors if you really want a good-quality electric wok. We have already done that research part for you. Now, let us tell those factors that must be considered while buying an electric wok.
Size and shape
The electric woks come in different sizes that are meant for different purposes. Among all, choose the one that suits you the best in every aspect. So, if you're buying an electric wok for home use, look for a small and compact electric wok that can easily be moved around. Other than size, consider the shape of your electric wok too. In the market, you'll find flat-bottomed and round-bottomed electric woks. Generally, flat-bottomed are considered the best when it comes to user-friendliness.
Heat and temperature setting
Once you're determined with the size, shape, and design of your electric wok, go a step further and look into its heat and temperature setting. This is where you can differentiate between poor-quality and premium electric woks. Generally, top-quality electric woks are designed with an adjustable temperature setting and a removable temperature regulator, which allows you full freedom with the temperature. Given the fact, buy an electric wok that has a variable temperature setting.
Safety features
When buying electric equipment, the safety factor can't be ignored. Isn't it? This is why you also pay attention to this factor while buying your electric wok.  See carefully whether your electric wok ensures full safety or not. Although there are many features that enhance the safety measures of an electric wok, the cool-touch handles and a tight lid are the essential ones. Given the fact, buy an electric wok that has the heat-resistant handles and a sturdy see-through lid of tempered glass.
Ease of cleanliness
An electric wok is a kitchen appliance. That means you have to clean it daily. So, keep this factor in mind while buying your electric wok. If an electric wok has a complex design and it is not easy to clean, let it go even after it is feature-packed. The reason being, it would require you more time and effort in cleaning.
Instead, look for an electric wok that has a simple design and a non-stick coating. Yes, the electric woks with the non-stick coating are incredibly easy to clean. Moreover, it has to be completely waterproof and dishwasher-safe so that you can clean it without any worries about its temperature regulator getting affected by the water.
Conclusion
Introduce one of these versatile and superior-quality electric woks to your kitchen and maximize your cooking options indoors as well as outdoors. These electric woks will help you prepare a wide array of vegetarian and non-vegetarian foods in minutes locking in the original flavor and aroma. So, what is holding you? Go ahead and buy the one.
Last update on 2023-11-30 / Affiliate links / Images from Amazon Product Advertising API