Pen scanner is new cutting-edge technology invented to help reduce the burden of every student, librarian, researcher, doctor, lawyer and more who are in need of typing their texts into their computer everyday. This is why companies such as Scanmarker invented the pen scanner device which allows you to scan the texts and transfer into your laptop or smartphone instantly. It is not just a scanner device, but can also translate many languages and read the text for you as well. It is a very convenient and multi-purpose device for your daily work.
So, how is the pen scanner work? and how it helps you maximize your daily work? Let me start first with the Scanmarker.
List of the Best Pen Scanners to Maximize Your Work Efficiency in 2023
Pen Scanner Reviews
1. Scanmarker Air Pen Scanner – OCR Digital Highlighter and Reader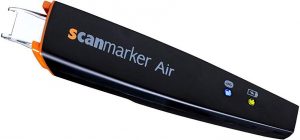 Scanmarker is a panted technology pen scanner created to provide a portable handheld scanning solution with superiority and accuracy. The brand is available in two types: Scanmarker Air which is built with Bluetooth connection and Scanmarker with USB Version. You can chose based on your preference. Yet, the Scanmarker Air is known for working twice faster and more advance. The Scanmarker's Pen Scanner is built with three main functions; scan & paste, translation & text reading. You can use the three functions to serve your needs as follows:
Scanmarker utilizes special Optical Character Recognition (OCR) software to read the printed texts. So, you can use the Scanmarket pen to scan across a line of the text in the book or other printed material, then those texts will appear instantly on the screen of your laptop, smartphone or other electric devices. You can transfer the texts into Microsoft Words, PowerPoint, Excel and even Google Docs and then make use if it for any purpose you like.
Besides scanning the text, Scanmarker can also help you translate over 40 languages. As it is built with OCR software, it can recognize many OCR languages including English, French, Chinese, Latin, Polish, Portuguese, Russian, Spanish, Swedish, Japanese, Korean and more. So, you can also use the device as your interpreter as well. But if you want a more functional translating devices, you can check out the translator devices and translation earbuds.
Another useful feature of the Scanmarker is reading function. This helps you to understand the accent of the different languages when scanning it. It is also very helpful for the impaired persons/students to understand the texts or exam paper better as well.
Watch the video on how it works
1.1 How Scanmarker's Pen Scanner Helps You?
Work efficiency and time saving
The Scanmarker can scan the printed texts and transform them into electronic texts 30 times faster than your manual typing. It is well recognized by many students and researchers as the most productive devices for the present time. For example, if you are a student and need to get several quotes from the printed books for your assignment, it will be frustrated and time consuming to retype those texts due to the deadline you have.
In such a situation, you can use Scanmarker to help you extract those quotes into your laptops with an ease. You can also extract it into your Smartphone for later use if you don't bring your computer with you. Sound so convenient right?
For a business person and other professionals, you can also use the Scanmarker for may purposes to maximize your business efficiency, ranging from scanning your documents for report, transforming hardcopy texts into your presentation and even scan text to show on the slide immediately.
Help kid with learning difficulties
The scanning pen is not only useful for yourself, it is also built to help kids who have difficulties in their studying. Your kid can also use this Scanmarker to read the text loud for them such as comic book, exam paper and also translate other languages. It is particularly helps those have visual impairment. In addition, the device can also scan small black and white image including signature and insert into your text conveniently as well.
Compatibility and additional stuff
The scanner is compatible with most popular operation system such as Mac OS X 10.10 up, Windows 7 up (Desktop only), Android 4.3 up and iPhone 4s and iPad 3 up. You can connect the Scanmarker to your devices via USB cable or Bluetooth connection. The set will provide you with the Bluetooth dongle in case you want to wirelessly connect to Windows desktop.
For more options of the Scanmarker devices, you can explore the products here.
2. C-Pen Reader and Pen Scanner for Learning Language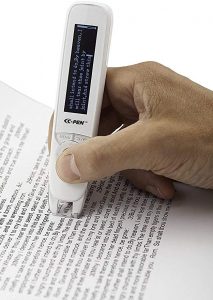 C-Pen is another pen scanner device which can capture printed text line by line and transfer to your laptop without the need of typing as well. It's another ideal device to hep students, teacher and professionals from a tiresome typing tasks. However, the C-Pen reader is a bit different from the Scanmarker as it is built with a more focus on helping people to learn languages such as English, French or Spanish rather than just extracting printed texts into your device.
C-Pen is built more as a live-saver for people who are in need to understand the text in other language or the people with Dyslexia who has difficulties with their reading. This portable reading device can read text in English, Spanish and French from the book or other printed materials out loud for you. C-Pen is also inbuilt with Collins English dictionary and Spanish/French Oxford Dictionary to help understand the meaning of those languages instantly. This learning device is suitable for children from 6 years old to adults.
Key features:
It is equipped with OCR software to recognize the letters
Transform from printed tech to electronic text and voice
Inbuilt with famous English, French and Spanish dictionaries
It is also a voice recorder and a USB drive with 1GB space
3. PenPower WorldPenScan X (iOS/Android/Mac/Windows)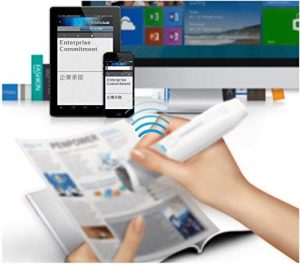 WorldPenScan X is an instant translating scanner which compatible with your iOS, Android and Windows devices. You can use WorldPenScan X to scan line by line texts from the book, flyer or brochure, and then transfer it into you smartphones or computers immediately vis Bluetooth or USB cable. This WorldPenScan can recognized many popular languages such as English, Spanish, French, Japanese, Chinese, Korean, Vietnamese and more. The device also help you to translate and understand the languages easily as well. In a nutshell, you can either use it to extract the texts into your device or use it as your companion translator wherever you go.
4. IRISPen Air 7 for Pc and Mac, Smart Phone, Tablet, Pen Scanner and Translator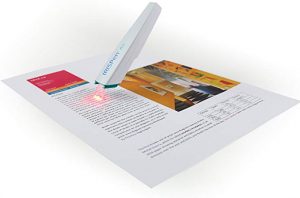 Irispen Air 7 is another advanced pen scanner which can help you to extract the texts from newspapers, invoices, magazines and more and transfer into your electronic document on the go. It is compatible to use with Word, Excel, PowerPoint, Text Editing and Google Docs.
Irispen Air 7 is a complete wireless device connecting to your smartphone, computer and other devices via Bluetooth technology. Besides the text scanning, the device is also the best translator device with the capability to translate over 50 languages. By scanning the text, you can also choose the option for the device to either read out loud for you and translate into the languages you want in seconds.
Key features:
Wireless device and easy to use
Can scan and also read text out loud for you as well
Built to help both normal people and people suffering from dyslexia.
Translate over 50 languages and recognize over 130 languages of scanning.
What to Consider when Buying a Pen Scanner
There are not many types of pen scanners available in the market. So, you really don't have much choice. However, here are three main key factors you should consider before buying a pen scanner for yourself or as a gift for your friend.
It is very important to check the speed of the scanner how quick they transfer the texts into your computer or smartphone. It will be annoying and waste a lot of your time if the speed is very slow. So, choose the pen scanner which can extract the texts into your electronic device instantly.
Number of supported languages
This depends on your need. If you just need a scanner which is workable with English, French and Spanish, then just go for C-Pen reader. It is built for that specific languages. However, if you want a variety of languages, then go for the Scanmarker or Irispen as it has the capacity to translate more than 50 languages and recognize hundreds of OCR languages.
Well, additional features of the device is a benefit. For instance, choose a pen scanner which can be used not only as a scanner, but also a reader, voice recorder and USB drive. That will benefit you more in case you need it. In addition, the pen scanner like Scanmarker and so on can be your best translator companion while traveling abroad for your holiday or your trip as well.
---
Frequently Asked Questions
What is a pen scanner?
A pen scanner is portable picket-sized device used to capture line by line printed texts and upload it into your computer, smartphone and other devices instantly. It works 30 times faster than your typing speed. The device helps save a lot of students, teachers and other professionals' time and maximize the efficiency of their works. Besides, some pen scanners can also translate different languages, read the texts for you and also allows you to record voice for next time use. So, you can use it to learn new languages or as your personal translator when travel outside your country.
More interestingly, the device is built to help the kid's learning and aid people with reading difficulties, especially those who have suffered form dyslexia. Thus it is useful device for human kind.
What is the best pen scanner?
Among the four best pen scanners in our list: Scanmarker, C-Pen, WorldPenScan X and IrisPen Air 7, the pen scanner is the most popular one, while C-Pen and IristPen Air 7 are after. However, some buyers also like WorldPenScan X. So, it depends on your preference and the need for usage.
Conclusion
We hope this article will help you understand more about this text scanning device and its advantages for yourself and other impaired people. Feel free to share it with your family members, friends and those who are in need of the device to help aid their learning. As we know knowledge is the power! Have a great day!
Last update on 2023-11-30 / Affiliate links / Images from Amazon Product Advertising API