Health is always a priority for every person. But most of us always have a very tight schedule to go to Gym often. Therefore, having our own equipment at home will help do a regular exercise and burn out sweat even in a short period of time. There are many equipments anyway. But today I would like to introduce you to the best adjustable dumbbell set which you can use to build up your muscles and strength at home conveniently.
Adjustable dumbbell sets, comparing to a fixed-weight dumbbell, provides you with a flexible equipment to regularly train yourself, build up your muscle strength and save your time and budget from going to the gym. For instance, bowflex dumbbells allow you to adjust and increase weight to lift once you get stronger and stronger without the need to change the equipment completely. So, what are you waiting for? Check out our best selection of the adjustable dumbbells for your home gym as follows.
List of the 16 Adjustable Dumbbell Sets in 2023
Adjustable Dumbbell Sets Reviews
16. OYO Personal Gym, Full Body Portable Gym Equipment Set for Exercise at Home, Office or Travel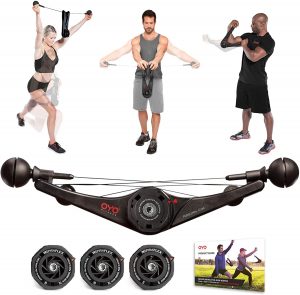 I just added this OYO SpiralFlex Gym tool in the list because I find it very useful, functional and portable for daily exercise. It is not really a dumbbell but a multipurpose portable gym tool which allows you to build various parts of your muscles. This portable gym equipment set comes with a 5lb and two 10lb flex packs. So, in total you get a set of 25 pounds for your exercise. You can use it for body work out, building specific muscles, burning fat, strengthening chest muscle, back muscle, arm, core abs, and even legs. That's very cool to get such a one-in-all tool at home right? Well, it is not just built for using at home, but you can bring it on your trip as well. It is very compact.
Talking about the advancement, the OYO gym utilizes NASA SpiralFlex resistant technology which has been developed and used for more than 10 years by the astronauts to keep them fit while working in the International Space Station. It has been proved to be the most effective one-tool-for-whole-body-fitness. Therefore, if you are traveling a lot or work a lot in your desk, it is good to have this SpiralFlex portable gymnastic tool with you. Then you will save a lot of time and money to go to gym or on spend on other gym equipments.
15. Bowflex SelectTech 552 Adjustable Dumbbell Set | bowflex dumbbells for sale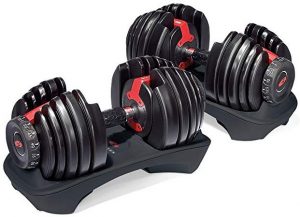 Bowflex comes with a pair of two best adjustable dumbbells. With elegant appearance and robotic-alike design, their weight can be adjusted from five pounds to 52.5 with ease. When you've turned the dial to the planned weight, the free weight will "bolt" into the right spot so you can lift it off the remainder with just the right plates joined, leaving the rest of the plates on the stand (you can discover a case of what this may look like above).
The free weights alter in 2.5-pound increases up to the initial 25 pounds. From 25 beats on, it can increment by five pounds up to 50. They're hypothetically amazingly financially savvy by supplanting no less than 15 singular loads. I like its elegant look as they give me the power up every time I look at them. The best place to buy bowflex dumbbells are on Amazon, Walmart or Target. Since the product is so popular during this period, finding the best deals on bowflex dumbbells is going to be a big challenge. Therefore, you might consider a more budget friendly one in the list if this one is above your budget.
Video: How to reset Bowflex Dumbbells
14. ProForm SpaceSaver Adjustable 25 Pound Dumbbell Workout Weights with Storage Tray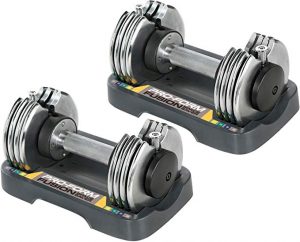 The Proform 25-lb. adjustable dumbbell set is designed for strength training exercise at either home or gym. Coming in a pair, this dumbbell is easy to switch weights from 5 pounds to 25 pounds. With this weight levels, you will be able to keep track and see the result of your fitness strength easily. It is a quiet tool so you can either use it in your room or outside without bothering anyone. This best adjustable set also comes with storage rack, easy for you to store it while using and after use. It looks simple but modern equipment to use.
List of the Proform adjustable dumbbells you can choose or go here the whole ProForm store
Proform fusion adjustable dumbbells
Proform 12.5 lb pair adjustable dumbbells
Proform 25 lb adjustable dumbbells
Proform 50 lb adjustable dumbbells
13. Gold's Gym Adjustable Cast Dumbbell Set, 40 lbs | Adjustable Dumbbells under $100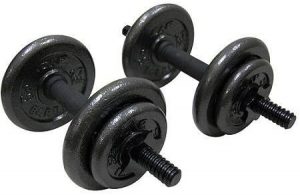 The next recommended in our list is the Gold's gym adjustable cast dumbbell 40 lbs which is very affordable in price. The set of dumbbells come with two 3-pound handles, four 2.5-pound plates, four 6-pound plates and 4 collars. It is good combination for personal use as you can set different weight combinations with the provided dumbbells along with the growth of your strength. More importantly, this adjustable dumbbell is made of rust-free material and maintenance-free design. So, you will not need to worry about this issue having it at home.
Who is this Gold's gym adjustable cast dumbbell set for?
This pair of 40 lb adjustable dumbbells are an ideal exercise tool for personal use at home or department. If you are a kind of person who don't to hangout at the gym because of the price tag, then this set is very budget-friendly for you.
12. Cap Barbell 40-Pound Adjustable Dumbbell Set with Case | Best Adjustable Dumbbells under $100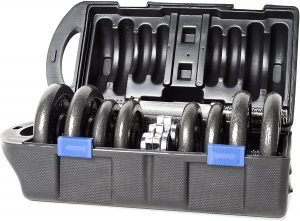 This set of 40 pound dumbbell comes with a case which is easy for you to get the equipment organized. The case includes two handles, four plates of 2.5-pound each, four plates of 5 pounds each, and 4 collars which you can use to grip the plate tightly for lifting. With its special plastic storage case, you can easily carry the equipment to use outdoor, keep in the car trunk for your trip, and even easy to hide it under your bed. Comparing to the york 40 lb adjustable dumbbells, I love this set more for its design and durability look. Last but not least, it is also the cheaper one among the fitness gear 40 lb set of the best adjustable dumbbells with case category.
11. Powerblock Sport 50 lb Adjustable Dumbbell | Set of 50 lb dumbbell adjustable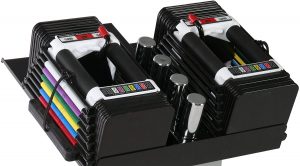 The 50 lb adjustable dumbbell set has a unique design with selective pins which allow you to easily adjust weights just like changing the weight stack at the gym. Known for more efficiency than the traditional dumbbell, this Powerblock sport 50 lb let you to kick off your training from 2.5 pounds per hand and then gradually add up weight up to 50 pounds per hand. That means you will be able to use it to train yourself for a long run. It is the most modern equipment among its kinds, and you will also get a limited warranty of 10 years after buying it.
Who is this set of 50 lbs adjustable dumbbells best for?
This set is for both the beginners and the professionals. You can use it at your home gym, indoor and outdoor as it is portable and easy to carry along. If the 50-pound set is too heavy for you, you can pick the Powerblock 24 lb adjustable dumbbell set as well. This set offers you with the adjustment from 3, 6, 9, 12, 15, 18, 21, and 24 pounds per hand, which is suitable for both male and female use.
10. Weider Core 100 lb. Adjustable Select-A-Weight Set with Stand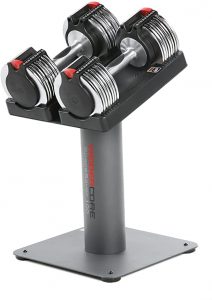 If you are looking for up to 100-pound dumbbell, then this Weider core spacesaver 100 lb set of adjustable dumbbell is for you. Coming with a proper stand, this set is an ideal for a proper home gym as it is not easy to move around due to its weight. However, this dumbbell is easy to operate and you can set the weight from 10 pounds to 50 pounds per hand. It is built for a strong guy, not really for the beginner. However, if you can already start form 10 lbs, then make your best choice as you see fit.
9. CAP Barbell RSWB-40TP 40 lb. Dumbbell Sets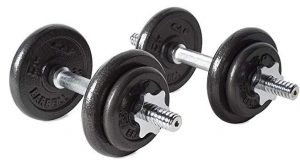 Begin accomplishing your wellness objectives with this CAP Barbell movable free weight set with sturdy cast press plates. Each steel free weight of this set is knurled to give a relentless hold when you train with exposed hands or with gloves. Work on your chest, biceps, triceps or shoulders effectively with this set. For fledglings to experts, this 40lb adaptable set gives the correct weight you have to get in shape.
The adjustable set is entirely movable with four 2.5-pound plates, four 5-pound plates, two strung bars, and four turn bolt collars. Accordingly, you can make a few weight mixes with the hand weights, making them sufficiently overwhelming for light chest presses and lightweight enough for bicep twists and tricep augmentations. Loads can be balanced by weight inclination. The set likewise accompanies a conveying case for simple transport.

You may also need these home exercise tools:
8. Yes4all Adjustable Dumbbell Weight Set | 200 lb Adjustable Dumbbell Set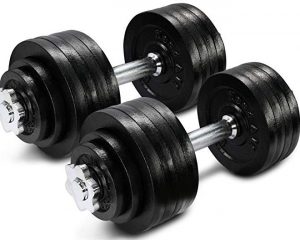 The Yes4All adjustable dumbbells are what you would ordinarily consider as a small scale hand weight. This plan enables you to unscrew the finishes of your hand weights with the goal that you can physically stack more weight onto either end of them. What we immensely like about this specific free weight set is that it enables you to stack up to 100 pounds add up to on the two hand weights.
Even though it is a 200 lb adjustable dumbbell set, you actually can start the loads from 40 pounds. It can alter in increments of 2.5 or 5 pounds to take into account progressive weight knocks or drops, which is extraordinary for a learner to experienced weightlifters. If you are looking for the adjustable set of 200 lbs, then pick this one for yourself.

7. Power Block Elite Dumbbells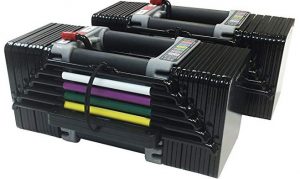 In case you're worried about finding a correct weight, this is unquestionably your best decision. The general structure may seem wacky and unusual, yet it is in reality exceptionally advantageous and simple to store.  It tends to be taken up to the load scope of 5 – 70 lbs on each side and can be extended to 90 lbs subsequently. It can replace 22pairs of dumbbells or 1575 lbs of weights.

6. POWERBLOCK LLC Power Block GF-SPDBLK24 Adjustable SpeedBlock Dumbbells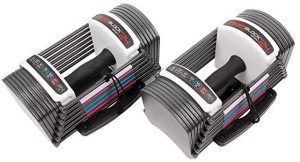 The conservative and amazing PowerBlock Sport 24 Pound Dumbbell Set spares space in your weight room yet offers the greatest potential. This 24-pound free weight set games a load goes from 3-24 pounds for each submit 3-pound increases. This replaces eight sets of hand weights or 216 pounds of free loads in the space of only 1 set. Its littler size is a protected plan designed for most extreme parity and control. Rubber treated handles offer a protected grasp on these free weights. Generally measurements: 10.5L x 5.25W x 5H in.. 24-pound set. Customizable weight structure allows you to exercise with your desired weight. Rubber treated handles for a safe hold.

Video: Bowflex vs Powerblock Adjustable Dumbbells Review (WHICH ONE IS BEST?)
5. One Pair of Adjustable Dumbbells Cast Iron Total 105 Lbs (2 X 52.5 Lbs) by Unipack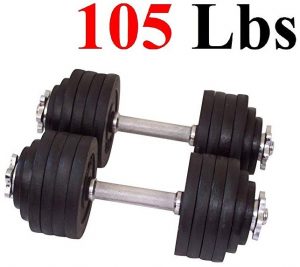 This set comprises of a couple of fresh out of the plastic new 105lbs (52.5 lbs x 2 pc) flexible free weights (5 lbs x 16pc 2.5 lbs x 4pc 1.25 lbs x 4pc handle x 2pc neckline x 2pc). Not every person who is keen on improving body through quality preparing has an important room in their home for at least twelve arrangements of free weights. This flexible and adaptable free weight unit is little helpful and simple to store. You will have the capacity to play out the most extensive assortment of activities by working out with differing loads. The unit is essentially the best, and an absolute necessity has Increments of 2.5lbs can be added to each dumbbell, and the plates are made up of cast iron.

4. Bayou Fitness Adjustable Dumbbell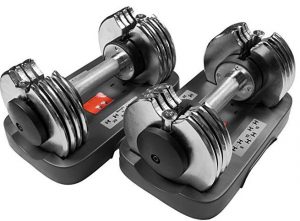 Bayou Fitness offers some large dumbbell, which enables the client to change the loads effectively. The turn of a dial gives the client a chance to change the specific load to their details. These hand weights are smoothly intended to offer a fresh look and dumbfounding execution. Even though they range in capacity from 5 to 25 pounds, these hand weights are equipped for being utilized for over 30 compelling activities. It is conceivable to include or subtract 5 pounds from the load, whenever. With the alteration handle, the overall weight can be dealt with effortlessly. This sort of plan guarantees that this set is 5-in-1. This dispenses with the requirement for the mess around your home or flat.

3. Ringstar Starring 65 105 200 Lbs adjustable dumbbells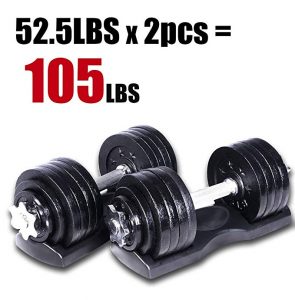 To have the best out of hand weight workouts, you require making utilization of a decent as an excellent quality free weight. Flexible Dumbbells supplies a progressively smaller option in contrast to the standard arrangement of various weighted, movable free weights. If you buy the 105 lbs adaptation of this customizable dumbbell set, you'll get two free weight handles, four collars, four 1.25 lbs plates, four 2.5 lbs plates and sixteen 5 lbs plates.
These dumbbells are moderately easy to set up and dismantle without any apparatuses required for this activity. Its flexible hand weights of 65, 105, 200 Lbs accompany discretionary security plate which makes it perfect for indoor and outdoor use. They won't move over to leave undesirable markings on your floor. It is made with high-quality spray painted cast iron and can be set up or dismount by hand comfortably.
2. Omnie Adjustable Dumbbells with Gloss Finish and Secure Fit Collars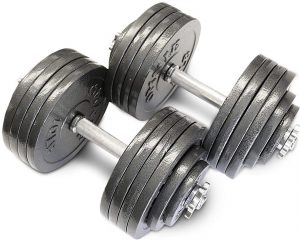 These Adjustable Dumbbells are easy to mastermind without a rigging required and wouldn't have so much organizer space, and allowing you to change your step by step practices with exchangeable loads. Furthermore, it can be used at the house or in a recreation center. The Plates are made out of solid, prime quality cast-press with a heated tooth end and easy to think about. You'll have the capacity to begin from beginning to the accompanying degree essentially through merely changing over the plates to mentor a single muscle group at once or other muscle groups simultaneously to expand your vitality and muscle benefits in fingers, shoulders and once more.
1. Neoprene Dumbbells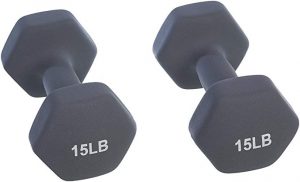 Neoprene hand weights are lightweight and smaller, made ideal for grouped exercises. Contingent upon weight and smoothness with a matte complete, the weights are anything but difficult to grasp. They are ideal for fat burning, muscle conditioning and enhancing your cardiovascular wellness. Neoprene basic dumbbells have two dumbbells weighing 15lbs each. For user's ease, the weight number is printed on each end of the weight. It cannot be rolled away due to its hexagonal shape hence making it easy to put on floors. Neoprene coating helps in gripping it well.
Watch Video: Bodybuilding Workout for Beginner by Bowflex
Benefits of using Adjustable Dumbbells
It's an excellent opportunity to investigate a portion of the advantages flexible free weights can give:
Exercises

➔

A standout amongst other advantages of adjustable hand weights is the extensive variety of activities you can join. Supple hand weights don't naturally fortify your arms. You can get an aggregate body exercise utilizing this one bit of hardware. Only with the quick movement of your arms, you can go from doing bicep twists to triceps kickbacks to bear presses to squats to lurches.

Price

➔

Adjustable dumbbells usually value somewhere close to $100-$300. Likewise, there's no ordinary expense with free weights. Take great consideration of your movable free weights and one set can last an entire lifetime!

Easy to use

➔

They are mostly the entirety of your weight machines stacked into one bit of gear. All you require is a couple of moments to start with one exercise then onto the next.
Things to review before purchasing Adjustable Dumbbells:

Following are the things to consider while making a purchase:
Weight Range

➔

The aggregate scope of loads is presumably the most crucial thing to search for while choosing a set. How far does the load go?

Increments

➔

The second most vital exciting point is the additions with which you can build the load. The perfect hand weights are those who can make 5 lb increments. Littler augmentations are subtle, yet bigger ones make it hard to hop starting with one weight then onto the next most noteworthy weight promptly.

Grip

➔

This is very subjective, yet you need to make sense of which one feels better in your grasp.

Sturdiness

➔

Adjustable weights aren't as durable as their customary settled weight partners, so you can't drop them after a set and not anticipate harm.
Conclusion
With best adjustable dumbbells, there is hugely no reason for putting off practicing or putting off building your home gym center. These dumbbells spare you time, cash, and space in your home. Additionally, you can never again utilize the reason of "not having the capacity to discover an exercise that suits you." With an adjustable free weight, the likely possibilities are inestimable.
Last update on 2023-10-03 / Affiliate links / Images from Amazon Product Advertising API