Toilets are a part of the basic human necessities, and they ensure our daily hygiene and care. You might have come across the term 'smart toilets' in your life and would have wondered 'what do they do' and 'what purpose do they serve?'
A smart toilet is equipped with advanced technology that is capable of interacting with the consumer. This aspect of being able to connect with the user has made these toilets popular. You might be able to see toilets adjusting water pressures, water temperatures, or even warming up your seats on your command. You can also find yourself being able to flush at the touch of a button or even play music while in the bathroom, all while saving and conserving water! The revolutionized technical support and personalization techniques have reinvented the meaning and usage of the smart toilets worldwide!
List of The 10 Best Smart Toilets and Reviews (2021)
1. WOODBRIDGE B-0960S Smart Bidet Toilet Seat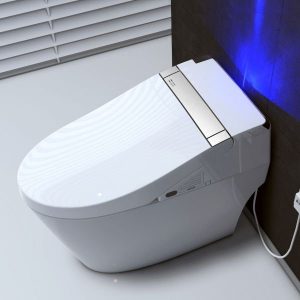 The Smart Bidet Toilet Seat by Woodbridge is elegant and equipped with all the necessary modern features of smart toilets. The toilet component is white in color and weighs 114.8 pounds. The toilet is multi-functional and boasts of several features. It has different modes of washing as well as for instant warming and comfort.
Added to that, Woodbridge toilet also offers you a specially designed contoured heat, providing the maximum level of comfort, warmth and other benefits. It also boasts of a siphonic dual flushing system with an average of 1.28GPF, bringing a super-quiet and efficient flush. The customers will get a warranty of 1 year limited to material and quality defect grounds.
Key considerations: 
Equipped with a Night light feature
Accompanied with oscillating and gentle massage functions
Auto opening and closing features
Equipped with an energy saver mode
Woodbridge Bidet Toilet is certified to UL1431, CSA C22
Related: Top 10 Best Portable Camping Toilets for Your Pick in 2023
2. Cheapest Among All: Smart Electric Bidet Seat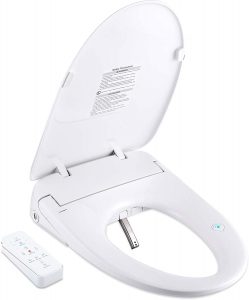 The SCOZER Smart Electric Bidet Seat is streamlined to provide lavish comfort with an attractive design. This model is exceptionally dynamic and provides you with features such as different wash cycle modes (rear and front) and modes providing massaging and oscillating functions. It allows you to achieve a great and optimal degree of cleaning with the help of smartly designed nozzles. It also has a capacity sensor seat that provides warmth to the seat, thus providing comfort. It is also equipped with a motor that provides you with an activated bubble technology, creating an enriched and relaxing experience. The toilet seat is designed to be durable and sturdy and can withstand weight up to 600 lbs.
Key considerations: 
Ensures Frost crack prevention
Equipped with aluminum foil heating film  and ceramic heating tube
In-built Ions provide sterilization
Concave art design that readily supports weight of hips
In-built air purifying mechanisms
3. Mecor Intelligent Smart Toilet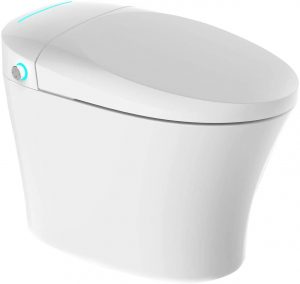 Mecor Intelligent Smart Toilet has a dynamic design and an excellent finish. This product provides you with many features such as instant heating and advanced cleaning mechanisms. The toilet seat is white in color and boasts a stylish design in tune with modern technology. It provides a super swirl and consistent flushing system. Air purifying mechanisms allow this toilet to be multifaceted inbuilt and in usage. Foot induction flushing mechanisms allow for free hands and more convenient use. The number of features and the in-built properties of this smart seat makes it an excellent choice for your purchase.
Key considerations:
Availability of multi-cleaning functions
Provides for deep denoising
In-built deodorizer provides purification and sterilization
Small and compact design that saves space
Built with active pure oxygen technology
Instant heating with consistent temperature
4. Best Runner Up: Mecor Intelligent Smart Toilet TA-826ZD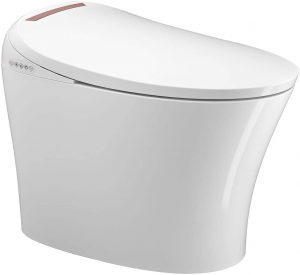 This Mecor Intelligent Smart Toilet Seat Model is designed keeping in mind the modern needs and technological advancements. The smart seat supports a number of features to improve your experience and provide you with maximum comfort and efficiency level. It boasts of an integrated and all-purpose cleaning mechanism. The styling offers a soft and advanced closing seat, equipped with heating properties. The in-built cleaner uses a powerful air filter to clean the air around the toilet effectively, and the ionized carbon helps filter out the unpleasant odor. Additionally, the smart seat also has a soft kinetic oxygen technology.
Key considerations:
Efficient heating lid to provide comfort
Accompanied with multi-functional remote control
Provides a Dual valve flush control
LED night light allows for a convenient usage
Provide multiple flush settings: sprayer, heater and drying
Manual and automatic flush enabled
5. WOODBRIDGE BID01 Toilet Seat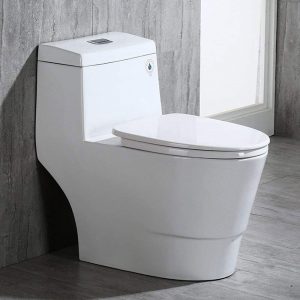 Brand: WOODBRIDGE
Measurements : 22 x 17 x 7 inches
Material: Stainless steel
Buy on Amazon
The WOODBRIDGE BID01 Toilet Seat features a luxurious and incredibly stylish design, equipped with some of the most outstanding features. It is elongated in size and provides multiple spray adjustment and flushing options. The in-built heating mechanism is dynamic and allows for 6 adjustable temperatures for heating water and five modes for heating the seat. The toilet seat has easy and efficient usage with the help of the integrative remote control properties. The stainless steel nozzle also reduces water usage and saves energy while also providing durability and maximum hygiene.
Key considerations: 
Durable and sturdy built
Boasts of a soft close lid
It Is easy to clean and efficient to use
Provide 2 user memory settings for personalization
Provides hygienic and filtered water through advanced sieving technology
6. Best Value for Money: WOODBRIDGE White Luxury Toilet Seat T-0737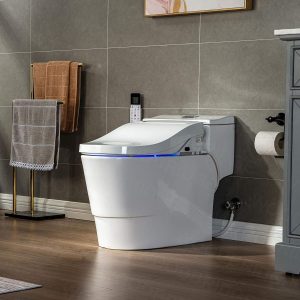 Brand: WOODBRIDGE Store
Measurements: 31 x 18 x 28 inches
Material: Stainless steel
Buy on Amazon
The WOODBRIDGE White Luxury Toilet Seat T-0737 offered by Woodbridge sports a modern and sleek finish and boasts of a number of specialized features. It is an elongated one-piece seat, providing comfortable and efficient usage. It provides you with different washing modes such as posterior and pulsating wash, hygienic filtered wash, etc., to name a few. Apart from this, it also provides easy, convenient, and personal usage with the help of an integrated remote control feature. Safety sensors and inbuilt-cleaning mechanisms also add to the efficacy of the design. Additionally, the quick water and energy-saving mode features are some of this model's other unique features.
Key considerations:
Equipped with oscillating and gentle massage functions
Comes with the following certifications US & Canada UPC & CSA certified product
In-built mechanism to adjust water pressure
Equipped with hygienic filters
Weighs 152 pounds
7. WOODBRIDGE T-0008 Luxury Bidet Toilet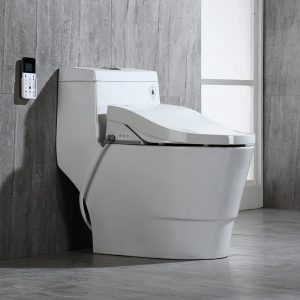 Brand: WOODBRIDGE
Measurements : 28.5 x 14.5 x 27.5 inches
Material: Stainless steel material
Buy on Amazon
The WOODBRIDGE Luxury Bidet Seat boasts of an advanced design, specially designed for the one-piece toilet models. Its exterior boasts of a sleek, low profile and skirted body, which is elongated in shape. It is equipped with a number of features, such as different modes of hygiene wash as well as different heat mode settings. The cleaning nozzles allow for an easy and efficient release, and the flush mechanism boasts of a denoising system. Safety sensors for convenience and effective usage are also inbuilt in this model. The model also has a comfortable height as well as easily controlled washing and drying functions.
Key considerations: 
Boasts of the following hygiene modes
Boasts of 5 adjustable temperature settings
Built with an energy saver mode
Installation manual and remote control are complementary
LED night light allows for efficient usage
Weighs 134 pounds
8. Best under $: BioBidet BB600 Ultimate Advanced Bidet Toilet Seat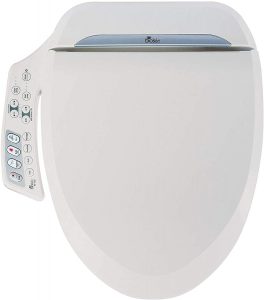 Brand: BioBidet Store
Measurements : 20.47 x 18.4 x 5.6 inches
Material : Plastic Bidets
Buy on Amazon
The BioBidet BB600 Model is engineered for luxury and boasts some of the most technologically advanced smart toilet features. It is equipped with anti-bacterial and pro-hygienic technologies, which make it an excellent choice for purchase. Your usage is made simpler with the help of a convenient side panel, which helps control all functions with a simple touch. The smart seat design is lavish and comfortable. There are oscillating and massaging modes present in the bidet that allow you to have an enriched experience. It has a steady steam output as well as mechanisms to maintain a consistent temperature. The smart toilet is performance-driven and provides a dynamic customer experience. BioBidet also provides customers with a 2-year limited manufacture coverage.
Key considerations: 
Energy efficient with energy saver modes to reduce electricity output
Offers both posterior and feminine wash
This model is also kid-friendly and promotes hygiene
Bubble Infusion technology allows for a rich and comfortable experience
Water temperature and pressure are both adjustable
9. Best Overall: BioBidet Bliss BB-2000 Bidet Smart Toilet Seat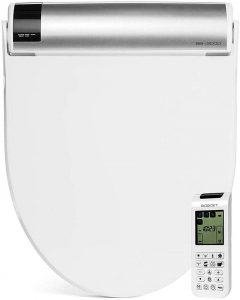 Brand: BioBidet
Measurements : 20 x 15.6 x 9 inches
Material: ABS Stainless Steel Nozzle
Buy on Amazon
This new BioBidet model exhibits a pathbreaking cleansing technology. Made of stainless steel, this smart toilet weighs 14 pounds and is round and compact in design. It is equipped with a wide variety of cleaning and washing features, owing to its inside-out nozzle technology. It has a reliant and sufficient hybrid water heating technology, which is extremely useful. The new hydro-flush technology provides maximum hygiene. The vortex water stream allows for a bubble-infusion mechanism, which provides a great user experience. It also comes with a wireless remote that makes the user experience even more convenient.
Key considerations:
It consists of 3 in 1 stainless nozzles
Easy to install and control
Provides for an eco-friendly energy saver mode
Hybrid heating technology provides consistent warm water supply
Adjustable cleaning, washing and temperature settings
Night light helps in making usage more efficient
It comes with a wireless remote control
Verdict
We hope that we have provided you with some valuable information and facts about the varieties of smart toilets available in the market. You need to always be sure of these products' different features and specifications and make sure that they are in tandem with your requirements. All the products listed above are from renowned companies, promising top-notch services. All these toilet seats are also easily installable.
Make sure to select the seat that best suits your needs, and you are good to go!
FAQs: Frequently Asked Questions
1. What All Must You Consider Before Buying A Smart Toilet?
The smart toilet that you choose to buy must depend on your own personal needs. It is necessary to have your budget mapped out and narrow down your options accordingly. Similarly, you also need to take the size of your bathroom into account and make sure you select a seat that can fit in the same.
2. Are Smart Toilets Safe To Use?
In a more biological sense, with the smart seats' chemical composition, some people might think that they can cause irritation and inflammation.
These concerns are unfounded because the smart seats actually improve your water quality and reduce any fungal or bacterial accumulation. They allow to make your bathroom experience more hygienic on all fronts. If you don't want to rely on smart toilet, you can get a normal designed one such as Kohler toilets.
3. Can Smart Toilets Be Used With A Domestic Septic Tank System?
A significant mass of a domestic septic tank pump-out is mostly toilet paper, which comprises 70% of the total. As Smart Toilets tend to lessen toilet paper usage significantly, the pump-out mass cost is greatly decreased. Hence, you can safely say that smart toilets can be easily employed in domestic septic tank settings.
Last update on 2023-10-04 / Affiliate links / Images from Amazon Product Advertising API