You've been going to the gym for over a couple of months now. The coach suggests you start working on weightlifting, to get to the next level. However, weightlifting is not as easy as it might sound, as there are very high chances of injuries. You would've seen many athletes using belts while weightlifting. The purpose of these belts is to put pressure on your navel and avoid injuries. Now getting a belt that suits you is difficult. You need to consider factors like comfort, effectiveness, and stability. Build quality is also an important factor as a poorly built belt is a risk not worth taking. Here is a detailed description of the "best weightlifting belt for women and men" you should consider if you are looking to buy one.
List of the 10 Best Weightlifting Belts for Women and Men in 2023
Weightlifting Belt Reviews
1- Best Overall: Self-Locking Weight Lifting Belt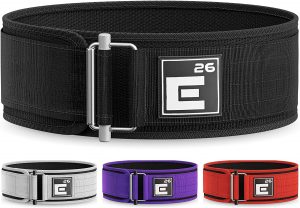 Brand: Element 26
Material: Nylon.
Colors: Purple, Black, Red & White.
Manufactured by Element 26, this is one of the best weightlifting belts available in the market. Element 26 is known to produce gym equipment and accessories of the very best quality. This one is made using 100% Nylon to ensure the even distribution of pressure across your waist. It has a self-locking mechanism that does not break, get loose, or open during your lifts.
Element 26 has provided exceptional detailing to improve the functionality of the belt. Also, this is a Competition approved belt, so you do not have to worry about going to a competition and being unable to participate because of an uncertified belt. You also get a lifetime warranty, which shows the amount of trust the company has in their product.
Key Features 
Excellent build quality.
4-inch profile.
Equal weight distribution across the abdomen.
Lifetime Warranty
Available in different sizes from extra small to extra large.
2- Cheapest Among All: RitFit WeightLifting Belt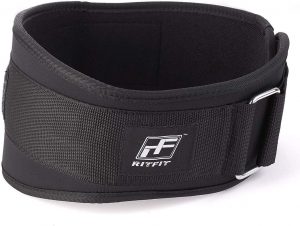 Brand: RitFit
Material: Not mentioned.
Colors: Black & Green Camo.
Keeping the ergonomics in mind, the RitFit weightlifting belt provides you exceptional stability and support for your muscles. The hook and loop closure ensures that the belt does not open during your training. It is six inches wide and has a waterproof foam inner layer to provide comfort. The edges are also softbound to avoid any discomfort.
RitFit belt provides exceptional support to your abdominal and spinal regions. It is very versatile and can be used for your back, shoulder and leg exercises. It is perfect for you if your frame is slender, as most other belts might not be very comfortable. You also get a lifetime warranty applicable to this belt.
Key Features 
Ergonomic Design.
6 inch wide.
Waterproof foam core.
Hook and loop closure.
Lifetime warranty.
Related: The 10 Best Climbing Harnesses You Should Have in 2023
3- Best Value For Money: Best For Beginners – Harbinger 5-Inch Weightlifting Belt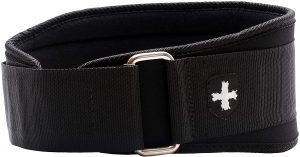 Brand: Harbinger
Material: Not mentioned.
Colors: Black & Green.
This weightlifting belt is developed by Harbinger, which is 5inch wide and features a 3-inch wide support strap. It has a tightly knit cellular foam, which maintains warmth in your muscles, while the Terracot lining makes it very comfortable in usage. The abrasion-resistant fabric makes it extremely durable, while the flame lamination provides an additional layer of safety.
You can find this in four different sizes: Small, Medium, Large, and Extra Large. Make sure that you follow the size chart and guidelines when buying the Harbinger weight belt. There is a 90-days manufacturer warranty on the belt.
Key Features 
5-inch wide.
Comfortable.
Durable.
Available in different sizes and colors.
90-day manufacturer warranty.
4- Best Runner-Up: Fire Team Fit WeightLifting Belt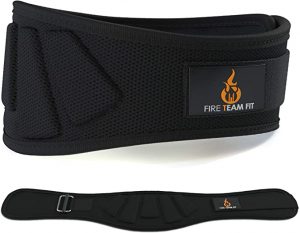 Brand: Fire Team Fit
Material:  Not mentioned.
Colors: Black, Gray, and ten other strip and camo color options.
Fire Team Fit is a veteran organization, striving to provide excellent customer service. They understand what it takes for a veteran's workout, and incorporate the improvements into these products. This belt, in particular, is 6-inch-wide, with a very comfortable inner foam. The edges are soft so that it does not hurt during your squats and other exercises. There is a total of 12 color options available in 5 different sizes.
It sports a slide stop buckle, with precise adjustability to ensure that it does not unfasten during your lifts. The contoured design is instrumental in avoiding spinal injuries caused due to hyperextension and hyper-flexion.
Key Features 
Superior build quality.
Excellent customer support.
6-inch width.
Numerous color options.
Prevents injuries to some extent.
5- Best Under $30: DMoose Fitness Dip Belt with Chain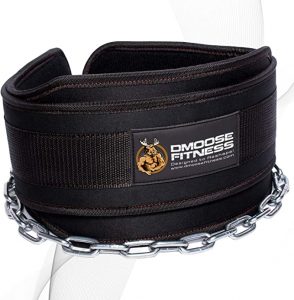 Brand: DMoose Fitness
Material: Neoprene.
Colors: Black, Blue, Gray & Gray Camo.
This is a waist belt with a chain to facilitate the addition of extra weights to your waist. This ideal for people who are pro at weightlifting. You can use this for your squats, pull-ups, and other bodyweight exercises. It features a 36inch heavy duty chain, which is ergonomically feasible, as it does not affect your body movement while training.
DMoose fitness dip belt is made of neoprene, which allows the flow of air while making the belt very durable. The double stitching makes it much more resilient to wear and tear during the long run. You get a lifetime warranty on this belt, for replacement or refund.
Key Features 
Heavy-duty 36inch chain.
Universal size.
Ergonomic, as well as Aesthetic design.
Durable.
Lifetime warranty.
6- Best Leather Belt: Dark Iron Fitness Genuine Leather Pro Weight Lifting Belt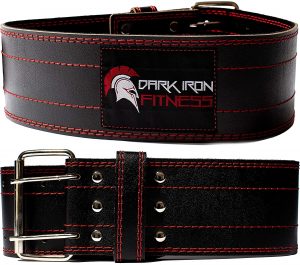 Several experts advise that a 4-inch weightlifting belt provides the best support to the navel region. Keeping this observation in mind, Dark Iron Fitness has built this 4inch wide belt. It is made of leather to provide longevity and uses a strong thread for stitching to avoid any loose ends. Against the conventional notion of leather belts digging into your stomach region, this one is very comfortable and has comparatively softer edges. Despite being made of leather, it is very comfortable, and the adjustable buckle means that you can manipulate the pressure.
Its users have suggested that while using this belt, they feel more stable, and can lift up to 10% higher weight.
Key Features 
Comfortable and flexible.
Provides better stability.
Lifetime replacement guarantee on any damage.
Deadlifts over 600 pounds.
Protects spinal injuries.
7- Best For Beginners: Iron Body Team Weight Lifting Belt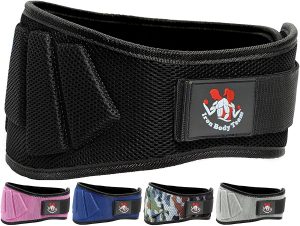 Brand: Iron Body Team
Material: Nylon, Foam core.
Colors: Black, Blue, Camo, Metallic Gray, & Pink.
This is one of the best weightlifting belts for beginners. Its foam core is very comfortable and provides excellent support to the abdomen and spinal region. The 6-inch width ensures that it pressurizes a broader area, and helps in avoiding injuries. The velcro strap is very effective and easy to fasten. You can vary the tension in the belt using this strap. It is very flexible and allows you to squat right to the bottom, unlike most other belts which dig into the stomach.
This belt can be used for CrossFit training, bodybuilding, squats, powerlifting and traction. IPF and USAPL approve it for the same.
Key Features 
6-inch width.
Extremely comfortable.
East to adjust the tension.
IPF & USAPL approved.
8- Best Build-Quality: Starting Strength Weight Lifting Belt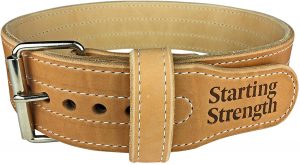 This is an indigenously developed belt, from Dominion Strength Training. Every material, hardware, and machinery used in its production is from the USA. Top grain sole leather is used to make this belt, and it is ideal for powerlifting, CrossFit, and Olympic lifting. It is 3inch 10mm in width, making it one of the most narrow belts in the market. However, it does provide a wide range of maneuverability, which is restricted in most other wider belts.
It allows up to 10 inches of adjustability, and the 10mm thickness makes it very comfortable. Also, it is flexible enough not to restrict any movements. Dominion Strength Training guarantees that the belt is indestructible, but in case you damage it, they replace it for free.
Key Features 
Excellent build quality.
It allows the body to move around.
Comfortable.
10mm thick.
Lifetime replacement guarantee on any damage.
9- Best For Home Workouts: Bear KompleX 6″ Strength Weightlifting Belt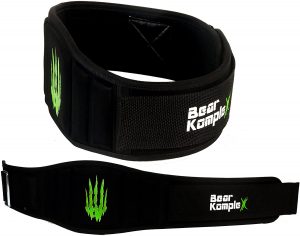 Brand: Bear KompleX
Material: Velcro.
Colors: Black, Purple, & Stars.
BK(Bear KompleX) is the official sponsor of the Reebok Crossfit Games. This just goes on to emphasizes the fact that it offers premium build-quality. It is designed to support your back and abdomen during Olympic lifts, Snatch, Deadlifts, and powerlifting. It is six inches wide and features an extra firm back to support your spine and apply pressure where it is required the most. The steel roller buckle keeps it firmly in place and avoids any risk of the belt unfastening.
There is a 60-day money-back guarantee available on this belt, which can be availed in case you are not satisfied with the product.
Key Features 
Good build quality.
Firm back, preventing injuries.
Aesthetically pleasing.
6inches wide, to distribute the load better.
Easy to adjust.
10- Iron Bull Strength Weight Lifting Belt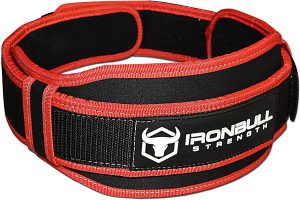 This 5.5inch belt from Iron Bull Strength is amongst the most lightweight belts in the market. The best part is that even though it is lightweight, there is no compromise on the build-quality. The core is reinforced and allows you to move around wearing the belt. It is very flexible and comfortable at the same time. There is a double belt system in place to prevent any accidental unfastening. It is excellent if you are looking to make heavy lifts, as it provides excellent support to the lumbar region, and prevents injuries.
There are five different sizes to choose from, all of which are easily adjustable.
Key Features 
5.5 inch thick.
Lightweight.
Reinforced core.
Flexible and breathable fabric.
Verdict
Weightlifting is great for your physique, but it is equally risky. There are very high chances of an injury occurring if you make a slight mistake. Therefore, to improve your performance and reduce the risk of injury, you should wear a weightlifting belt. The belts mentioned above are all of the exceptional quality and are produced by trusted companies. You can choose the one you require based on your body type and measurements. Remember that the tighter the belt is, the better will be your performance. But that does not mean that you should buy a small one to wear it tight. Lifting belts should be worn tight but, on the other hand, should also allow your body to move.
Frequently Asked Questions
1) Should I Buy A Leather Belt?
Most leather belts have been complained to be very uncomfortable, and do not allow your body to move around. However, some companies manufacture leather belts that are comfortable and flexible at the same time. Therefore, before you go for a leather belt, make sure that it is comfortable enough.
2) How Do I Know What Size Is Suitable For Me?
Before buying a belt, know that the size you should be looking for is not your pant size. You need to measure your waist, in between the hip and rib cage. Usually, it is suggested that you buy the size according to your waist, and then adjust. Buying a smaller size often ends up being too tight.
3) Is A Broader Belt Better?
Not necessarily. According to studies, a 4-inch belt provides the best support. However, most manufacturers prefer making a 6-inch belt. A wider belt dissipates the load into a wider area, thereby making you feel more comfortable.
Last update on 2023-10-04 / Affiliate links / Images from Amazon Product Advertising API