Waking up early in the morning for jogging isn't everyone's cup of tea. The foldable treadmill has become a popular gym replacement specifically for that reason. A common misconception is that it's specifically for those who need to lose weight or for athletes. But that's wrong; it's for anyone looking to start a healthier life. There are days when we want that extra one hour of sleep and just can't help but indulge ourselves. A foldable treadmill will be great during days when you can't make it to the gym or park. Here's our list of top 10 foldable treadmills to help you find a replacement for the gym.
List of the 10 Best Foldable Treadmills in 2023
1. Best Overall: SereneLife Foldable Treadmill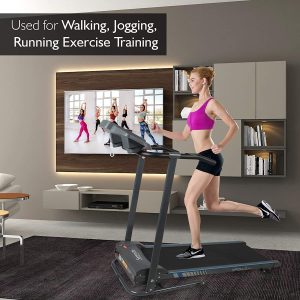 Range: 0.6-6 MPH
System: Electric
Motor Speed: 1.0 HP
SereneLife digital foldable treadmill is an excellent replacement for a gym. It sports a powerful but quiet motor of 1.0 HP. This compact machine can be used by your whole family without any hitch. If you want to track the data, then you can connect your iPhone or Android via Bluetooth to the Fit Show app.
It is easy to assemble once you receive it. There are 6 screws, and once you put them in their places, it's good to go. It comes with 12 training presets to get you started. There are an in-built magazine tray and a cup holder too! The machine comes with a safety key, which will automatically turn the machine off in emergencies.
Key Features
Digital LCD monitor
Safety key for emergency
Manual incline settings
Electric plug-in
268lbs weight capacity
2. Best Runner-Up: Xterra Treadmill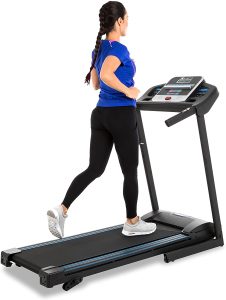 Range: 0.5-10 MPH
System: Electric
Motor Power: 2.25 HP
The Xterra treadmill is a combination of comfort and functionality. You can use it for long runs and then just fold it to keep it stored away. The quiet motor comes with a guarantee of 1 year. With a surface of 16 x 50 inches, you can run at whatever speed you want without the fear of falling off-track. The 5 inches long LCD displays your stats to keep your goals on-track.
There is a knob that you can turn to fold or unfold, so it acts as a lock. If you have kids around the house, then this machine is perfect for you. It has a safety lanyard, which makes sure it can't be turned on if the lanyard isn't attached. That makes it perfectly safe to use.
Key Features
One year warranty
250lbs of weight capacity
Safety lanyard for kids
Locking knob to fold or unfold it
Easy to assemble
3. Best Under 300 Dollars: Sunny Health & Fitness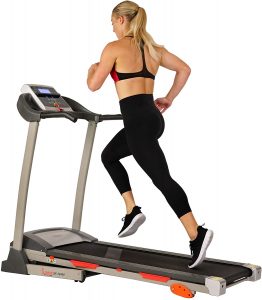 Range: 0.5-9 MPH
System: Electric
Motor Power: 2.20 HP
Within a feasible price range, Sunny Health & Fitness offers a fantastic range of features. It has 9 presets, a manual mode, and can calculate BMI. Which means it will show you how much body fat you have. The presets are printed on the console area so you can always see what you are getting into.
An in-built ledge is there for your phone or tablet, so you can have some entertainment while working. It's easy to fold and unfold because of its compact size that can fit anywhere, even in tight spaces. The monitor always provides feedback on your speed and distance, so you know what areas you need to work on.
Key Features
220lbs of weight capacity
In-built ledge for phone or tablet
Can calculate BMI
9 presets and a manual mode
Gently falls on the ground, no chance of damaging the floor
4. Best Value For Money: Weslo Cadence G5.9i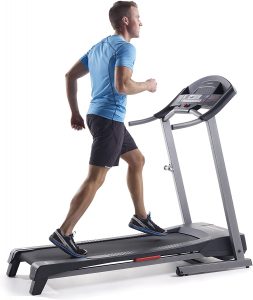 Range: 0-10 MPH
System: Electric
Motor Power: 2.25 HP
This machine is handy, compact, and affordable. To activate it, you need to press down on the Bluetooth button on the console for 30 seconds. The 16 x 50 inches of foot console keeps you from falling off the course. Comfort cell cushion technology provides support to your knee joints, making the jog more comfortable.
Once folded, the dimension is 16 x 50 inches, making it a space saver. If you are under 6 feet in height, then this machine will be perfect for you. It has an in-built ledge for your tablet as well. The major advantage of this machine is that it can support up to 275lbs!
Key Features
Tread belt of 16 x 50 inches
Weight capacity of 275 lbs
In-built ledge for tablets
Comfort cell cushion technology
Compact and easy to assemble
5. Cheapest Amongst All: Miageek Desk Folding Treadmill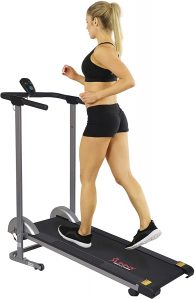 Range: 0.4-7.5 MPH
System: Electric
Motor Power: 2.25 HP
The Miageek desk folding treadmill is, for sure, the lightest in this list with 75lbs! It has two modes, one of which is the folding desk mode, and the other is the running treadmill mode. With the monitor console down, you can use it while watching TV or even while having a conversation. The 2.25 HP motor makes no noise, no matter how much you use it. The machine comes fully assembled and has transportation wheels for your convenience.
The in-built Bluetooth can connect to your phone or tablet so you can run while listening to music. The design has been built keeping small apartments, houses, and offices in mind. Its 16 x 40 stepping console can fit in anywhere, and you don't have to pause your work either as you can do it while exercising.
Key Features
Pre-assembled machine
Can support up to 220lbs
Speed range is 0.4-7.5 M/h
Seven-layered shock absorbing tread belt
Desk foldable design
6. Most Compact Design: Sunny Health & Fitness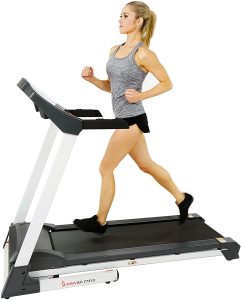 Brand: 1-8 MPH
System: Electric
Motor Power: 2.2 HP
This Sunny treadmill is equipped with state-of-the-art technologies to get you in good shape! With the auto incline mode, it has 12 inclination levels, arguably the highest in the list. Some of us are night-owls and love to do some exercise during the night. The backlit LCD monitor is helpful if you are using it at night.
With the wireless Bluetooth connection, you don't have to plug in your phone. Just put the 3mm mp3 cord in the monitor jack, and you're done! It has an integrated Body Mass Index calculator to provide references. The monitor jack can also answer your phone calls while you are still jogging, isn't that convenient?
Key Features
12 levels of auto-incline
BMI calculator for reference
Wireless Bluetooth connection
Weight capacity is 250lbs
Supports 3mm audio jacks
7. Best For People Who Live Alone: Aceshin Electric Treadmill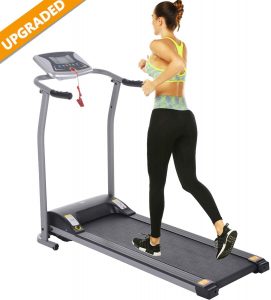 Range: 0.5-6 MPH
System: Electric
Motor Power: 1.5 HP
If you live by yourself and want something you can carry and handle alone, then this is your best option. It weighs 57 pounds and comes with all tools that are required to set it up. There are portable wheels at the base of the console, so you won't have to pick it up to carry; just roll it wherever you want.
This foldable and portable treadmill can turn your small apartment into your personal gym. Designed specifically for small spaces, this has a sturdy metal body. It's fairly easy to use as well. There are controls on the handrail, which allows you to increase or decrease the speed on the go.
Key Features
12 in-built presets
Available in orange, white and silver
Includes tools and has transportation wheels
Pulse monitor to detect the heartbeat
Safety key for stopping the machine in emergencies
8. Easy To Handle: Serenelife SLFTRD18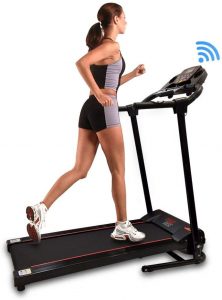 Range: 0.6-6 MPH
System: Electric
Motor Power: 1.0 HP
If you live alone in a small apartment that doesn't have much space to spare, then you can check this amazing equipment out. It's a compact treadmill that is great for light joggers and beginners. You can also access the Fit Show app for training activities. With the speed range of 0.6 to 6 miles/hour, you don't have to worry about getting out of breath.
Start at your own pace and keep track of the stats with the LCD monitor. The handle has an emergency stop button beside the safety key for additional precautions. With the soft-drop, you don't have to worry about it going down too hard.
Key Features
Backlit LCD monitor
Soft-drop technology
Transportation wheels for storing
Weight capacity is 265lbs
Weighs only 57.3 pounds
9. For Small Spaces: Sunny Health & Fitness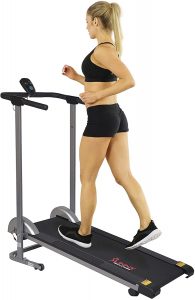 Range: Manual
System: Manual
Motor Power: No motor
This machine is specifically for short people and senior citizens. The stride length is kept short, so short-sized folks can use it easily without stretching themselves. This is a manual treadmill, so there's no motor, it works on batteries. This is convenient as it won't add to your electricity bill.
It's lightweight, compact, and very easy to assemble. Even if you have no idea about the parts, you can assemble it by yourself with the instructions. This machine is great for beginners; it allows you to jog at your own pace. The only thing you need to remember for this is that it's for people who are only starting or are old. So it's for light jogging, not running.
Key Features
Fixed incline
Easy to assemble & compact
42 x 13 inches of stride length
Weight capacity is 220lbs
Zero power consumption
10. Most Minimal One: OppsDecor 2 In 1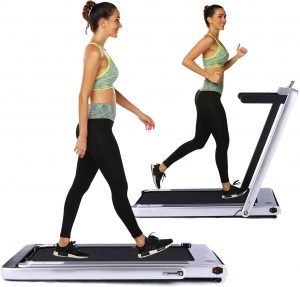 Range: 1-12 MPH
System: Electric
Motor Power: 2.25 HP
OppsDecor 2 in 1 treadmill is the most multi-purpose one in the list and also has the largest speed range. Once folded, it has a height of 5 inches, so you can just push it under the couch or bed. The running stride is 40 x 16 inches and is multi-layered for maximum comfort. If you are a runner, then this one is perfect for you.
No matter how long and hard you use it, there won't be any strain on the console. The machine comes with a remote controller so you can control your speed easily. There's an in-built ledge where you can attach your cell phone. Now you can get some exercise done while watching a movie or listening to music.
Key Features
Steel framing for durability
Premium, multi-layered stride belt
Compact design for easy storage
Safety key for emergencies
In-built cell phone ledge
Your Fitness Companion
Conclusion
How many times have you skipped a jog or workout routine because you were too tired to go outside? Work and personal commitments can drain your energy. With the help of these foldable treadmills, you can turn your house into your personal gym at a cheaper cost. Most of the time, people skip workouts because they don't have the time. But with one of these, you can do it whenever you want without leaving the comfort of your home. Now you know what features a foldable treadmill offers and which ones will help you reach your goal. So grab one of these for a better lifestyle without drilling a hole in your pocket! Anyway, don't forget to get the lubricant to keep them run smoothly.
FAQs (Frequently Asked Questions)
Ques.1 How Many Years Does A Treadmill Last?
Ans- It depends on how much you use it. If you take regular care of your treadmill, then it can last up to several years. The average year is 7, as stated by manufacturers. If you don't take care of it, then it can get damaged within a couple of years or even half a year.
Ques.2 Are Foldable Treadmills Sturdy?
Ans- Foldable treadmills are for home spaces where using a full-fledged one can be an issue. The compact size and design make them fit for small spaces. They are just as sturdy as a full treadmill machine and have the same features.
Ques.3 Which One Is Better In The Monitor, LED, or LCD?
Ans- The newer models feature an LED monitor while older ones have an LCD. If you want something that will last for a long time, go for an LED. If you are going to put your treadmill to heavy use, then an LED monitor can absorb the cardio machine vibrations. They can be easily replaced, too, unlike an LCD monitor.
Last update on 2023-10-04 / Affiliate links / Images from Amazon Product Advertising API