Do you want to lose weight without visiting a gym? If you want a good workout to burn calories, increase your hearts' oxygen intake, then your search ends here. An indoor stamina rowing machine can work out your body like no other gym machine. You can get more results with a rower than on a treadmill. The speed of a treadmill and the sight of a gym crowd is no less than a horror show for beginners. If you are one of such people, then consider a rowing machine instead which will fit perfectly in your house. Don't know where to start? Don't worry, here's our list of the best indoor rowing machines from Stamina to help you.
List of the 10 Best Stamina Rowing Machines in 2023
1. Best Overall: Stamina 35-1215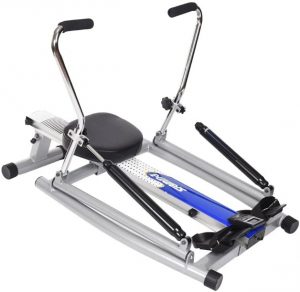 Resistance: Dual Piston Hydraulic
Weight Limit: 250lbs
Beam: Aluminum
This compact, orbital rowing machine gives you a smooth rowing experience in the comfort of your home. Portable, and easy to assemble, this machine has a 32.5 x 48-inch footprint. If you are looking for an intense workout then increase the incline level of the beam. It gives a low-impact workout that strengthens all the major groups of your body muscles.
Lots of rehabbing athletes use rowing machines to recover their strength after injuries. So if you have bad joints or are old and worried whether it is for you or not, then you can relax. No matter your age or physical state, this will work just fine for you.
Key Features
Foldable rowing arms for easy storage
Five years of warranty on the frame
Ball-bearing roller system
Straps on the footstep to keep you stable
The monitor tracks all your records
2. Best Runner-Up: Stamina Body Trac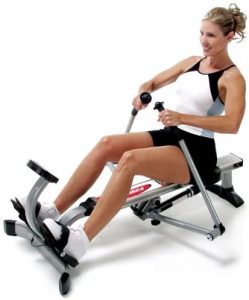 Resistance: Hydraulic
Weight Limit: 250lbs
Beam: Aluminum
Are you excited to start working out but don't have space at home? The BodyTrac Glider can help you reach your fitness goals in your limited space. Its smooth, full-range motions and adjustable hydraulic resistance will give you the authentic experience of rowing. Done with the easy warm-ups? Increase the level of resistance to test your body a bit.
It has a comfortable molded seat, which is shock-resistant, and the footsteps are textured to give you maximum comfort. The entire structure folds up easily so you can store it in a closet. This powerful machine weighs just 37 pounds, and all you need to assemble it is two wrenches or pliers.
Key Features
Monitor has a scan through option
Padded, textured footsteps with straps
Foldable and lightweight
Full-range motion of arms
Easy to assemble
3. Best Under 400 Dollars: Stamina ATS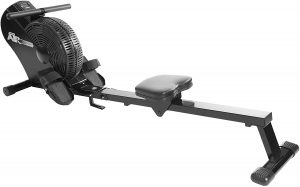 Resistance: Air
Weight Limit: 250lbs
Beam: Steel
Those who feel the hydraulic resistance isn't for them, go with this air resistance rowing machine instead. With this resistance, you don't have to stop your workout in the middle to change the speed. Pull the chain faster for more resistance and vice-versa. It activates up to 86% of your muscles and helps you lose weight faster.
The padded seat textured footplates, and foam padded handle keep you relaxed during the workout. Floor protectors are provided at the bottom to safeguard your floor and also to keep the machine from sliding. If you are looking for a compact and affordable rowing machine, then check this out.
Key Features
Three years warranty on the frame
Enough room for people over 6ft
Easy to set-up
Compact enough to be stored in a closet
Durable, good-looking body
4. Best Value For Money: Stamina Multi-Level Rower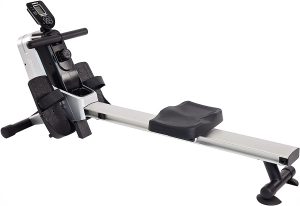 Resistance: Magnetic
Weight Limit: 250lbs
Beam: Aluminum
Rowers tend to make a little noise while working out, and this one will keep that to a bare minimum. Put on some music, and you are set! The footplates pivot to accommodate tall people but won't be a hindrance to shorter people. There's an in-built storage compartment to hold your cell phone or drinks.
The aluminum, padded handles slide out smoothly with each pull. If you want to go a notch higher, then there's a knob to increase the resistance. The multi-level tracks down each session to keep you on track. With the built-in transportation wheels, you can store it easily.
Key Features
In-built water bottle holder
Storage wheels for easy transportation
Weighs only 45 pounds
Ball-bearing seat rollers
Foam padded handles
5. Cheapest Amongst All: Stamina 35-1402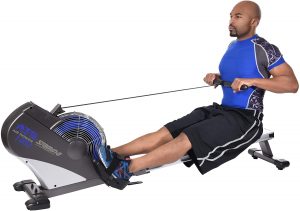 Resistance: Air
Weight Limit: 250lbs
Beam: Aluminum
If you live by yourself in a small apartment or condo and want something small to workout at home, then this rowing machine is perfect. The handlebar is mounted at the perfect position so that you don't end up straining your muscles. Like any other rowing machine, this too makes a tiny noise with each pull, but it's rather rhythmic.
The Air Transfer System constantly works to match up to your speed and provide resistance accordingly. Faster pulls have more resistance, and slower pulls mean low resistance, so you can start at your own pace. Weighing only 59 pounds, this machine can turn your room into a gym.
Key Features
Smooth sliding handlebar
ATS provides adequate resistance
Textured footplates and adjustable nylon straps
Works on battery, no energy consumption
Foldable body for easy storage
6. Most Compact: Stamina 1205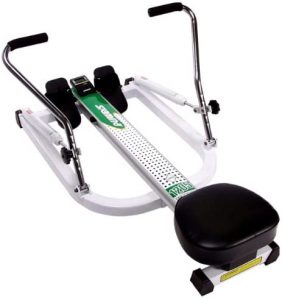 Resistance: Hydraulic
Weight Limit: 250lbs
Beam: Aluminum
Stamina 1205 Precision Rower is a popular choice for indoor rowing machines due to its flexible resistance and lightweight. It puts all your major muscles to work, such as the back, arm, abdominal muscles, and core. This compact machine has a footplate of 32.5 x 48 inches and a ball-bearing seat roller for a smooth experience.
The hydraulic resistance has an adjustment knob so you can control the level of resistance. This machine is for those who are already accustomed to intense workouts. If you live in a place which doesn't have much space, then you can't go wrong with this one. If you are looking for a replacement for the gym, then go for this one.
Key Features
Low-impact and effective
Whisper-quiet noise
Smooth gliding for comfort
Weighs only 45 pounds
Five-year warranty on frame & 90-days warranty on parts
7. Most Functional: Stamina 1333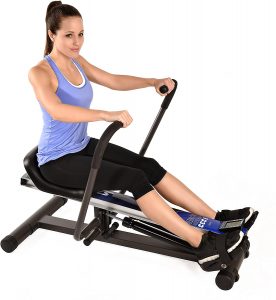 Resistance: Hydraulic
Weight Limit: 250lbs
Beam: Aluminum
Would you like to work out in front of your TV? This machine is the most silent on the list, and you can use it while watching TV. The corners have floor protectors, and they are non-skid ones so the machine will remain stationary. This machines' seat has back support, unlike the other, and is slightly larger.
If you are over 6ft tall, then you can sit comfortably on it. LCD monitor displays accurate records of your workouts. To make sure you are stable, the footplates have straps and are pivotal to give you more mobility. With its 12 levels of resistance, you can reach your health goals in no time.
Key Features
12 levels of resistance
Shock-resistant body
Large LCD monitor
Compact and durable
Dual rowing handles for full range motion
8. The Most Minimal One: Stamina 35-0123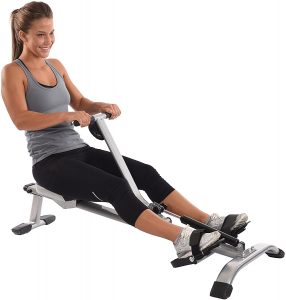 Resistance: Piston
Weight Limit: 250lbs
Beam: Steel
This design of this machine is ideal for shorter people. As long as you are under 6ft, you can use it. This works on batteries and doesn't emit any noise at all. A rowing machine provides a full-body workout. With this model, you can finally start a new journey. The large rowing length works your upper body perfectly.
It is perfect for beginners as well as intermediate people in the exercising category. With a row length of 28-inches, it is bound to tone all your muscles and burn all fat. The design is kept minimal so you can fit it anywhere, and with a weight of 28 pounds, it's a steal deal for sure.
Key Features
Portable and lightweight
Large row length for maximum effort
Has 5 levels of resistance
Monitor with a scan option
Sturdy steel construction
9. Most Efficient: Stamina 35-1405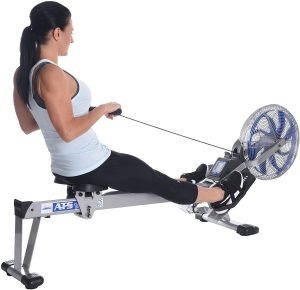 Resistance: Air
Weight Limit: 250lbs
Beam: Aluminum
If you are looking for a rower that's easy to store, lightweight, and inexpensive, then you have your answer. It's easy to assemble, and once set, and you can use it right away. The padded handle and stitched seat give you maximum comfort. It's popular for its durability.
Even after years of usage, the straps, chains, and flywheel will still stay firm. Since it's an air resistance rower, there's a bit of noise, but you can still watch TV or listen to music while working out. You won't complain about the body of this machine at all, and it's sturdy and shock-resistant. You get the exercise done while binge-watching your favorite shows, this is great!
Key Features
Foam padded handle
Stitched seat for comfort
Flywheel makes minimum noise
Sturdy metal body
In-built wheels for portability
10. Easiest To Set-Up: Stamina X Air Rower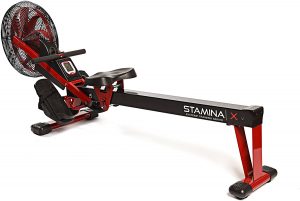 Resistance: Air
Weight Limit: 250lbs
Beam: Steel
If you are in rehab or are used to H.I.I.T workouts, then this machine will be great for you. What makes it a steal deal is that you get this for one-third of a Concept rower. The machine will make sure you get what you want from it if and when used correctly.
You can set it up in front of your TV or in-home gym, and it won't take up much space. Floor protectors are placed on each corner, so there's no chance of skidding. In-built wheels make it easier for you to move it around. The steel construction will last for a while and has a three-year warranty on the frame. If you want something lightweight but effective, then go ahead with this.
Key Features
In-built wheels
Compact and lightweight design
Foldable for storage
LCD monitor to track progress
Floor protectors are anti-skid
Bring The Rowing Experience To Your Room
A rowing machine can burn at least 600 calories in an hour, which makes it the most effective equipment for fitness. Whether you want to lose fat or to tone your body, a rowing machine can help you achieve your goals faster. With these, you don't have to buy any additional gym machine as it provides you with a full-body workout. It saves you energy consumption and money! All the models listed below are storage-friendly and portable, keeping all age groups in mind. If you want to start a healthier life without the hassle of a gym, then grab one of these today!
FAQs (Frequently Asked Questions)
Ques.1 How Long Should I Work Out On A Rowing Machine?
Ans- It all depends on what you are trying to achieve. If you are using it just to be healthier, then 30 minutes per day at a medium resistance is good. But if you are exercising at an advanced resistance, then 15-20 minutes will suffice. If you want to lose weight, then you will need to spend more time on it.
Ques.2 Is Indoor Rowing As Effective As With A Concept 2?
Ans- Indoor machines are excellent for a full-body workout. They obviously aren't the same as a Concept 2 rower, but they will give you the same benefits. You can lose weight, tone all your major muscle groups, and get the aerobic exercise done all at once with a rower.
Ques.3 Which Muscles Get Worked During A Rowing Session?
Ans- A rower provides you with a full-body workout. It works your hamstrings, glutes, abs, pecs, biceps, triceps, calves, and core. It also elevates your heart rate, which helps you burn fat and get good cardiovascular exercise. Due to the sliding seat, it works your upper body as much as the lower body.
Last update on 2023-10-03 / Affiliate links / Images from Amazon Product Advertising API