Are you looking for renting the electric stair climbing dolly to move your heavy loaded stuff? Moving heavy items like a large refrigerator or a wood cabinet upstairs or downstair is not an easy task. You need an electric stair climbing dolly to ease your work. However, buying this kind of stair dolly is unnecessary and too expensive if you only need it once for awhile. Therefore, here are the places you can rent the electric stair climbing dolly for occasional use.
Here's Where You Can Rent an Electric Stair Climbing Dolly in 2023

Cal-West Rentals is a service and equipment rental company owned and operated by family to serve contractors, homeowners, and ranchers all over the North Bay Area. The company is currently renting out The PowerMate M-Series heavy duty stair climber which you can use to load object up to 1,500 pounds. The dolly is made of strong steel ideal for moving heavy objects such as boilers, safes, geothermal heat pumps, elevator equipment and more. If you want to lift the objects on and off the pickup truck, you can rent the PowerMate M1 with the 40″ height. Or you can go for the M1 with 60″ height for lifting the taller items. The PowerMate also has a retractable wheels for converting the stair climber into the four-wheel dolly to move and roll the items on the surface.
Rental Rates
Daily: $95
Weekly: $350
Four Week: $950
Min Rental Term: Day
*All Rental Taxes Are Covered by the Company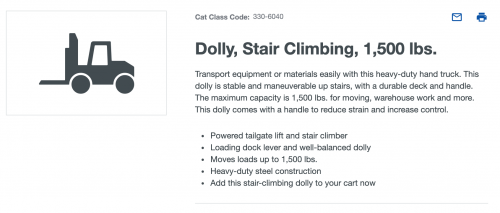 The United Rental provides a rental electric stair climbing dolly which can load the maximum capacity of 1,500 pounds. The dolly is very stable and maneuverable up and down the stairs. It is a heavy-duty stair climbing dolly made of stainless steel. The dolly's handle is convenient to hold and control. The renting service is available in various location and the prices also vary. So, you need to place location in to see how much the fee is. You can rent the dolly daily, weekly or even monthly. The United Rentals does not only rent out the stair dolly but also many other equipments. It's a well-recognized company established since 1997 and now is considered as one of the largest equipment rental companies in the world. The company has a huge store network locations in 49 states and ten Canadian provinces.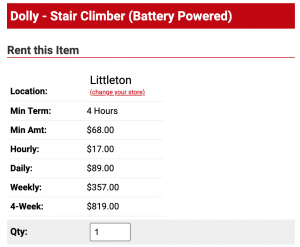 This is the Battery Powered Stair Climber Dolly rented out by the Rental Catalog. It is for lifting and moving large objects such as filling cabinets, ladder shelves, gun cases and more. With the help of electric power, you can move these heavy items on and off the stairs with ease. However, this dolly can load only 1200lbs in maximum. Less capacity than the above two dollies. The lift height of the dolly is 41 inches and toe plate is 24 by 6 inches. It made of Aluminum. You can check their term and condition further in the link.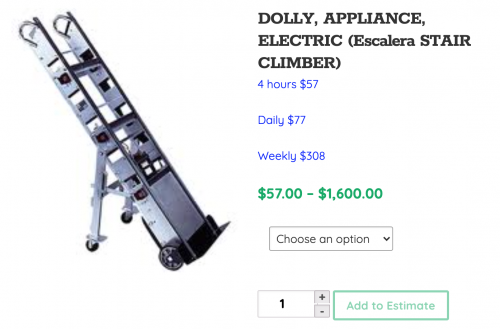 Broadway Rental is also renting out the 1200-pound loaded capacity of motorized stair climbing dolly. It is convenient to operate and helps save your labor a lot. There are three options for you to rent; four-hour, daily and weekly renting. The company even helps resell the dolly as well. This stair climber appliance is 24 inch wide and 71-1/2 inch in height. Its weight is 83 pounds. The dolly comes with the battery charger. So, you don't need to worry if you are going to rent it for quite a long time. For our advice, you check if the company is located near you to avoid a long travel. The company also has other moving equipment services such as material lifts, motor hoists, moving stuff, painting and more.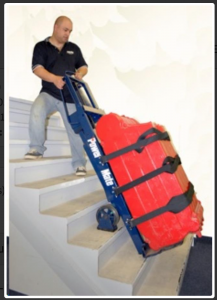 This is a PowerMate M-1 Electric Stair Climber Dolly rented out by the Atool Shed. It has the capacity to load up to 1500 pounds. Equipped with heavy duty motor and powerful battery, you can lift the heavy objects such as safe, cabinet, boiler, geothermal heat pump, elevator equipment and other heavy items easier than the manual one. It can be used to lift items on and off the truck as well as the stairs. The PowerMate is well-recognized brand for stair climber dolly. It has a four machines in one: a powered stair climber; a powered tailgate lift; a loading dock leveler and a well-balanced dolly. You watch the video for more details.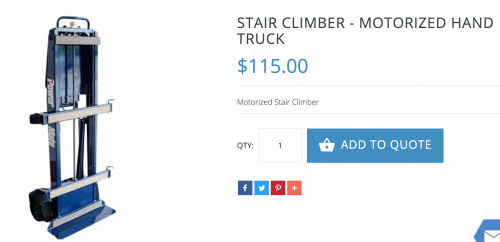 Quality Rental also places the PowerMate M-1 for renting out. As we mentioned earlier, it's a heavy duty stair climbing hand truck which can load the item up to 1500 pounds. The M-1 is known for its quality made material. It is durable and ideal for moving heavy loads. So, when you seek to rent such an appliance, you just need to compare the price and location with the above companies. It's good to have more options to choose rather than one. You can also buy this motorized hand truck here if you want to own it for yourself.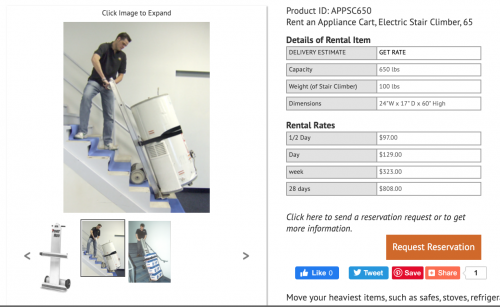 This Powermate L-1 is a medium duty electric stair climber rented out by the Gappower. It can hold the item up to 650 pound. You can use it to move items such as refrigerator, stoves, safe and more. This appliance dolly can be used to lift objects up and down stair, up and down the hill and on/off the truck safely. It is available for renting half day, one day, one week or even month. You can see the fee rates in the picture above. Their service is very professional and well recognized by many users. The company also rents out the 1200 lbs loaded capacity dolly if you need a heavier duty one.
Conclusion
From our knowledge and experience, we find these companies reliable for their rental service. Thus, if you need to rent the Electric Stair Climbing Dolly, we recommend that you pick from one of them. However, feel free to explore more of the local near you. You don't need to stick to just these companies.