Are you tired of the traditional styled bookshelf, but still looking for one to store your books and decorate your house? If so, you have come to the right place because we would like to introduce to you the modern stylish ladder shelves here.
Coming in the ladder shape, the shelf enables users to use it as for both storage and decoration. After a detailed research, our team has put together the reviews for the top ten best ladder shelves on the market for you to preview and consider. By the end of the article, you can also see a little buying guide section that will provide you some ideas to consider while purchasing one.
Here are the 10 Best Ladder Shelves for Your Pick in 2023
10. Lavish Home 5-Tier Ladder Bookshelf | Leaning Decorative Shelves, Pickled Oak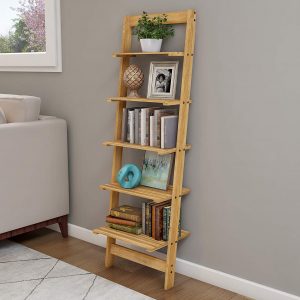 The wooden ladder shelf appears in pickled oak color which provides a stylish look. It is designed to perfectly match any types of home decoration. Users can store as many items as they wish, including books, photos and plants. It comes with overall 5 floors of shelves, which users can keep their things organized easily and neatly.
Its dimensions measure 11.5 x 16.25 x 50 inches, but it is ultra-lightweight, making it easy for users to rearrange and clean up the space. Also, the installation is simple. Users only have to lean the shelf against the wall but it will be attached there for long.
9. kieragrace Hadfield 5-Tier Leaning Wall Shelf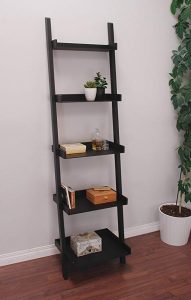 The ladder shelf is constructed of MDF, and it offers 3 color choices: mahogany, white and black. Its overall dimensions are 67 x 18 x 14. The shelf consists of 5 levels, and each level can support up to 10 pounds of items. To keep things secured to the best, the shelf is equipped with raised sides to ensure that no things are falling off.
However, it is not heavy, and users can simply move it if they need to do the cleaning or rearrangement. The package includes all the necessary hardware for the assembly, and instructions are provided for users to set it up easily.
8. VASAGLE Industrial Ladder Shelf, 4-Tier Bookshelf, Storage Rack Shelves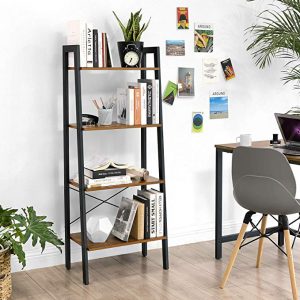 The ladder comes in a solid structure because its frame is made of iron, and its board is chipboard. Also, its back is strengthened by the crossbar to maintain stability. Moreover, its feet are equipped with protective caps to guarantee that the shelf stays still, and it will not make any damage or scratches to the floor. The shelf comes with 4 levels of storage. It is designed perfectly for users who want to collect, organize and display at the same time.
The dimensions of the shelf are 22.1 x 13.3 x 54.1 inches. All the parts and tools for installation are included in the package, and users can simply follow the instructions to set up their own shelf. Owing to its awesomeness, it is one of the best ladder shelves in the market.
7. VASAGLE Industrial Ladder Shelf, 4-Tier Bookshelf, Storage Rack Shelves, for Living Room, Kitchen, Office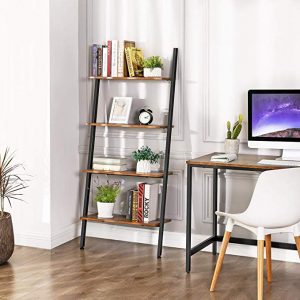 In addition to similar quality to the previous model, this model is designed in a leaning shape, which looks similar to a real ladder. It can be connected to the wall via screws on the top. This guarantees that all levels of the shelf form 90 degrees angles with the wall and provide the most stable surface. While it has 4 layers for storage, each layer comes with different sizes, but all of them can support up to 88.2 pounds.
If you are not sure about how to set up the shelf, there should be no further worries because all the parts are included, and detailed instructions are provided to guarantee the process of the assembly and installation.
6. Homfa Bamboo 4 Shelf Bookcase, Multifunctional Ladder Shaped Plant Flower Stand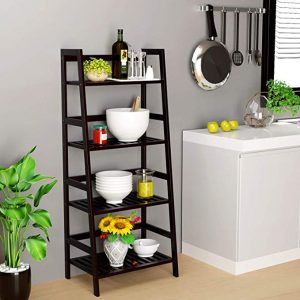 If you plan to fit your plant with the eco-friendly design shelf, then you should consider Homfa bamboo ladder shelf. The reason is that this shelf is constructed of natural bamboo, and it provides an elegant looking. It can be placed in any parts of the house, and users do not have to worry about the safety. The product is finished with smooth surface and rounded corners, so it will not harm the while they are running around. Given the fact, it is one of the best ladder shelves out there.
The shelf consists of 4 tiers of storage, perfect for storing many items, including books, plants, photo frames and other small accessories. Moreover, if users plan to use it in the bathroom, it can also store towels and toiletries. Parts and instructions are included in the package, and users can install their own shelf with confidence.
5. HOMFA Metal 4 Shelf Bookcase, Multifunctional Ladder-Shaped Plant Flower Stand Rack Bookrack Storage Shelves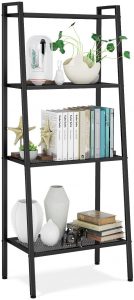 The shelf is built from metal and iron with smooth and non-toxic surface. It looks elegant yet stylish while becoming part of the decoration of the lovely home. It comes with both quality and durability, which enable users to store as many items as possible, up to 66 pounds of overall capacity. Moreover, it is designed to have adjustable feet to maintain the balance and protection pads to prevent any scratches on the wall.
It is suitable for placing anywhere in the house, including living room and balcony. Its dimensions measure 23.6 x 13.8 x 57.9 inches. Users can assemble the shelf on their own with the tools and instructions provided.
4. Blissun 4 Tiers Ladder Shelf, Vintage Bookshelf, Storage Rack Shelf for Office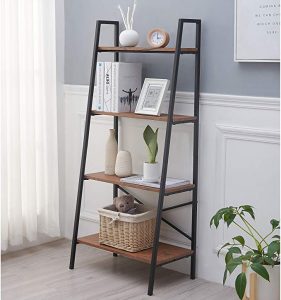 The ladder shelf comes with multiple ways of usage, including displaying photo frames and plants and storing toiletries in the bathroom. It basically fits any corners of the house. From the balcony to the kitchen, users can always find its values. It has a matte black frame with chipboard shelves. Its metal frame is designed to provide the best stability and solid structure.
It consists of 4 levels of shelves with the storing capacity up to 11.5 pounds for each floor. Moreover, it consists of 4 caps on the feet to protect the floor from scratches. The assembly process is known to be worry-free because users only have to follow the instructions and use up all the parts to assemble a beautiful shelf for their home.
You may like: Top 10 Best Storage Shelves for Home, Office and Commercial in 2023
3. Tangkula Ladder Shelf, 5-Tier Multifunctional Modern Wood Plant Flower Book Display Shelf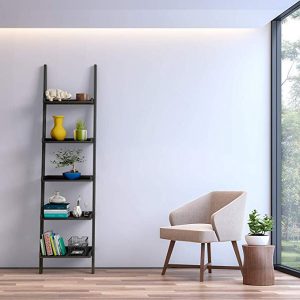 Out of many alluring ladder shelves, this one is the most stylish. The design does not only provide good looking appearance but also quality and capacity for maximum storage. It consists of 5 floors of shelves, and each floor has its dimensions at 20.5 x 7.5 inches. The space in between is measured to be 14 inches high, which offers the space for tall stuff, such as plants and bottles. The ladder aims to produce an eco-friendly environment, and therefore, they are painted in black and white to provide an elegant look without any harms.
The solid frame aims to guarantee strong sturdiness. It also allows the shelf to connect more properly to the wall without moving easily. Last but not least, the materials allow for easy cleaning, which aims to reduce the burden of the users.
2. Homfa Industrial Corner Ladder Shelf, 5 Tier Bookcase A-Shaped Utility Display Organizer Plant Flower Stand Storage Rack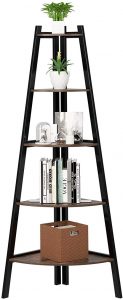 It is designed to add a vintage look to the decoration of your lovely home. The materials of this shelf include partical board and metal. It is a combination of the industrial look of black frame and the classic chipboard style. It comes in the fan shape look, which saves a lot of space for the room while displaying the maximum number of items.
Users can also store plants on the shelf for a friendly environment. It has a three legs structure to guarantee the stability. Its dimensions measure 18.7 x 18.7 x 63.2 inches.
1. Zenna Home Ladder Style Bathroom Linen Tower, Espresso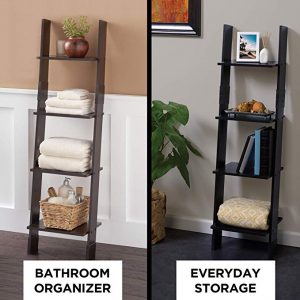 The shelf is best fitted for the use in the toilet. It appears in the leaning style which consumes little space yet store a lot of items. It consists of 4 floors of shelves, which is perfectly designed for the organization of different items, including accessories and toiletries. The feet are equipped with moisture resistant materials to best fit the wet environment of the bathroom. Users of this brand only needs a screwdriver and hammer to set up the product easily with detailed instructions provided.
Buying Guide
To get your money worth-it, you should properly consider before purchasing a ladder shelf to add an extra decoration to your home. It is essential to choose the best one with the largest capacity and most beautiful appearance.
Below are important criteria that determine the best ladder shelf:
Tiers
Generally, the ladder shelves comes with at least 3 floors of shelves, but not too many. The right amount between 3 and 6 makes it look good while allowing users to get things organized.
Protection caps
this is to prevent any scratches on the wall as well as on the floor in case rearrangements are needed.
Surface and corners
smooth surface and rounded corners are there to ensure the safety, especially for families with small children.
Capacity
the capacity should not be less than 20 pounds; otherwise, not many items can be stored on the shelf.
Conclusion
To sum up, this article has demonstrated the main features of the top ten best ladder shelves on the market. Users who want to purchase one for the plus storage and decoration to their home should be confident in choosing the right one now. With the right ladder shelf, users can save a lot of space while they still manage to get things organized neatly and display desirable items.
Last update on 2023-10-04 / Affiliate links / Images from Amazon Product Advertising API