Those who spend a lot of time in front of a monitor understand that there are many things to consider before purchasing a computer monitor. From brand's reputation, features and performance to price, these are things we need to consider for our buying decision. For this article, our team has meticulously gone through many wide-screen gaming monitors and researched about them, and then we picked our top 11 ultra-wide gaming monitors for you to choose from. Actually, these ultra-wide monitors are not just designed for gamers but also those who need a wider screen to do their work as well.
To help you save your time and make the right decision at the same time, we are going to list the most popular products ranging from the BenQ Monitor brand to other huge brands in the globe. Determine your requirement and go for one of them now!
List of the 11 Best Ultra-Wide Gaming Monitor & Buying Guide 2023
Ultra-Wide Gaming Monitor Reviews
11. BenQ Monitor with Ultra-wide Curved QHD for Gaming – The BenQ EX3501

BenQ Ex3501 is the top rated among its BenQ Monitor brand. For its specialty, the BenG Ex3510 is built with ultra-wide curved screen of 35″ and resolution of 3440 x 1440 px and 1800R curvature. The screen provides you with the best quality to enjoy your gaming to the max. BenQ Monitor is also known for its eye-care patented technology that utilizes sensor to automatically adjust the bright and color to fit in your room environment and protect your eyes from excessive light brightness. The stand height is adjustable so you can set in the level of your eyes while using it. The BenQ Ex3510 35 inch works perfectly with this Display Port Cable 4K resolution ready. You should buy it together with this 4K Display Port Cable by Cable Matters to ensure no any interruption while enjoying your gaming competition.
Besides this ultra-wide screen BenG Ex3501, there are also other cheaper version of BenQ Monitor that you can consider for your best gaming experiences if you think BenG Ex3501 price is a bit high for you. For lower budget, you can consider the following BenQ monitor types: such as BenQ 4k monitor 28 inch and 32 screen size, BenQ monitor 144hz 27 inch QHD and 32 inch QHD. These are the best BenQ monitors you can pick up from. To me, I love the ultra-wide curved one as I love the wide screen for both gaming and my work.
10- ASUS Monitor ROG Strix XG49VQ 49" Curved Gaming FreeSync Monitor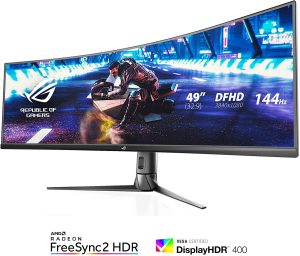 The next gaming monitor brand is the Asus Monitor. ASUS is known for producing affordable, yet functional computer monitor both for personal use and work. Yet, we introduce this Asus gaming monitor for those who need it for both working and gaming at the same time. The ASUS Ultra-wide gaming monitor ROG Strix XG49VQ is built with 1800R curved, 49in (approx. 124.46cm) long monitor which allows you to split screen into parts without the need for two separate monitors. This gaming monitor is recognized as providing smooth gameplay from its Radeon FreeSync trademark and integrated GamePlus hotkey features, which decreases the input lag for both HDR and standard contents. And at the same time, giving you the gaming enhancement that you deserve. It was also co-developed with pro-gamers and for the game lover!
Furthermore, to reduce eye strains and inaccurate color schemes, the Asus Monitor XG49VQ is equipped with Flicker-Free technology and also a 400 certified displays with 90% DCI-P3 coverage, enabling a marathon of amazing and visually pleasing gameplay. It's an Asus 4k monitor with the max screen resolution of 3840 × 1080 pixels, a refresh rate of 144Hz, DisplayPort and HDMI connectivity. You're gonna need this 4k DisplayPort cable to connect it with your computer to enjoy such a best quality experience of this Asus 4k monitor to the max.
For other alternative of the Asus monitor brand, you can consider the Asus 27 inch monitor and Asus 240hz monitor. They are popular alternative among the gamers who love Asus monitor brand with lover budget.
9- MSI Monitor Non-Glare Ultra-wide 21: MSI Curve Screen Monitor of 3440 x 1440 & 100Hz Freesync 3K Resolution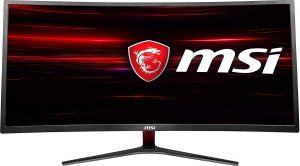 MSI is a well-known brand among the gamer. The company produces devices for game lovers ranging from laptop to desktop and monitor. Yet, this part is focusing on raising the awesomeness of the MSI gaming monitor for you to enjoy the gaming activity on the curved screen. This MSI curved monitor Optix MAG341CQ is known for not disappointing their customers with their quality and experience. This ultra-wide gaming monitor has an 1800R curved panel design (34in, approx. 86.36cm), a 21:9 screen ratio, screen 8ms 3440 × 1440 (WQHD), a refresh rate of 100Hz and FreeSync 3K resolution. It's recommended by the gamer pro.
This Optix MAG341CQ MSI Monitor is also designed with suitable for human eyes to avoid any negative impact after staying with the screen for long time. For alternative of budget MSI monitor, you can go for this MSI 144hz monitor curved screen Full HD.
Also check: The Powerful MSI Gaming Laptop Reviews.
8- VIOTEK Curved Monitor GN35DA 35-Inch Ultra-wide Gaming Monitor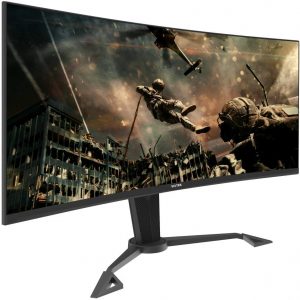 Next up, we have the Viotek Curved Monitor GN35DA. This Viotek monitor has an adjustable swivel, allowing you to easily tilt it up and down, while also being able to adjust its height (VESA). It is manufactured to deliver you performances as smooth as butter and as strong as steel. The Viotek curved monitor has a 35in (approx. 89cm) long monitor length, with 2560 × 1080p, 21:9 ratio, HDMI 2.0 DP DVI and a refresh rate of 200Hz. In order to bring out the best gaming experience to their customer, Viotek monitor has been integrated with optimizations for FPS/RTS activations and GamePlus crosshairs. This allows you to enjoy your gaming activities even you are using it in the dark environment.
Viotek also provides a "Zero-Tolerance Dead Pixel Policy" and a 3-years warranty for this gaming monitor, plus 100% US customer service. Grab it and start your game now!
 7. LG Monitor 34UC79G-B 34-Inch 21:9 Curved UltraWide Monitor for Gaming Activity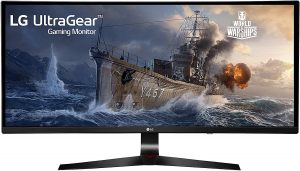 LG Monitor is one of the biggest technology brand in the world. Their products are known to deliver what they are promised to give. From air conditioners and kitchen appliances to computers and smartphones, they've got it all. So, today we pick the LG gaming monitor to present here among the game challengers, ie.e the LG curved monitor UltraGear 34 inch. This LG curved ultrawide is an IPS monitor, with a 21:9 ratio and a 34in (approx. 86.36cm) monitor length and an overall dimension of (W × H × D) 32.7in × 17.7in × 11in (approx. 83cm × 45cm × 28cm). It uses an AMD FreeSync technology in order to provide its users a fast response time of 14mx/5ms. Furthermore, it has a 144Hz refresh rate, brightness of typically 250cd/m² or a minimum of 200cd/m², and also GamePlus crosshair. If this is not the right option for your LG choice, you can also explore other types of LG gaming monitors here as well. However, don't forget to get the 4K high speed HDMI cable for your connection.
6- Sceptre Monitor Ultrawide Gaming Monitor 21:9 2560x1080p Ultrawide Ultra Slim HDMI DisplayPort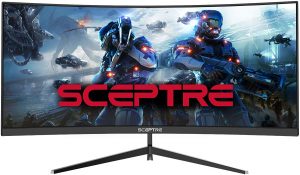 Unlike our previously mentioned monitors so far, the Sceptre Monitor C305B-200UN is mostly known among the gamers rather than the general public. With its ultrawide monitor size of 30in (approx. 76.2cm), this Sceptre curved monitor is designed to make you feel the most comfy and excited whenever it's show time. The refresh rate of  this Sceptre monitor is very fast with 200Hz and AMD FreeSync features. The curved monitor was manufactured to deliver the least-to-none screen tear, stuttering and blurred images. This Sceptre curved monitor has a resolution of 2560 × 1080 and full HD. Plus, Sceptre also built in a custom set display for this monitor regarding its FPS-RTS.
Sceptre monitor also utilizes Flick-Free technology, which means you can follow your passion and practice your gaming skills for a while longer with it than a traditional monitor. Its Blue Light Shift feature also helps with reducing eye strains or fatigues when you are using the monitor for stretched out time. Last but not least, it's not just ultra-wide but also ultra-slim gaming monitor of its kind. For its DisplayPort, it works best with DisplayPort 6 feet cable by Benfei or AmazonBasic High-speed 4K HDMI cable.
5. VIOTEK GNV30CB 30-Inch Curved Gaming Monitor | 144Hz, 2560 x 1080P, 21:9 Ultra-Wide Gaming Monitor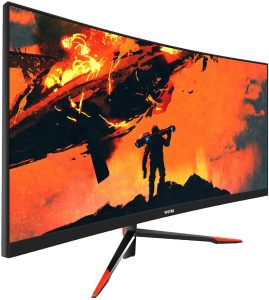 Next, we have another ultra-wide gaming monitor from Viotek. This time, it is the Viotek GNV30CB. This is also a curved monitor; the most suitable exterior design for our eyes. It has a monitor length of 30in (approx. 76.2cm), a 21:9 ratio and is VESA ready. Additionally, the GNV30CB has a screen resolution of 2K (2560 × 1080P) and a fast response rate of 144Hz, 4ms. With integrated AMD FreeSync technology, this monitor is guaranteed to deliver you gaming performance with no tears, blurred images, while also providing the best blend of vibrant colors from the respective game. It's got a DisplayPort, two HDMI and a 3.5mm headphone jack.
It is also recommended for gamers who are new with gaming monitors, or those are who are comfortable enough to use a bigger monitor for entertainment purposes. If your product(s) is delivered with any flaws OR when you encounter any problem during your usages, you can always contact Viotek's customer service team. Moreover, Viotek also provides a 3-year warranty after the purchase date.
4- Samsung 34-Inch SJ55W Ultrawide Gaming Monitor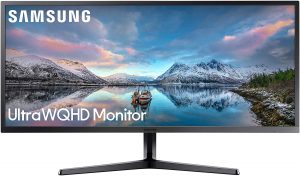 If you've been living under a rock, you would have never heard about Samsung, but if you haven't been living under said rock, we're sure that you have heard about this South Korean company before. Samsung has always been known to have been careful and ambitious with their research and market domination. However, this list isn't about their success, so we will move on to the chosen product.
This gaming monitor from Samsung, the SJ55W, is a 34in (approx. 86.36cm) ultra-wide screen monitor. It is able to be used in split screen mode, which is two windows at the same time, allowing you to multitask to your heart's content. It has a refresh rate of 75Hz, a screen resolution of 3440 × 1440P, uses AMD FreeSync technology to reduce screen tearing and stutters. Plus, it also has HDMI ports and DisplayPort.
3- LG 34UC80-B 34-Inch 21:9 Curved UltraWide QHD IPS Monitor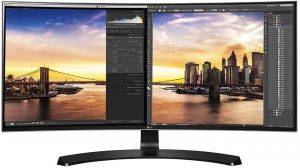 And another LG monitor on our list. This time it is the trustworthy LG 34UC80-B. This monitor is a QHD IPS monitor, with 21:9 ultra-wide design. Its sRGB is over 90%, which makes it color calibrated; providing the best kind of color for both your gaming and work experience. To avoid physical strains, the height of this monitor is adjustable.
It has HDMI 2.0, a color depth of 10 bits (8bits + FRC), can produce up to 1.07 billions of colors, brightness level of 300cd/m² and a USB 3.0 quick charge. Moreover, if you're in the mood to work on two things at one, the LG 34UC80-B enables you a comfortable split-screen function (PIP Mode).
2- LG 29WK600-W 29″ UltraWide 21:9 IPS Monitor Best LG Monitor for Gamer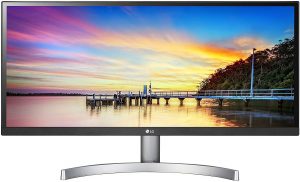 Are you sick and tired of seeing LG being mentioned in our list? We hope not, because this will be the last time this brand will appear in this list. Much like the other mentioned LG monitor, the 29WK600-W is a 21:9 ultra-wide IPS gaming monitor and can be used in split-screen mode. This monitor is HDR10 compatible, uses sRGB 99% Color Gamut.
It is 29in (73.66cm) in size and has a dimension of 27.5 x 12.5 x 3 (approx. 70cm × 32cm × 7.62cm). With a stand, the total dimension is changed to 27.5 × 16.2 × 8.2 (approx. 70cm × 41cm × 21cm).
1- Samsung CJ89 43″ Curved UltraWide 3840 X 1200 Resolution 120Hz Monitor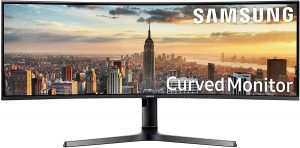 And finally, introducing, the CJ89 from Samsung! This is a 43in (approx. 109.22cm) monitor with a 32:10 ratio aspect and has a screen resolution of 3840 × 1200P. Having this one monitor is like lining up two 24in (approx. 61cm) monitors next to each other.
Its 120Hz refresh rate allows this monitor to run your program smoothly without any tearing. This refresh rate can also be adjusted to your own preferences. By connecting to another device to this monitor via the USB Type-C, you can beautifully view and control that device's content on one side, while also controlling the other side from just one mouse and one keyboard.
What do consider before buying Ultrawide Gaming Monitor
There are many ways to identify the best gaming monitor, yet it's subjective based on your need and budget anyway. However, for your consideration before buying the gaming monitor, you can consider the following criteria.
This is the technology that was integrated in many gaming monitors to reduce eye-strains and screen tearing. Moreover, with Flicker-Free technology, you can go on a very need gaming marathon on your own, or with your family and friends.
This rate is to determine how fast each computer/monitor load images per second. Usually, the higher the CRT is, the better or quicker it is for the machine to process things and load it back out.
When purchasing a monitor, whether it's for work or gaming, please remember to check whether or not the head can be adjusted up and down and whether it has the HDMI connection parts. The reason being, firstly, in case we want to use the monitor for leisure purposes like watching movies, you can also adjust the height of the monitor, so that your eyes don't have to go crossed and blurry within a short amount of time.
Regarding warranties, it is recommended to carefully go through the after-chase conditions from the respective company.
What is the best monitor for gaming?
There are various types of monitor for gaming. Yet, if you are the wide screen lover, I would recommend to get one of the above ultra-wide gaming monitors from the big brands such as BenQ, Asus, MSI, Viotec, LG and Samsung. These brands are worldwide recognized for its advance technology device products. Therefore, get one of these branded monitors will give you the best experiences for gaming activity.
Is Ultrawide better for gaming?
Of course, it is if you are a multiple task player. The best thing about the Ultrawide monitor screen is that it provides you with the bigger field of view (FOV) in some games, and this is an advantage for your competition. The wider view you get, the better you can play ahead of another other challengers. And if you are going to play with two person on the same screen, the Ultrawide monitor gives you a bigger space of vision to enjoy the activities as well.
For one more advantage, you can actually split screen between your taming activity and other task in case you need to monitor any performance of your work on the same screen. If you are a security camera monitor, then it's always the best to get the super wide screen right? That's my pick.
Conclusion
In conclusion, when it comes down to which gaming monitor to purchase, you have to take in many considerations. These include the size, the resolution, the performance speed/quality and, most importantly, your main purpose for that monitor. If you get a monitor that does not suit your needs, its fullest potential will never be met and neither will yours. We wish you the best during your shopping and we hope our list has been helpful to you. Cheers!
Last update on 2023-11-30 / Affiliate links / Images from Amazon Product Advertising API