If you're looking for a way to boost your productivity, or simply need an extra screen while on the go, a portable monitor can be a great solution. There are a variety of different models available, so it's important to do your research before making a purchase. In this article, we'll discuss some of the best portable monitors for smartphones, laptops and even PC on the market, and outline the pros and cons of each one. By the end, you should have a better idea of which option is right for you.
List of the Best Portable Monitors for Smartphone, Laptop & PC in 2023
Reviews
11. Desklab Monitor: The Ultralight Portable 4K Touchscreen Monitor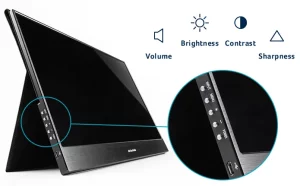 This Desklab 4K Touchscreen monitor is perfect for those who need a portable, lightweight option that doesn't sacrifice features or performance. The built-in touchscreen is responsive and quick, making it ideal for design work, gaming, or simply browsing the web. You can even use it as a secondary display for your laptop or phone.
Additionally, the magnetic stand attached doubles as a screen protector, and there are multiple angle adjustments to ensure comfort while using the device. The monitor is fully customizable, so you can tailor the settings to your specific needs. Whether you're looking for a simply way to stay connected on the go or a powerful boost for your device, this monitor is an excellent option.
Key features:
Ultralight 4K Touchscreen Monitor
All Platforms compatibility
Many ports
Transform your phone into workstation
Portable and instant plug & play
Powerful touch & responsive
Customizable with magnetic stand & screen protector
10. Lepow Portable Monitor 15.6 Inch Full HD USB Type-C Computer Display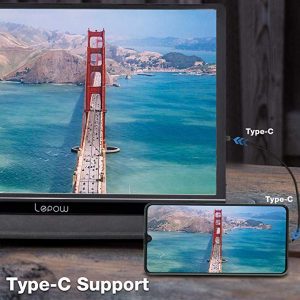 Lepow 15.6 Inches comes with a full-HD 1080 quality while the screen itself protects your eyes from getting tired while in a prolonged usage. The portable monitor brings about a USB Type-C port and mini HDMI port so that users are able to play game on the monitor even from their smartphones. Additionally, Lepow 15.6 Inches is compatible with various types of gaming machines such as Type-C smartphones, laptops, XBOX One, PS4, Nintendo Switch and so on. As a result, the product is of excellent quality for home entertainment, travel and business trips.
Screen protector and smart cover are added in the package; at the same time, the cover case comes with PU-leather material. The portable monitor offers two built-in speakers so that the product itself is of excellent advantage for multi-media entertainment.
9. G-STORY 15.6 Inch Ultrathin Touchscreen, FHD 1080P Portable Monitor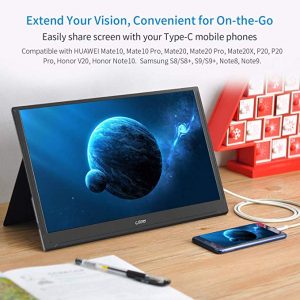 G-Story 15.6 Inches offers an aspect ratio of 16:9 while the brightness is of 220cd/m2 quality. The TV screen is HDR and FreeSync so that image stuttering and tearing are eliminated while better pictures are promised to be delivered. G-Story 15.6 Inches is compatible with gaming devices such as Xbox One, PC, PlayStation4, PC and so on. These devices are connected by an HDMI port while aType-C port connects the portable monitor to Nintendo Switch. The portable monitor itself is designed for FTS/FPS Game-Plus Function.
G-Story 15.6 Inches offers a one-month refund policy along with a one-year warranty for users' safety net in their deals. Three-dimensional size of the product is 16.3 x 11.8 x 2 inches while the product's total weight is 2.31 pounds.
Watch video how the G-Story 15.6″ Touch Screen 4K works
Also see:
8. ASUS MB168B 15.6″ WXGA 1366×768 USB Portable Monitors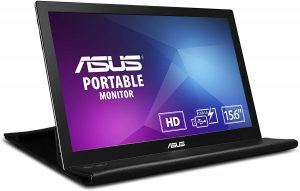 ASUS 15.6 Inches comes with two versions including the Full-HD and WXGA portable monitors. ASUS 15.6 Inches is one of the lightest and slimmest USB monitors while the product is finished with a metallic and sleek design. The video power and signal are connected by only a single USB cable; the portable TV screen itself is able to deliver full-HD quality images. In addition, the product's display is auto-rotating.
Furthermore, the package brings along a smart case which serves as both protective sleeve and adjustable stand. ASUS 15.6 Inches is compatible with windows 7, Mac OS X, etc. Please note a filter with an ability to reduce blue light is part of the collection. A 3-year warranty is offered by the manufacturer for ASUS 15.6 Inches.
7. AOC e1659Fwu 15.6-Inch Ultra Slim 1366×768 Res 200 cd/m2 Brightness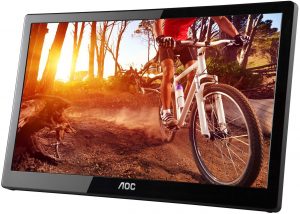 AOC 15.6 Inches offers three different versions including the Full-HD portable monitor, the Full-HD with DP-Alt Mode portable monitor as well as the HD portable monitor. With aspect ratio 16:9, Max Resolution: 1366 x 768, contrast ratio 1 as well as response time 8ms, multiple-USB monitors could easily be added to AOC 15.6 Inches by an installation of the display-link software on users' Mac or PC.
The product's flexi-stand is foldable. An auto-pivot mode is offered for landscape and/or portrait view too. Three-dimensional size of AOC 15.6 Inches is 14.6 x 8.6 x 0.9 inches. The product's total weight is 2.4 pounds.
6. GeChic 2501C 15.6 inch Portable Monitor with HDMI, VGA Inputs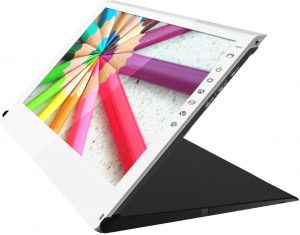 GeChic 15.6 Inches brings about an audio jack as well as built-in speakers. Moreover, the portable monitor is powered by a connection to USB. A VGA/HDMI port comes along GeChic 15.6 Inches. In addition, the cables are in separate deals. GeChic 15.6 Inches's resolution is 1366 x 768. Interested users are able to combine the Bluetooth mouse and keyboard to the portable monitor; as a result, users are able to enjoy wireless working experience with GeChic 15.6 Inches.
While the product's weight is 2.27 lbs, GeChic 15.6 Inches's solution is 1366 x 768 pixels. Lastly, the portable monitor's three-dimensional size is 15.2 x 10.2 x 0.5 inches.
5. Eyoyo 8 Inch HDMI Monitor 1024×768 Resolution Display Portable 4:3 TFT LCD Mini HD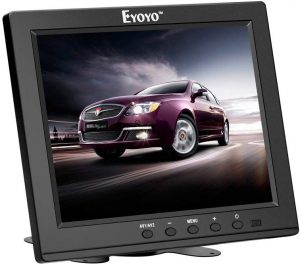 Eyoyo 8 Inches is a portable monitor which offers users 1024 x 768 LCD-quality screen; the resolution itself gives colorful, exquisite and clear images. AV, VGA, HDMI and BNC ports are equipped with Eyoyo 8 Inches. The product's loudspeakers are of high quality. Three-dimensional size of the product is 7.9 x 1.3 x 6.5 inches.
Furthermore, the portable monitor's total weight is 1.76 pounds. With a landscape adjustable stand, Eyoyo 8 Inches's power input is DC 12V/1000MA. Users shall expect Eyoyo 8 Inches's lifetime of 10,000 hours.
4. TOGUARD Portable Monitor 7 Inch IPS Small HDMI Security Monitor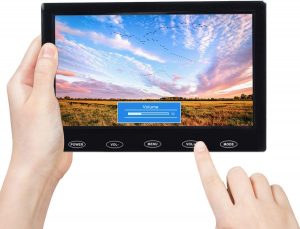 Toguard Portable offers two different versions including the 7-inch and 10.1-inch portable monitors. The portable screen monitor offers 1024 x 600 HD resolution picture. Toguard Portable offers users two power-supplying systems. For the first one, users are able to supply the portable monitor power with a power bank (via a USB cable). For the other way, users could charge Toguard Portable by plugging the portable monitor with a 12V charger. Toguard Portable is designed as an elite monitor for the product's slim and sleek design.
Additionally, the portable monitor  with Black color which further adds up to the modern and advanced outlook of the monitor itself. It should be noted, like other mentioned portable monitors, Toguard Portable offers a touch key. Lastly, the product itself has an auto-off function while not being in a usage for battery saving.
3. Gaming Monitor 13.3 Inch 2K Portable Gaming Monitor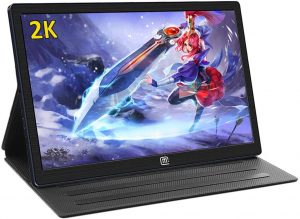 There are four different versions for Gaming Monitor. The first one is 13.3-inch 2K-quality portable monitor. The second one is 15.6-inch 1080P portable monitor. The third one is 15.6-inch 4K-quality portable monitor. The fourth one is 7-inch 1024 x 600 portable monitor. The four versions of Gaming Monitor, while offering different sizes of screens and qualities of images, are having many similar basic qualities. All the Gaming Monitor versions bring about two different inputs including the HDMI and USB-C alongside a headphone jack of 3.5mm. The portable monitor themselves have dual-stereo speakers.
Gaming Monitor machines are compatible with various devices including TV Stick, PC, Smartphone and so on. Please note Gaming Monitor's design is super-slim with a weight of only 0.6 Kg. Potential users shall consider themselves whether they want to carry around a portable monitor with weight or the one with a weight of a piece of paper. The choice comes down to your personal preference.
2. UPERFECT 7-inch Computer Display Portable Game Monitor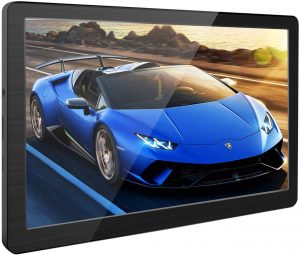 Uperfect 7 Inches offers its potential users three different versions of the portable monitors. The first one is 10.1-inch 2K-quality portable monitor; the second one is 13.3-inch 1080P-HDR monitor while the last one is a 7-inch 1080P-HDR portable monitor. Some basic details of the mentioned portable monitors are; resolution visuals of 1024 x 600, color reproduction of 72%, contrast ratio of 700:1 as well as a brightness of 450cd/m2.
Uperfect 7 Inches is a portable monitor which works parallel with different multimedia machines including Nintendo Switch, XBOX One, PS3, PS4, Surface Book, Chromebook, etc. Uperfect 7 Inches offers a weight of 0.5 pounds as well as a sleek design of 0.4-inch profile. Users shall expect the weight and size as very light and small.
1. ASUS USB MB169B+ 15.6″ Full HD 1920×1080 IPS USB Monitor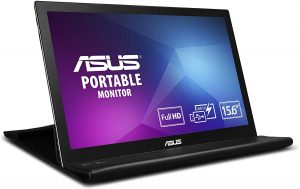 ASUS USB brings about two different types of portable monitors including the Full-HD USB-3.0 portable monitor as well as the WXGA USB-3.0 portable monitor. Both products offer 15.6-inch screen. There is only one USB port which features a plug-in port for USB-3.0 cable data and power transmissions. Users shall expect the product's design with a finish of metallic and sleek quality. While almost all the mentioned portable monitors have similar designs, interested users shall aware there are some slight differences.
ASUS USB has an appearance of an ASUS personal computer. The design itself is not modern but simple relative to Uperfect 7 Inches and some other mentioned portable monitors. ASUS USB is compatible with computing machines and software such as Mac OS and Windows 7. There comes a three-year warranty for ASUS USB.
What to Consider when Buying a Portable Monitor for Smartphone
We are aware that interested users already possess gaming and entertainment devices such as Smartphone, XBOX One, Nintendo Switch and so on. While those machines come with screens of their owns, the screens themselves are not large enough for full experiences of gaming and entertainment. Therefore, we recommend interested users shall consider the portable monitors with screen sizes of your full satisfaction so that you do not need to consider having other deals on different portable monitors.
Qualities of images are important. While we offer the quality of resolutions in almost all the reviewed portable monitors, it is hard for the typical users to estimate the exact image qualities offered by each machine. We recommend interested users search on websites such as Youtube to match between each resolution quality and reality of image quality.
Make sure the monitor's port is compatible with your Smartphone, Laptop and other devices you wish to use with. Normally, a portable monitor is compatible with USB-Type C and Mini HDMI port.
Conclusion 
We believe readers have necessary skills to make a right deal for themselves. Hence, our review serves a little contributing factor to your final decision. We hope you had a great time reading our reviews.
Last update on 2023-10-04 / Affiliate links / Images from Amazon Product Advertising API