The two-drawer wood filing cabinet is a medium piece of office furniture, made of wood with two deep drawers for storing documents more properly. If you are working in a room in which papers are scattered all around you, you should consider buying one of this kind of wood filing cabinets. A  wood filing cabinet with two drawers are perfectly fit in your personal office or home office. With not small size, you can place it against the wall, near your bed head, or beside your working desk. More importantly, wood filling cabinets also help increase the décor level of your room besides storing your bundle of documents. To make your work easier, our team have enlisted the top 11 best two drawer wood filing cabinets for your pick below.
List of the 11 Best Two-Drawer Wood Filing Cabinets in 2021
11. Sauder Edge Water Lateral File | Estate Black Finish Sauder File Cabinet Wood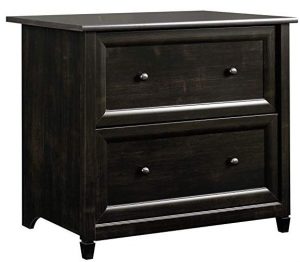 Sauder Edge Water Lateral Filing Cabinet is one of the best solution for the unorganized mess of your papers. It is the unmatched combo of style and classiness. With its antique design with a shiny black finish, this wooden cabinet will literally allure you and your guests. Speaking of its storage capacity, it holds up letter and legal size files very well. The two drawers are designed with full extension slides, so there is no chance of files falling off. The filing cabinet also has 4 rubber legs, which do not only ensure stability but also prevent your floor from unwanted scratches. Most importantly, this amazing Sauder wood filing cabinet comes with a 5-year-long limited warranty.
What is the two-drawer wood filing cabinet from Sauder best for?
This two drawer Sauder cabinet is suitable for a company's office, home office, living room and even sleeping room. As its height is not tall, you can place it near or under your working desk, use as a TV stand in your living room or use it as a lamp cabinet in your sleeping room.
10. Z-Line Lateral File Cabinet 2-Drawer in Cherry Color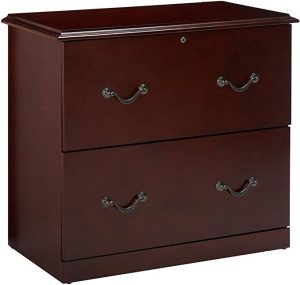 The two drawer lateral file cabinet from Z-Line is made from wood with cherry finish design. The two drawers are equipped with antique brass handles, making it easy for your to open and close it after placing your papers in. It also has security lock so that you won't have to worry much about your documents. The cabinet is available in three colors – Black, Cherry and Espresso – for your pick. The cabinet's two deep drawer can accommodate your important papers, including legal size hanging files well.
What is this Z-Line Two-Drawer Wood Filing Cabinet suitable for?
It is an ideal design lateral cabinet for both company's office and home use. In office, you can place various papers work in it, while at home you can use it for more than just keeping paper but also other stuff as well. You can also check out Sauder Palladia File Cabinet for the brand's option.
9. Bush Furniture Stanford 2 Drawer Lateral File Cabinet | Antique White and Tea Maple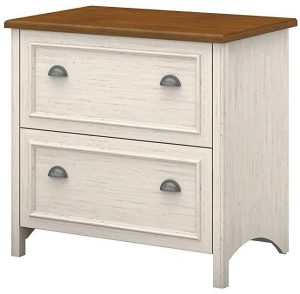 If you need a basic wood filing cabinet at an affordable rate, look at  the 2 drawer file cabinet from Bush Furniture. This wooden file cabinet might not look stylish, but it promises a long durability. Speaking of its storage capacity, it can hold up legal, letter, and A4-size files very well. Its drawers are designed with ball bearing slides, which ensure a smooth glide. On top of all, Bush Furniture wood filing cabinet comes with 6 years full warranty.
What is this Stanford 2 Drawer Lateral File Cabinet suitable for?
This filing cabinet can be used in the office, living room, sleeping room and personal working space.
8. Z-Lines Designs Cherry Wood Filing Cabinet Two Drawers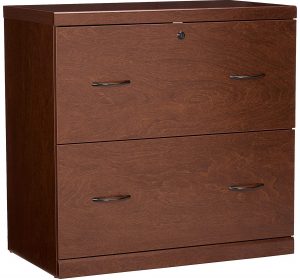 Nothing can beat the attractiveness of wooden furniture polished in cherry color. Isn't it? Well, if cherry color entices you too, this wood filing cabinet might please you. Other than its beautiful color and design, this wooden file cabinet impresses the people with its top-notch quality and versatility too. It can accommodate almost all types of files including letter and legal size files. To add further, this amazing wooden file cabinet is designed with a lock system too. So, you can rest assured about the security. Anyway, this is just a two-drawer file cabinet. You might check out the three-drawer file cabinets or four-drawer filing cabinets if you need a bigger capacity one.
7. Bush Furniture Key West 2 Drawer Lateral File Cabinet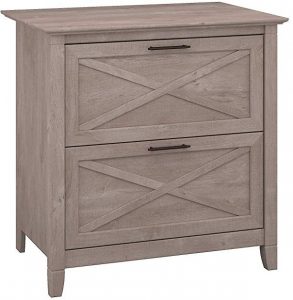 Simplicity has its own charm. No? Well, if you differ with me, just look at this two drawer wooded file cabinet, which is a darling in the market. Featuring ball bearing slides, solid handles, sustainable top surface, and sturdy legs, it has amazed the people with its rustic design combined with reliable quality. The best thing about this filing wood cabinet is that it can even act as a working desk as it matches the height of a computer desk.
6. Sauder 420040 Costa Lateral File Cabinet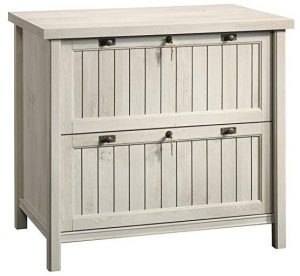 Sauder has taken accessibility level to one-step ahead. Do you know why? Well, because you can lock both the drawers separately with two different keys in this wood filing cabinet, unlike other wood filing cabinets. The handles are also smaller and more stylish. Adding more to it, the cabinet's two drawers are designed with an interlocking system, which adds an extra layer of security by allowing only one drawer open at a time. If you're concerned about its storage capacity, it can accommodate almost all sizes of files. If you are a fan of white cabinet, you can check our list of white file cabinets for more options.
5. Sauder Heritage Hill Lateral File Cabinet Two Drawers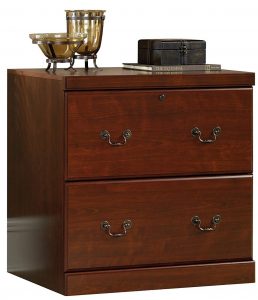 Here, clap your eyes on another Sauder wood filing cabinet and admire the classiness of this brand. Since it features full extension slides, the drawers operate smoothly. This wood filing cabinet is particularly made to hold the letter and legal size files. The top drawer is secured with a lock. Given its all features, this wood filing cabinet is surely a head-turner in the market. Its classic cherry finish makes it even more desirable.
4. Sauder 420607 Palladia File Cabinet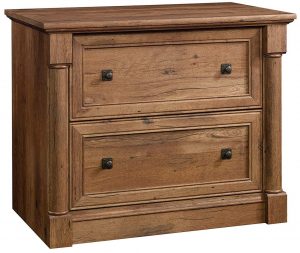 Here comes another rustic yet elegant wood filing cabinet. Don't go by its appearance. It might look you outdated, but it is unbeatable when it comes to quality and versatility. With a huge capacity of holding letter, legal, and European size files, it is sturdy made and finely polished. The thing you'll love about this file cabinet is that it is designed with the patented T-slot drawer system, which you'll hardly find in any other wood file cabinet. Believe us, you won't regret your purchase with this file cabinet.
3. Target Marketing Systems Bradley Collection filing cabinet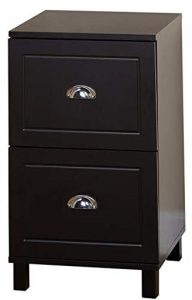 If you need a small, budget-friendly yet stylish wood filing cabinet, Target Marketing systems Bradley collection filing cabinet is made for you. Given its small size, it can fit in even in your small room. If you're concerned about its storage capacity, it provides you ample storage even after its compact design. The drawers have metal handles, which are not only durable but also look great. Its stylish legs add further elegance and keep the cabinet stable making it easy to place it anywhere.
2. Sauder 422112 Harbor View Lateral File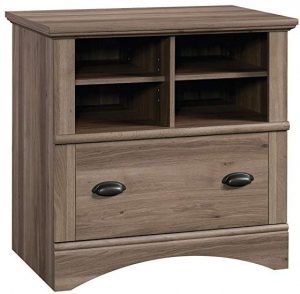 If pulling and pushing drawers seems you a headache, you can buy this wood filing cabinet. You know why? Well, because it is designed with more 2 open and adjustable shelves other than just one big locking drawer. With that said, you can keep confidential papers in the locker and all other papers in the open shelves. The file cabinet can accommodate different sizes of files effectively.  Its salt oak finish adds further charm to its unique design. In case you get it broken somehow, don't worry. It offers 5 years full warranty.
1. Z-lines Designs 2-drawer Vertical File Cabinet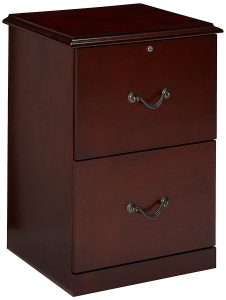 Get this elegant wood file cabinet and add an alluring touch to your home décor. Seriously, this should be called a masterpiece. From its space accommodating design to chic cherry color, this Z-Lines file cabinet is one of a kind. You can't deny the fact that cherry color accentuates the lure of a piece of furniture million times more. Speaking of its features, It comes with antique brass handles and a lock. To allow you smooth accessibility, the drawers are designed with full extension glides.
Conclusion
Don't let your office or room be crammed with the papers here and there. Just get one of these wood filing cabinets and see how easy it is to keep everything organized and handy. You can thank us later.
Last update on 2021-04-03 / Affiliate links / Images from Amazon Product Advertising API