In the recent few years, we have witnessed an explosion in the demand for portable air conditioners or portable AC. Gradually, they are gaining popularity over their window counterparts for obvious reasons. A portable air conditioner doesn't only ensure an easy installation but also allows you the freedom to move it around from one place to another conveniently keeping your ambiance cool all the time. Provided that, a portable AC is a must-have home appliance today.
So, if you haven't bought one yet, get it today itself and make your summers pleasing. Here, we have enlisted the top 10 best portable air conditioners of 2023 for you. Go through the list and pick your favorite one:
List of the 10 Best Portable Air Conditioners in 2023
Portable Air Conditioner Reviews
10- MIDEA MAP08S1BWT Portable Air Conditioner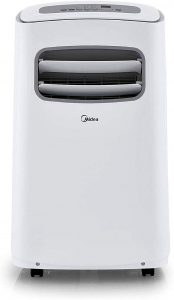 Midea MAP08S1BWT portable air conditioner is a remarkable piece of innovation. Inbuilt with Wi-Fi functionality, it offers you to flexibility to control the setting just a tap of your finger as long as you have the Midea app on your phone. Other than the app, you can operate the air conditioner with its LED remote too. Being a powerful air conditioner, it is capable enough to cool down the spacious room up to 100 sq ft efficiently. Furthermore, it is also designed with a temperature control system that lets you adjust the temperature between 62-90ºF and keep it according to your needs.
9- Whynter ARC-14S Dual Hose Portable AirConditioner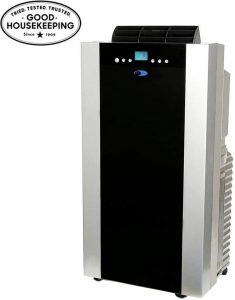 If you need a portable AirCon that can do the jobs of a humidifier and a fan as well, turn your head to Whynter ARC-14S one. This versatile portable air-con can keep a vast area of 500 sq ft cool. To create an ideal ambiance for you, you can customize the temperature between 61-89ºF. To enhance the functionality further, it is equipped with 24-hr programmable timer, powerful refrigerant, carbon air filter, and auto drain function. Moreover, it also comes with a remote control in order to make accessibility easy for you. Its mobility design make it more convenient than the wall-mounted AC in case you need to move it around.
8- Black+Decker BPACT10WT Portable Air Conditioner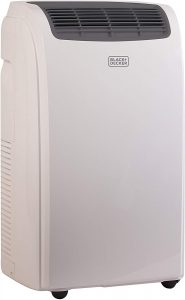 Black+Decker BPACT10WT portable air conditioning is the best fit for the people, who are looking for a stylish air-con. Its chic design with a glossy white color will surely blend in with your home décor. Speaking of features, it will sweep you off your feet with its awesome features too as it is inbuilt with LED display, 24-hr timer, sleep mode, 75dB noise level, and remote control. Given the fact, it doesn't come as a surprise that this portable AC can sprinkle its magic in a huge space of 150-250 sq ft.
7- SereneLife Portable Air Conditioning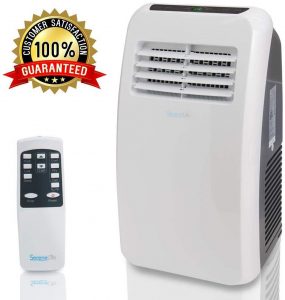 As the name suggests, SereneLife portable AC is a super quiet air conditioner, designed to be used in bedrooms, offices, working rooms, and living room. Its operational noise level is only 55-57dB. It is impressive in its functionality too. With a high cooling capacity of 8000 BTU, it can create a soothing aura in a spacious area of over 215 sq ft. Featuring 3 operating modes, it can wonderfully act as a dehumidifier and fan other than just a portable air-con. To make it function the way you want, it is inbuilt with adjustable speed and temperature setting.
6- Black+Decker BPACT14HWT Portable Air Conditioner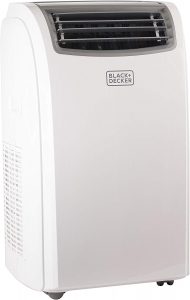 This has to be called an unmatched blend of elegant design and innovative technologies. Truly, Black+ Decker BPACT14HWT is one-of-a-kind in the market. Unlike its competitors, it is a 4-in-1 portable air-con that can replace your fan, humidifier, and heater. Even after being such a versatile unit, it ensures a noise-free operation as its noise level is only 75dB at the highest pace. Moving on to its features, it is equipped with an LED display, 24-hr timer, sleep mode, and cooling capacity of 7500 BTU.
5- Tripp Lite Portable Air Conditioning | Movable Air Conditioning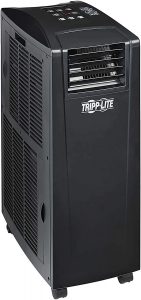 If you want to buy an offbeat portable air conditioning with the same or even more innovative features, hands down, Tripp Lite portable air-con is made for you. Its unique design coupled with remarkable user-friendliness puts it apart from the others. Unlike many other air conditioners, it is designed with a built-in evaporator, which eliminates the hassle of emptying water tanks every now and then. Furthermore, it is inbuilt with 12000 BTU cooling capacity and an eco-friendly R410a refrigerant that make it a powerful air conditioner.
4- Honeywell MN10CESBB Portable Air Conditioner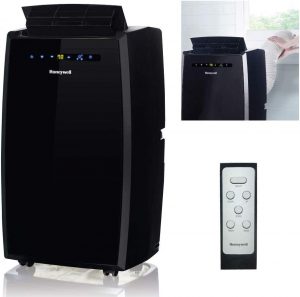 Honeywell MN10CESBB movable air conditioner has carried the blend of elegance and innovation perfectly. Its ergonomic design with a shiny black color is truly irresistible. Moving on to its features, it is designed with a 24-hr timer, 10000 BTU cooling capacity, and remote control. Being a 3-in-1 unit, it can help you cool down your room in scorching summer, dehumidify it in humid days, and fill it with soothing air in not-so-hot days. You can also adjust the speed of its fan in 3 different modes. Moreover, it is also super quiet as the noise level is only 53dB.
3- Rollicool Alexa-Enabled Portable Air Conditioner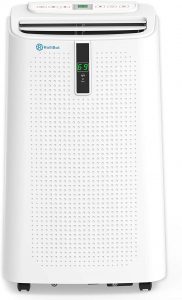 If you want your compact air-con to work at your voice commands, leave all other and look at Rollicool air conditioner. Pair this air-con with Amazon Alexa and enjoy its mind-blowing features just at your voice command. If it seems you difficult, download the Rollicool app, configure it with your air conditioner, and manage the air conditioner from anywhere. In addition to that, you can enjoy the additional functions of a heater, humidifier, as well as a fan with this portable air conditioning.
2- LG LP10117WSR 115V Portable Air Conditioner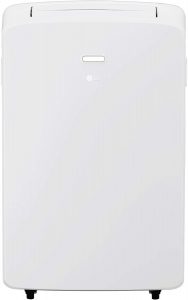 LG LP1011 AC portable air conditioner is a feature-packed AC with a sleek design. The remarkable thing about this amazing unit is that it is inbuilt with an auto evaporation system, which allows you the continuous use of AC without any worries. In addition to that, it is also energy-efficient and consumes only 115 volts. Inbuilt with a cooling capacity of 10000 BTU, it can cool down a large space of 250 sq ft. To spread the air efficiently in all directions, it is equipped with an auto-swing air vent technology.
1- HomeLabs Air Conditioning Portable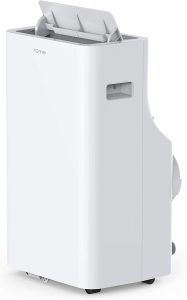 From modish design to versatile functionality and mind-blowing user-friendliness to easy accessibility, HomeLabs air-con is an unbeatable air conditioning. With a high cooling capacity of 14000 BTU, it is capable enough to cool down a vast area of 450-600 sq ft. Furthermore, it is inbuilt with a dehumidifier function, which makes sure to dehumidify the moisture of the air and create a soothing aura for you. To your delight, operating this air conditioner is also a breeze. Just hold the remote and everything is just at a press of a button.
Key factors to consider while buying a portable air conditioner
A portable air-con is not just a home appliance but a source of your comfort. This is why, before buying the one, consider all vital factors and make a wise purchase. Those factors are:
Cooling capacity and covering area
An air conditioner portable is meant to cool down your room. So, make sure to investigate its cooling capacity and the area range that it can cover. These two things are actually correlated with each other. For instance, a portable air conditioner with 5000 BTU cooling capacity is powerful enough to cool down a room of nearly 150 sq ft. If your room is bigger and you want to cover a larger area than that, go for a portable air conditioner with higher cooling capacity.
Versatility
The best thing about most portable air-cons is that they are versatile and can do the jobs of a couple of other appliances such as a fan and a dehumidifier. Thus, they don't only cut down your electricity bills but also save space in your room. So, look into this factor consciously and buy the one that is multi-functional. Some of the portable air-cons even offer the functionality of a heater. So, be clear with your needs beforehand and make the purchase accordingly.
Noise level
Another significant factor that must be considered while buying a portable air-con. If the buzzing operational sound is not an issue for you, you can certainly go for any AC. But, if you find it annoying like we do, look for a portable AC that is efficient with the noise. Generally, the ACs with a noise level of 45-50 dB are considered pretty noise-efficient.
Adjustability with temperature
An air conditioning is of no use if it doesn't offer you the flexibility to customize the temperature according to your needs. I'm sure even you are not going to use your AC unit on a constant temperature setting. Are you? This is why give enough time to go through the temperature setting of your prospective device. Though the temperature range varies from the unit to unit, the ideal range is considered 60-90ºF. Nevertheless, it can be lesser or more than that but make sure it is something near about this.
Conclusion
The summer is pleasing and enjoyable if you have a portable air conditioning in your home. It will create a soothing atmosphere for you anywhere in a second regardless of the scorching heat outdoors. So, what you're waiting for? Just get one of these innovative portable air-cons and beat the heat of summer with ease.
Last update on 2023-10-04 / Affiliate links / Images from Amazon Product Advertising API