Do you want your air conditioner to function like a new one for years? Well, then you should consider investing in an air conditioner bracket, which maximizes the durability as well as the functionality of your AC unit significantly by providing support and keeping it balanced.
Other than AC, it also safeguards the window and the outer wall, where it is mounted. So, don't hesitate. Just go ahead and get the one. If you're unable to choose the one among the pools of AC holding brackets in the market, worry not. We're are here to get you out of this dilemma. You just go through our list of top 10 best air conditioner brackets in 2023 below.
List of the Best Air Conditioner Brackets in 2023
Air Conditioner Brackets Reviews
10- Jeacent Universal AC Window Air Conditioner Support Bracket, Light Duty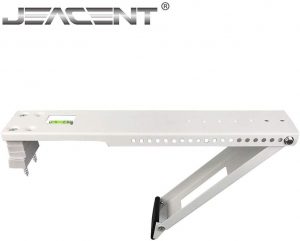 This universally designed air conditioner bracket is intended to be used with almost all types of window ACs. However, it doesn't seem to go well with slide casement and casement windows. With its robust steel construction, it makes sure to hold the AC unit effectively and minimizes the chances of window damage. The noticeable factor about this air-con bracket is that it is meant for windowsill of 2-11 inches. In any case, the thickness of the wall shouldn't exceed 12 inches. Moreover, the installation is also a breeze.
9- Jeacent Universal AC Window Air Conditioner Support Bracket, Heavy-Duty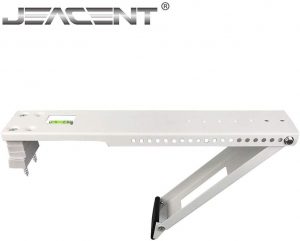 If you want a sturdy air conditioner bracket that can hold up heavyweight efficiently, Jeacent universal air-con holder might fit well in your needs.  Made of high-density steel materials, it is solid enough to withstand the weight up to 165 lbs. To ensure firm and reliable mounting, it is designed with rubber mounts, which stay on the wall stably without any sliding. Being a large-sized AC bracket, it works well with the wall thickness of 2-15.2 inches and can accommodate the ACs up to 17 inches.
8- Qualward Air Conditioner Bracket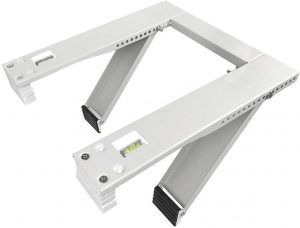 Qualward air-con bracket is a perfect fit for the people who just can't take the hassle of hour-long installation. You don't need any drilling on the outside wall. Just drill on the windowsill and put it there. That's it. Speaking of its holding capacity, it can efficiently withstand the weight up to 180 lbs. All thanks to its heavy-duty steel construction that is incredibly sturdy and amazingly durable. To make the bracket work seamlessly, install it on the walls of 3-15.2 inches thick.
7- AC Safe ac-160 Universal Window Air Conditioner Support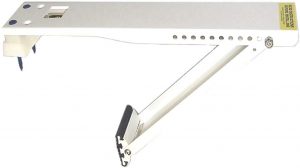 True to its name, AC Safe has brought a remarkable air conditioner bracket to safeguard your AC. Apart from giving reliable support to your AC, it also minimizes the stress and weight on the window. In addition to that, the outstanding air conditioning bracket works well with the walls of 4-11 inches and endures the weight up to 160lbs. Speaking of its construction, it is made of sturdy steel and has an epoxy coating to make it more durable. On top of all, it is incredibly easy to install.
Also check: Top 10 Best TV Wall Mount Brackets in 2023
6- AnyMount Universal Window Air Conditioner Bracket

If you need a small-sized AC bracket, AnyMount universal window air conditioner deserves your attention. With a holding capacity of 88lbs, it is purposely made for the window AC units of 5000-10000 BTUs. The ideal wall thickness for this air conditioner brace is 4.5-6.6 inches. Unlike many other AC brace, it is designed with precision bubble levels that ensure proper mounting angle. If you're concerned about its installation, don't put too much stress on your mind. It provides easy-breezy installation, that too without any special tools.
5- TOP SHELF TSB-2438 Air Conditioner Bracket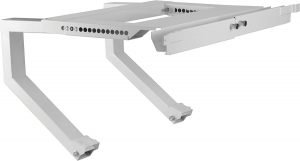 If you want something more stylish and advanced than just those traditional air conditioning brackets, hands down, no other air-con brackets can be better than this for you. It is designed for the single or double-hung windows of 24-38 inches. In addition to that, the ideal wall thickness for this bracket is 6-12 inches. Having a weight-holding capacity of nearly 200lbs, it is ideally made for big-sized AC units. Even after being a bit bulgy in size, it is easy and convenient to install.
4- Universal Window Air Conditioner Bracket by ALPINE HARDWARE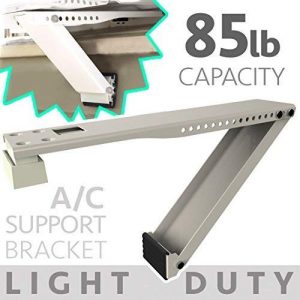 This universal-designed bracket for air conditioner by ALPINE HARDWARE is a sturdy, reliable, yet affordable. Given its universal design, it adapts to almost all types of windows. However, make sure that the windowsill is at least 2 inches deep and the thickness is not beyond 12 inches. Made of sturdy steel, it is not only robust but also highly durable and free from environmental damage. Considering its solid construction material, it doesn't come as a surprise that the bracket can effectively withstand the weight up to 85lbs.
3- BLACK+DECKER BAB-2438 Window Bracket for Air Conditioners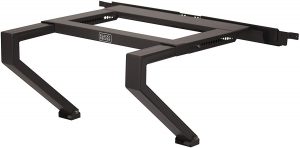 If you need a bracket for your double-hung window air conditioner , this BLACK+DECKER air-con holder might please you. It is designed with an adjustable width of 24-38 inches. Given the fact, you can customize the bracket for the single or double-hung window depending on your needs. The ideal wall thickness for this AC bracket is 4-11 inches. In addition to that, the maximum load capacity is nearly 200lbs. Though it is big in size, it ensures an incredibly easy setup. You need no drilling, no hardware, and no special tools to mount this bracket.
2- EZ-AC Air Conditioner Support Bracket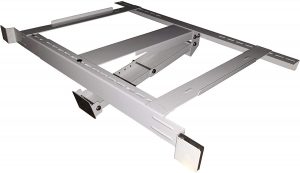 EX-AC air conditioner support bracket is an amazing AC bracket that doesn't only reinforce your UC unit but also avoids the possible damage to your window, window frame, and wall. Its rugged design with a solid steel construction makes it capable enough to withstand a huge weight. To enjoy the maximum benefits of this remarkable air-con bracket, use it on the windows with a mouth opening of 23-38 inches. If you're concerned about its mounting process, worry it. Installing this bracket is not a hassle.
1- DuctlessAire Outdoor Mounting Bracket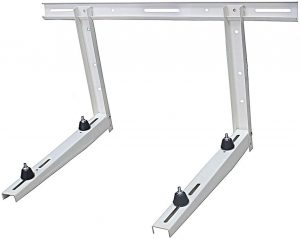 If you need a big-sized bracket for your AC, DuctlessAire outdoor mounting bracket is a good fit for you. It is purposely designed for the AC units of 9000-36000 BTUs. With a height of 18 inches and a width of 33.5 inches, it can effectively withstand the weight up to 350lbs. To ensure easy and convenient mounting, the set comes with some hardware and expansion bolts. Unlike many other AC holders, this brace also provides great protection against snow, dirt, and wind. What makes it such a versatile AC bracket is its L-shaped design with a crossbar.
Video: How to build an air conditioner support bracket for your home
by Jonny DIY
Key factors to consider while buying an air conditioner bracket
The quality of your AC bracket will affect the functionality of your AC. Given the fact, you need to be extra careful while buying an air conditioning bracket. If you can't look into each and every factor of it, make sure to consider the below-mentioned ones.
Construction material
This is a no-brainer that the first thing you should investigate while buying your air-con bracket is its construction material. Usually, AC units are kept on the bracket. Given the fact, your AC bracket must be robust enough to withstand the weight of your AC unit and add support to it. When it comes to the robustness of an appliance, steel-made appliances are obviously the first choice of users. So, buy bracket that is made of sturdy steel.
Weight holding capacity
With the construction material of your prospective air conditioning bracket, you can estimate its weight holding capacity. Still, dig deeper and find out its exact capacity. If it can hold your AC unit well, you can certainly go for it. There is not any certain amount that can be tagged as the ideal weight holding capacity of an air conditioning brace. It is completely subjective and depends on the weight of your AC unit. In general, the weight holding capacity of an AC brackets range between 150-200 lbs.
Wall thickness range
This is the most vital and key component of a bracket for AC. Even if your AC bracket is solid-made and can hold tremendous weight, it would be of no use if it is not compatible with the thickness of your home wall. Given that, first determine the thickness of your wall or window, where you have to mount this, then look for the bracket accordingly. Generally, the wall thickness of an AC bracket ranges somewhere between 6-12 inches.
Installation
Consider the installation process and the time required for it while buying a bracket for your air conditioning. In general, air-con brackets are not so difficult to mount, unlike many other home appliances. You can mount AC brackets in just minutes even without drilling, hardware, or any specific tools. So, make sure your bracket also offers easy installation. If it doesn't, your hunt for an ideal AC bracket is not over yet.
Conclusion
Air conditioners certainly create a long-lasting soothing aura for you, but they themselves are likely to get easily damaged if you mount them without a supporting bracket. So, get one of these sturdy air-con brackets and increase the durability of your AC by reinforcing it.
Last update on 2023-11-30 / Affiliate links / Images from Amazon Product Advertising API