Surviving the blazing heat of summers is really an uphill battle, especially if you're tight on budget and can't afford the high-end AC and upscale coolers. In such cases, a mini air cooler comes handy. It doesn't only help you cool down the room efficiently but also makes sure to cut down your electricity bills. This is why today the market is brimming with a slew of mini air coolers and each of them boasts to be the best one. However, there are only a few that actually live up to the expectations and do their job flawlessly. We have picked them out of the crowd and here compiled in a list to help you make the right purchase.
Check out the list and grab the one.
List of the 11 Best Mini Air Coolers | Best Selection in 2021
Mini Air Cooler Reviews
11- Ontel Arctic Personal Air Cooler | Portable Air Cooler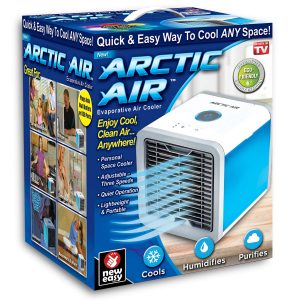 Brand: Ontel
Weight: 3lbs
Ontel arctic personal air cooler helps you fight with the summer in just a few bucks. It is inbuilt with a large water tank that can provide you a long operation of 8-hrs per fill. To create a soothing space for you by pulling the warm air out of the room, it is equipped with an evaporative water filter. If you're concerned about its operational noise, worry not. It is designed with a whisper-quiet fan, which does its job perfectly. Furthermore, it features a night light that can be altered in 7 colors. So, you have the options to choose the one you love.
Key features:
Ultra quiet
Easy to fill water with 8 hours of running
Small but powerful
7 smooth ambient lights
10- Humidifier Portable Air Conditioner Fan By GREATSSLY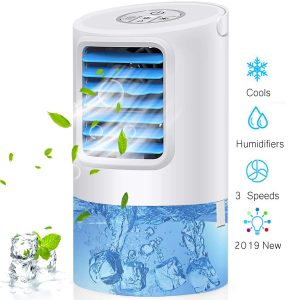 Brand: Greatssly
Weight: 1.85lbs
If you're looking for a versatile mini air cooler, your hunt will surely end here. Built-in with cooling, humidifying, and purifying functions, it creates a soothing and healthy ambiance for you in just seconds. Simply fill its large water tank of 400ml and plug it in. That's it. It is ready to offer you 3-5 hours of enjoyable sleep. Furthermore, it is also inbuilt with a 7-colored warm LED light, which further adds a cozy warmness to the comfy aura of your room.
Key feature:
Compact to bring along
Three fan speed to choose
7 colors of LED light
Powerful for cooling
Also check: The 10 Best Portable Air Conditioners in 2021
9- OVPPH Portable Air Conditioner Fan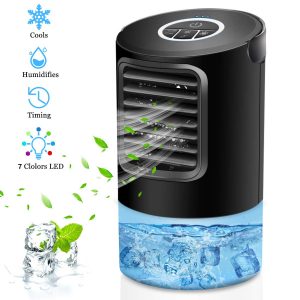 Brand: OVPPH
Weight: 1.8lbs
If you want an ultra-stylish, super portable, and highly energy-efficient mini air cooler, have a look at OVPPH portable air conditioner fan. It weighs only 1.8lbs and the height is also just 8.9 inches. Moreover, it also features a carry handle. Given the fact, you can easily move around this mini cooler from one room to another. Moving on to its functions, it is a 3-in-1 unit that can do the jobs of a cooler, humidifier, and purifier. The fan speed can also be adjusted in 3 modes.
8- Ontel Arctic Ultra-portable Air Conditioner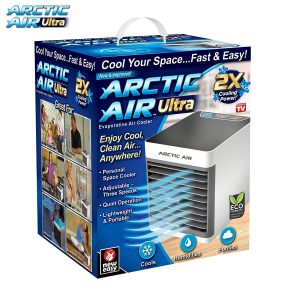 This Ontel arctic ultra-portable air conditioner boasts to be two times more powerful as compared to its competitors, and it truly is. All thanks to its hydro chill technology, which instantly turns the hot air into the cool breeze and creates a soothing atmosphere for you. Not only with the cooling, but it will also help you with humidifying and purifying. The remarkable thing about this mini cooler is that it features an adjustable and multi-directional air vent, which allows you the freedom to point the air to your desired area.
7- Air Cooler, Mini Air Conditioner By ALROCKET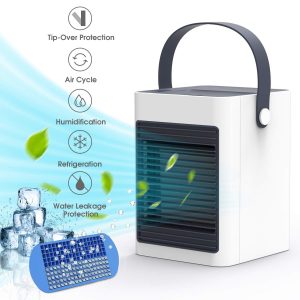 ALROCCKET air cooler is an alluring, compact, and portable mini air cooler. Unlike others, it is inbuilt with a sturdy carry handle, which makes the portability easy for you. In addition to that, it is equipped with an upgraded evaporative cooling technology that ensures you fresh air eliminating the dry air from the atmosphere. To enjoy the best cooling experience with this cooler, fill the iced water in the tank and adjust the wind direction to your side. That's it.
6- Personal Air Conditioner Fan By SUPALAK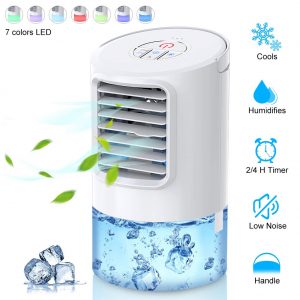 SUPALAK personal air conditioner fan is a step ahead than its competitors when it comes to advanced features. Unlike others, it is inbuilt with a timer function, which allows you the flexibility to set the operating time of cooler in advance. Like, if you want your cooler to cool down your room only till the moment you fall asleep, you can set it beforehand and it will automatically be off once the set time is reached. Furthermore, it is designed with 3 cooling functions, 7-colored LED light, and a large water tank.
Also check: Top 10 Best Wall-Mounted Air Conditioner Heater Combos in 2021
5- Evapolar EvaCHILL New Personal Evaporative Air Cooler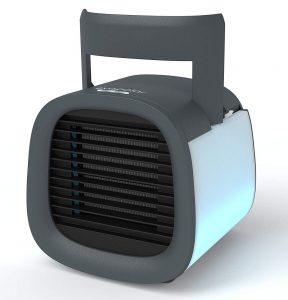 If you want an incredibly small yet feature-loaded mini air cooler, turn your head to Evapolar evaCHILL air cooler. It is actually intended for personal use only and can cool down an area up to 45 sq ft. Put it just in front of you and enjoy a cool atmosphere no matter whether you're reading, writing, working in a laptop, or just easing off. Being a 3-in-1 unit, it cools, humidifies, and purifies your personal space and provides you healthy and pleasing air to breathe in.
4- Humidifier Air Conditioner Fan By GREATSSLY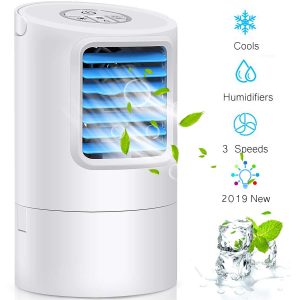 GREATSSLY humidifier air conditioner is a perfect blend of compact design and awesome features. It is inbuilt with multi-functionality that will help you to humidify the air and create a healthy environment. The most amazing thing about this mini air cooler is that its air circulators don't contain any harmful refrigerant. Thus, it provides you completely purified and hygienic air to enjoy. Featuring a large tank of 400 ml, it makes sure to run for 3-5 hrs in just a single fill-up.
3- Onewell Portable Air Conditioner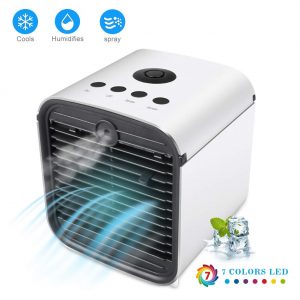 Hate the buzzing sound of electric appliances? Well, then this mini air cooler by Onewell is going to blow your mind with its super-quiet operation. Inbuilt with as much as 6 fan speeds, it creates a pleasing atmosphere for you. You can adjust the wind speed as well as the wind direction according to your needs. Unlike its competitors, it doesn't use Freon. Given that, it is completely eco-friendly, energy-efficient, and health-friendly. Moreover, it also features a 7-colors LED light, which can act as a night light.
2- Portable Air Conditioner By ENKLEN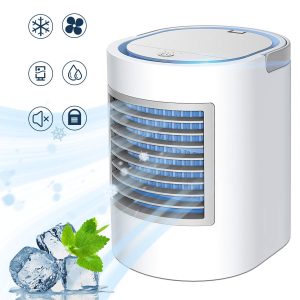 This uniquely designed mini air cooler will surely be an addition to your home. As if its alluring design with remarkable portability was not enough to impress the people, it is loaded with a bundle of amazing features too. To start with, it is ultra-quiet and incredibly energy-efficient. Furthermore, its 380ml of water tank is capable enough to provide the cooling effects of up to 6 hours. The best thing about this mini cooler is that it doesn't only offer cool air but also purifies the whole atmosphere filtering out the odor, dust, and mist from the air.
1. Personal Air Cooler By Air Choice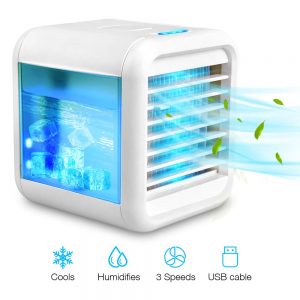 With the innovative features and modish design, Air Choice personal air cooler will make you fall in love with it. Inbuilt with 3 fan speeds, it offers you full flexibility with its setting. You can accelerate or lower down the fan speed anytime. Not only the fan speed but you can also customize its operating functions. Yes, you can use it as a humidifier and purifier other than just as an air cooler. Being a Freon-free air cooler, it is also energy-efficient, nature-friendly, and good for your health.
Key Factors to Consider While Buying a Mini Air Cooler
Just because a mini air cooler is a mini electric appliance, it doesn't mean that you can buy any random air cooler. You need to keep certain factors in mind if you want your purchase to be worthwhile. The factors are-
Nobody likes the hassle of filling water in the tank of a cooler in every couple of hours. I'm sure you too won't like this. So, look for a mini cooler that is inbuilt with a large water tank of at least 400-500ml. This much large water tank can efficiently hold enough water to provide you 5-6 hours long continuous operation without affecting your night sleep.
The versatility of your cooler must be considered while buying it. The function of an air cooler is not just to provide you cool breeze but also to create a healthy and cozy atmosphere for you by humidifying and purifying the air. So, buy the one that is inbuilt with the multi-functionality of cooling, humidifying, and purifying.
Adjustability with fan speeds
You can't run your mini air cooler at the same speed all the time. You must require to lower down or accelerate the speed depending on the weather conditions. This is why buy the one that is adjustable with its wind speed. In general, the top-quality ones can be customized in 3-speed modes. Even if your budget is low, never ever buy a mini cooler with constant fan speed.
The thickness of cooler pads is proportional to the coolness of air coming out of the cooler. Given the fact, pay close attention to the thickness of cooler pads. Else, you'll end up with just an ordinary fan and won't get desired results. So, if you want your small-sized air cooler to offer you soothing and pleasing air, make sure that it has thick cooler pads of at least 90mm. The thickness of cooler pads varies from unit to unit, though.
Conclusion
The blazing heat of summer can be painful but not this much that you have to compromise on your comfort. Simply buy one of these feature-loaded mini air coolers and stay cool and comfortable all year long. They will instantly transform the hot atmosphere into a cool one creating soothing aura for you.
Last update on 2021-04-27 / Affiliate links / Images from Amazon Product Advertising API