Are you living by yourself now and have trouble waking up early? Do you snooze and dismiss your alarms multiple times and always end up regretting it? There is a device that can solve your problem. We all know and have heard of alarm clocks. To step up this game, we now have projection alarm clocks that not only wake you up with the alarm but also project the time on your ceiling or wall largely. This helps you to know the time and lift yourself up and be ready for the day. The enlarged display of the time acts as a tool to wake your senses and kill laziness. Let's grab one for yourself!
List of the 10 Best Projector Alarm Clocks in 2023
Reviews
10. Most Efficient: PICTEK Alarm Clock | 15 FM Radio Alarm Clock Projector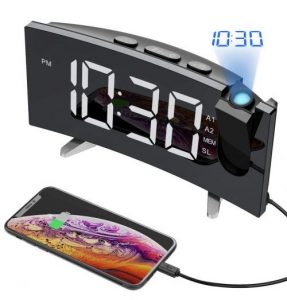 Brand: PICTEK
Warranty: Not Mentioned
Colour: White, Blue, and Red
The projection alarm clock by PICTEK will be your assistant in organizing your daily activities, including your sleep schedule. It comes with a large curved LED display and ultra-clear ceiling and wall projection that enhances visibility. It also has the feature if turning it 180° in case of upside-down projection.
Most importantly, it comes with a USB phone charger so that you can recharge your phone while speeding. With this projection alarm clock, your life will be much easier, and you will not have to look at your phone screen while your eyes are extremely sensitive to any sort of light. Along with waking you up for a new day, it will also ensure the protection of your eyes.
Key Features
Ultra-clear ceiling and wall projection with 180° flip
5" LED screen with six adjustable brightness levels
Comes with 4 alarm options and 3 adjustable volume levels
Visually appealing and looks good with the bedroom aesthetic
Remembers 15 pre-set FM stations and has automatic radio turn off
Also check: Top 10 Best Howard Miller Grandfather Clocks in 2021
9. Most Trusted: SMARTRO SC31B Digital Projection Alarm Clock |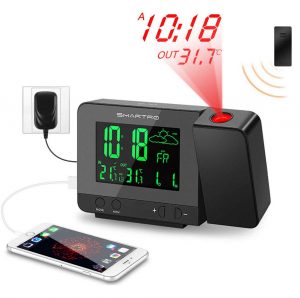 Brand: SMARTRO
Warranty: Not Mentioned
Colour: Black
SMARTRO, a well-known brand in the field of appliances, has come up with this extremely convenient multi-functional projection alarm clock. Firstly, its compact design and technical intricacy make it proudly presentable in the bedroom. Next, it comes with a large LED display and a number of color options to choose from. You can even adjust the brightness level.
Along with being a fine ceiling projection alarm clock, this device also functions as a thermometer that keeps you informed of the room temperature and forecasts the weather. It has an adjustable projector and operates on AC or battery. Its dual alarm feature helps you to set two alarms for two different times. The stand out feature for this clock is that it comes with battery backup and USB charging.
Key Features
Comes with an 8 color display and an adjustable projector
Equipped with professional and sensitive wireless inside out thermometer
The light that projects the time is not harmful or disturbing to the eyes
Projection can be turned off whenever not required
8. Most Stylish: ELEGANT Projection Alarm Clock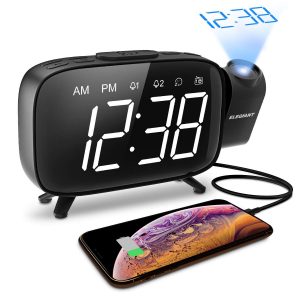 Brand: ELEGANT
Warranty: 18 months
Colour: Black
Like its name, this brand excels in designing. It has one of the most stylishly designed alarm clock projector products. The LED display screen is 6" with adjustable display brightness and curved surface. This elegantly designed product adds personality and character to your bedroom and complements all kinds of decors. The dual alarm feature helps you set different alarms for weekends and working days.
The alarm clock also comes with the FM feature and a long antenna for better reception and improved sound quality. Most significantly, this alarm clock comes with an 18-month warranty, adding to the trust between the customer and the manufacturer.
Key Features
Stylishly designed with a curved screen and enhanced digital display
USB charging port to charge your phone while sleeping
180° rotation to correct upside-down projection and arrange the distance
Comes with an 18-month warranty
7. Best Value for Money: Hosome Projection Alarm Clock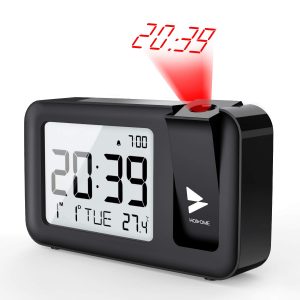 Brand: Hosome
Warranty: Not mentioned
Colour: Black
This alarm clock comes with a 4-level brightness and 2-level volume adjustment. Its 9-minute snooze feature increases the chances of waking up the second time the alarm goes off. This alarm clock can be used in various personal and professional spaces like the bedroom or office. It helps you to keep track of time and be organized and prepared for your activities throughout the day.
The alarm clock also has an in-built thermometer to keep you informed about the indoor and outdoor temperature conditions. Its classic squared black look adds to its work ethic character.
Key Features
Long-distant and rotating projection
Comes with indoor and outdoor temperature projection
Weekend mode helps set up different alarms for weekdays and weekends
120° rotatable projector
Related: Top 10 Best Star Projectors in 2023 | Reviewed by SpaceMazing
6. Cheapest Among All: La Crosse Technology 616- 1950- INT Pop-Up Bar Projection Alarm Clock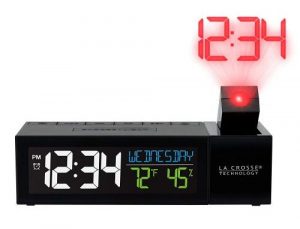 Brand: La Crosse Technology
Warranty: Not mentioned
Colour: Black
La Crosse Technology is a brand name that has been making trusted and efficient appliances for a considerable time now. This projection alarm clock by La Crosse is special because of its non-generic blocked design structure. Unlike the others, it is bigger in size and more mechanical in design. Its projection on the wall or the ceiling comes with a 90° rotatable projector.
USB charge port for charging and display brightness settings make it easier and efficient for the user. Its alarm has to be set manually after every 12 hours. This alarm clock is cheap and a good option for those with a limited budget.
Key Features
Dynamic color display with brightness control and alternate calendar view
Adapter to charge the mobile phone at night
Pop-up bar design and fold-away leg stands
Easy access to buttons for snoozing the alarm and setting nap time
Adjustable intensity for projection light
Also check: Top 10 Best Cuckoo Clocks in 2023
5. Best Runner-Up: Mpow Projection Alarm Clock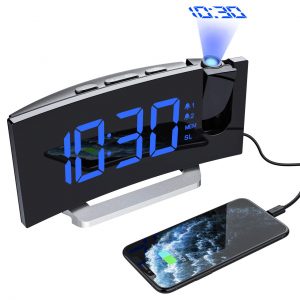 Brand: Mpow
Warranty: 45-day refund
Colour: Black
The design and structure of this particular alarm clock make it look like a mini LED TV. This is one of the best options for those of you who are looking for a projectable alarm clock that looks good on your bedside table or on your office table. Its significant feature is that it had a dimmable screen display that ensures that your sleep is not disturbed.
The dual alarm feature helps you to set two different alarms for either you and your partner or for yourself on two different days. It also comes with a range of creative alarm sounds, namely wave, birds singing, chord or FM radio. If you want to wake up to a beautiful morning by listening to birds chirping or the sound of waves, this is the perfect option for you.
Key Features
FM radio with a sleep timer that remembers up to 15 pre-set stations
Phone-charging that keeps your phone ready for the next day
Power off memory feature makes the alarm clock remember the set alarms even after it had been turned off
180° adjustable projector
4. Best Overall: iReadBeau Projection Alarm Clock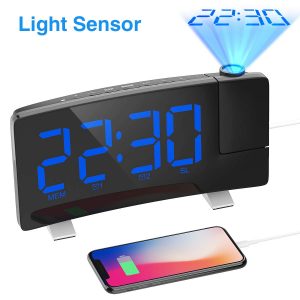 Brand: iReadBeau
Warranty: 18-month warranty
Colour: Blue and White
Mechanically designed and structured, iReadBeau's Projection Alarm Clock is made with the best techniques and trivialities, ensuring a quality product. Its 7" display screen and clear display on the wall and ceiling helps you wake up on time and get done with your day. Having an early and productive morning leaves you with a sense of accomplishment at the end of the day. Moreover, this has light sensors that adjust the brightness of the display accordingly.
Its light is designed, keeping in mind the protection of yours and your children's eyes. The light is sensitive enough that it does not damage the eyes. Snooze feature allows 9-extra minutes of sleep before alerting you again. The dual alarm allows you to set two different alarms at septate times.
Key Features
Comes with the feature of power-off memory to remember your alarms even after the clock has been switched off temporarily
FM radio that remembers up to 15 pre-set stations
Automatic light adjustment
180° adjustable projector
Also check: Top 10 Best Grandfather Clocks in 2023
3. Best Under $ 30: LC.IMEEKE Projection Alarm Clock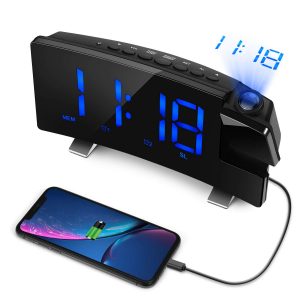 Brand: Blue
Warranty: Not mentioned
Colour: Blue
This projection alarm clock with its music playing feature has stepped up the game for the rest in the category. Wake up your family with their favorite music to start a beautiful and freshening day. The good mood when you wake up continues throughout the day and you go to bed with a sense of fulfillment. It also comes with the feature to automatically adjust brightness in the AU mode.
Its FM radio feature tells you time with the news early morning while you get left to step out into the world. You will not have to dedicate some extra minutes to go through the newspaper. Also, the projection through this alarm clock is 3 dimensional to give you a better experience.
Key Features
Ultra-clear 180° projection display
Dual alarm with snooze function
Power off memory makes the clock remember the time and alarm settings even during power outages
A USB cable to charge your phone for the day
2. Best Gift: Dr. Prepare Projection Alarm Clock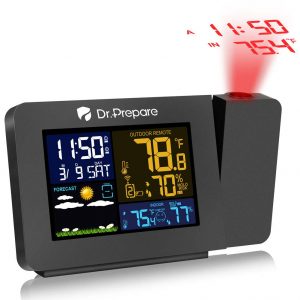 Brand: Dr. Prepare
Warranty: Not mentioned
Colour: Black
Like the name of the brand suggests, its products are made especially to prepare you for all upcoming situations. This multi-functional projection alarm clock with a colorful LCD display is one such product. It showcases screen displays time, outdoor and indoor temperatures, humidity and weather forecast. As soon as you open your eyes in the morning, you will know how to prepare for the day based on this information.
A special feature of this clock is that its radio controlled alarm clock automatically receives radio signals to calibrate time after rebooting or replacing new batteries. Along with this, time can also be set manually. This product could be an option for an ideal gift for your close family and friends.
Key Features
Large and colorful LCD display screen
Adjustable projection with 180° reversible projection for maximum clarity
Dual alarm feature for multiple alarms and snooze for some extra minutes of sleep
Auto time setting and battery back-up
1. Most Compact: Hompot Projection Alarm Clock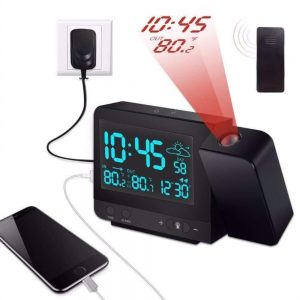 Brand: Hompot
Warranty: Not mentioned
Colour: Black
Our study tables and bedside tables are often the most crowded and have no vacant space. Even when we would like to, it is difficult to make a place for something like an alarm clock. For those who go through this problem, this is an ideal product. Its compact design makes it occupy less space even when it is multi-functional and efficient. Its display screen is only 3" and is LCD.
It has adjustable brightness and projects time along with temperature and weather forecasts. It also comes with battery backup and USB charging that saves all memory of the device in case of a power outage.
Key Features
Clear projection of time, temperature and forecast on your wall or ceiling
Comes with dual alarm and snooze function to make it more helpful for you
The compact design makes it ideal for crowded tables
FAQs (Frequently Asked Questions)
Ques 1: Do the projection alarm clocks have the option of displaying time in 24-hour format?
Ans: This depends on the product; however, generally, all projection alarm clocks offer both the 24-hour and the 12-hour time display format. The default format is 12-hour but it can be changed. To change you will have to hot o settings and select the 24-hour format.
Ques 2: Does the light from the projection alarm clock interfere in sleeping?
Ans: When the time is projected on the ceiling or the wall, the light that projects it is designed, taking into consideration the convenience of the user in the first place. The light is not one that would harm or disturb the user in any way; rather, it helps you. If you still feel disturbed and cannot sleep, there is always the option of turning off both projections and the display.
Ques 3: Do the clocks automatically set the time and date?
Ans: Most clocks come with the feature to automatically set the time and date based on the FM feature, but there is always the option of setting the time and date automatically.
Conclusion
In today's world, especially in commercial urban areas, we are all slaves to time. Times waits for nobody, and punctuality is a good habit. To ensure that you don't miss out on anything and are not late for your most important meeting or performance, we bring to you these best quality projection alarm clocks. If you are the person who doesn't wake up even after 5 alarms and you want to get rid of your habit, these alarm clocks are going to help you in your endeavor. So, select the best one that would suit your interests and requirement, to kickstart the morning at the peak of the energy.
Last update on 2023-11-30 / Affiliate links / Images from Amazon Product Advertising API