It hasn't been many years when we witnessed the first LED TV. Ever since its inception, it evolved drastically. And today, the market is flooded with the heaps of LED TVs of different sizes and different features. Among all, 32-inch LED TVs are the most popular for household use as the size fits best to space in either your living room or bedroom. So, today, let's get into the details about the features and specifications of the top 10 best LED TVs of the year.
Current Best Selling 32-inch LED TVs on Amazon
List of the 10 best 32-inch LED TVs in 2023
10- TCL Roku 32-Inch LED TV for Living Room or Bedroom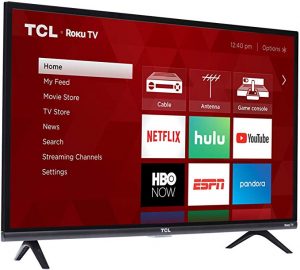 TCL 32-inch LED TV is a loved choice among the users, and it has a number of reasons for that. To start with, it offers you access to more than 5000 streaming channels, where you can enjoy unnumbered of movies, TV shows, and much more. Its 1080p high resolution makes sure to offer the best picture quality too. Even after that, if the picture quality is not good enough for you, worry not. It is also inbuilt with direct-lit LED, which further enhances the picture quality. You can also get your TV decorated with this Smart LED strip lights for TV and command it from your Alexa Echo or Google Home with fun.
Key specifications:
Dimensions:  28.8 x 17.1 x 3.0 Inches (without stand), 28.8 x 19.1 x 7.1 Inches (with stand)

Support over 5, 000 streaming channels, more than 500, 000 movies and TV episodes via Roku TV

Resolution: 1080p Full HD

Direct-lit LED with 120Hz refresh rate to provide good quality for fast-moving action scenes

Inputs: 3 HDMI, 1 USB, RF, Composite, Headphone Jack, Optical Audio Out

Work with Alexa and Google Assistant
9-LG 32-Inch Smart LED TV with IPS Monitor Split Screen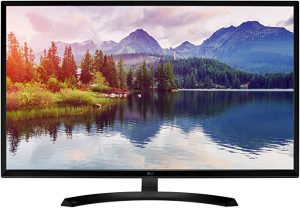 LG brand has really built credibility in the market. All thanks to its quality-packed and ergonomic products like this 32-inch Led TV that never fails to impress the users. Speaking of the specifications of this LG32MP58HQ-P 32-inch TV, it is designed with full IPS display, black stabilizer, and reader mode. Adding more to that, it also allows you the freedom to control the TV on-screen. In fact, you can monitor all the settings just in a few clicks from brightness adjustment to volume adaption.
Key specifications
Dimension:

split-screen 2.0; 28.6x 16.9x 3.7 Inch (without stand); 28.6 x 19.4 x 8.1 Inch (with stand)

Display: Full HD IPS

Control: On Screen, 60 hertz refresh rate

Resolution: 1920 x 1080; Aspect Ratio 16:9; Anti Glare; Refresh Rate 60 Hertz

Input/outputs: HDMI (v 1.4)
8- Sceptre 32-inch LED HDTV with 720p Metal Black 2023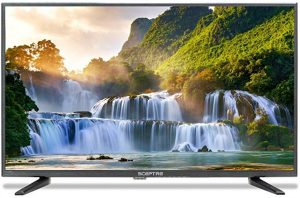 Being more than 30 years in the market, Sceptre has amassed a long list of happy customers under its name. Given the fact, you can rely on the quality of Sceptre 32-inch TV blindly. It is unbeatable in its awesome features and specifications as well. With MEMC 120, it makes sure to provide the highest picture quality even in the action-packed scenes. Moreover, it is also designed with the MHL feature, which allows you to stream the content in your Smartphone just in case you're not able to watch it on the TV.
Key specifications:
Resolution: 720p
Wall-mounting installation
Refresh rate: 60 Hz
Dynamic ratio: 5000:1
7- Samsung Electronics 32-inch 1080p Smart LED TV Black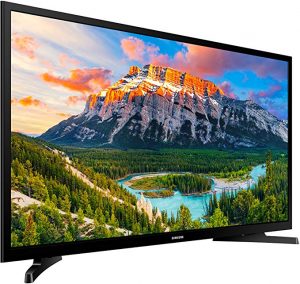 Samsung needs no introduction when it comes to electronic items. If you don't believe us, get this amazing Samsung 32-inch LED TV and experience yourself. With a full HD display of 1080p, it boasts to offer two-times better picture quality as compared to its competitors. Moreover, it is designed with an advanced algorithm and the ultra-clean view feature to offer you even more clarity of pictures. To ensure the best video quality, it is inbuilt with a motion rate of 60Hz.
Key specifications:
Full HD with 1080p

Smart TV all in one place with remote control

Processor: Quad-Core

Motion Rate: 60 processing speed with backlight technology advancement
6-LG Electronics 32-inch 720p LED TV 32LJ500B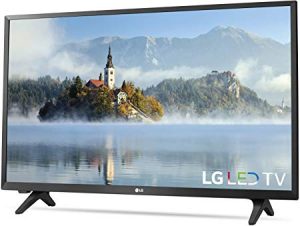 If you want to buy a simple yet high-quality TV set for you, go for this LG electronics 32-inch LED TV. With its 720p high resolution, it offers you crisp, clear, and lifelike picture quality that too with vibrant color enhancement. Furthermore, the 60Hz refresh rate also makes sure to provide ultra moving action scenes with no blur. What to say more? It even lets you connect 2 HDMIs and 1 USB if you want to watch something additional on the TV.
Key specifications:
Dimensions: 28.7″ x 17.2″ x 3.1″ (without stand), 28.7″ x 18.7″ x 7.2″ (with stand)

Resolution: 720p HD

Direct-lit LED

60Hz refresh rate

Inputs/outputs: 2 HDMI port, 1 USB port, 1 RF and 1 Composite
5- Samsung Electronics UN32J4001 32-inch LED TV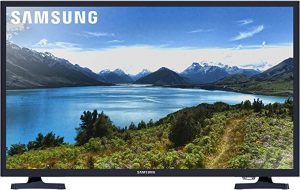 Though Samsung Electronics UN32J4001 32-inch LED TV is a 2017 model, it stands no behind when it comes to the latest features and specifications. With the high definition of 720p, it offers incredibly clear and crisp picture quality. In fact, the color vibrancy is boosted to enhance the overall picture quality. Furthermore, it also ensures clear video quality with a 60Hz refresh rate, remarkable processing speed, and amazing backlight technology. To keep the TV stabilized on the wall, it is designed with 2 stands on both sides.
Key specifications:
720p HD

Design: slim appearance

Resolution: 60 motion rate, refreshing and processing speed, backlight technology
4- Insignia NS-32DF310NA19 32-inch HD smart led TV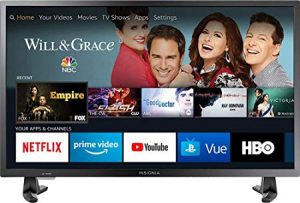 Get this feature-packed 32-inch LED TV, and add a bit of spark of to your entrainment world. With its 720p picture quality, it deepens the black color and enhances the vibrancy of all other colors. Unlike many other 32-inch LED TV, Insignia 32-inch LED TV can be connected to Alexa, Netflix, YouTube, Hulu, HBO, and many other streaming channels. Not only this but it can also be operated with a voice remote. Moreover, you can enjoy the other benefits of using Alexa as well.
Key specifications:
Fire TV Edition with 720p

Support thousands of channels, apps, and Alexa skills, including Netflix, YouTube, Prime Video, Hulu, HBO, SHOWTIME, STARZ, and more

Control: Voice Remote with Alexa

Dimensions: 28.9" x 17.3" x 3" (without stand); 28.9" x 19" x 8.2" (with stand)

Input/output: 3 HDMI, ARC, USB, composite input, antenna/cable input, digital output (optical), audio output, Ethernet.
3- Hisense 32H5590F 32-inch Android Smart LED TV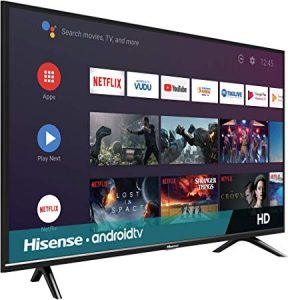 Featuring android operating system and built-in Google assistant, Hisense 32H5590F 32-inch LED TV is a one-of-a-kind TV set. Just connect your smartphone to the TV and manage your entertainment world at your fingertips. Speaking of features, from crisp picture quality to the remarkable audio clarity, it features all. Furthermore, its 120Hz motion rate ensures an ultra-clear and flawless video quality. If the TV programs are sufficient enough to entertain you, connect it to your Bluetooth and stream your favorite music instantly.
Key specifications:
Motion rate: 120Hz
Bluetooth-enabled
Offers various TV programs
Built-in Google assistant
2- Toshiba 32LF221U19 32-inch Smart LED TV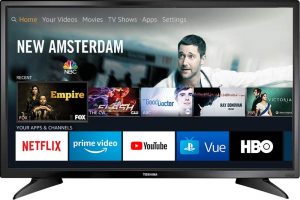 As the name suggests, Toshiba 32LF221U19 32-inch LED TV is a smart TV set packed with plenty of advanced features. To begin with, it offers you an endless world of entertainment with more than 500,000 streaming movies and TV shows. Ranging from Prime Video to Netflix, there would hardly be any online streaming channel that can't be enjoyed in the amazing TV set. Just connect to Wi-Fi and enjoy as much as you can. To get an even better TV experience, you can control it with a voice remote control.
Key specifications:
Fire TV experience built-in: can watch live over-the-air TV or stream movies and shows from Netflix, YouTube, Prime Video, Hulu, HBO and more.

Control with Alexa Voice Remote

Wi-Fi connection.

Endless entertainment from TV channels and the internet.
1- Samsung electronics UN32J4000C 32-inch LED TV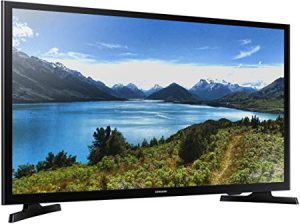 This Samsung 32-inch LED TV is a perfect choice for the people who can't compromise with picture quality as well as sound clarity. With its 720p high definition picture, it makes sure to offer lifelike pictures. To further intensify the color, it is designed with a wide color enhancer. Its 60Hz motion rate also allows you a clear and no-blurred video quality. Speaking of its sound capacity, it is designed with a DTS premium sound system, which keeps the sound clear even at the maximum frequency. Apart from all this, it is also USB and HDMI compatible.
Key specifications:
720p HD

Motion Rate at 60 and fast refresh rate, processing speed, and backlight technology advancement.
Conclusion
In this digital world, don't keep yourself bereft of entertainment.  Just get one of these 32-inch LED TVs and breath in the world of entertainment. They will not only entertain you 24×7 but also take your TV experience to the next level.
Last update on 2023-10-04 / Affiliate links / Images from Amazon Product Advertising API