Painting your nails is not as painstaking as drying the nail paint is. Seriously, you just have to sit like a statue for minutes looking at your nails and waiting for the nail paint to dry. During this so long time, if you dare to move around your hands, bang, it's gone. Just a single stroke of anything and your nail paint is gone leaving you all annoyed and your nails total smudged. How frustrating, no? I have gone through this pain several times, so I understand your pain well. This is why today I'm going to introduce you to an awesome tool that will save you from this hassle and dry out your nail paint in just a fraction of a moment. Intrigued to know what it is? Well, it is called a "nail dryer" or "Nail Polish Dryer". I have even brought together the top 10 nail dryers for you. Just check out the list and pick the one for you.
List of the 10 Best Nail Dryers in 2023
Nail Dryer Reviews
10- Professional nail dryer by OVLUX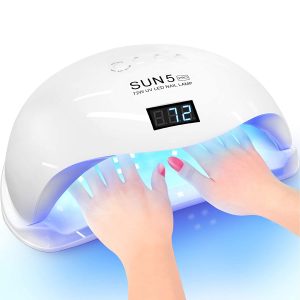 As the name suggests, this OVLUX nail drying machine is efficient enough to offer you professional results. Given the fact, it is a good fit for makeup artists and experts. Nevertheless, it can seamlessly fulfill the needs of a beginner too. Built in with 72W lamp, the nail polish dryer can dry almost all types of nail paints including CND shellac, guilders, builders, hard gel, and UV/LED gels.
The interesting thing is that the machine is equipped with 4 preset time functions of 10, 30, 60, and 99 seconds. Just set the time according to your needs and slide in the fingers inside the machine. That's it. Furthermore, the equipment is designed with a smart sensor that automatically turns on and off the lights as you slide in/out the fingers
Key features
Compatible with almost all types of nail paints
72W LED lamp
Built-in smart sensor
4 preset time functions
Professional results
9- Gel UV nail lamp 48W LED nail dryer by SUNUV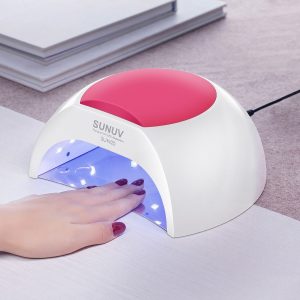 SUNUV gel nail lap has already won the heart of thousand ladies and you too will surely fall for it. Having an ergonomic schema design, the machine is completely user-friendly as well as space-saving. Moving on its features, it is built in with a 48W UV/LED white-colored lamp, which quickly dries the nail paint and offers you professional-level results.
You may also check: Top 13 Best Bonnet Hair Dryers in 2023
In addition, it also features 4 timer modes that are supposed to be set prior to the operation. So, set the device at 10, 30, 60, and 99 seconds according to the requirement of your nail paint and get your desired results instantly. Besides that, the nail drying machine is also equipped with a removable tray that allows you the flexibility to dry the nail paint of not just your fingernails but also toenails.
Key features
48W lamp
4 timer modes
Smart auto-sensing feature
A removable tray
White-colored lights
8- UV gel nail lamp, SUNUV nail dryer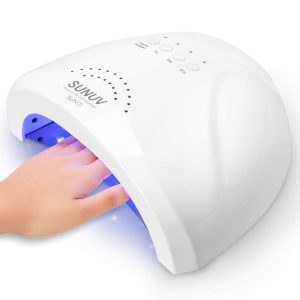 If you're looking for a pocket-friendly option, turn your glance to this SUNUV nail dryer. It doesn't cost much yet offers you some incredible features. Equipped with 3 timer modes, it lets you dry different types of nails paint in seconds. You just need to set the time according to the requirement of your nail polish. The different time levels are 5, 30, and 60 seconds.
Adding more to its features, it is also built in with a smart sensor that automatically turns the lights on/off when you slide in/out the fingers. On top of all, it is designed with 2 operating modes respectively 24W and 48W. You can switch between them anytime to enjoy the maximum benefits of the dryer machine.
Key features
2 operating modes
3 timer functions
Fast and efficient results
Goes with almost all types of nail paints
30 LED beards
7- Gel UV LED nail lamp LKE Store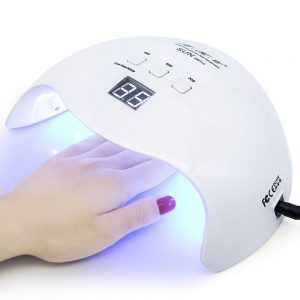 Another nail drying device that has managed to sweep masses of ladies off their feet. All thanks to its awesome features, remarkable user-friendliness, and space-saving design. Featuring 21 pieces of LED lights and a powerful lamp of 40W, the machine dries the nail paint quicker than you can even imagine. These lights have-auto sensing function, which enables them to go on and off automatically according to the operation. Thus, it avoids the wastage of energy and ensures energy-saving results.
Furthermore, it also features 3 timer modes of 30, 60, and 99 seconds. Just press your desired timer button and put your hands inside it. The machine will automatically be off as it reaches the set time and your nail paint will be all dried.
Key features
40W lamp
3 timer settings
Auto-sensing feature
Suitable for UV nail gel
Easy to use
6- MelodySusie portable nail dryer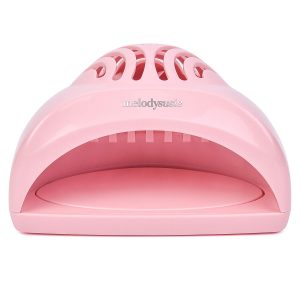 Probably the Melodysusie portable nail dryer the cheapest nail paint dryer with the easiest interface on this list. Plus, it is not equipped with any complex features either. Given the fact, it is the best fit for beginners and teenagers.
Unlike other conventional nail paint dryers, it is battery-operated and doesn't require any AC power to get in action. There are also no UV or LED lights. Instead, it is designed with a little fan and a button. Just press the button and the machine will be on. The air of the fan is so effective that it can quickly dry the nail paints in seconds. All thanks to its powerful 2AA battery that enables the fan to spin at the maximum capacity and offer you quick results.
Key features
Battery-powered
Equipped with 2AA battery
One-touch functionality
Compact and portable
Fan-operated
5- Gel UV LED nail lamp by JEWHITENY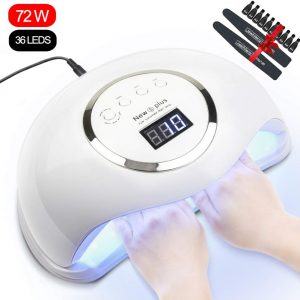 Get this super awesome nail drying machine and take your manicure as well as pedicure experience to a whole new level. Unlike its competitors, this nail drying machine has a big space and it can easily accommodate both hands or feet together at a time. In addition, the machine has a smart 2.0 memory design, which offers you an easy interface and makes the operation convenient.
Moving on to the features, it is built in with 4 timer settings of 10, 30, 60, and 90 seconds and allows you the flexibility to dry the nails at different heat settings. To monitor the process and track the timer, the machine features a large LCD screen. On top of everything, it is suitable for almost all types of nail gels.
Key features
Ergonomic design
Offers large space
4 different timer modes
Auto-sensing feature
Features an LCD display
4- UV LED nail lamp, professional nail dryer by Fixget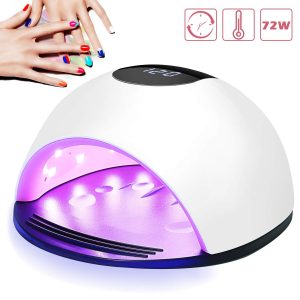 Fixget UV LED nail dryer is a bit expensive but it is totally worth the price. Designed with an advanced nail curing technology, the dryer ensures 2 times faster results and cuts down the operation time by 60% as compared to other nail drying devices. Furthermore, it is built in with a powerful lamp of 72W and 32 pieces of UVLED beads, which make the machine super efficient. In addition, the dryer is designed with an auto sensor that provides automatic operation and saves you from the hassle of pressing a key to turn on and off the machine. Besides that, the device is also equipped with 4 timer settings and a large LCD screen where you can see the running time. Above everything, it is compatible with all UV as well as LED gel nail polishes.
Key features
72W lamp
Auto operation
4 timer modes
Suitable for UV and LED gel nail polish
Features an LCD screen
3- Makartt air nail dryer | nail dryer fan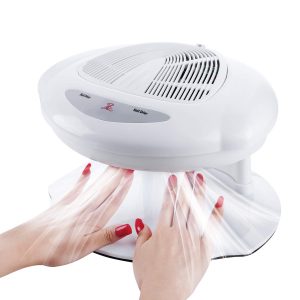 If you're a makeup artist and looking for such an efficient nail paint dryer that can offer you pro-level results in seconds, you can't find a better nail drying machine than this nail dryer fan. Unlike other conventional nail drying equipment that use lights as a heat source to dry the nail paint, this one is designed with a fan and uses air to does its job.
Producing 400W air, it dries the nail paint in the blink of the eyes. Furthermore, using the device is also incredibly easy. Controlled by automatic sensors, it turns itself automatically on as you put your fingers under its fan. Interestingly, the machine is designed with a dual air functionality that enables it to produce warm and cold air.
Key features
Fan-operated
Auto sensors
Super efficient and fast
Spacious
Suitable for all types of nail paints
2- 48W LED nail lamp portable nail dryer by DIOZO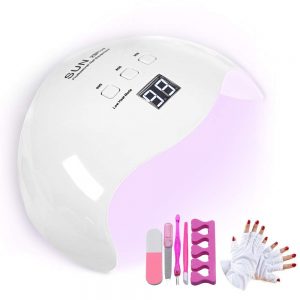 Manicuring is super easy with this awesome nail paint dryer. It offers you a salon-like experience at your home itself. Built in with a 48W UV LED lamp, the dryer can dry almost all types of nail paints including UV and LED gels. To offer you the best results, it is designed with 3 timer settings of the 30s, 60s, and 99s. You can set the machine at your desired time setting depending on the type of nail paint and dry your nails instantly.
To ensure easy and convenient operation, it is designed with auto sensors that automatically turn the machine on and off. On top of all, this nail drying device is compact in size and weighs only 227grm. Given the fact, it is portable and can be kept even in your handbag.
Key features
48W lamp
3 different time modes
Auto sensors
Compact and portable
Features a monitoring LCD screen
1. 120W UV LED nail lamp nail dryer by Easkep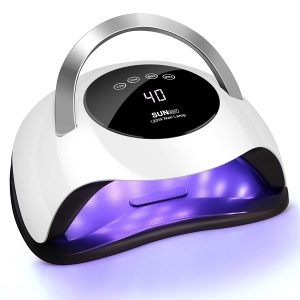 Easkep nail dryer is a perfect combination of advanced technology and simple functionality. Seriously, the machine has an incredibly easy interface even after being equipped with a bundle of advanced features. To start with, it is built in with a powerful lamp of 120W that makes it faster, smoother, and more efficient than its competitors.
Furthermore, it also features 4 timer modes that let you cure your nails at the right heat setting and dry them with the utmost care. To help you track the operation time, it is also equipped with an LCD display. Adding more to its advanced features, the machine is also designed with smart inferred sensors that automatically turn on/off the machine as you slide in/out your fingers. No need to press any button.
Key features
120W lamp
4 timer function
Auto inferred sensors
Built-in LCD display
Faster and more efficient results
Buying Guide
Wait, don't be in a hurry while buying a nail drying machine for you. Make sure to consider some significant factors before going ahead with your purchase. Here are those significant factors.
Energy source
First of all, check the energy source of the dryer. Some nail drying machines are light-powered, some are battery-equipped, while some are designed with a fan. They all do their job proficiently and quickly. However, the light-powered ones win the race, as they have an easy interface and ensure relatively efficient results.
Timer setting
The next thing you need to check is the timer setting of the nail paint dryer. Generally, these devices are designed with 3-4 timer settings and offer you full flexibility to dry the nails at the right heat or air setting. The usual time levels are 10, 30, 60, and 99s. So, check it carefully and make sure to buy a nail dryer that has an adjustable timer function.
Auto sensors
Yet another feature that is worth checking while buying the device. Generally, top-quality nail paint dryers are designed with auto sensors, which detect your fingers as you slide them in/out and turn the machine on/off accordingly. Thus, they avoid the hassle of touching buttons and provide you hassle-free operation. So, make sure your nail drying machine is equipped with auto sensors.
Compatibility with nail paints''
This is probably the most significant factor you need to consider while buying your nail drying device. Usually, a nail dryer is not compatible with every type of nail paints. Given the fact, pay close attention to it and go for the one that works well with almost all types of nail paints including UV/LED gels, guilders, and builders.
Conclusion
No matter how many times you change your dresses in a day, complementing your striking dress with the coordinated nail paint is not a hassle if you have a nail dryer. You can wear any nail paint and dry it in seconds with the help of these nail drying machines. So, get the one and say goodbye to nail paint smudges and dents.
Last update on 2023-10-03 / Affiliate links / Images from Amazon Product Advertising API