In the previous previews, I have introduce you the two top brands of handheld hair dryers i.e. Hair Dryer Dyson and BaByliss Hair Dryer. If you like the handheld one, you can check either of them. Yet, remember there was a time when you can see bonnet hair dryer only in salons. However, today, technology has gone far much ahead. And, these bonnet hair dryers are available to everyone. So, if you want to dry your hairs with utmost care and nourishment, take the shelter of bonnet hair dryer. Unlike handheld hair dryers, many people claim they take care of your hairs better. Already convinced to try the one? Okay, go ahead and check out the list of top10 best bonnet hair dryers in 2020 as follows:
List of the 10 Best Bonnet Hair Dryers in 2020
Top 3 Best Selling Bonnet Hair Dryers on Amazon
10- Laila Ali LADR5604 Iconic Soft Bonnet Hair Dryer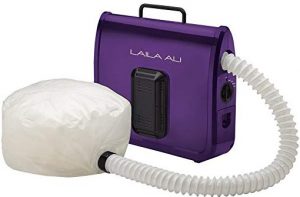 Laila Ali is one of the leading bonnet hair dryer brands in the market, so you can buy it without getting much into details. Still, if you want, let's discuss it. This hair dryer is designed to dry out hairs and condition them deeply. Its ION-infused air dries hairs in a moment and locks in moisturizer quickly. Not only this, it also prevents hair breakages and ensures shiny and healthy hairs. Once you have set it up precisely, the drying process is a breeze.
9- Bonnet Hair Dryer Attachment by Mifine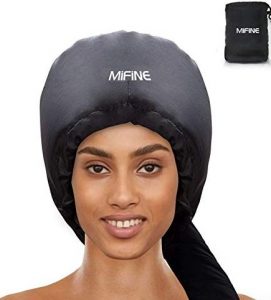 The biggest problem with most of the hair dryers is that they're not portable and handheld due to their big size. Isn't it? Well, there are some exceptional cases too and this bonnet hair dryer by Mifine is one of them. It is easily adjustable and amazingly portable. What to say more, it has even stretchable grip and extendable hose length. So, adjust it as per the size of your head and then place over it. Next, select the drying mode and heat setting and you're all set to go.
8- Conair Pro Style Bonnet Hair Dryer Cover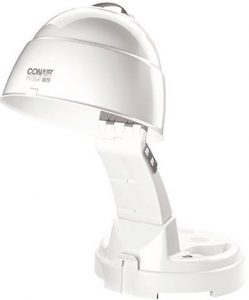 If you can't hold up the weight of a heavy bonnet hair dryer, turn to this one. It is extremely lightweight and feels good on the head. You can even adjust the height of Conair bonnet hair dryer and fold it for easy portability. Speaking of its features, it is designed with a powerful motor of 1875 watt. You can set the heat settings in two different modes. Experiment with its variable airflow and see what heat mode works best for you.
7- Conair Soft Bonnet Hair Dryer White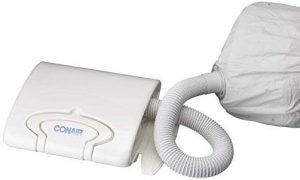 The best thing about Conair bonnet hair dryers is that they are lightweight and extremely portable. Like the previous Conair bonnet hair dryer, this one is compact in size too, which makes it an ideal fit for traveling. The thing that makes it different from the previous one is its 4 different heat settings. To add further, it comes with a long hose of 4ft. So, you don't need to sit in a palace while using it. You can move around. It won't affect efficiency.
6- Eleganty 2020 Upgraded Soft Bonnet Hood Hairdryer
True to its name, Eleganty bonnet hair dryer is elegant in every way. First of all, it is a one-size-fits-all hair dryer, which fits well for the people of different ages. Not only this, it also works well with rollers, braid, clips, curl-formers, and flexi rods. Other than this, it offers many hair treatments too.  It allows you further freedom by providing a flexible hose and adjustable Velcro straps. You can easily adjust it as per your needs. What else you can expect from a bonnet hair dryer?
5- Venus Plus Bonnet Hair Dryer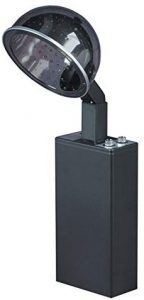 You can't get a smaller bonnet hair dryer than this. Seriously, it is incredibly small in size and unbelievably high in quality. Other than its size, what makes it unique from others is its advanced functionality. It is designed with a timer and a dialer, which helps you set the perfect heat mode for hair drying. The most amazing thing about this bonnet hair dryer is that it is made of stainless steel and has a fine coating of a chemical-resistant powder. Given the fact, there is no chance of getting burned.
4- Andis 500-watt Professional Bonnet Hair Dryer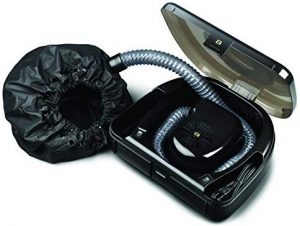 Have you read the name carefully? No? read it again. Yes, it is a professional bonnet hair dryer that provides professional results too. So, get this bonnet hair dryer and be the hair stylist of your own. It is designed with 2 heat and 2 speed settings, which make it a multi-functional bonnet hair dryer. To enhance the functionality, it is also inbuilt with Ionic technology, which dries hair faster and protects them from heat damage. Interestingly, you can get this amazing bonnet hair dryer at an affordable rate.
3- Revlon Ionic Hard Bonnet Hair Dryer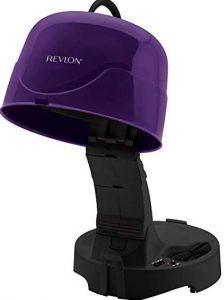 If you're just tired of your frizzy hairs, turn to Revlon Ionic hard bonnet hair dryer. It is particularly designed to deal with frizziness whiling drying your hairs. Unlike many other bonnet hair dryers, it releases cool air, which not only lessens the chances of frizziness but also improves the overall health of your hairs. The best thing I like about this bonnet hair dryer is that it has a cord storage area, where you can keep the cord and plug systematically when not in use.
2- Professional 1300 w Adjustable Hooded Floor Hair Dryer Bonnet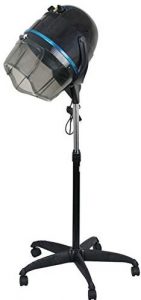 This one is different from all other bonnet hair dryers. What makes it different is its long swivel stand. Given the fact, you would need to sit in a chair under this bonnet hair dryer until your hairs dry. Though you have to compromise in this case, you'll be amazed by the multi features that it offers.  Yes, you can use it for hair coloring, drying, conditioning, spot caring, curling, and also for other hair treatments. Adjust the timer and temperature and just sit there. It will do the rest.
1- Conair Pro Style Collapsible Bonnet Hair Dryer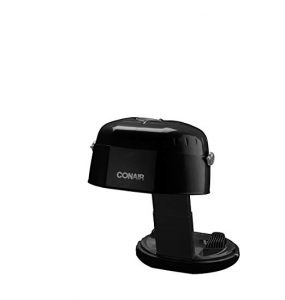 Conair Pro Style Collapsible Bonnet hair dryer truly deserves to be on top. From its design to functionalities, it has its own class. Whether you want deep conditioning or want to use it with roller sets, it will do its job without a fail. The reason being, it is designed with an extra large hood and an adjustable height. To add more, its variable airflow ensures the best results in both speed modes.  If you wonder about its price, it is extremely budget-friendly. So, don't hem and haw. Just get it.
Conclusion
Leaving your hairs messy for 4-5 hours and letting them dry is indeed very hectic. Isn't it? Well, why do you go through this headache? Get one of these bonnet hair dryers and make the process hassle-free and convenient.